We already took a look at baby shower cakes, but now it's time to dig into one specific style: the gender reveal cake. This is a cake trend that I'm totally in love with! Who was the genius who came up with this concept? It's such a fun one, and there's nothing like sobbing salty tears of joy dripping over a blue or pink layered surprise cake. Would you want your cake designer to know the gender of your baby before you and your partner, or would you not be able to resist finding out? Take a peek at these adorable gender reveal cakes before you decide.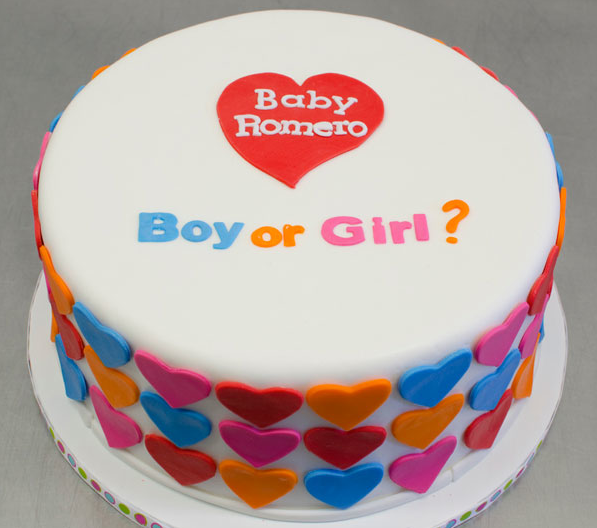 Photo via Jenny Wenny
Colored hearts gender reveal cake:
This gender reveal cake is vanilla cake with whipped cream, and inside are either blueberries for a boy or strawberries for a girl! Clever, right? I love how colorful and fun this cake is.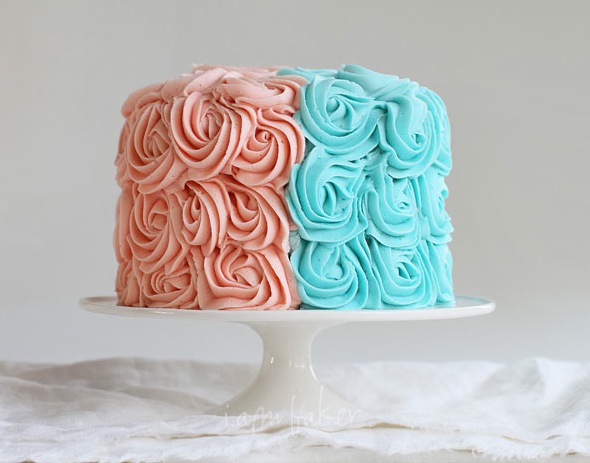 Photo via I Am Baker
Buttercream rose gender reveal cake:
Half blue, half pink – but what color is inside? The beautiful buttercream rose cake gets the gender reveal treatment with this sweet idea!

Photo via Polka Dots
Whoo will it be owl cake:
Such a sweet and simple cake – buttercream iced with an adorable fondant owl perched on top of a bare tree branch with piped lettering! I like how the owl has pink to blue ombré feathers on his chest and a look of "I have no clue!" on his face.

Photo via Coco Cake Land
Ruffle raspberry topped buttercream cake:
This gender reveal cake is covered in buttercream drop stars, giving it an all over ruffle look and topped with a handmade cake bunting using bamboo skewers and Japanese washi tape. "Toot" is what the couple call their baby bump, meaning raspberry in Arabic – hence the single fresh raspberry topper! Spoiler alert: when you cut into this one, it's blue inside.

Photo via Polka Dots
Pink vs. blue football helmet cake:
This cake is adorable. I love the pale sage green buttercream, football yardage lines and, of course, the pink and blue helmets battling it out for baby gender reveal supremacy!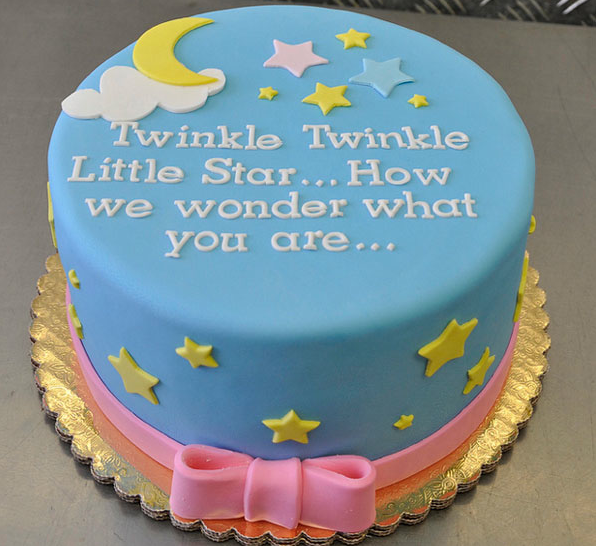 Photo via Jenny Wenny
Twinkle twinkle gender reveal cake:
Jenny Wenny uses the words of the classic sleepy time lullabye to lure us into dying to know what's inside this cake! A cute and clever play on Twinkle Twinkle Little Star with a simple and pretty color palette for this cake.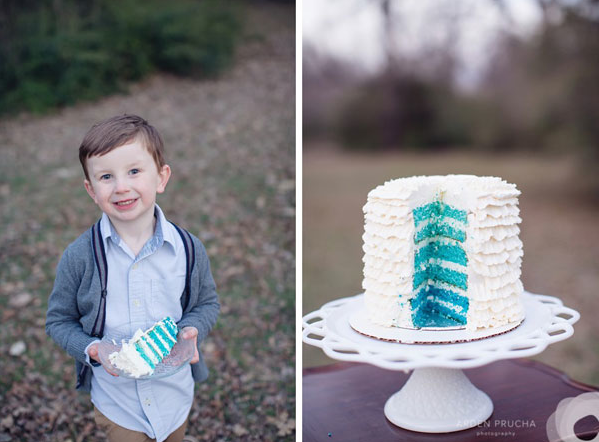 Cake by Cake Walk Bake Shop. Photo by Arden Prucha
Ruffle blue ombré cake layers gender reveal:
It's a boy! This adorable little guy will soon be a big brother. This cake features pretty buttercream ruffles with amazing turquoise ombré cake layers inside! I bet that guy is pretty excited to be both a big brother and to be eating such an awesomely large slice of cake.
Are you sold on the gender reveal cake trend yet? Still on the fence? Either way, babies bring such joy into our lives… much like cake! Bluprint has a constantly growing selection of excellent online cake classes, taught by the best and most innovative cake makers in the cake world. I think a fondant ruffle cake would make a beautiful gender reveal cake; Maggie Austin's popular class Fondant Frills will teach you how to make her signature secret frills in an ombré pattern. Try her class, or any number of others, only on Bluprint!