Cakes adorned with flowers are always a popular choice for weddings, showers and birthday get-togethers. Roses and peonies are perhaps some of the most requested florals, however, the understated poppy flower really makes a bold, yet delicate, statement itself.
Find of a burst of inspiration with these awe-inspiring sugar poppy flower cake designs!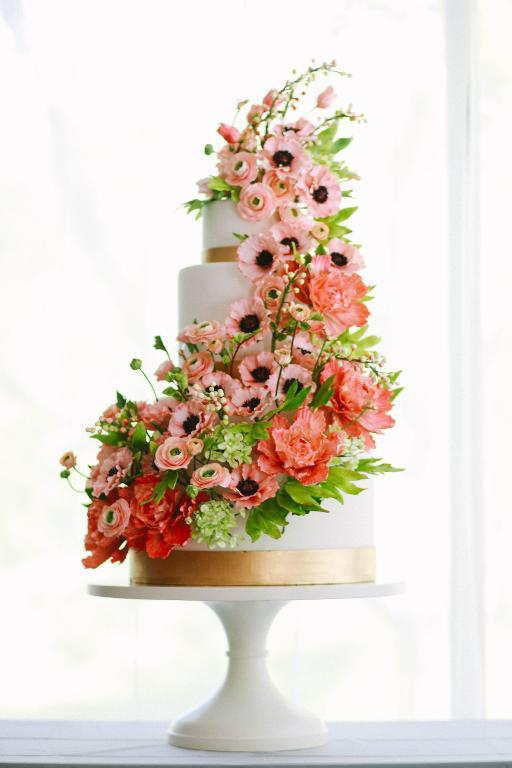 Photo via Craftsy member Alex Narramore
Peach poppy wedding cake
This show-stopping design is bursting with amazingly realistic sugar flowers from peonies, ranunculus buds and bold poppy blooms! We love the attentive use of soft coral tones throughout which helps brighten the decadent gold trims and fresh greens utilized in the design – perfect for light-hearted spring and summer weddings.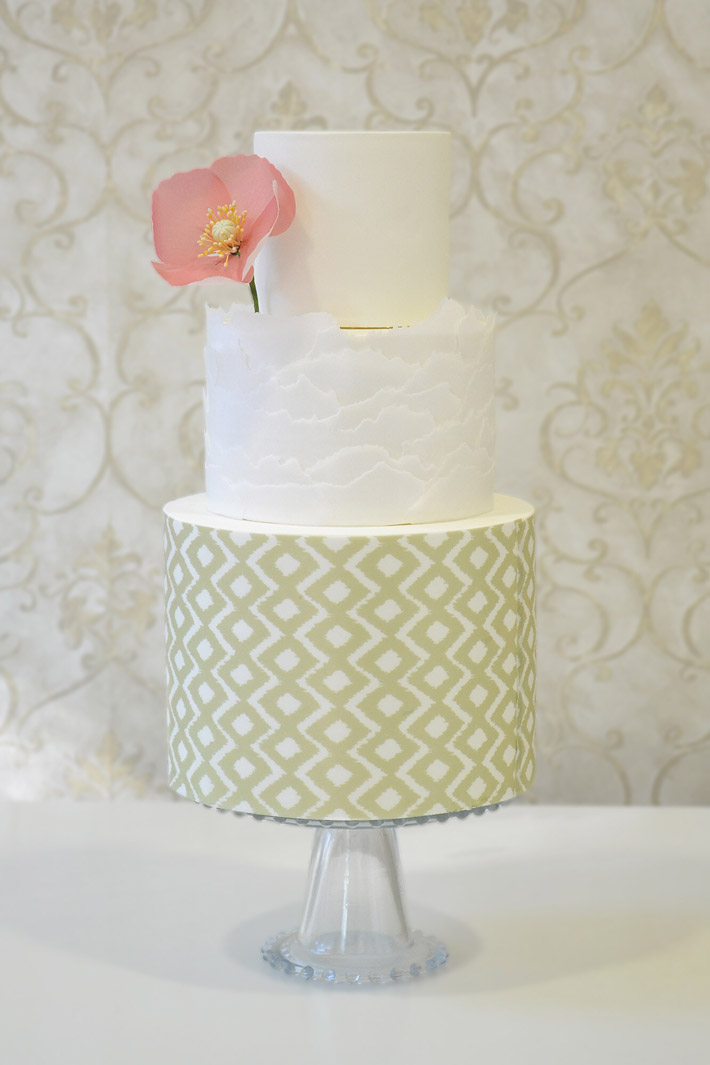 Photo via Craftsy member StravaganzaCake
Boho poppy cake
If simple and modern is more your style then you're bound to adore this sweet and sleek boho-inspired poppy cake. The use of edible wafer paper throughout is not only subtle, but really helps create a wonderful textural look and feel to the whole piece. We love the diamond print featured on the bottom tier paired with the ripped wafer paper texture of the middle tier.
For slightly different looks and themes this design is so easily adaptable. Why not add a lace or damask print for a more traditional influence? Team this idea with a top tier enwrapped with shimmering edible pearls for a truly romantic feel!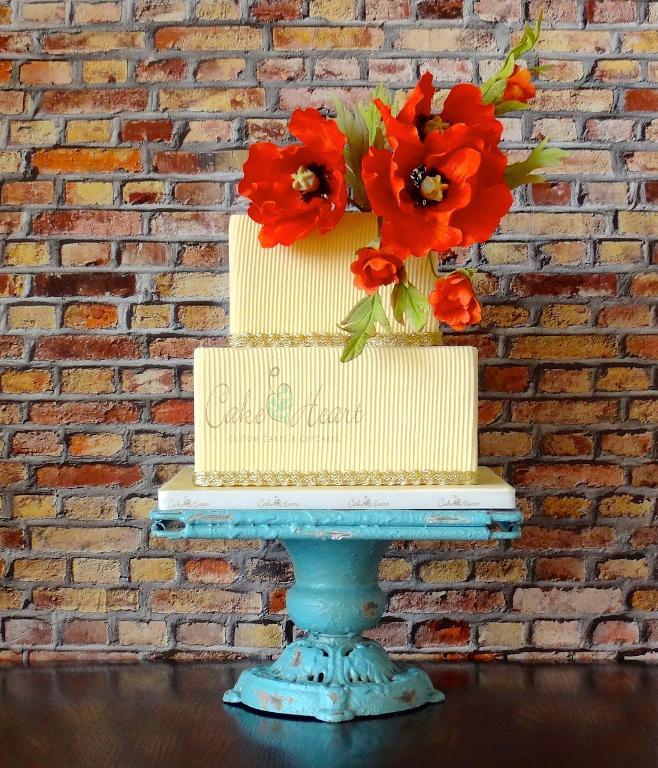 Photo via Craftsy member cakeheart
Bright poppy cake
The bold hue of these large sugar poppy flowers paired with the rustic fondant stripes evokes a wonderfully individual and care-free feel. The sheer size of the poppies is certainly impressive and eye-catching! We love oversized florals as they add instant drama and intrigue to any design. Never be scared of placing oversized blooms on an otherwise small or unassuming cake – they can turn a smaller cake into a design of grand proportions!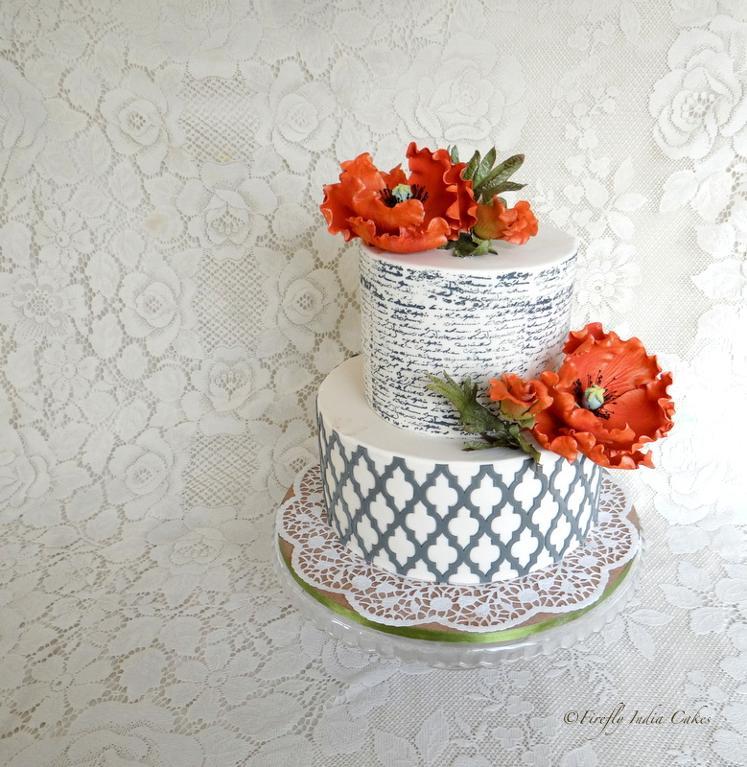 Photo via Craftsy member firefly.india
Poppies and letters cake
Give a monochrome cake an instant splash of color with a few artfully created sugar poppies made in their iconic orange red hue. These florals add two very bold focal points to this design which helps make the eye travel up and down the cake.
For a really bold cake why not stick to simple black and white tiers and add a hint of texture to the white with royal icing swiss dots. Keep the design monochrome (except for those stunning poppies) but add a touch of glamour with a sparkling silver sequin tier!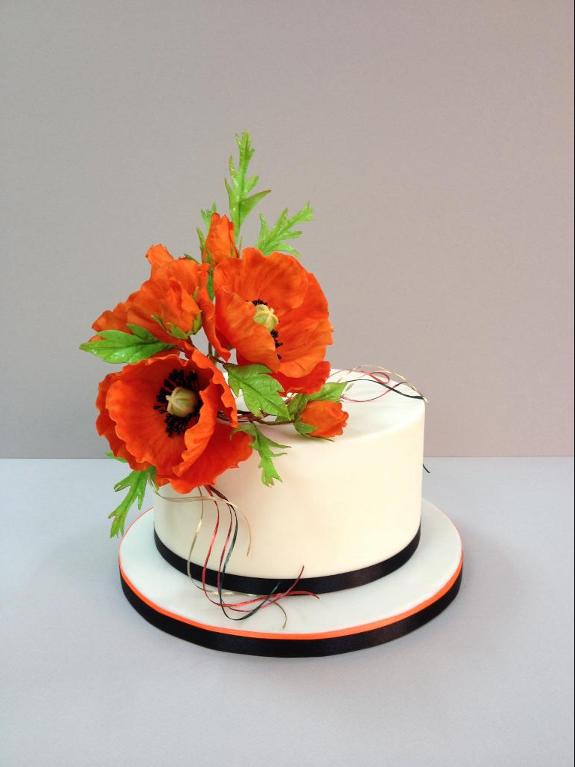 Photo via Craftsy member Manal sugar art
Poppy cake
Here's another fabulous example of a small cake made mighty by the addition of some gorgeous large florals! The vibrant color and the soft delicate petals makes this simple circle cake instantly dynamic and quirky. Plus, perching larger eye-catching florals onto the side of a smaller cake is an easy way to also give a design character and movement.
Tweek the wired leaves to gracefully drape off of the top and down the side, tease a few buds to twist skyward searching for some sun or even create an extra petal or few to scatter underneath the arrangement!
After oohing and ahhing over these inspiring cakes we definitely wouldn't be surprised if you fell head over heels for the pretty poppy flower. They make perfect focal and filler blooms, feature gently ruffled and almost translucent petals with such striking colors!
What's your favorite sugar flower to create?