Soufflés, and french desserts in general, have a reputation for being difficult to make and temperamental to bake. The reality is that soufflés are not as difficult as you might think — especially if you give this chilly technique a try!
The simple soufflé secret — freeze it!
Frozen soufflés are made with a mousse-like base that sets up in the freezer, giving you the look of a traditional soufflés with much less work. It's the perfect spring and summertime dessert, since not only will they cool you down on a hot day but also use lots of fresh, in-season strawberries!
The base is primarily strawberry puree and whipped cream. Strawberries are pureed in the food processor with sugar, the mixture is strained to remove most of the strawberry seeds and whipped cream is folded in.
At this point, the mixture will be light and fluffy. While you could freeze the base as is, I add in a small amount of gelatin to thicken the mousse, allowing you to pile it up in the ramekins without worrying about it seeping down the edges of your ramekin collars. When you start with a thicker base, the souffles will set up in the freezer much more quickly.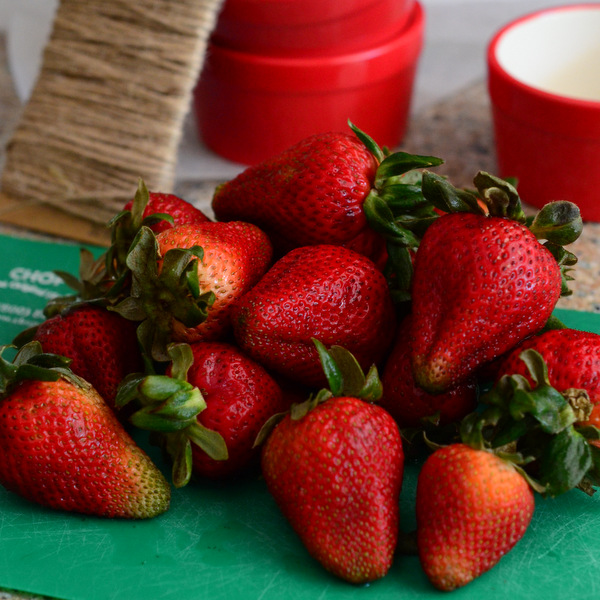 But, before you can get started on your soufflés base, you need to prepare your ramekins. Since this souffle is frozen, not baked, the "rise" that gives the dessert a soufflés-like look has to be helped along. I do this by building a collar around the outside of the ramekin.
The collar can be made of aluminum foil, parchment paper or wax paper and it helps guide the soufflés mixture upwards as it freezes. Once the soufflés is frozen, you can simply peel off the collar and you're left with a perfect looking soufflés.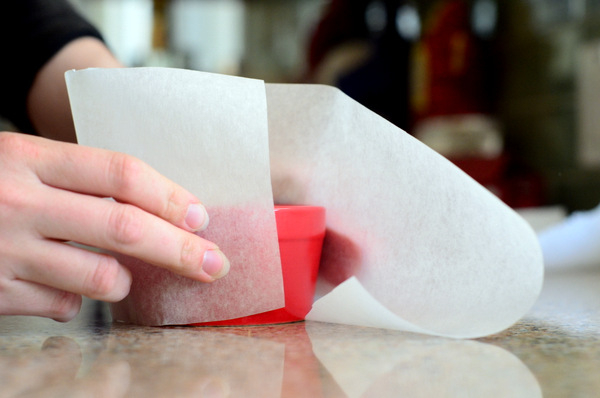 Cut a strip or two of paper that is four to 5 inches wide and long enough to wrap around your ramekins one to two times. Wrap the paper around the edge of the ramekin tightly and hold in place.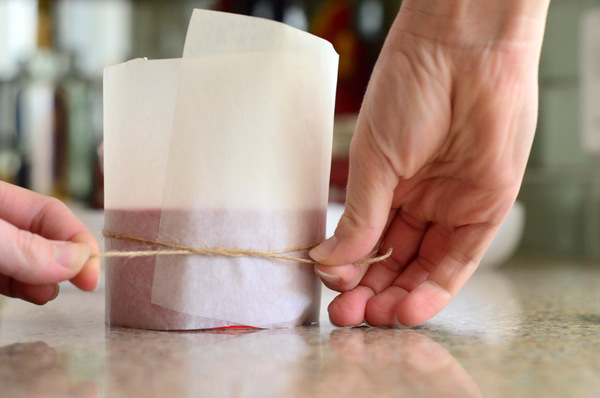 Use a piece of kitchen twine to tie the collar firmly in place. Set the ramekins aside until you are ready to use them.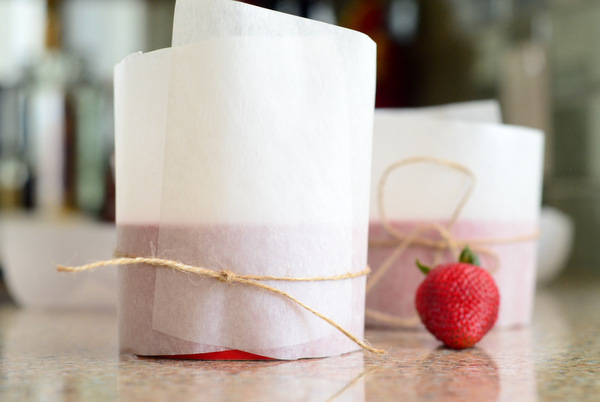 Frozen Strawberry Souffles
Serves 4-6
Ingredients:
2 quarts fresh strawberries
1 3/4 cups sugar
1/4 tsp salt
2 tsp vanilla extract
2 cups heavy whipping cream, cold
1 tbsp powdered gelatin
3 tbsp water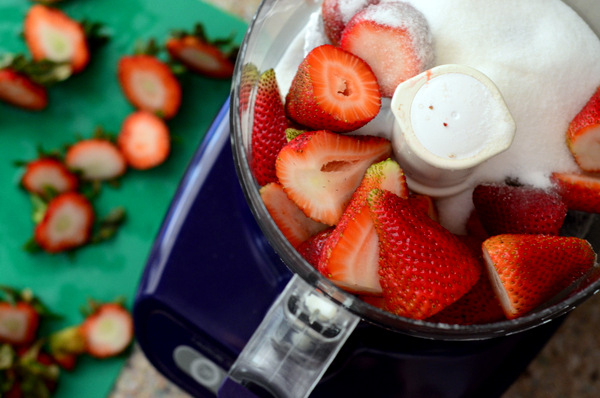 Step 1:
Remove the green leaves from the tops of the strawberries and rinse them thoroughly. In a food processor, combine strawberries and sugar and process until the sugar is completely dissolved, 90-120 seconds.
Pulse in salt and vanilla extract to incorporate. Pour strawberry mixture into a fine sieve and strain to remove as many of the seeds as possible.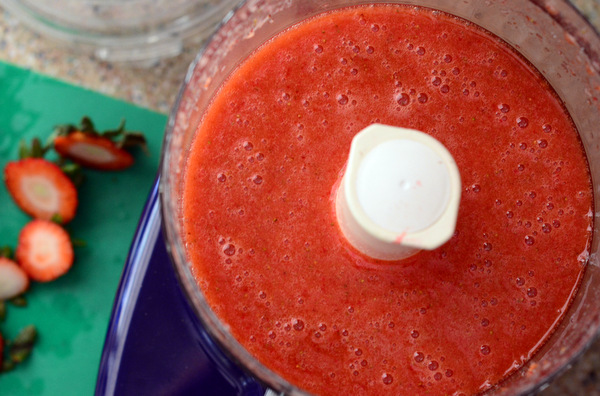 Step 2:
In a medium bowl, beat heavy cream to stiff peaks.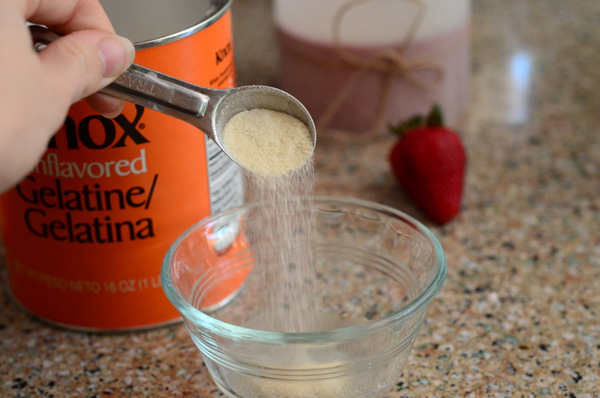 Step 3:
In a small, microwave-safe bowl, combine gelatin and water. Allow mixture to sit for 1 minute so the gelatin can soften. Microwave for 45-60 seconds, until gelatin dissolves.
Stir in 1/2 cup of the strawberry puree until smooth, then whisk the gelatin mixture into the rest of the strawberry puree. Fold in heavy cream.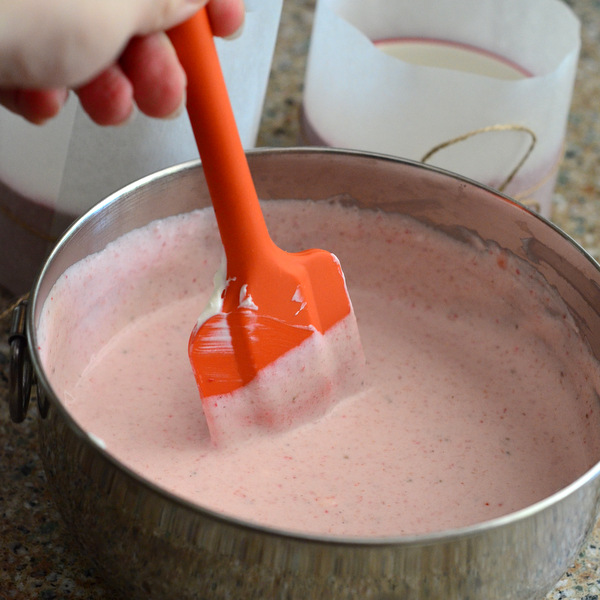 Step 4:
Prepare four 8-oz ramekins or six 6-oz ramekins with paper collars. Divide strawberry mixture evenly into the prepared ramekins. Freeze for 6-8 hours, or overnight. To serve, remove the collars and garnish with a fresh strawberry.