Whip up something sweet this Valentine's Day! These easy heart-shaped strawberry meringues with a little white chocolate drizzle are fun, adorable and delicious too. Make them extra sweet by decorating them with Valentine-themed sprinkles, sparkling sanding sugar or edible rose petals.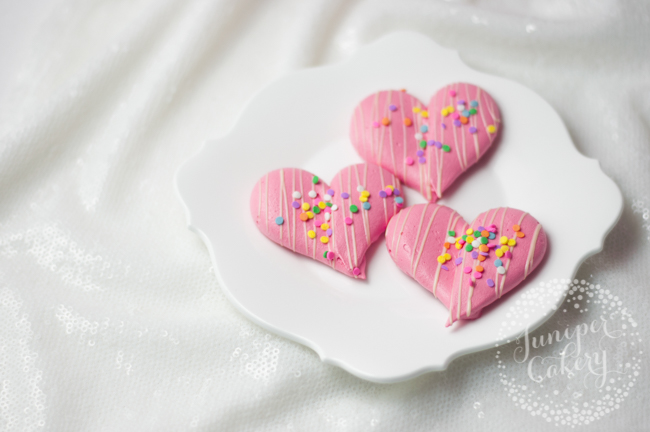 Keep it sweet this Valentine's Day with our strawberry and white chocolate meringues!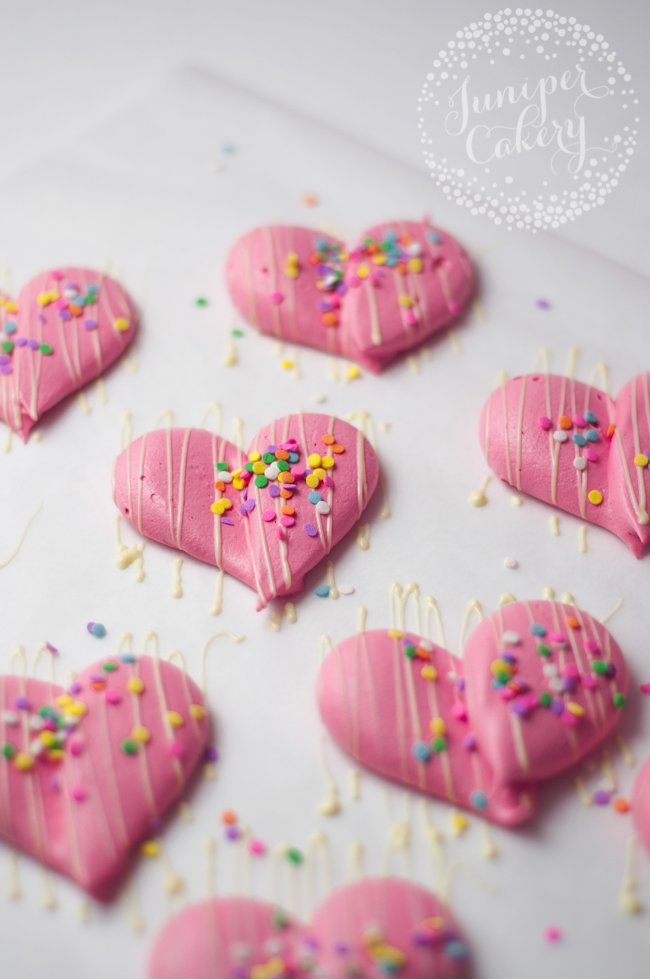 Mastering Meringue: Techniques & Treats
Make mouthwatering meringues that should be in every baker's repertoire! Plus, find out how to incorporate meringues into your everyday cooking with ease. Enroll Today
What you need:
35g egg whites (approx. 1¼ – 1½ a medium-sized eggs)
70g (about 2/3 cup) caster sugar or superfine sugar
½ teaspoon cream of tartar
Strawberry essence or extract
High-quality white chocolate
Sprinkles
Pink gel or paste food coloring
Parchment paper
Large round piping tip
Step 1: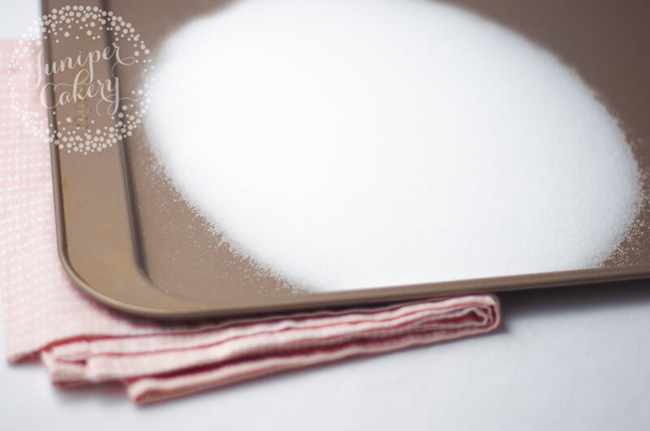 Pre-heat your oven to 160 C (fan) / 180 C (non-fan) / 325 F / gas mark 4.
Now pour the caster or superfine sugar onto a baking tray and place it your pre-heated oven for around 5 minutes. This helps the sugar dissolve much better when making the meringue — meaning no grainy meringue!
Step 2: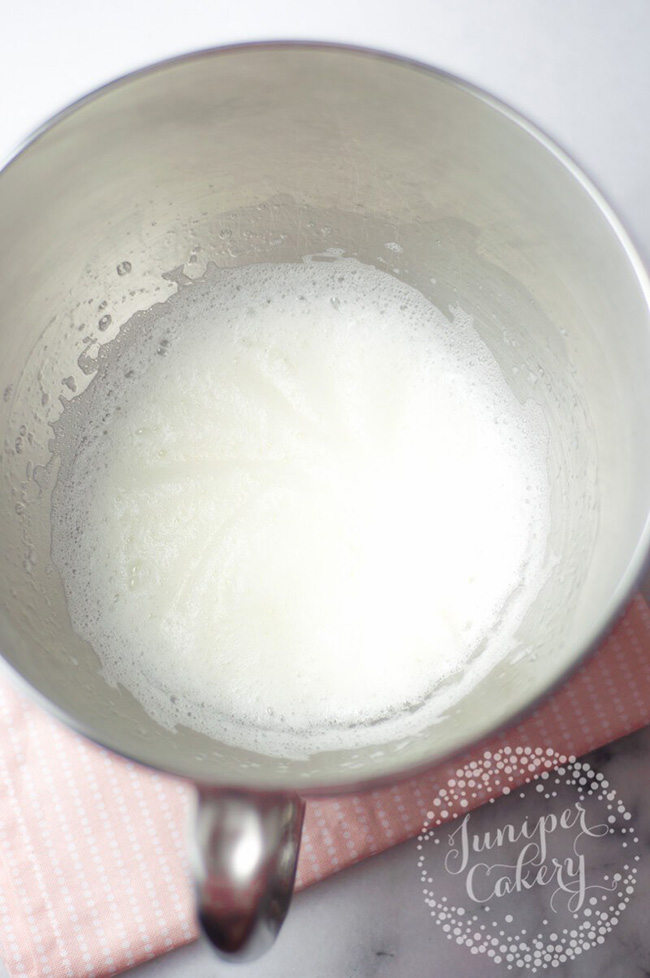 Add the egg whites to the bowl of a stand mixer. A metal bowl is best, as it doesn't hold on to grease or fat, which can hinder your eggs whipping up nicely. Begin whipping the egg whites on high speed.
Step 3: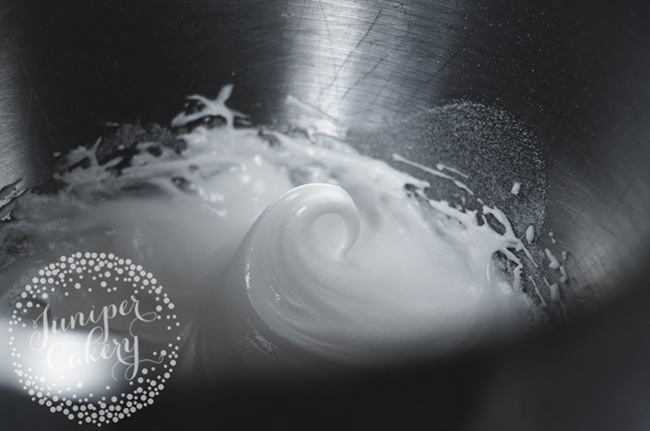 Once your whites look similar to cappuccino foam, add in the cream of tartar and whip to a soft peak consistency.
Step 4:
Switch your mixer's speed to low and spoon in the heated caster sugar one tablespoon at a time. Once added, put your mixer on medium to high speed.
Step 5: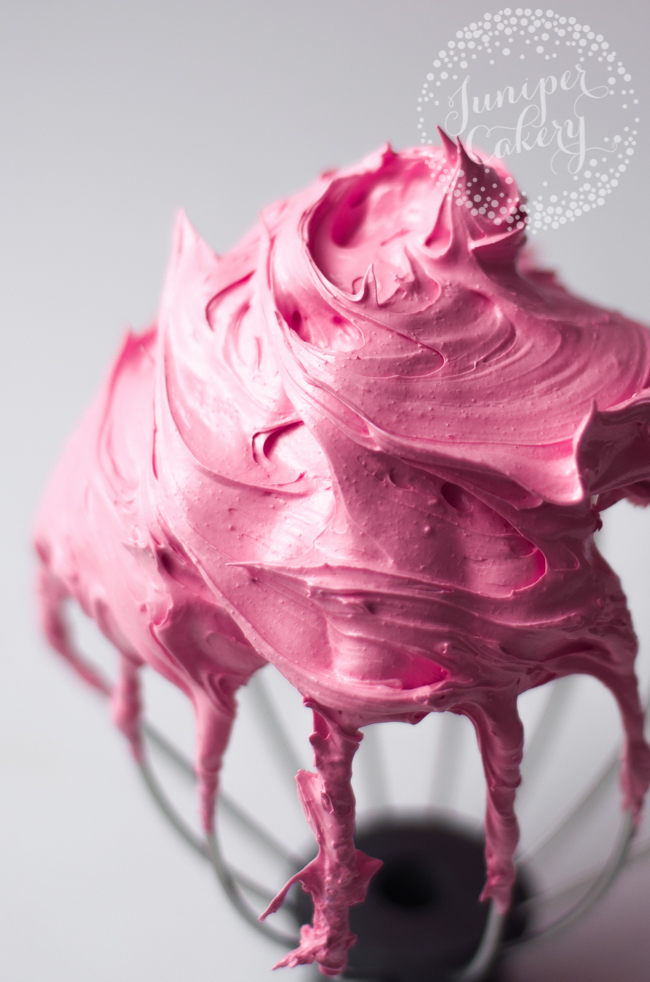 Now add in your food coloring and strawberry flavoring! Switch your mixer's speed back to low for less mess. Once added, change your mixer's speed back to high and whip your meringue into lovely stiff peaks.
Tip!
Try not to add too much flavoring, as this can help make a sloppy meringue mix that's too wet and won't hold shape. Stay away from liquid food coloring, too. This can really change the consistency of any meringue, icing, batter or frosting you make. Instead, opt for gel or paste colors.
Step 6:
When your meringue is ready use a spatula or palette knife to transfer it to a disposable piping bag fitted with a plain round piping tip. Meringue mixture doesn't generally move on its own accord, so you'll have to move the mixture down to the tip once you're ready to pipe.
Step 7: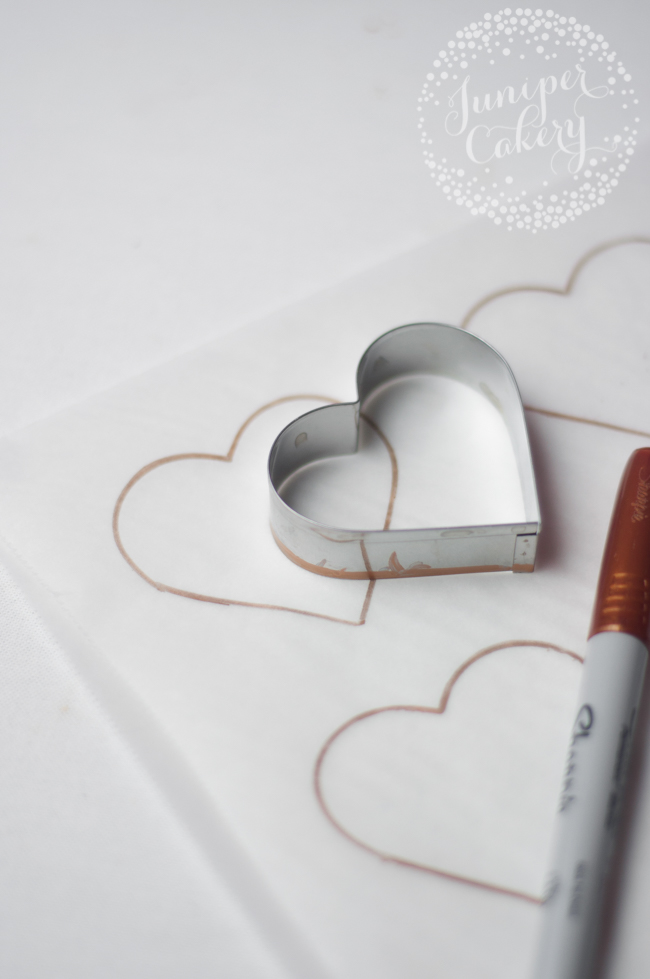 Create a heart template as a guide. Trace your heart-shaped cookie cutter on parchment paper. Make sure the hearts are spaced at least 2 – 3 cm apart. Slide the template underneath a transparent silicone baking mat.
Step 8: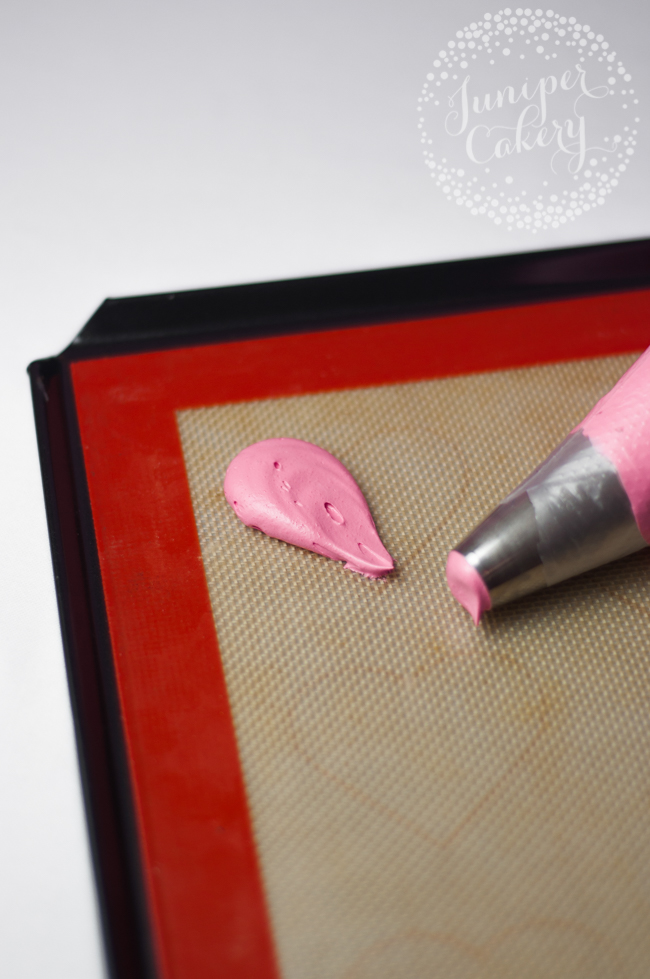 Pipe out a series of hearts with your meringue mixture, following your pre-made template. This sounds scary, but all you need to do is pipe two slanted teardrop-like shapes that slightly overlap each other at the tapered ends.
Step 9:
Place a think baking tray on the top rack; then place the sheet of meringues below the tray. This stops the meringues from browning — you want to keep that fun shade of pink! Bake for 25-35 minutes.
Step 10: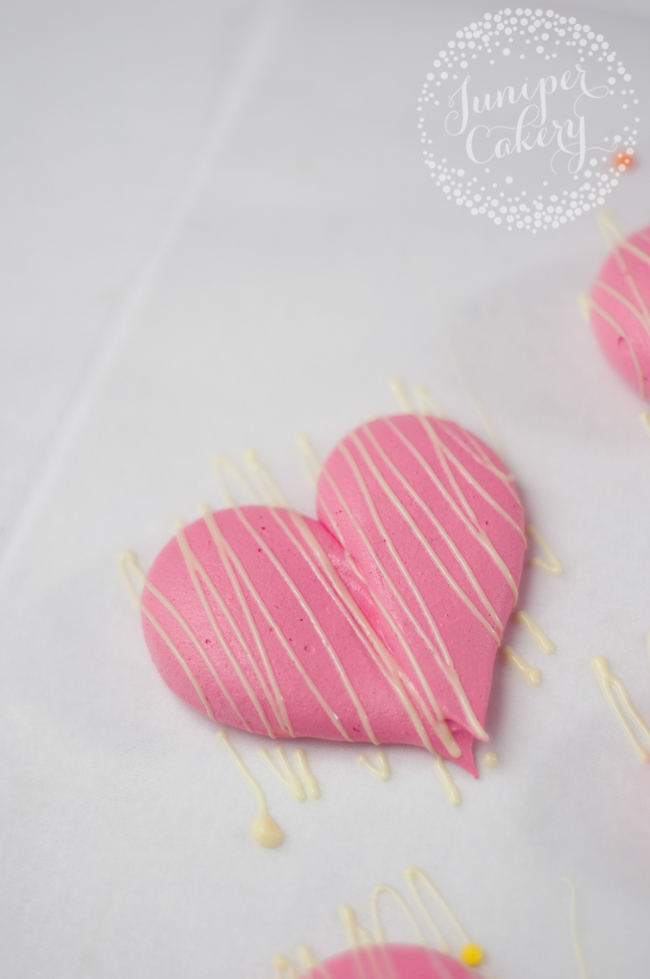 Let the meringues cool. Then, melt white chocolate (or candy melts) and drizzle over your meringues. You can drizzle it using a teaspoon, or you can add the chocolate to a disposable piping bag, snip the end and pipe! Finally, decorate with sprinkles, sanding sugar or other decorations.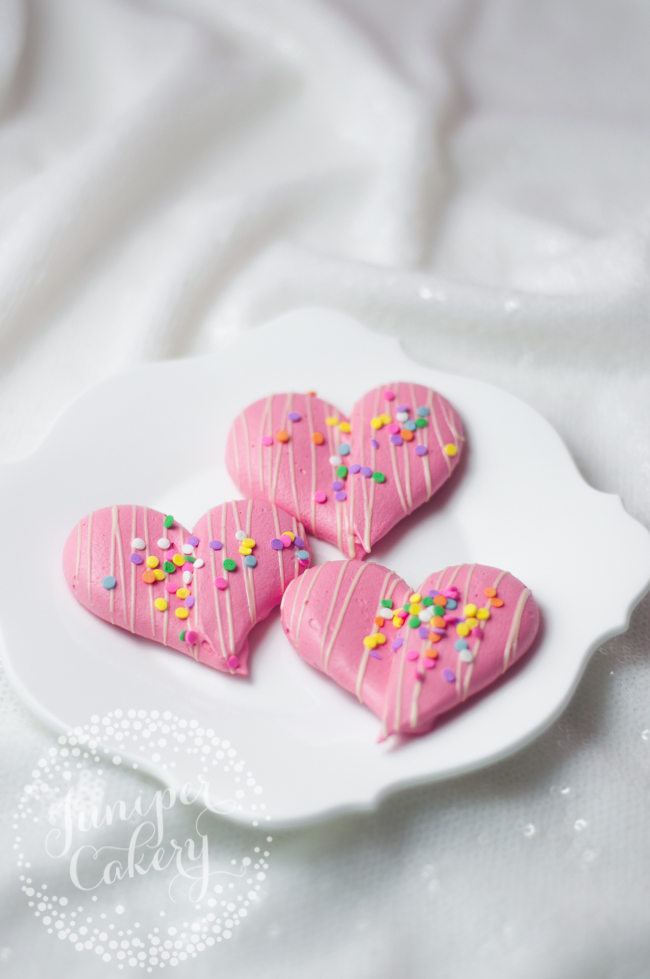 You can box up your pretty strawberry meringues and finish with a bow, bag them up with homemade marshmallows or display your sweets on a stylish cake stand for Valentine's Day.
Try swapping the strawberry flavor for another — maybe raspberry or cherry. You could also dip each piece in dark chocolate and sprinkle it with crushed nuts. Or, decorate them with your own homemade sprinkles!