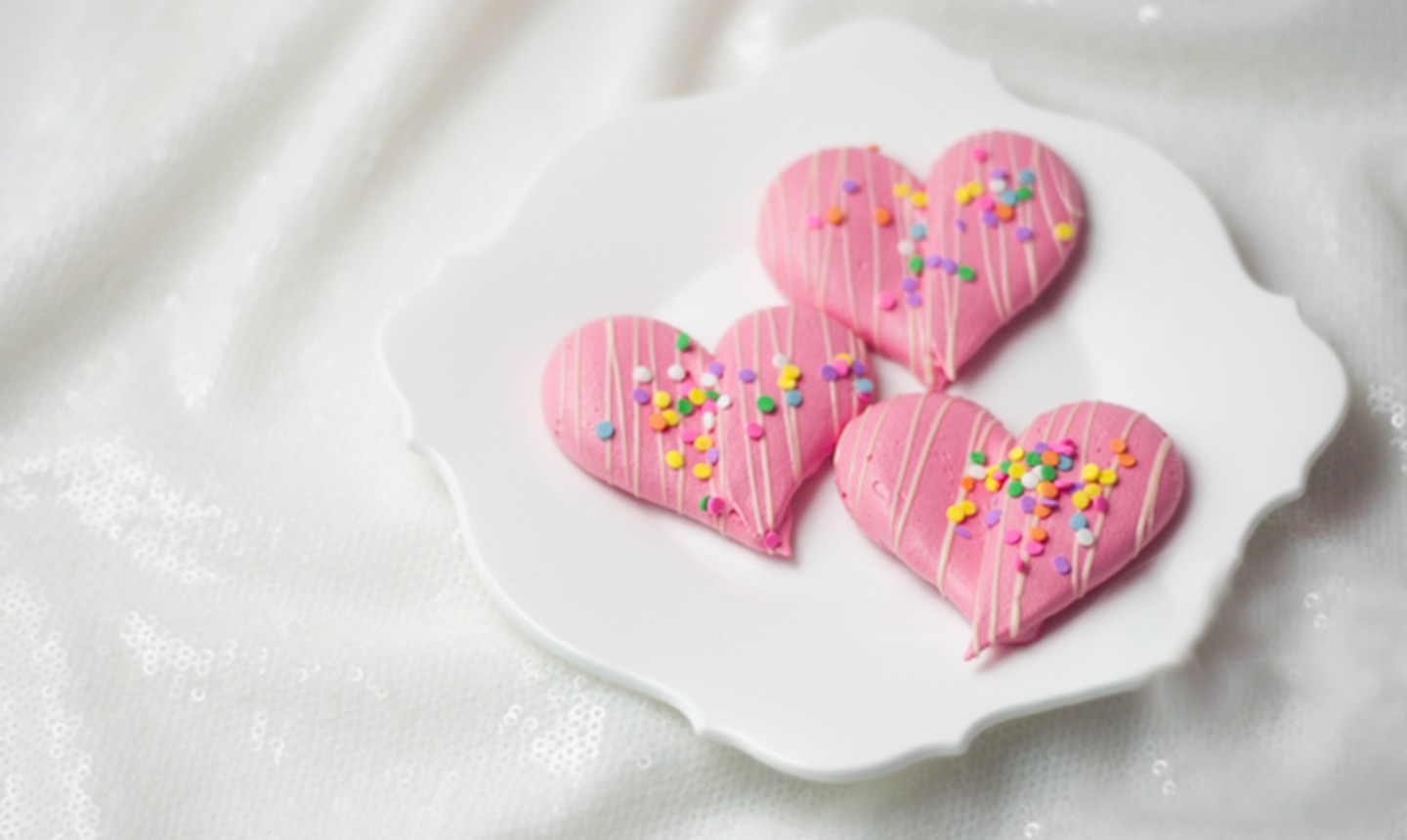 Whip up something sweet this Valentine's Day with heart-shaped strawberry meringues. They're a fun, adorable and delicious dessert to snack on or gift to the one you love. Make 'em even cuter with a quick drizzle of white chocolate you can top off with sprinkles.
Strawberry Meringue Cookies
Level: Easy
What You Need
35g egg whites (approximately 1¼ – 1½ medium-sized eggs)
⅔ cup caster sugar or superfine sugar
½ teaspoon cream of tartar
Strawberry extract
High-quality white chocolate or white candy melts
Sanding sugar or sprinkles
Pink gel good coloring
Heart-shaped cookie cutter
Parchment paper
Marker
Transparent silicone baking mat
Piping bag
Large round piping tip
Instructions
1. Make the Batter
Preheat your oven to 325 F. Pour the caster or superfine sugar onto a baking tray and place it in your preheated oven for around 5 minutes.
Good to Know: This helps the sugar dissolve much better when making the meringue — meaning it won't be grainy!
Add egg whites to the bowl of a stand mixer. (A metal bowl is best because it doesn't hold on to grease or fat, which can hinder your eggs from whipping up nicely.) Whip the egg whites on high speed. Once they look similar to cappuccino foam, add the cream of tartar and whip to a soft peak consistency.
Switch your mixer's speed to low and spoon in the heated caster sugar one tablespoon at a time. Once added, put your mixer on medium to high speed.
2. Add Color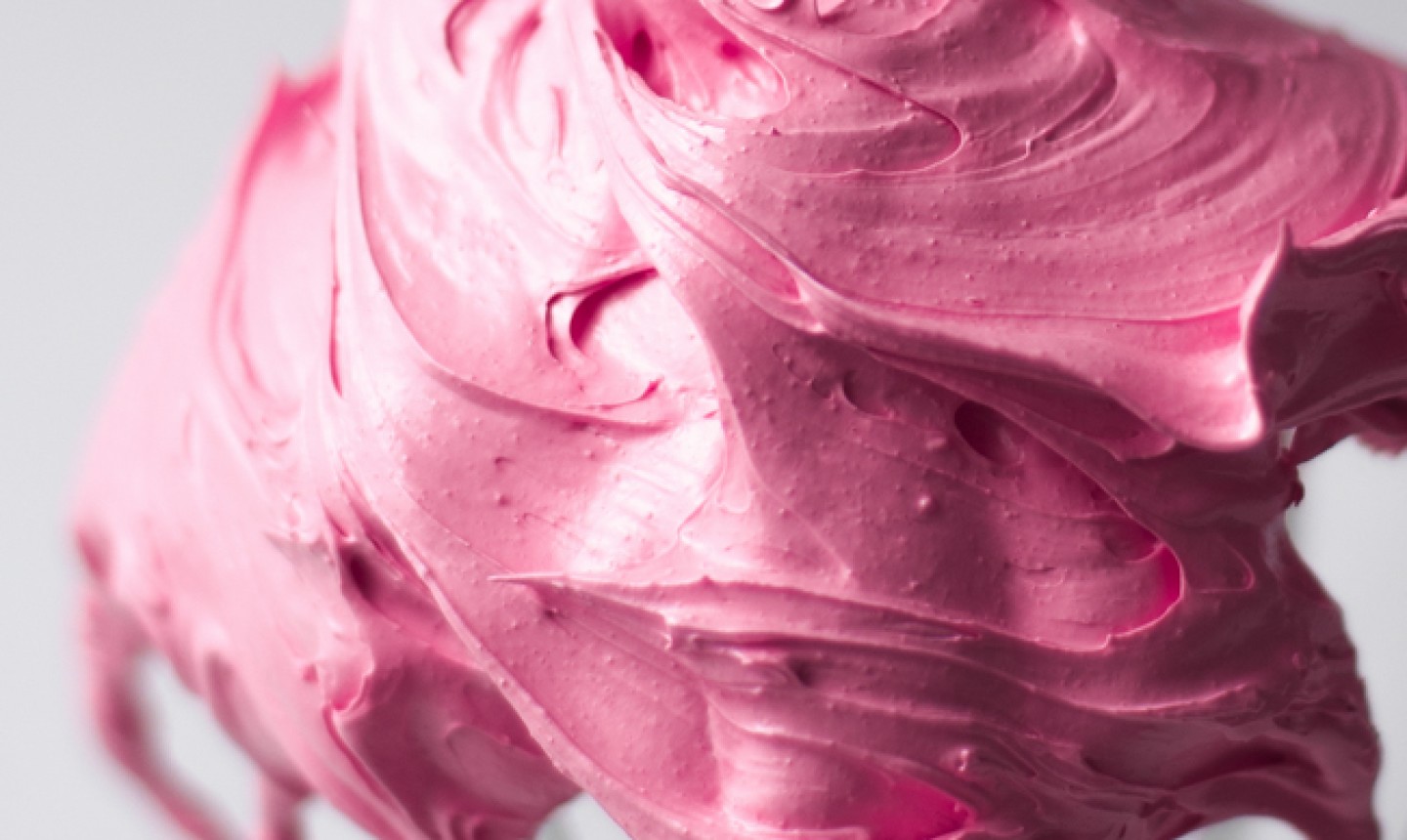 Mix in the food coloring and strawberry extract. For less of a mess, switch your mixer's speed to low as you add these. Then turn it back to high and whip the meringue into stiff peaks.
Pro Tip: Try not to add too much flavoring, as this can lead to a meringue mix that's too wet and won't hold its shape. Stay away from liquid food coloring, too, as it can change the consistency of any meringue, icing, batter or frosting you make. Opt for gel coloring instead.
3. Prep for Piping
Use a spatula or palette knife to transfer your meringue to a disposable piping bag fitted with a plain round piping tip. Meringue mixture doesn't generally move on its own accord, so you'll have to move the mixture down to the tip once you're ready to pipe.
4. Make a Template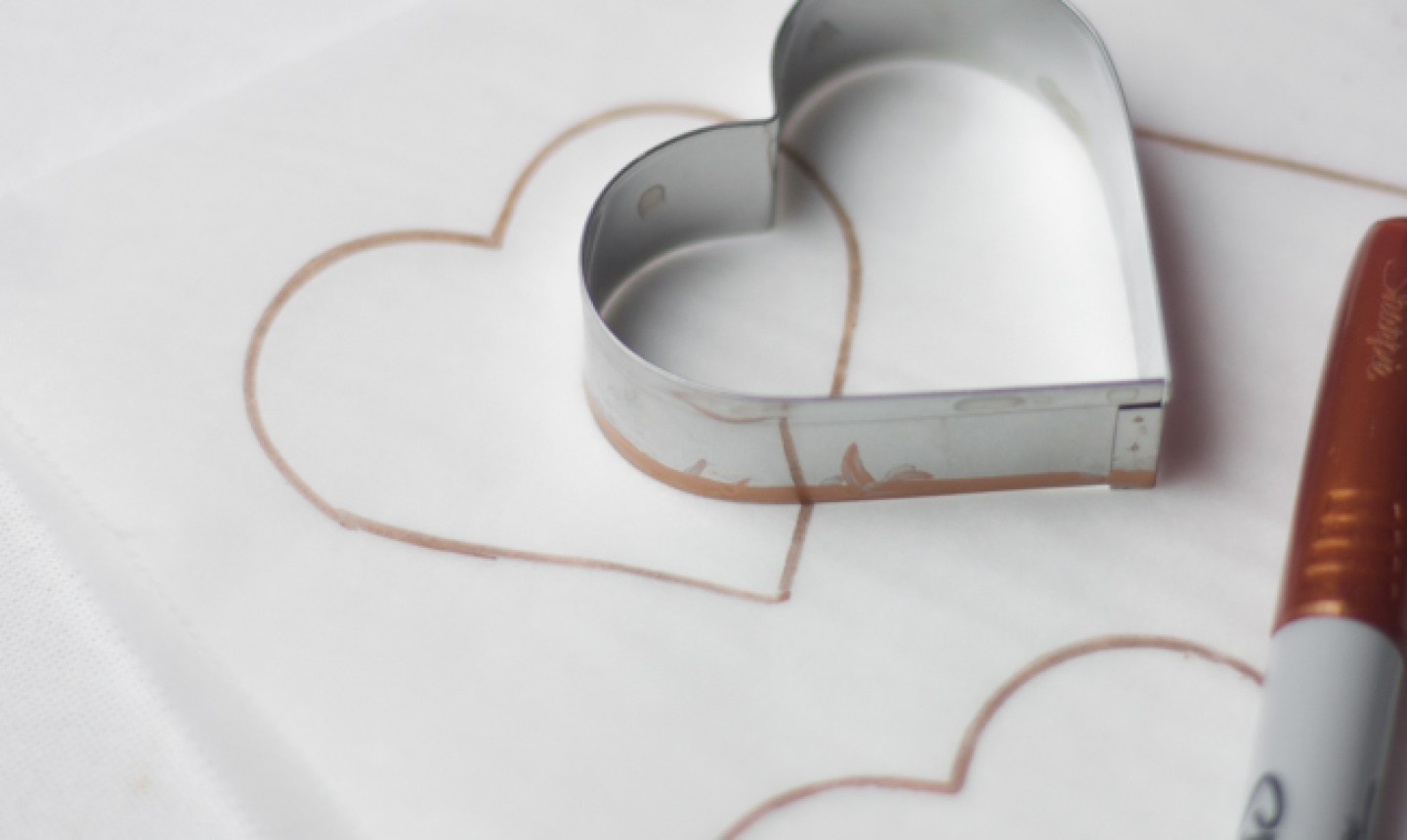 Trace your heart-shaped cookie cutter onto parchment paper to create a template. Make sure the hearts are spaced at least ¾" apart. Slide the template underneath a transparent silicone baking mat.
5. Pipe Your Heart Out
Follow the template to pipe a series of hearts with your meringue mixture. To create the heart, simply pipe two slanted teardrop-like shapes that slightly overlap each other at the tapered ends.
6. Bake
Place a thick baking tray on the top rack, then place the sheet of meringues below the tray. (This stops the meringues from browning so you keep that fun shade of pink.) Bake for 25-35 minutes, remove from oven and let cool completely.
7. Decorate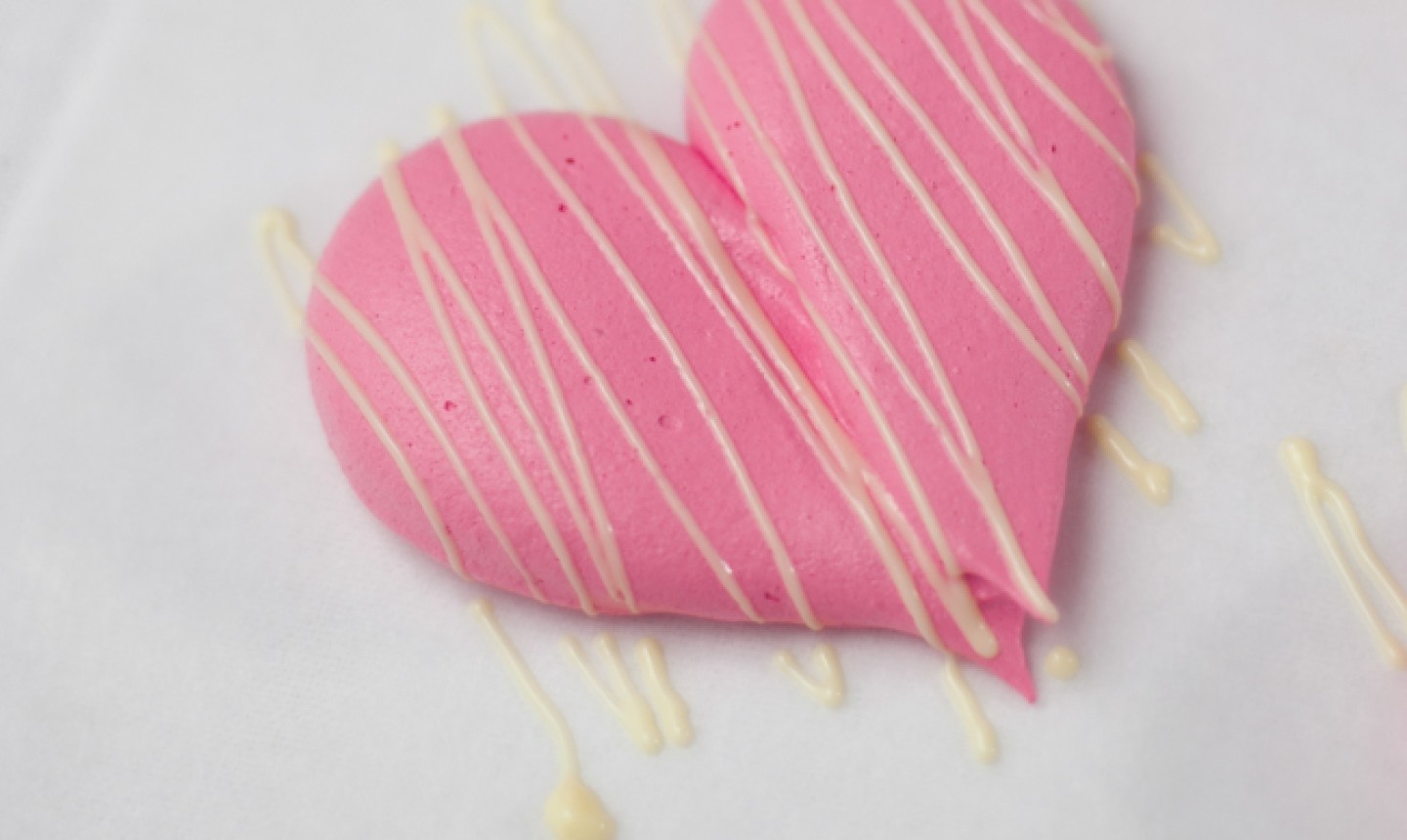 Once the meringues have cooled, melt white chocolate or white candy melts and drizzle over your meringues with a teaspoon or piping bag.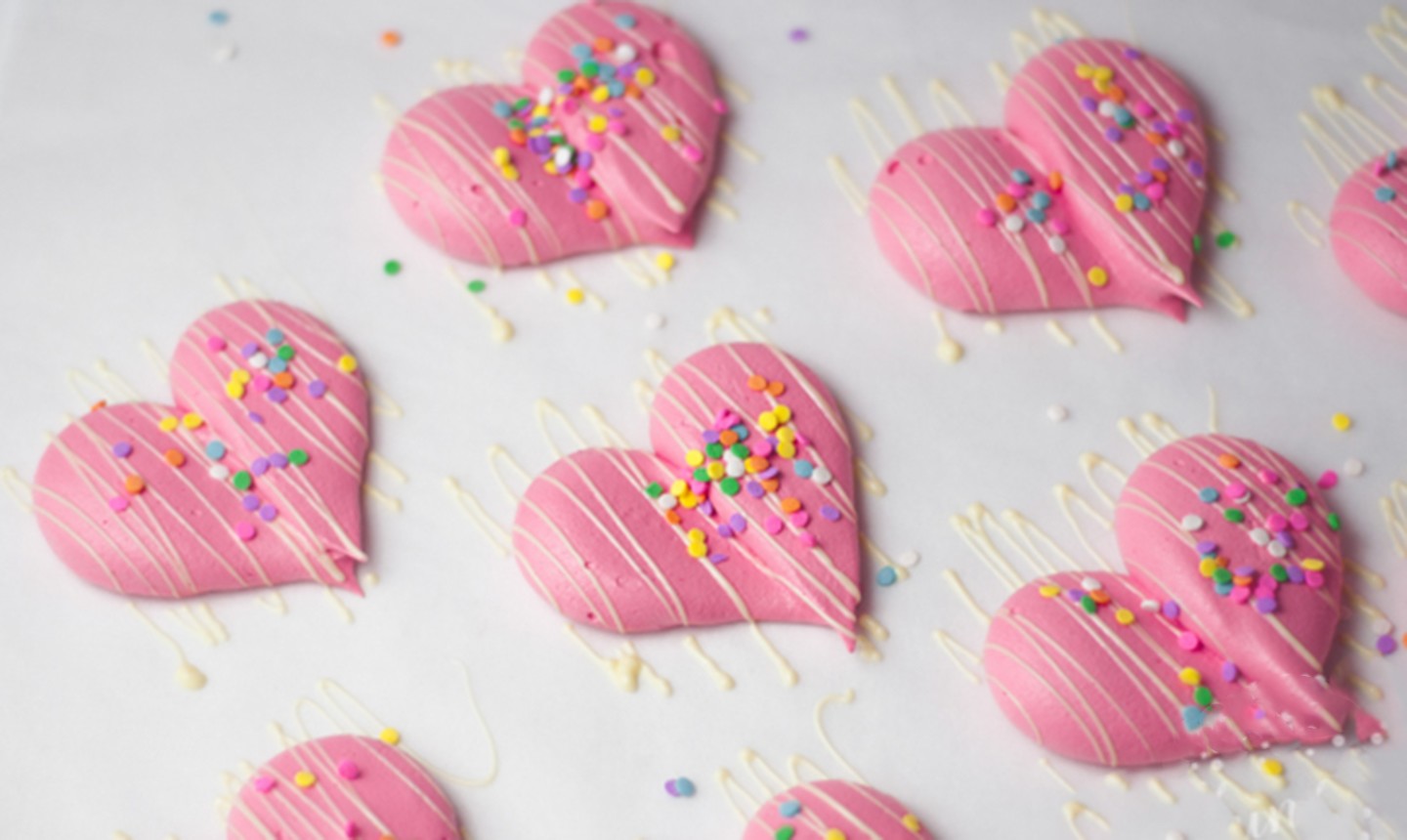 Top them off with sprinkles or sanding sugar. Then they're ready to serve!
Photos by Juniper Cakery