Spring and summer are the perfect time to enjoy sweet and fresh strawberries. What better way to take advantage of the season than to savor these flavors in sugary, cake form?

Photo via Lynlee's Petite Cakes
In honor of today being National "Pick Strawberries Day," delight in these delicious strawberry cakes, cupcakes and party ideas & be inspired to put your own berry pickings to use in a sweet confection of your own!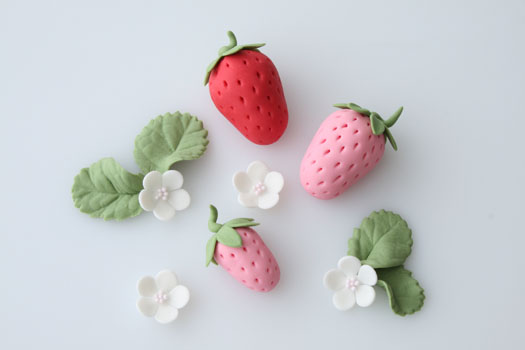 Photo via Cake Journal
Gum paste strawberries
These berry sweet strawberries made out of gum paste are simply adorable! Originally made to embellish a floral, garden-inspired cake, the pink and red fruits were adorned with decorative flowers and leaves. Fondant can easily be utilized in lieu of gum paste; if you desire the pieces to be extra firm, add a pinch of tylose powder to your fondant. Follow the gum paste strawberry tutorial to re-create these strawberries to dress up your cake, cupcakes and treats!
For additional instruction on creating berries and botanicals, be sure to check out the courses Sugar Berries, Leaves & Blossoms with Maggie Austin and Handcrafted Sugar Flowers with Jacqueline Butler.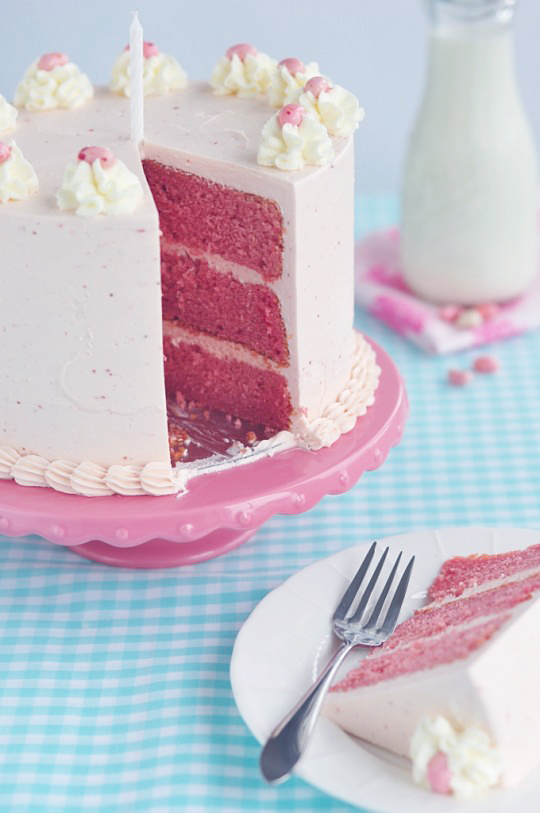 Photo via Sweetapolita
Strawberry layer cake
This strawberry layer cake with whipped strawberry icing is not only absolutely gorgeous, it is mouth-wateringly delicious! Originally inspired by a flavored jelly bean, Rosie at Sweetapolita experimented to develop a recipe reminiscent of an ice cream parlor combination. With perfectly smoothed buttercream, this three-layer cake would tickle any strawberry lover's fancy.
Experiment with additional flavor combinations in Jenny McCoy's Creative Flavors for Cakes, Fillings and Frostings, and perfect your buttercream skills for filling, crumb-coating and finishing your cakes in Joshua John Russell's Modern Buttercream.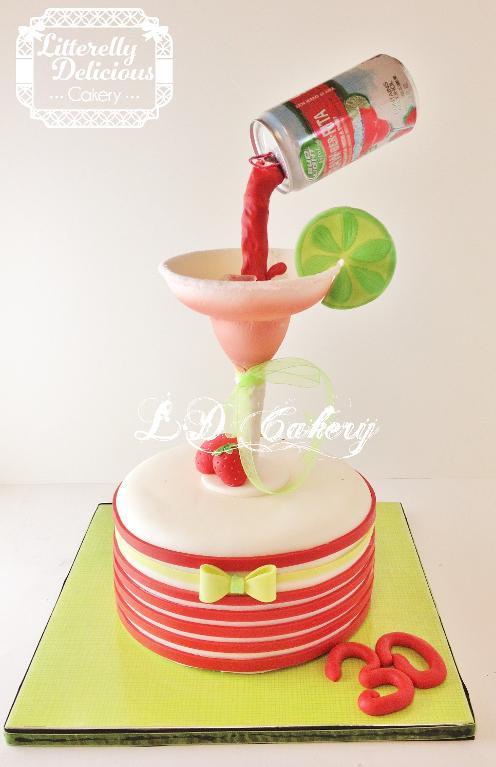 Photo via Bluprint member Rlitt
Floating straw-ber-rita cake
Bluprint member and cake artist Rlitt created this incredibly fun and creative floating straw-ber-rita cake in Jessica Harris' class Clean & Simple Cake Design. The strawberry cake was covered in fondant and decorated in a modern design. Then, the remainder of the embellishments were created with a combination of fondant, modeling chocolate and isomalt, giving the impression of the strawberry drink being poured into the margarita glass!
To learn more about creating this illusion and the necessary supporting structures, take Lauren Kitchens' class Gravity-Defying Cake Designs, which also includes additional tips and techniques for your confections.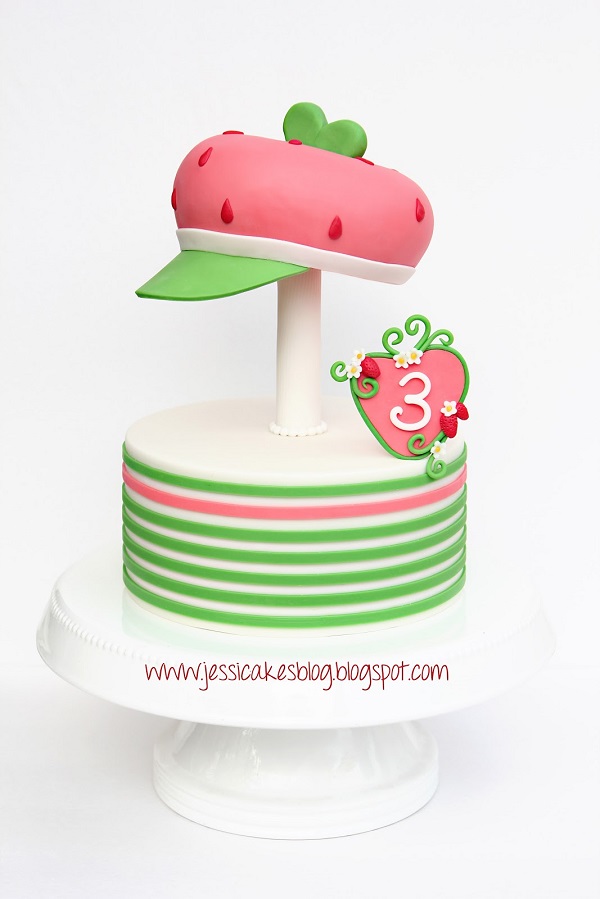 Photo via Bluprint instructor Jessica Harris
Strawberry Shortcake cake
When one mentions strawberries, a large portion of the female population, both young and old, automatically think of Strawberry Shortcake! This beloved character has been a classic since the height of her popularity in the 1980's and has since been relaunched and revived for a younger generation. Bluprint instructor Jessica Harris created this exceptionally adorable and sweet cake for her daughter, inspired by the animated little girl, her iconic colors and fashion accessories. See more details of the steps Jessica took to create this clean and modern Strawberry Shortcake cake, recognizable of her personalized decorating style.
Learn more about Jessica Harris' methods for achieving a clean and contemporary look in her Bluprint course Simply Modern Cake Design, then expand your horizons in her newest class Clean & Simple Birthday Cakes, where she teaches techniques to create impressive cake structures in her signature style.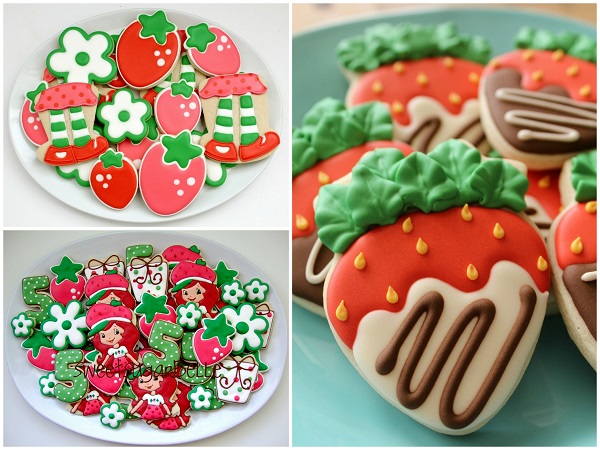 Photo via Sweet Sugarbelle
Strawberry decorated cookies
Sweet Sugarbelle is known for creating gorgeous cookie designs, and these strawberry-themed confections do not disappoint! Once again, the popular Strawberry Shortcake-theme appears in a couple of collections, including step-by-step instructions for recreating simple Strawberry Shortcake cookies. And who doesn't love a chocolate-covered strawberry? These chocolate-covered strawberry cookies are the absolute perfect decorated treat.
For more tips and techniques, join Autumn Carpenter in her Bluprint course Decorating Essentials: Designer Cookies with the use of rolled fondant, edible images and royal icing.
Photo via Bluprint member Bobbiesbaking
Strawberry-cherry blossom macarons
Bluprint member and baker Bobbiesbaking took a different spin on incorporating berries into a sweet confection with these delectable strawberry-cherry blossom macarons! The demand and popularity of French macarons as a gourmet treat continues to grow, making these light and airy cookies the perfect addition to any strawberry-themed event.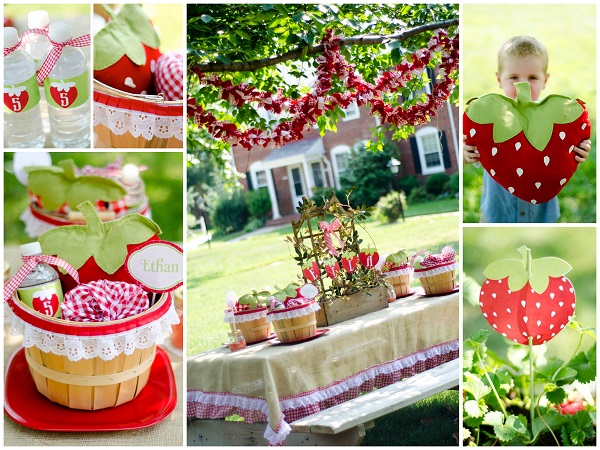 Photo via Love the Day
A berry strawberry party
Ideal for "Pick Strawberries Day" is this perfectly captivating and charming berry strawberry party by Love the Day! From knotted fabric garlands to hand-sewn decor and favor details to individual lunch served in wooden bushels, this strawberry-themed picnic provides the perfect Summer experience for family and friends!
What berry sweet strawberry dessert are you tempted to make this season?