Eric Carle's The Very Hungry Caterpillar storybook has become a staple in any household with young children. As an author and illustrator, Carle's iconic work is highly recognizable and an incredibly popular party theme for the little ones.
Tickle your taste buds and prepare your stomach for these delicious cakes and cupcakes inspired by Eric Carle's classic The Very Hungry Caterpillar and other storybook treats!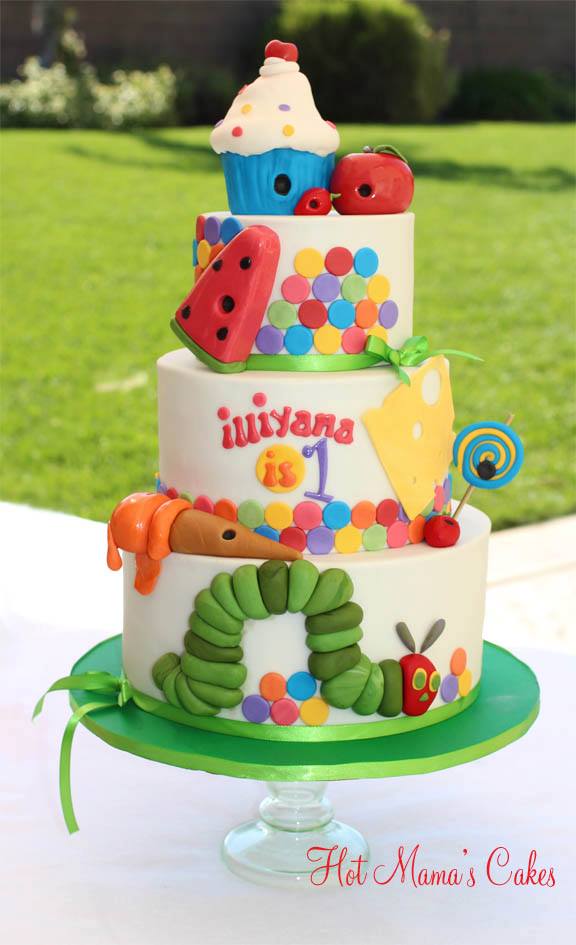 Photo via Hot Mama's Cakes
Cheery and bright very hungry caterpillar cake
This cheery and bright three-tiered cake by Hot Mama's Cakes, inspired by The Very Hungry Caterpillar book, would bring a huge smile to anyone's face! Each tier is covered smoothly with white fondant, then elements from the story, including the iconic caterpillar and different foods he ate, are molded in 3-D and strategically placed throughout the cake. Additional shine is achieved in specific accents by painting a glossy finish. Colorful polka dots are also a discernible aspect of Carle's work, which have been utilized to add supplementary embellishments on each layer, but without covering them in their entirety and preserving the clean and fresh look of this brilliant cake.
[box type="shadow"]To practice making three-dimensional fondant decorations and take your embellishment skills to the next level, check out the Bluprint course Piece of Cake! with Colette Peters.[/box]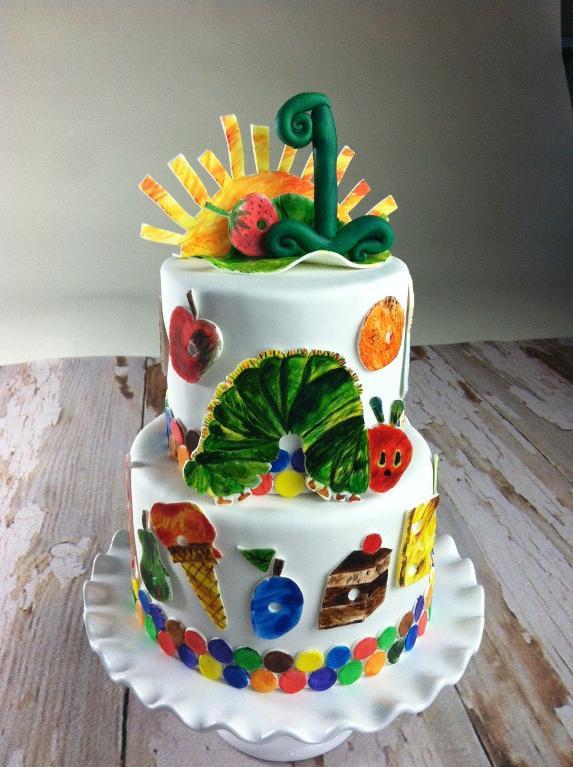 Photo via Bluprint member SweetandSwanky
Hungry Caterpillar birthday cake
This gorgeous Hungry Caterpillar birthday cake by Bluprint member and cake artist SweetandSwanky is extremely reminiscent of the author's illustrations. Contrary to the previous cake, the elements on this cake relating back to the story were meticulously hand-cut into two-dimensional shapes from gum paste. Once each shape was allowed to dry thoroughly, they were painted by hand with a combination of colored gel paste and vodka. When re-creating the food from the story, remember to include the holes in each piece through which the caterpillar ate!
[box type="shadow"]For insight on all the tips, tricks and techniques for hand-painting designs for your cakes and treats, try a brand new Bluprint class: The Art of Painted Cakes with Kate Sullivan.[/box]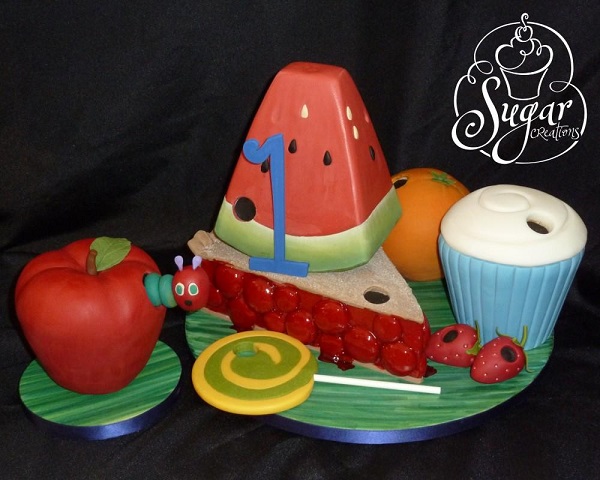 Photo via Sugar Creations
Hungry Caterpillar 1st birthday cake
For a 1st birthday, Sugar Creations constructed this absolutely precious collection of cakes based on a few foods from the classic story. The fruit and cupcakes were beautifully carved from 5″ cakes, maintaining proper proportion, then covered and decorated with fondant. Modeling chocolate was also utilized to mold some of the additional elements. Finally, red piping gel was utilized to achieve the shiny and gooey effect of the cherry pie filling.
[box type="shadow"]For more information and instruction on carving cakes, check out the Bluprint course Cake-osaurus Rex with Catherine Ruehle to hone your cake sculpting skills.[/box]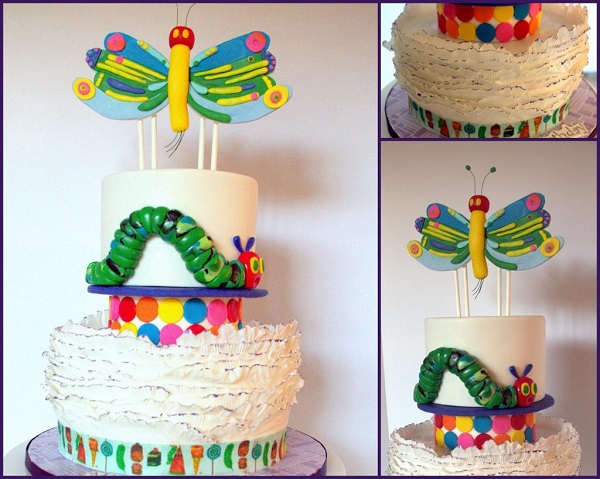 Photo via Bluprint member rooneygirl
Hungry Caterpillar frilled cake
Created in the course Fondant Frills with Maggie Austin, Bluprint member and cake artist rooneygirl designed this dazzling Hungry Caterpillar frilled cake for a sweet birthday. Rather than depicting all the different food the caterpillar ate through, this marvelous cake instead recounts the end of the story when the caterpillar turns into a butterfly! In addition to the creativity of the pretty frills, this design also demonstrates alternatives to a traditional tiered cake by varying the cake sizes and layers.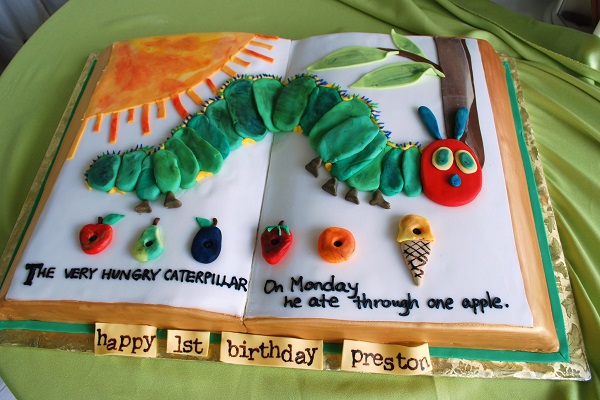 Photo via Butterfly Cakes
Hungry Caterpillar book cake
This amazing cake by Butterfly Cakes depicts actual pages of The Very Hungry Caterpillar with this brilliantly designed book cake for a 1st birthday. Two cakes were sculpted to resemble an open book, ensuring both the the binding and the sides are reflected accurately. The illustrations are reproduced into fondant form and hand-painted accents are added to mimic the storybook. Aside from utilizing gel pastes mixed with liquid (water, alcohol, etc.), additional decorations can bring dimension to your design with edible pens or piped royal icing.
[box type="shadow"]Practice handling and working with fondant in the Bluprint course The Wilton Method®: Decorating with Fondant with Beth Somers and soon you'll have the skills you need to create adorable cakes such as this.[/box]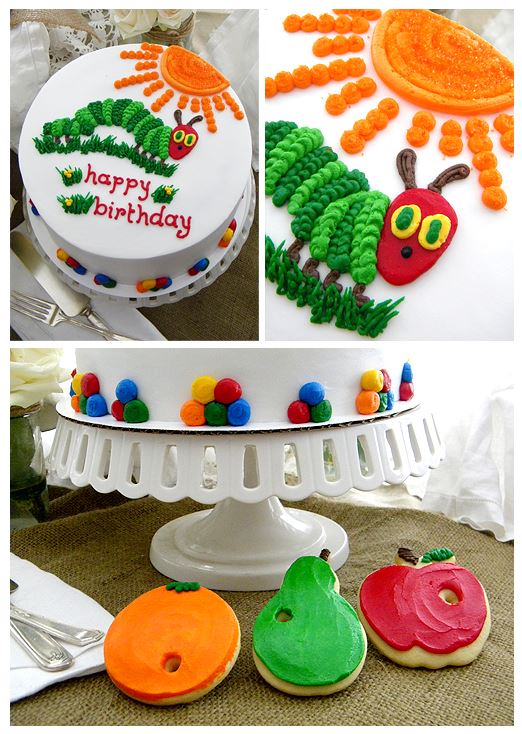 Photo via My Sweet Things
Hungry Caterpillar buttercream cake and cookies
These delightful and charming Hungry Caterpillar cake and cookies by My Sweet Things are decorated entirely out of buttercream! The elements on the round layered cake are achieved through a variety of different piping tips and techniques, while the sugar cookies are cleverly baked with a hole in the center of each fruit, then beautifully covered in buttercream with a spatula.
[box type="shadow"]Hone your piping skills in the course Piping Buttercream Borders with Roland Winbeckler and find out more about decorating cookies in Autumn Carpenter's Decorating Essentials: Designer Cookies class.[/box]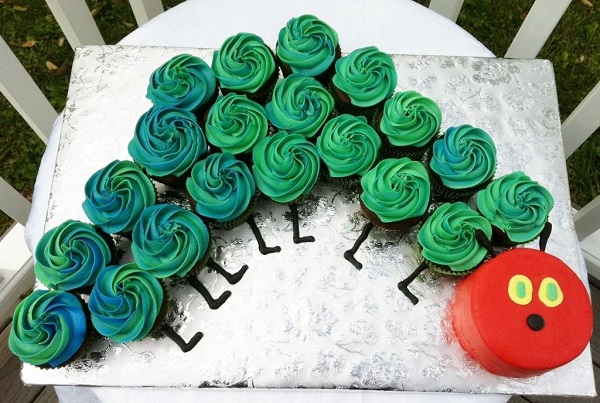 Photo via Bluprint member lisascakes
Hungry Caterpillar cupcake cake
Also decorated entirely with buttercream icing, Bluprint member and cake artist lisascakes created this super adorable Hungry Caterpillar cupcake cake! The cupcakes were piped and strategically placed on the cake board in the shape of a caterpillar and finished off with a small round cake for the head. To add a touch of additional color and dimension on the cupcakes, the buttercream was decorated with a tie-dye technique. You can finish off the cupcake design by utilizing royal icing or chocolate to create the various legs.
Photo via Bluprint member Swarley
A very yummy caterpillar cake
This extremely cute and delightful very yummy caterpillar cake was created by Bluprint member Swarley. The rolled chocolate mud cake was embellished with a caterpillar formed with cake balls dipped in green chocolate and trimmed with colored shredded coconut for added texture. Natural elements are added with gummy mint leaves for the final presentation. Check out our post how to make a yule log cake to create a similar creation!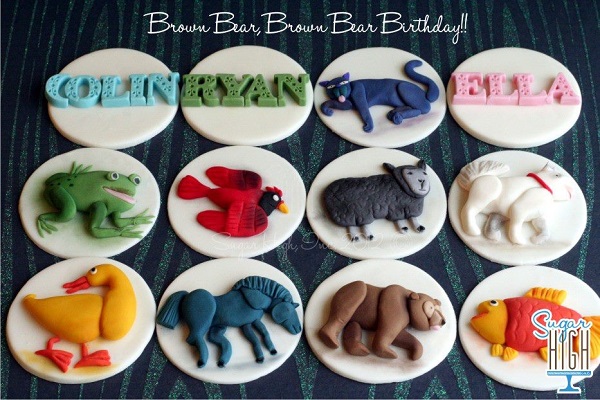 Photo via Sugar High, Inc.
Brown Bear fondant cupcake toppers
Eric Carle is also extremely well-known for illustrating Bill Martin Jr.'s book Brown Bear, Brown Bear, What Do You See?, which also joins the popular ranks of children's books. Sugar high, Inc. so beautifully re-created the images of the various characters in these colorful fondant cupcake toppers. The use of shading with edible shimmers and powders adds dimension to the animals and the collection is finished off with personalized toppers with letters made from fondant molds.
[box type="shadow"]Practice making miniature fondant decorations to adorn your cupcakes in the Bluprint course Tiny Cupcake Toppers with Sheryl Bito while working with the appropriate proportions.[/box]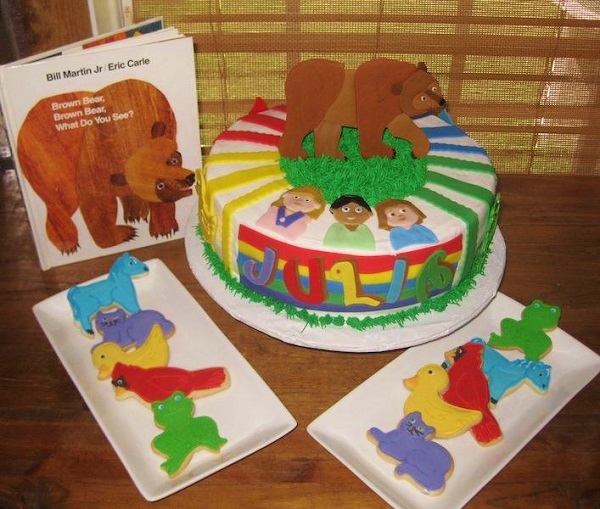 Photo via Sugarcoated by Michelle
Brown Bear cakes and cookies
To reflect the same animals from the beautifully illustrated storybook, Sugarcoated by Michelle adorned this sweet and colorful cake, topped with an intricate fondant bear, meticulously cut with a variety of shades of brown. Some of the remaining animals were reproduced in sugar cookie form with the use of basic cookie cutters and embellished with royal icing in the coordinating colors. When designing a cake based on a story, instead of feeling the pressure to include every character, instead make sure you are including the guest of honor's favorite elements or part of the story!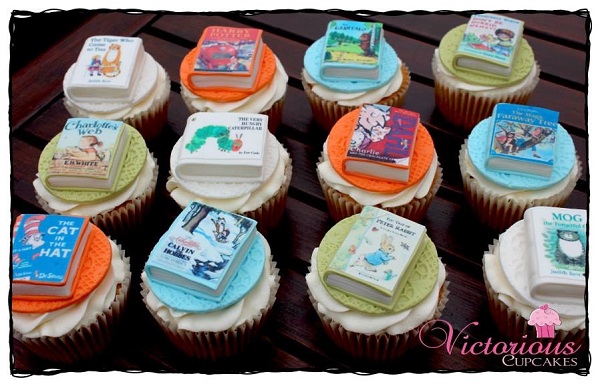 Photo via Victorious Cupcakes
Storybook cupcake toppers
These storybook cupcake toppers by Victorious Cupcakes are absolutely darling, especially The Very Hungry Caterpillar one! The covers are reproduced into edible icing sheets, which you can purchase through various vendors online or print yourself with an edible ink printer onto blank icing sheets. Once you have the desired icing sheets, follow the book topper tutorial to finish creating your books. This collection was given additional color and texture by placing them on fondant toppers adorned with the use of a patterned embossing mat.
What is your most treasured storybook from your own childhood or that your children just adore?