"May the Fourth" be with you on Star Wars Day! With it incredibly devoted following of fans, the Star Wars franchise continues to rise in popularity, especially as the newest films are underway. This galactic theme continues to be prominent in parties for both children and adults alike, putting Star Wars cakes in high demand.
The force is strong with these out-of-this-world Star Wars cakes and parties, perfect to celebrate the next Jedi Master!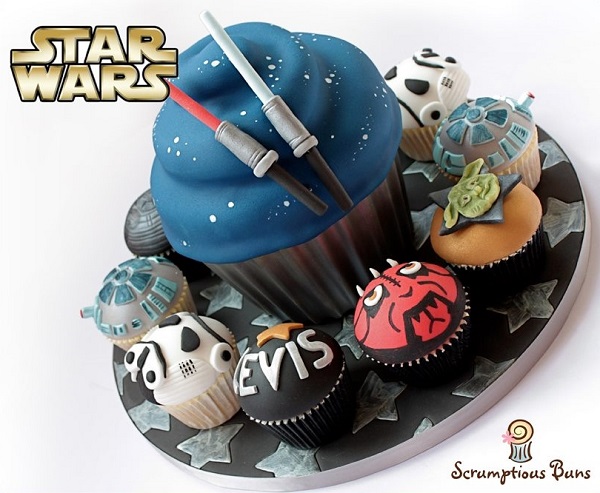 Photo via Scrumptious Buns
Star Wars Cupcakes
Who doesn't love cupcakes?! Scrumptious Buns does a fantastic job of incorporating small cupcake designs with one large cupcake cake to center the presentation in this Star Wars-themed presentation. The cake can be baked in an oversized cupcake pan or carved and sculpted into the desired shape, then covered with fondant. W
hat is made to look like icing on the large cupcake was decorated to resemble space, topped with modeled lighter sabers, while the surrounding cupcakes reflect several characters from the Star Wars series covering the entire surface of the confections. To complete the display, the cake board was incorporated into the design with coordinating shapes and colors.
To familiarize yourself and feel comfortable working with fondant, make sure to try out The Wilton Method®:  Decorating with Fondant with Beth Somers. Then, perfect your cupcake decorating skills while transforming characters into fondant in Sheryl Bito's  Global Cupcake Design.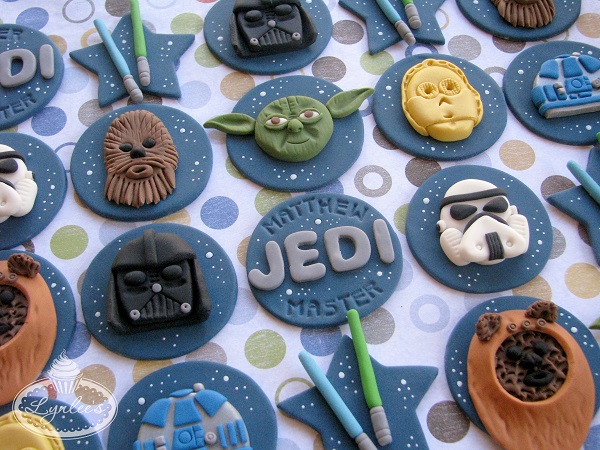 Photo via Lynlee's Petite Cakes
Star Wars Fondant Toppers
Similar to the Star Wars-themed confections above, these fondant cupcake toppers portray aspects and characters of the films in space but on a smaller scale. Rather than covering the entirety of the treat, the individually modeled figures were adhered to circular and star-shaped discs. This allow the decorations to top iced cupcakes easily as well as adding uniformity to the entire collection. Personalization was added with the use of letter cutters and presses.
Learn more about complementing your cakes and cupcakes with personalized messages in the new class Custom Lettering & Monograms with Nicholas Lodge, and practice your small modeling skills in Sheryl Bito's other Bluprint class Tiny Cupcake Toppers.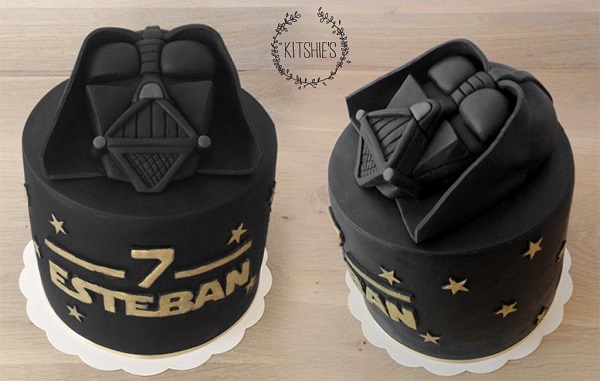 Photo via Bluprint member Kitshies
Darth Vader Cake
Bluprint member and cake artist Kitshies created an awesome Darth Vader Cake for a little boy's 7th birthday celebration. The layered cake was covered precisely in black fondant, giving it a clean and modern look, while the 3-D Darth Vader mask was constructed and modeled out of a combination of gum paste and fondant, topping the confection. The cake was finished off with the guest of honor's name and age in the classic Star Wars-style font.
For additional inspiration and instruction on creating clean and sophisticated cakes, check out Jessica Harris' Simply Modern Cake Design class and learn to create seamless tiers with pristine patterns.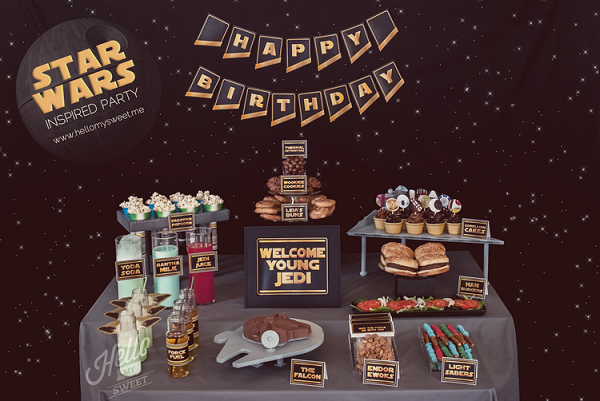 Photo via Hello My Sweet
Classic Star Wars Party Ideas
Hello My Sweet created this Classic Star Wars party with the use of their beautiful StarWars printable party set, making it easy to print, cut and decorate for your own Jedi celebration! Lots of fun and creative ideas, including Wookiee cookies, Leia's cinnamon buns, Ewok graham crackers, chocolate-dipped pretzel light sabers and Yoda soda to complete a Star Wars-themed party.
For more inspiration, check out the entire Star-Wars birthday party collection to satisfy any Jedi-in-training's needs!
Photo via Lynlee's Petite Cakes
Lego® Star Wars Fondant Toppers
In addition to the traditional Star Wars series, there are also several branches that have expanded from franchise, including the Lego brand! These fondant cupcake toppers combine Star Wars characters with the building blocks in both flat and 3-D designs. The flat toppers incorporate the recognizable circles on the bricks, while the Lego figures were molded to transform the iconic toys into Star Wars personalities.
Perfect your fondant modeling skills in the Bluprint course Cake Topper Techniques: Figure Modeling with Anne Heap and become comfortable with creating additional toppers for your cakes and cupcakes.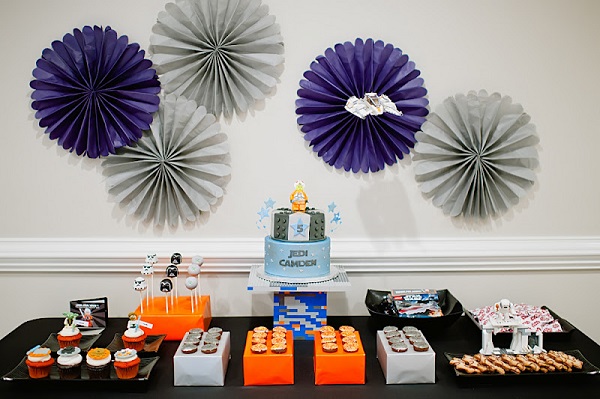 Photo via Pure Joy Events
Lego® Star Wars Party Ideas
To supplement the above cupcake toppers, these creative ideas from Pure Joy Events are the perfect building blocks for your next Lego Star Wars party! Boxes were covered in wrapping paper and topped with doughnuts to resemble the Lego bricks, while cake pops and cookies on sticks featuring Star Wars characters accent the display.
Check out more Lego Star Wars party inspiration, including fun photo booth props and activities!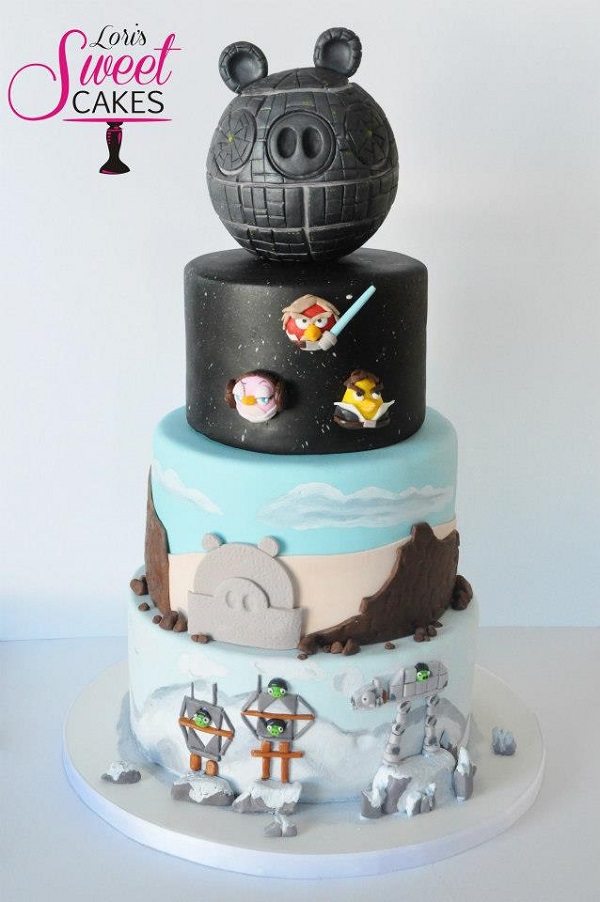 Photo via Lori's Sweet Cakes
Star Wars Angry Birds Cake
Another franchise that has merged with the Star Wars series is Angry Birds! Lori's Sweet Cakes created this absolutely incredible four-tiered cake to match the motif, depicting different scenes on each layer. The two themes are merged throughout, including Angry Birds dressed up as Star Wars characters, decorating the perimeters of the cakes. The tower is topped off by a perfectly round cake, meticulously covered and decorated to resemble a pig Death Star space station!
Practice modeling animals from fondant in the Bluprint class Cake Topper Techniques: Fondant Animals with Sharon Wee to take your figures to the next level!
 What favorite Star Wars character would you love to transform into cake?