Olé! Fall in love with this gorgeous collection of Spanish themed wedding cakes and get inspired for any modern Spanish themed nuptials! We've found a beautiful range of cakes, from fondant creations of passion and old world romance, to buttercream cakes hand-detailed in an embroidery-look.
When you see these top 7 Spanish themed cakes, you'll find yourself wanting to jump on the next plane to Spain!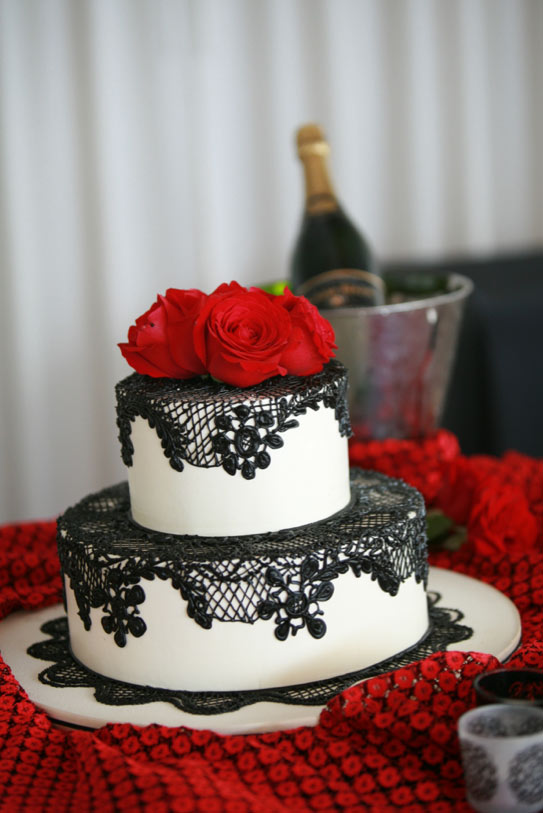 Photo via Cake Coquette 
Black lace with red roses wedding cake:
The cake that started a craze: Gabby of Cake Coquette's gorgeously awesome black buttercream lace wedding cake topped with fresh red roses. Doesn't it remind you of a flamenco dancer's delicate lace shawl?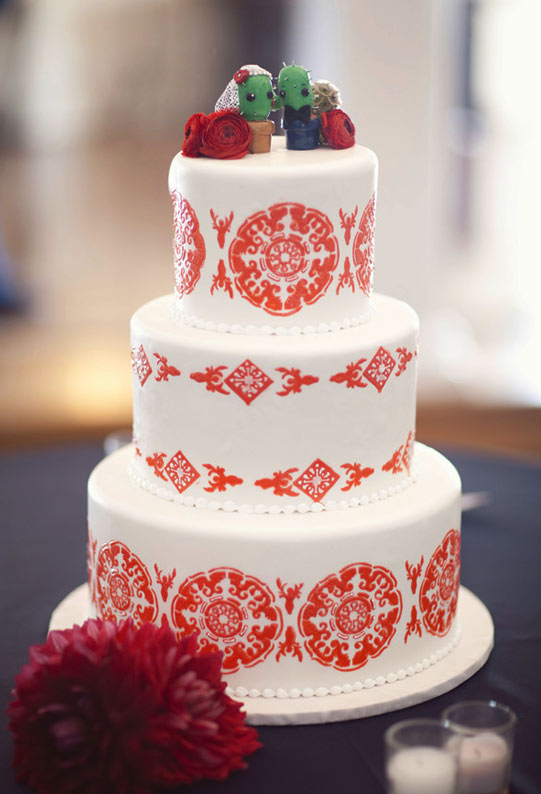 Photo via 24 Carrots
Spanish tile wedding cake:
I love this simple and lovely white fondant cake piped with a beautiful red Spanish tile motif. Check out those little cactus cake toppers as bride and groom– are those cute or what? This cake is perfect for a modern Spanish themed fête.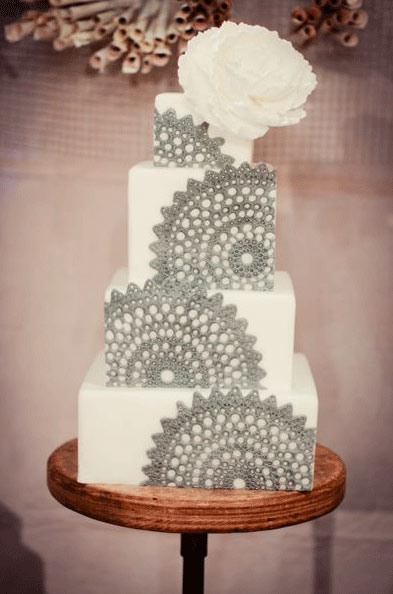 Photo via Sweet & Saucy Shop
Grey lace doily cake:
This cake is a perfect fit for a modern and clean Spanish-themed wedding. The crocheted lace is like a grandmother's Spanish shawl, and that gorgeous full and lush white ruffle sugar rose looks like it was plucked from the hair of Carmen Miranda.
Sugar flowers can be a beautiful addition to any cake, but particularly a wedding cake, adding an elegant touch to an already glorious design. It's not too difficult to learn how to make rose sugar roses to create that exquisite finishing touch.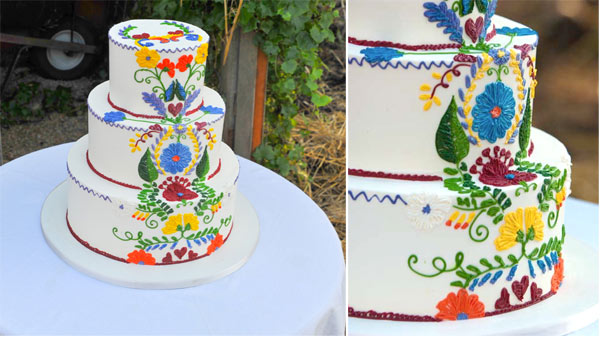 Cake by Cake Coquette. Photo via Gino Degrandis Photography.
"Embroidery" piped buttercream cake:
I love this cake from the amazing Gabby at Cake Coquette. Beautifully piped in a myriad of colors it looks as if she ran the cake through a sewing machine to embroider it! Such a festive and fun cake perfect for a wedding fiesta.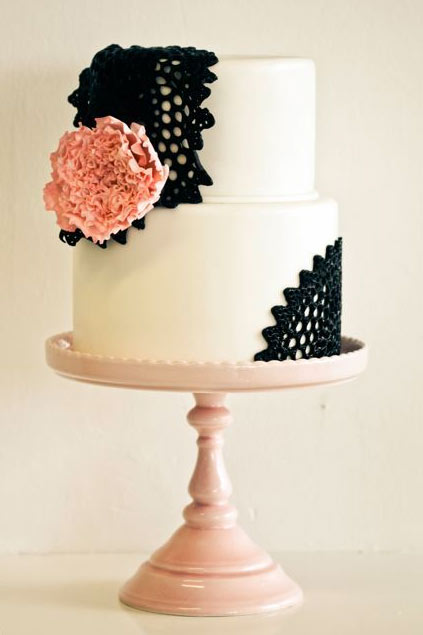 Photo via Sweet & Saucy Shop
Black lace doily cake:
For an ultra modern Spanish themed fête, this two tiered beauty would be gorgeous amongst a table of beautiful desserts. I love the black lace application and that extra ruffly pink carnation rose.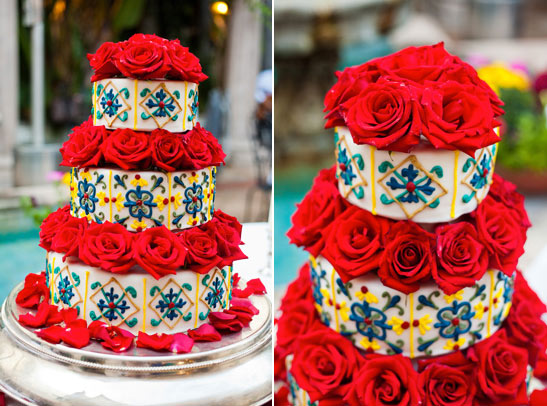 Cake by A Piece Of Cake. Photo via Embrace Life Photography.
Piped tile and lush roses cake:
This is another beautiful example of a Spanish themed wedding cake inspired by colorful Spanish tile. It's absolutely brimming with gorgeous bright red fresh roses. Roses are such a traditional and old world romantic flower, and the contrast of them between cake tiers adds lushness and a sense of passion.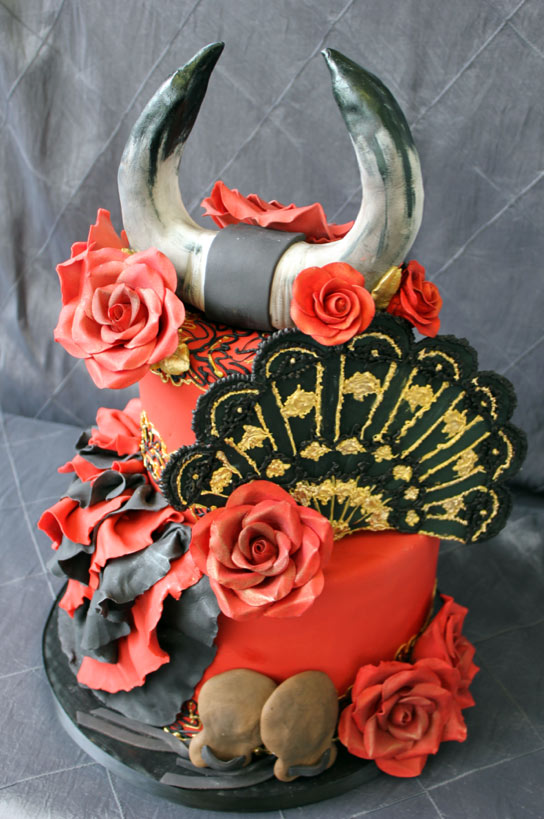 Photo via Cake Coquette
Carmen themed cake:
This cake brimming with ruffles and roses was a fun Carmen-inspired cake made by Gabby of Cake Coquette. All of the pieces are fondant and the cake itself is also buttercream piped. I love the red, black and gold color theme– very festive! But my favorite part are the bull horns perched loud and proud on the top of this cake!
I would love to be the lucky attendee at a Spanish themed wedding and enjoy a slice of one of these fine cakes. Would you ever consider a theme wedding, or did you in fact have a theme wedding? My own wedding was vintage Hawaiian themed wedding and it took place in the middle of January in Canada! Really, wedding themes can be absolutely anything these days.
You might have noticed, one constant in these beautiful Spanish themed cakes are the gorgeous flowers. If you're feeling rusty on your flower making skills, there is just just the antidote: amazing sugar flower classes with the very best cake designers in the world.
Once you've made a beautiful cake, you want to show it off, right? Come back to the Bluprint blog tomorrow to learn 7 tips and tricks for photographing your cakes to make them shine on camera as much as they do in person!
Of the above, which cake would you have at your wedding?