Food processors are fantastic for baking. While stand mixers look flashy, food processors are quick, efficient and exceptionally easy to use — and they can do a lot more than you might think!
This sour cream coffee cake recipe is a wonderful example of just how useful a food processor can be. The cake batter and streusel come together in just a couple of minutes — and the finished cake will look at taste like it took a lot more time and effort to put together.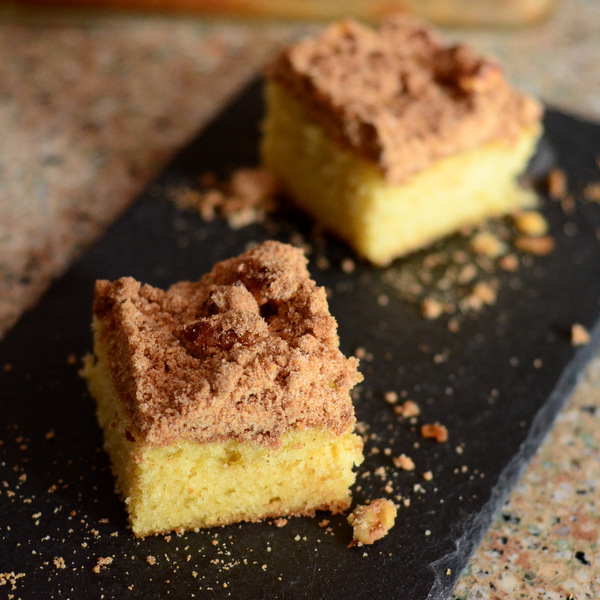 About this recipe
The cake batter starts with flour, sugar and butter. The butter is added in to the food processor while it is cold and pulsed in until the resulting mixture is sandy. Cutting in the butter this way distributes it very evenly throughout the flour, resulting in a cake with a very even and tender crumb after baking. Cutting in the butter this way also allows you to set aside a portion of the mixture to form the streusel topping with minimal effort.
To make the streusel, I remove part of the flour-sugar-butter mixture from the food processor and stir in cinnamon, brown sugar and chopped nuts.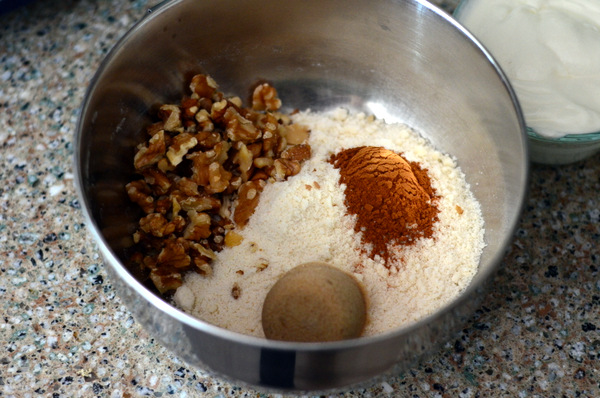 I add additional brown sugar to give the streusel some extra sweetness and help it stand out from the rest of the cake. I used walnuts in this particular cake, however pecans, pistachios and other nuts can also be used. The nuts should be untoasted when you add them to the streusel, as they will toast while they are in the oven.
Once your streusel is made, you can add all the remaining ingredients, including baking powder, baking soda, salt, eggs, sour cream and vanilla extract, to the food processor and simply whiz away until the batter comes together. 
It is just that easy. 
I do recommend scraping down the sides of the bowl once or twice, but in 30 seconds, your batter will be ready to go into the baking pan. You can't beat that speed, even with a stand mixer! The streusel mixture can then be crumbled over the top of the batter and everything can go into the oven.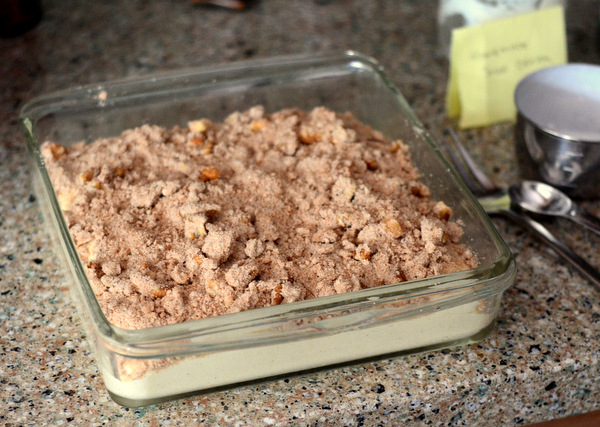 From start to finish, the "active" time for preparing this cake is less than 5 minutes, including measuring out all your ingredients. The finished cake will blow you away, considering how simple it was to make. The coffee cake is moist, fluffy and amazingly tender. There is a generous amount of streusel for every bite of cake, and you would never know that the two parts of this recipe started off in the same bowl.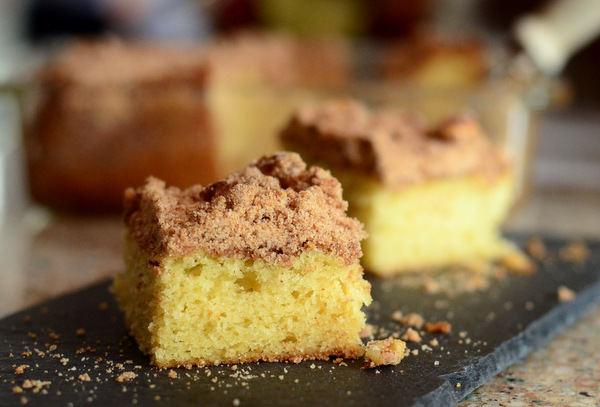 For variety, you can stir 1/2 – 3/4 cup chopped nuts, berries, dried fruits or chocolate chips into the coffee cake batter before baking without changing the recipe or the baking time. These variations are sure to come in handy from time to time because I can just about guarantee that this will become your favorite go-to coffee cake recipe once you've tried it. 
Sour cream coffee cake recipe
Serves 8-10
Ingredients:
2 1/2 cups all-purpose flour
1 1/3 cups sugar
2/3 cup butter, cold
1 tsp ground cinnamon
2 tbsp brown sugar
1/2 cup chopped walnuts or pecans
1 tsp baking powder
1/2 tsp baking soda
1/4 tsp salt
2 large eggs
1 cup sour cream
2 tsp vanilla extract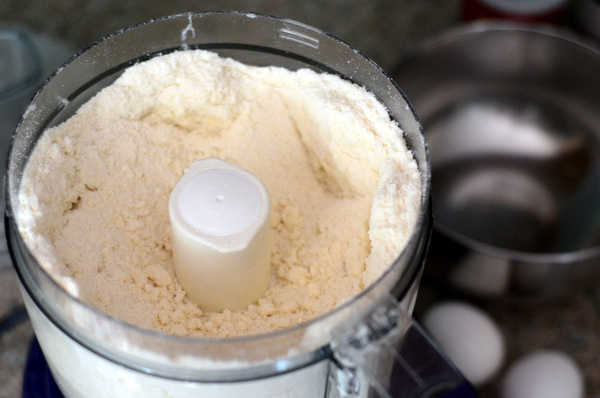 Step 1:
Preheat oven to 350 F. Lightly grease a 9-inch square baking pan. In the food processor, combine flour, sugar and butter.
Pulse until mixture is sandy and the butter has been very well incorporated, with no visible chunks remaining.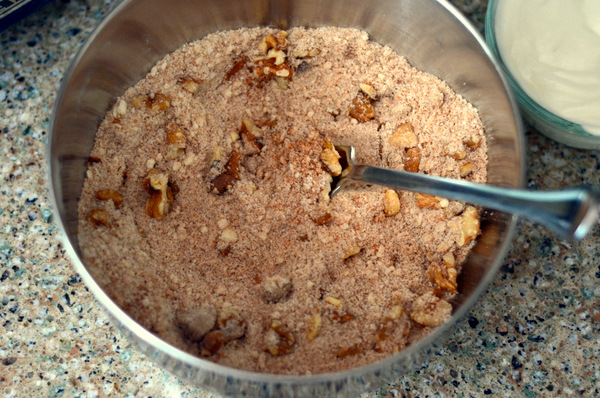 Step 2:
Transfer 1 cup of flour-butter mixture into a medium bowl. Add in cinnamon, brown sugar and chopped nuts. Stir with a fork until well combined. Set aside.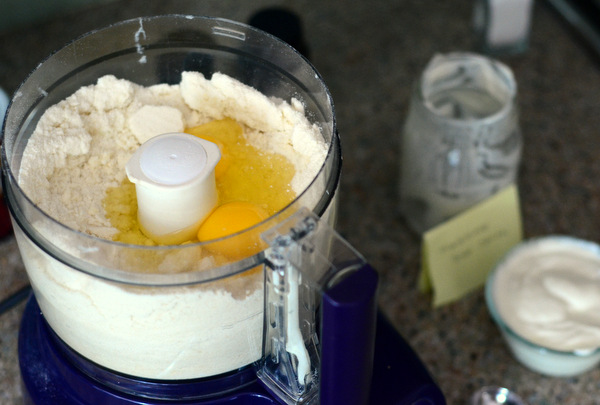 Step 3:
Add all remaining ingredients to the flour mixture that is still in the food processor and process until the batter comes together and is smooth.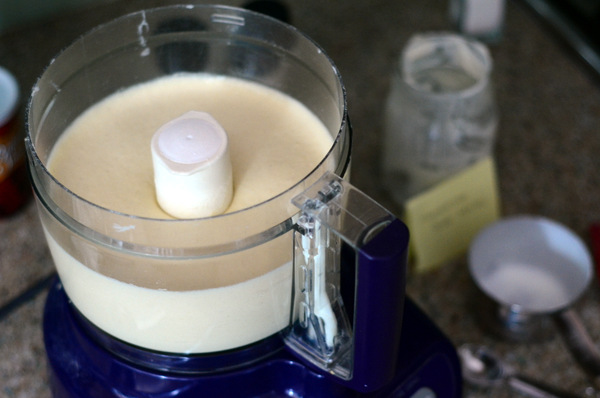 Scrape down the sides of the bowl if necessary. Pour batter into prepared baking dish and spread into an even layer. Sprinkle streusel topping evenly over the cake batter.
Step 4:
Bake for 40-45 minutes, until a toothpick inserted into the center of the cake comes out clean, or with only a few moist crumbs attached. Allow cake to cool completely before slicing.