The humble single-tiered cake is perhaps one of the most requested cakes from clients, but at the same time it feels as though it's over shadowed by it's more dominating and impressive multi-tiered cousins! We're going to take a look at how you can add a little "je ne sais quoi" to your next and otherwise unassuming single-tiered project, for a stand-out cake design — without all the layers.
Read on for our tips on how to make the most of a single-tiered cake design.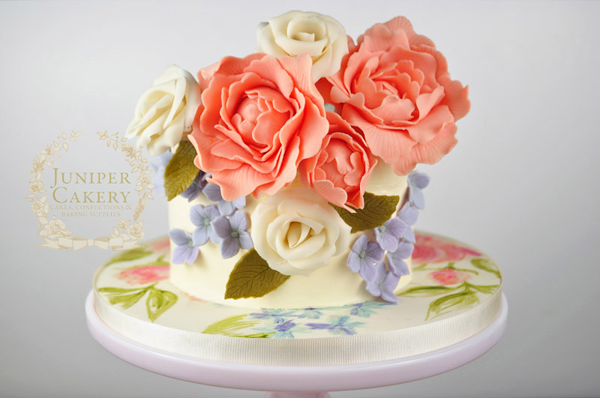 All photos via Juniper Cakery
Tip No. 01: Think big!
Just because a cake is rather petite doesn't mean you can't think big in terms of fabulous design! The above peach peony cake was a tiny creation with a diameter of just six inches and a height of four inches! But, by adding some bold detailing, we managed to make this small cake look rather grand. Try making a smaller cake feel extra special with some cake board detailing or adorn your project with handmade sugar flowers, foliage or berries along the side as well as the top.
For more inspiration and ideas on creating small designs why not sign up for Chrissie Boon's Small Cakes, Big Business class today!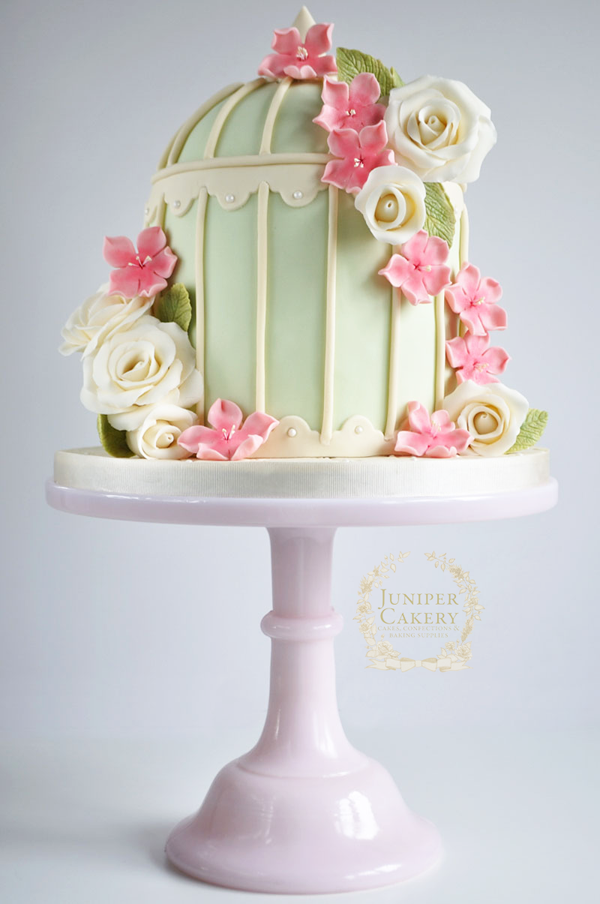 Tip No. 02: Don't be square… or circle!
A single tier doesn't mean a standard square, circle or even rectangular shape. These tall dome-shaped cakes are both just one-tiered designs created with a few layers of freshly baked cake! A tier is simply a collective row or stage of cake whilst layers are the sandwiched and torted cakes put together to create a single tier. So 5 layers of cake filled with buttercream atop of one another is still just one tier! With all that cake to work with, why not think about carving and sculpting a design?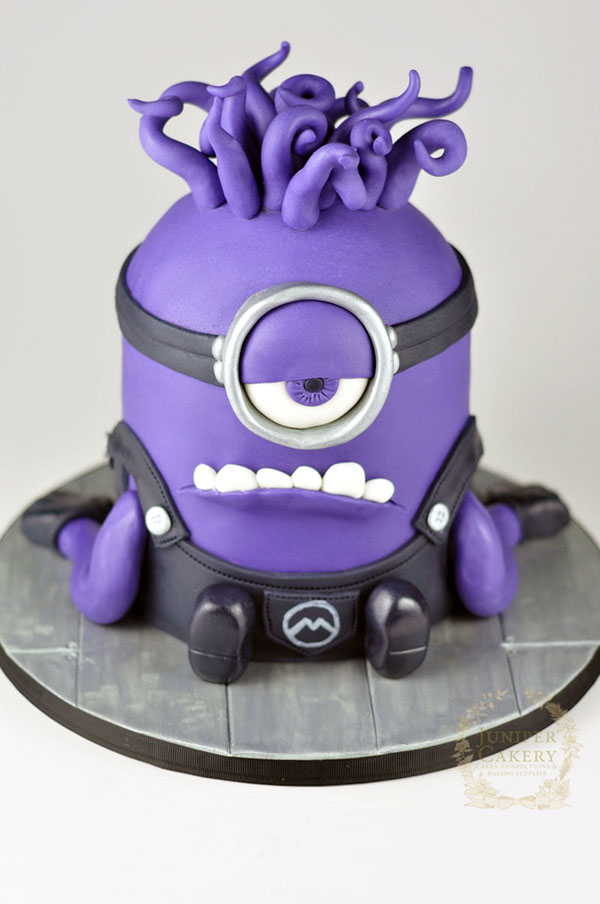 To shape a simple dome cake, like those used to create the birdcage and minion above, we stack 4″ x 1 1/2″ layers on top of each other before finishing with a  2 1/2″ deep cake to carve into a dome! If you're adding carved detail, such as a contoured face our top tip is to keep your off-cuts in case you need to conduct any patching up work. You'll be grateful for these bits and pieces later on!
Get to grips with sculpting a single tier cake with Lindy Smith's Vintage Cake Design class where you'll be introduced to the very basics of carving and shaped tall cakes!
Tip No.03: Add some texture!
Adding some interesting texture to a single tier is a good way to turn a smaller cake from drab to fab! For the cake above we piped rows upon rows of silky buttercream ruffles for a simple yet eye-catching detail. When you use techniques such as buttercream or fondant ruffles you'll find that less is definitely more. Finish with a name and age plaque, a delicate sugar rose, sprinkles on the top of the cake or a ruffled rosette for a sweet touch.
For some great buttercream techniques and ideas enrol in Joshua John Russell's Modern Buttercream class.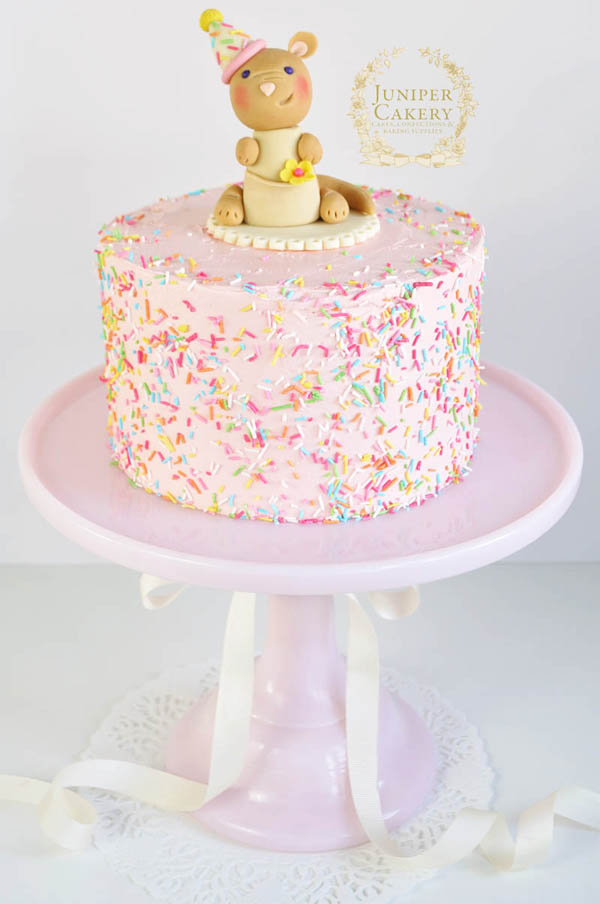 Tip No. 04: Play with your food!
Never underestimate the power of… rainbow sprinkles. This may sound odd and perhaps childish, but they are an instant crowd pleaser for kids and big kids (adults) alike! Baking chunky bright jimmies into your cake, stirring them lightly into your buttercream, throwing them on top or absolutely smothering a buttercream cake with multicolored nonpareils seems to instantly bring a smile to people's faces. Decorate a fondant covered board with a mass of sprinkles, use pearlescent colors for engagement or baby showers, bake different colored jimmies into separate layers for a unique take on the rainbow layer cake… etc.
You can even make your own homemade sprinkles with this fun recipe. Try making jumbo-sized jimmies or color them for a customized look!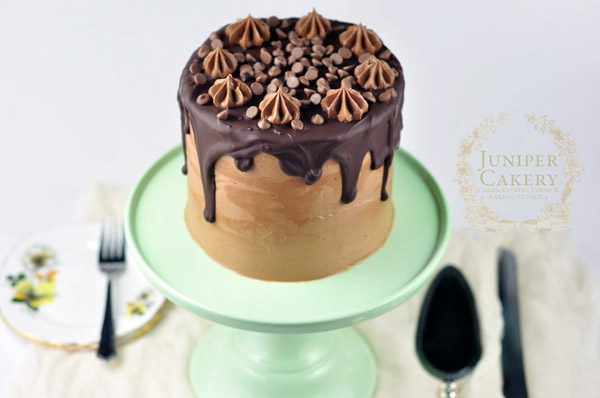 Tip No. 05: Flavorful!
Smaller, single-tiered cakes are fabulous for incorporating a little extra flavor. We get asked to whip up lots of simple buttercream and drizzle cakes. And, if your clients are like ours (we get asked for anything so long as there's chocolate cake inside) it's a great chance to add another element of flavor!
The cake above is the addictive "Chocolate Chip Cookie Dough Cake" we created featuring soft chocolate cake with jumbo chocolate chips baked inside, sandwiched with vanilla pod buttercream with balls of eggless raw cookie dough, smothered with whipped milk chocolate and vanilla pod buttercream, drizzled with dark chocolate and finished with chocolate chips and piped buttercream gems.
Some great flavor ideas include: incorporating jalapeños or even chipotle with chocolate; adding a pinch of salt to butterscotch fillings; including a little splash of balsamic vinegar to a truly fruity strawberry buttercream or preserve; or even baking up a fresh lemon cake infused with a sprinkling of rosemary paired with a tangy lemon sherbet buttercream!
Enroll in Jenny McCoy's Creative Flavors for Cakes, Fillings & Frostings class for even more incredible taste bud tingling flavor ideas!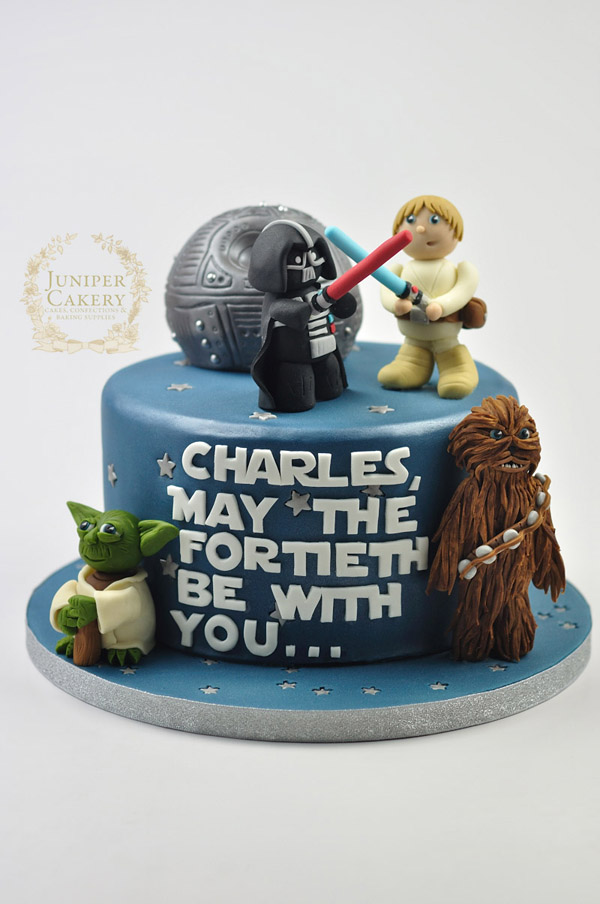 Tip No. 6: Figure it out!
Lots of single-tier cakes incorporate a fun theme perfect for birthday celebrations, like the Star Wars themed cake above! Adding some great fondant figures on top helps add height and intrigue to a small cake design. You can even give the illusion of a second tier with an extra design element like the Rice Krispies and fondant Death Star we created and perched atop the cake, right next to the dueling Darth Vader and Luke Skywalker!
Try Anne Heap's Cake Topper Techniques class for a wealth of fantastic tips, advice and ideas for creating impressive fondant figures to top your cakes and cupcakes with!
Designing single-tier cakes needn't be uninspired as our post has hopefully shown! There's a whole wealth of fun and fabulous design ideas you can implement with a simple yet small cake.
What's your favorite way to decorate a single-tier cake?