Every time I get the chance to shop sans kids at the fabric store, I find myself standing in front of the notions wall curious about what all those interesting gadgets can do to help improve my sewing skills. Sometimes I might buy a product that looks interesting just to give it a try, but mostly, I consult my sewing shopping list (yes, I have a shopping list just for the fabric store) for the sewing tools and products that I've run out of or have heard are worth a try.
In my shopping endeavors, I've discovered a few great tools along the way. Because I want to share what I've learned…
Here's a list of 5 sewing tools and products that I believe make sewing easier!
1. Wonder Tape
Wonder Tape is a double-sided adhesive that dissolves when washed. It is 1/4″ wide and comes in 10 and 25 yard rolls. This tape is manufactured by two different companies and can be found in most sewing centers, discount retail stores and online.
Ever struggle with pinning a zipper in place or fumble with positioning a button loop? How about try to evenly sew a piece of decorative trim onto a garment? Then Wonder Tape is the perfect alternative to pins for securing your zipper, button loop, trim or even a button in place to sew.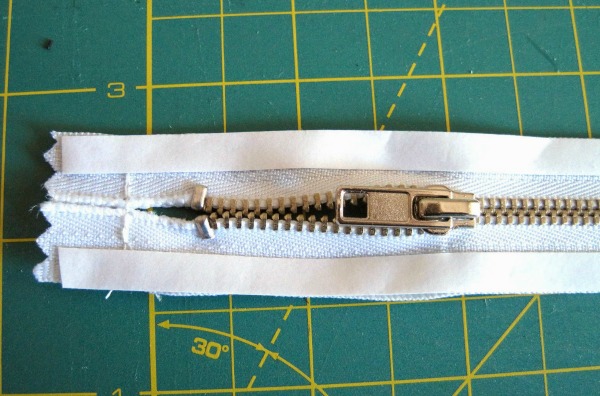 Photo via Emmaline Bags
Wonder Tape doesn't gum up your needle. Plus, it's not super sticky, so you can reposition your fabric, zipper or trim if necessary. It's also perfect for projects involving laminated fabrics, vinyl and lightweight leather where pins are an absolute no-no. Just keep in mind that Wonder Tape may not work as well on thicker vinyls and leathers since the adhesive isn't permanent. There are other similar adhesive products on the market designed specifically for thicker leathers.
Janelle at Emmaline Bags suggests several ways to use Wonder Tape when constructing purses and bags, especially when sewing zippers, vinyl or leather. I've tried all her methods, and they make an otherwise daunting task so simple!
I recently completed the Craftsy class Kid's Romper Revamp: Creative Pattern Adapting with Shelly Figueroa of Figgy's, and she recommends using Wonder Tape (in lieu of pins) to hold down the facing seam in order to edgestitch. This tip made sewing that seam so easy!
2. Wonder Clips
Wonder Clips, like Wonder Tape, are a great alternative to using pins to secure layers of fabric, leather or vinyl together when sewing. They come in two sizes (regular and jumbo), and the regular can be purchased in packages of 10, 50 or 100 quantity.
Wonder Clips open wide and are ideal for holding quilt bindings, leather purse straps or handles, or any project with thick multiple layers of fabric. They have a flat base with 1/4″ and 1/2″ seam allowance markings and are easy to remove when feeding your project through the sewing machine.
Jodi of Sewfearless gives a great review of Wonder Clips and shows an excellent example of them being used to secure the edges of a new bag she's making.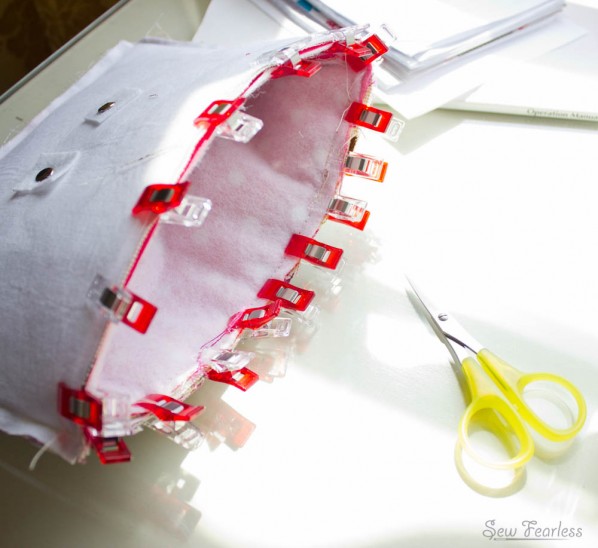 Photo via Sewfearless
3. Dritz Petite Press Portable Iron
The Dritz Petite Press Portable Iron is a miniature hand-held iron with an adjustable position soleplate. It offers auto shut-off, a kick plate stand and digital controls. This little iron is sold in fabric stores, online and in discount retail stores.
The Petite Press Portable Iron is ideal for use with appliqué and machine embroidery projects when part of the design needs pressing while still in the hoop. The mini-iron is also great for taking along to guild meetings or charity sewing groups instead of lugging your full-sized iron with you.
This iron is perfect for pressing seams open and getting turned corners pressed nice and crisp. I love the fact that it heats up quickly and doesn't heat up my sewing room like my full-sized iron can!
4. Pellon Easy Knit Tape and Interfacing
Pellon Easy Knit is a fusible tricot that can be used as both an interfacing or an underlining depending on the application. It can be purchased where ever you buy fabric by the yard in black or white in 20″ widths, but it also comes in 1.5″ wide x 10 or 30 yard rolls.
Until recently, I thought the main use for Pellon Easy Knit was to cover the backside of appliquéd or embroidered designs on children's clothing! While the product is recommended for adding comfort to rough fabrics, it's also a great stabilizer when sewing knit hems as shown in the Craftsy's post, "How to Hem Knit Fabric 5 Different Ways."
The tape version of Easy Knit is also ideal for joining together scrap pieces of batting to minimize waste!
5. Pinking Rotary Blade
Pinking Rotary Blades are rotary cutting blades specially designed to mimic the wavy cut made by pinking shears. All the major rotary cutter manufacturers offer these pinking blades in addition to traditional rotary blades, and most fit your existing rotary cutter with no problem. Pinking rotary blades can be purchased at your favorite sewing store, online or at discount retail stores.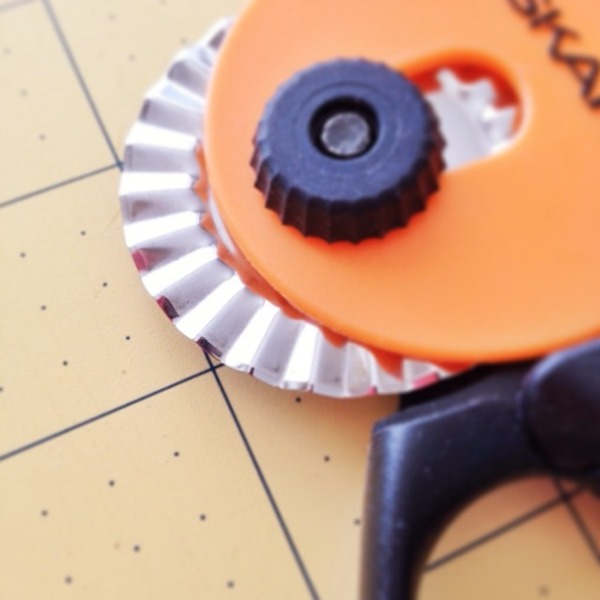 Photo via Crafterhours
A pinking rotary cutter can be used to quickly add a decorative element to the edge of fabric or paper crafting projects. It also makes quick work of finishing the edges of garment seams if you don't have a serger. Rotary pinking shears are more ergonomic than traditional pinking shears and are very easy to use. Just remember to place a rotary cutting mat under your project before cutting!
What sewing tools and products make sewing easier for you? I'd love to add a few new ones to my shopping list!