Roses are red, violets are blue…this rosette tutorial is tried and true!
Are you new to the world of icings and buttercream, or are you an old-hat royal icing, fondant and gum paste veteran? Perhaps you want to throw a beautiful and simple bridal shower or garden party themed birthday without too much muss or fuss. May I present the sweet and dashingly simple rosette-iced buttercream cupcake!
A cinch to make but with that gorgeous rose visual appeal, you'll be all set for your floral themed tea party in no time.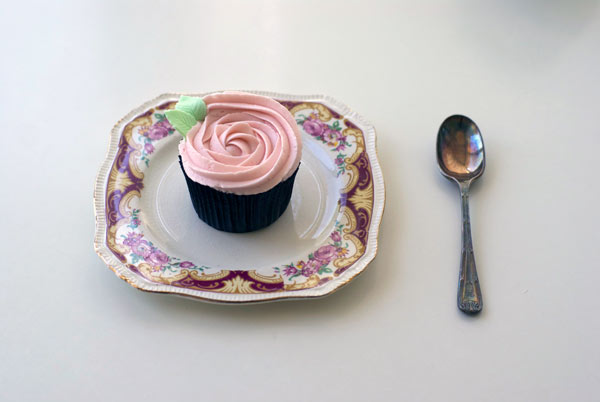 Photo via Coco Cake Land
Materials:
You will need a batch of cupcakes in any flavor and buttercream tinted in whichever color you choose. I chose a light pale pink, and for visual contrast, vanilla cupcakes in a solid black cupcake liner.
You will also need the classic 1M open star tip, a small amount of green colored fondant, a bit of cornstarch, a rolling pin to flatten your fondant, and a fondant leaf cutter, like this one.
Directions: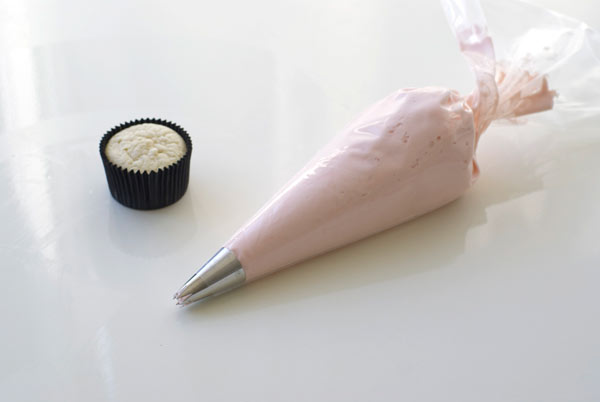 Step 1:
Snip the tip off of a disposable piping bag and nestle in the 1M open star tip. Fill your piping bag with buttercream.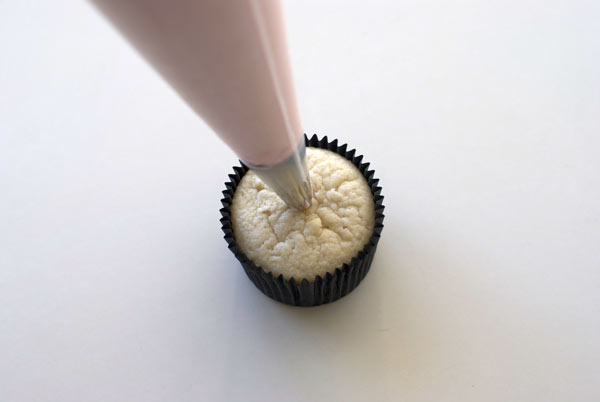 Step 2:
Holding the piping bag upright at a 90-degree angle, begin piping at the center of your cupcake. Continue piping buttercream in a counterclockwise circle, moving toward the outward edge of the cupcake.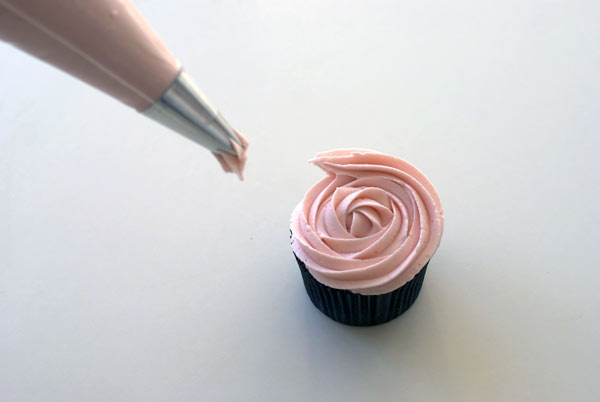 Step 3:
Pull the piping bag away and voila! You have a perfect, simple rose.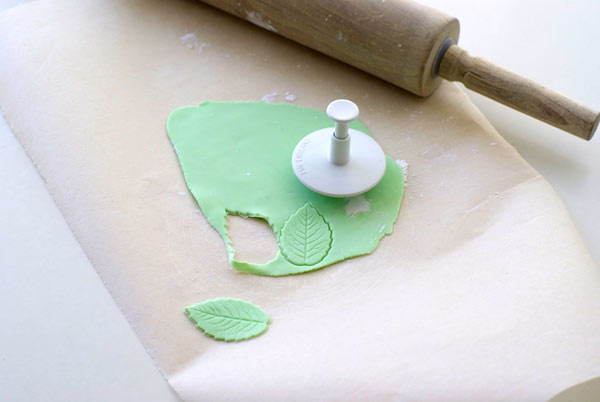 Step 4:
Now, on a nonstick surface, roll out your green fondant until it is 1/8 inch thick. Using your plunger cutter of fondant leaf cutter, cut out leaf shapes.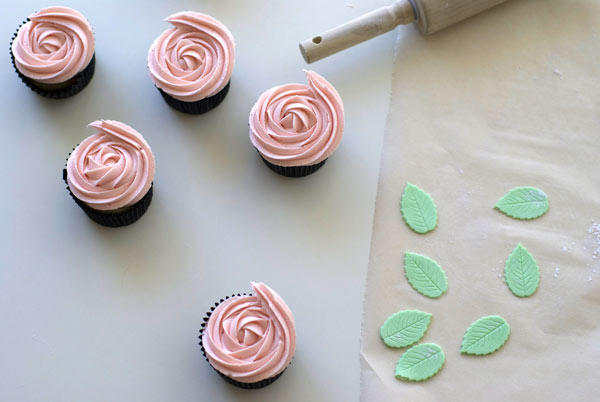 Step 5:
Set your fondant leaves aside for a few hours to dry, if so desired. Otherwise, feel free to plunk them right into your rosette buttercream.
Place your simple and sweet rosette cupcakes with fondant leaves on vintage dessert plates to add to the party atmosphere! Brew a pot of tea, set out the cream and sugar, and a few more plates of cookies, and you're all set for a lovely time!
Now that you have the simple rosette mastered, here are some other fun applications for this technique!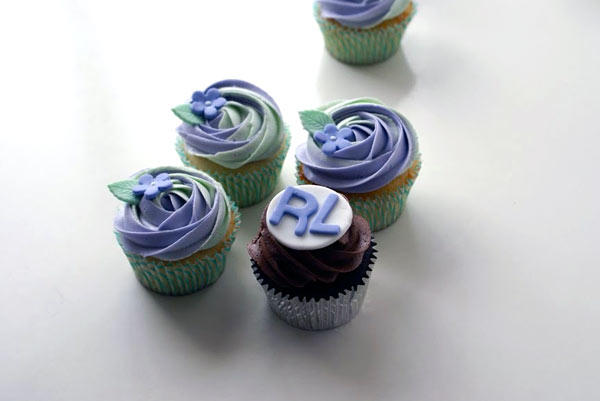 Photo via Coco Cake Land
Two tone purple and green rosette cupcakes:
A unique but lovely color combination of pale green and lavender get the two-tone rosette treatment for a wedding party.
Simply vertically fill two different colors of buttercream in your piping bag so there is one half green and one half purple on either side. Squeeze the piping bag until the colors run together.
The cupcakes also featured tiny purple fondant sugar flowers and green fondant leaves. Simple fondant monograms add a masculine touch against the feminine rosettes.
Photo via Coco Cake Land
Pink two-tone rosette buttercream iced raspberry cake:
The two-tone rosette can be applied to a full cake, too, with beautiful and feminine results. This cake was piped using a number 32 open star tip, which has more ridges than the classic 1M.
A simple raspberry topper helps finish the cake and gives tasters a hint of the flavor inside.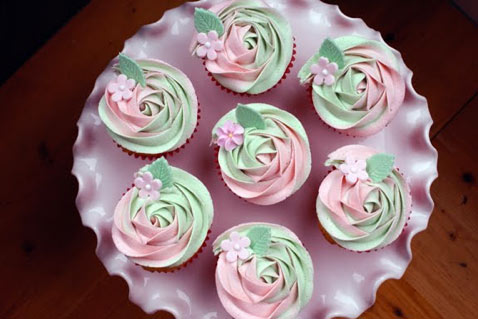 Photo via Coco Cake Land
Garden party themed little girl's birthday:
Two toned rosettes in pink and green, with pink flowers and green leaves, created for a little girl's garden party and ballerina themed birthday!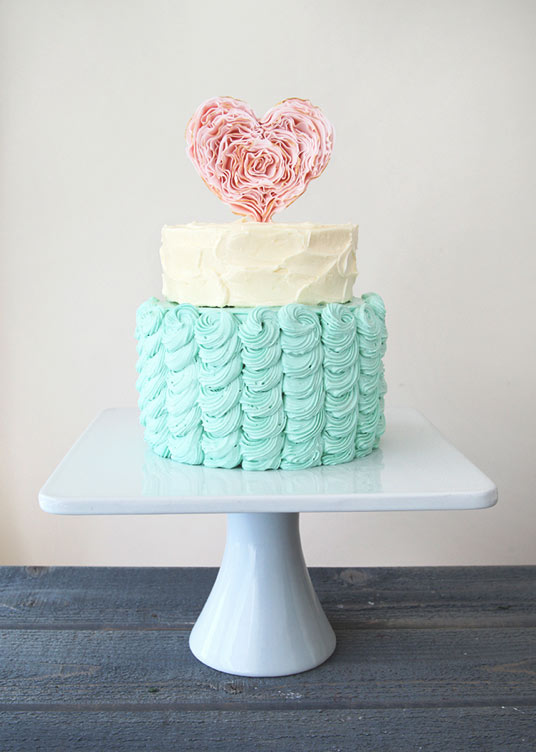 Photo via Style Sweet CA
Textured ruffled rosette romantic party cake:
I love this beautiful and romantic tiered cake from Tessa of Style Sweet CA. She is right on trend with the pale colors and varying textures of each cake.
The bottom tier uses the buttercream rosette-style in big vintage-looking waves. The middle cake has a rustic-looking ivory colored buttercream, and the top of the cake is a gorgeous pink fondant ruffled heart, like the couture skirt of a ballerina princess.
Want to add some truly gorgeous and realistic looking sugar flowers to your cake-decorating arsenal? Then take a gander at some of Craftsy's amazing sugar flower online classes, including Southern Sugar Flowers with cake art star Maggie Austin, or one of our newer classes, Rolled Fondant Flowers with Gary Chapman, where you will learn the technique of fabric-effect fondant flowers.
Are you laughing at how easy the buttercream rosette can be?