Step out of the shadows and give your cake design a different dimension with a clever silhouette. Whether it's hand-cut, machine-cut or painted, a silhouette adds an eye-catching element to your cake.
Prepare to add a dramatic silhouette to your next creation with these seven beautiful silhouette cakes.
Silhouette engagement cakes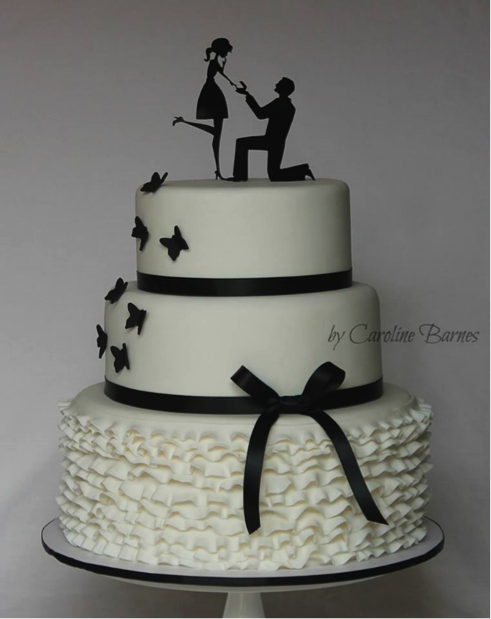 Photo via Caroline Barnes
What better way to share exciting news than by showcasing the big moment on top of your cake? This three-tiered fondant-covered beauty has a foundation of impeccably ruffled fondant, a trend that has been around for several years and which is only growing as more and more techniques emerge. A delicate flight of butterflies flutter up to a razor-sharp silhouette of the bride- and groom-to-be as he pops the question. Completed all in monotone black and white, the simplicity of this demure design allows the moment to subtly speak for itself.
[box type="shadow"]
Learn how to create perfect fondant ruffles and frills in Maggie Austin's Fondant Frills class today!
[/box]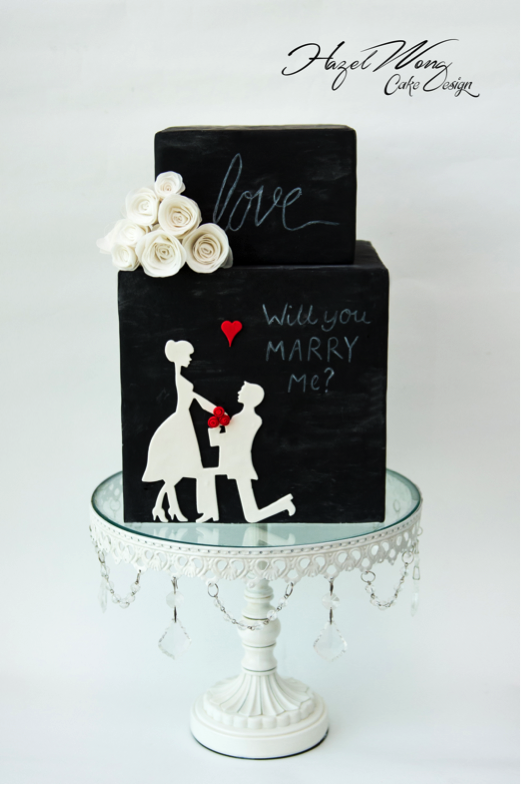 Photo via Hazel Wong Cake Design
This whimsical engagement cake uses a reverse silhouette of white on black to give a chalkboard effect. The black fondant is realistically marred with a few brushes of "chalk" (cornstarch). Floating above the modeling chocolate couple, the proposal and the declaration of love are spelled out freehand in white petal dust mixed with extract. The tiny bouquet and lone heart add a perfectly balanced pop of red color, and the wafer-paper roses pull the design together with a polished look befitting of the occasion.
[box type="shadow"]
You can discover how to decorate cakes with edible wafer paper with Stevi Auble's Delicate Wafer-Paper Cakes!
[/box]
Sweet baby silhouette cakes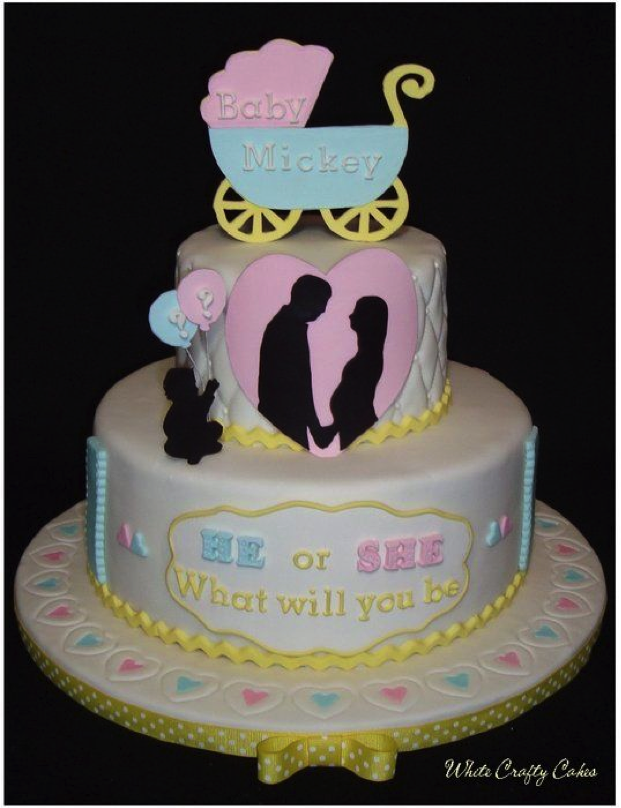 Photo via White Crafty Cakes
First comes love, then comes marriage, then comes the couple with a baby carriage! This sweet "reveal" cake salutes the impending arrival of a baby with the silhouetted parents taking center stage, and a silhouetted baby close to their (pink) heart! The fondant carriage in shades of pink, blue, and yellow matches the reveal message, the stamped hearts, and the darling rickrack border.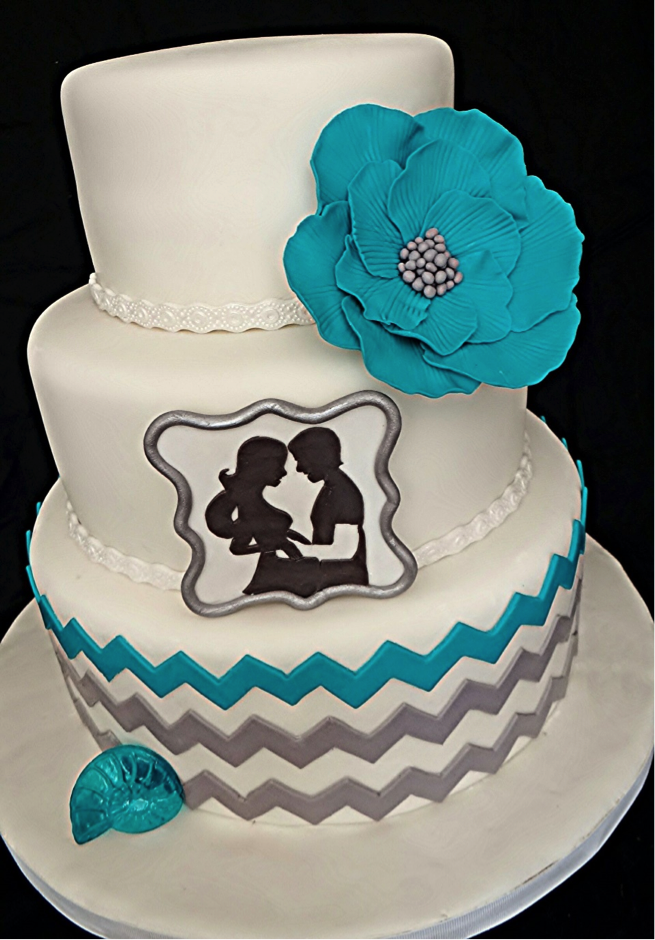 Photo via BellaCakes & Confections
This stylish baby shower cake uses a soothing color palette of teal and grey and a minimalist design to give it a super clean look. The three main components vie nicely for the eyes' attention: perfectly applied chevron, the framed expectant couple, and a gorgeous fantasy flower. The chevron and the silhouette plaque were cut using cutters from Not Just Cakes By Annie. The chevron was applied using Jessica Harris' wax-paper method, and the flower was also inspired by Jessica Harris.
[box type="shadow"]
Learn how to apply intricate, refined designs the easy way in Jessica Harris' Clean & Simple Cake Design.
[/box]
Birthday cake designs featuring silhouettes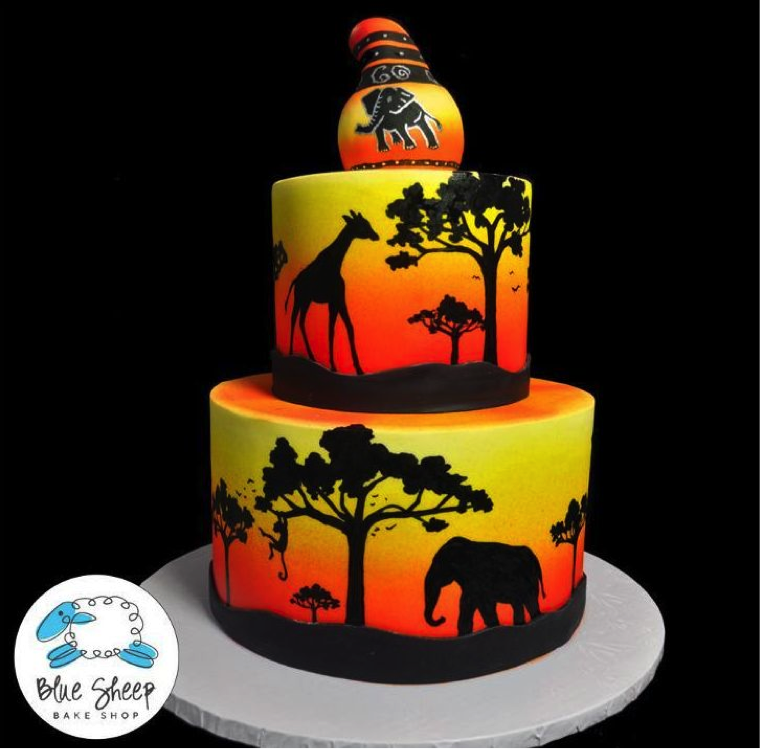 Photo via Bluprint member BlueSheep
Bluprint member BlueSheep proves that silhouettes don't have to be limited to black and white! This striking African Safari Cake boasts a pristine fondant finish that has been airbrushed for a gradient effect. It was then perfectly hand-painted with safari silhouettes in black food coloring for a dramatic effect.
[box type="shadow"]
Check out the on-trend technique of hand painting your cakes with boutique baker and designer Erin Schaefgen in the FREE mini-class The Hand-Painted Cake.
[/box]
Photo via Celebrations by Sonja
Charity of Celebrations by Sonja created this vintage pony cake with a gorgeous, hand-cut, fondant horse silhouette topper. The rustic theme was continued with a big "2" and a fantasy flower fashioned from rose-printed wafer-paper. The bunting, burlap border, and burlap-look drum finish this cake off in shabby chic perfection!
Photo via CorrieCakes
This clever cake takes the traditionally 2-D silhouette and brings it to 3-D life with fondant embellishments. These graceful ballerinas are hand-cut from fondant and dance atop a glass-smooth layer of buttercream. The plaque, ribbon, and ruffled tutus are all hand-made fondant, but the cake is finished off in Corrie's signature flawless buttercream shell border.