Sewing with knits can be much more freeing than sewing with woven fabrics. For starters, they usually require considerably less fitting than their woven counterparts. Their inherent stretchiness is much more forgiving when you're fitting. They also are extremely comfortable. I find knit dresses to be great for traveling when I'll be spending a long time sitting on cars or planes. I can look nice with considerably less fuss!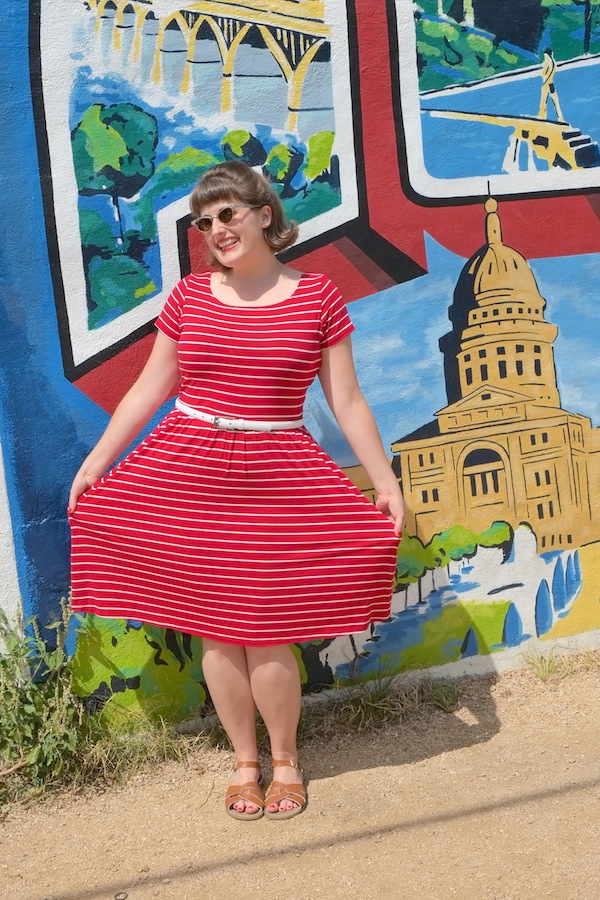 Photo via Rosie Wednesday

Whether you have a regular sewing machine or a serger, rest assured that there's an easy way for you to sew knit garments that look great. I'll show you some examples of finished garments sewn with a regular sewing machine, serger and a special type of machine you could use to finish your edges — a cover stitch machine. 
Sewing knits with a regular machine 
When sewing knits with a regular machine, the zigzag stitch is the stitch you need. It allows knits to continue to stretch as you wear them. If you were to try a regular stitch on a knit, it would pop over time because it can't stretch with the fabric (I've had this happen to me, long before I knew about such things). 
Test out the length of the zigzag stitch on your fabric before you sew to see what looks right, but you'll likely want a shorter stitch, around 1.5, for topstitching, and a longer one, around 2.5, for sewing seams.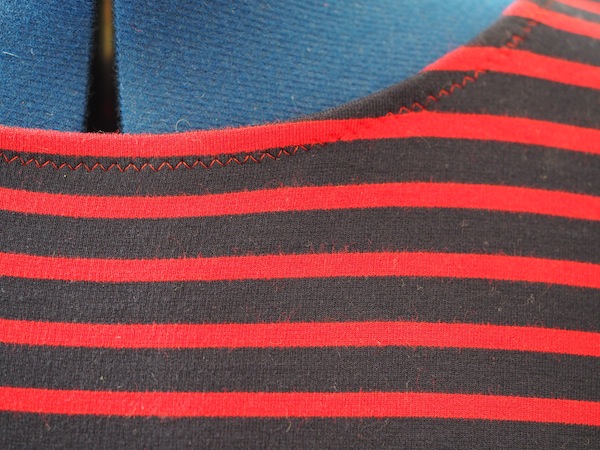 The nice thing about a knit fabric is that it doesn't fray. So when you finish a seam or edge with a zigzag, you don't need to do anything else to it. Although sometimes I will go back in with a pair of embroidery scissors to trim it a bit if I wasn't as accurate as I had hoped!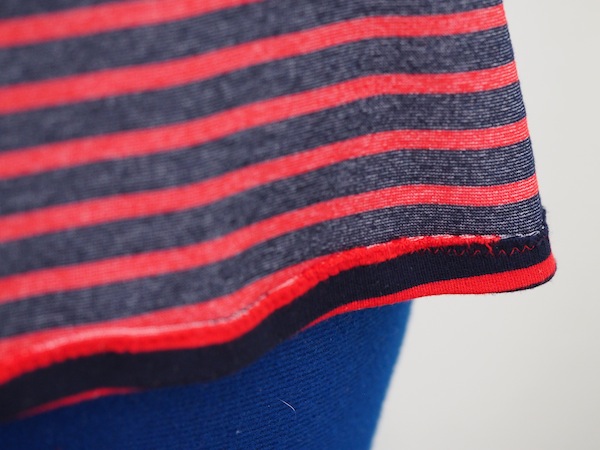 Sewing knits with a serger
With a serger, little knives trim your fabric and incase it in thread while you sew the seam. They use four threads to sew. You might already be using it to finish your seams on woven fabric. A seam constructed with a serger is also stretchy, so you can get a really nice finish while also having a usable seam for your knit garments.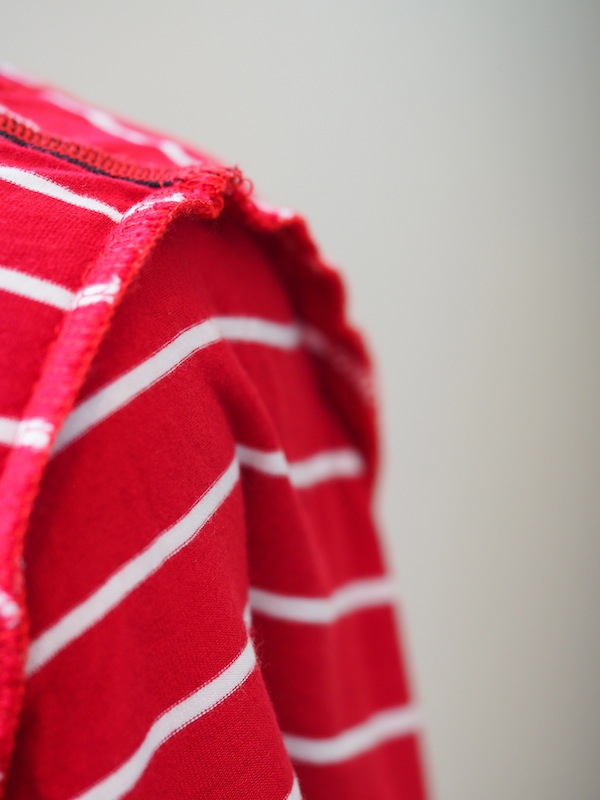 Here I've also added a strip of elastic at the shoulder seam when I serged it on. I've found that it helps to stabilize seams that get a lot of wear, like your shoulder and waist. I just treat it like a third layer in the fabric when I serge the seam and feed them all in together. 
If you have a serger but not a cover stitch machine, you'll still need to topstitch your seams with a zigzag stitch, as demonstrated above. 
Sewing knits with a cover stitch machine
If you are interested in finishing your edges a different way than with a zigzag, you might find a cover stitch machine to be very useful. These are sometimes combined with a serger, in which case they'll have six threads, or they can be purchased as separate machines. 
A cover stitch machine acts a lot like a serger, except there are no knives to cut your fabric. If combined with a serger, you'll just be switching the knives off. It makes a nice top stitch, where the top has two even rows of stitching.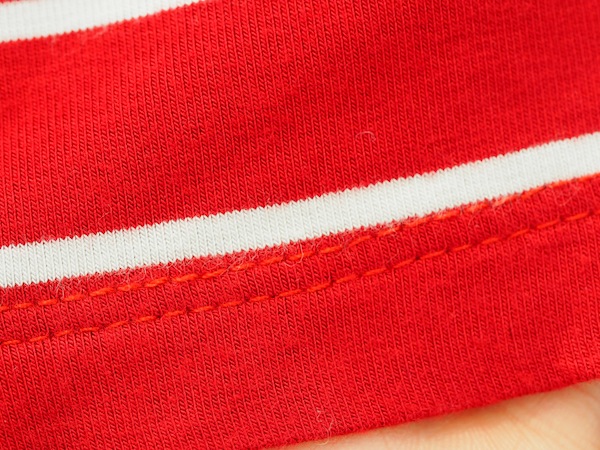 And the inside will have a stitch that looks like a chain.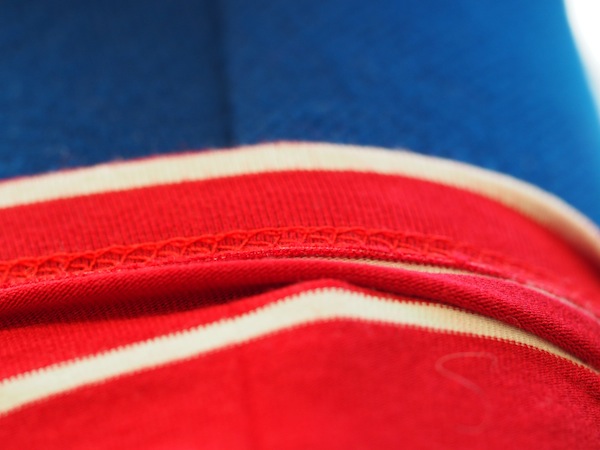 A cover stitch machine will allow you to create a really professional finish to your knit garments. 
That's all there is to it! Ta da! Knits are pretty exciting, aren't they?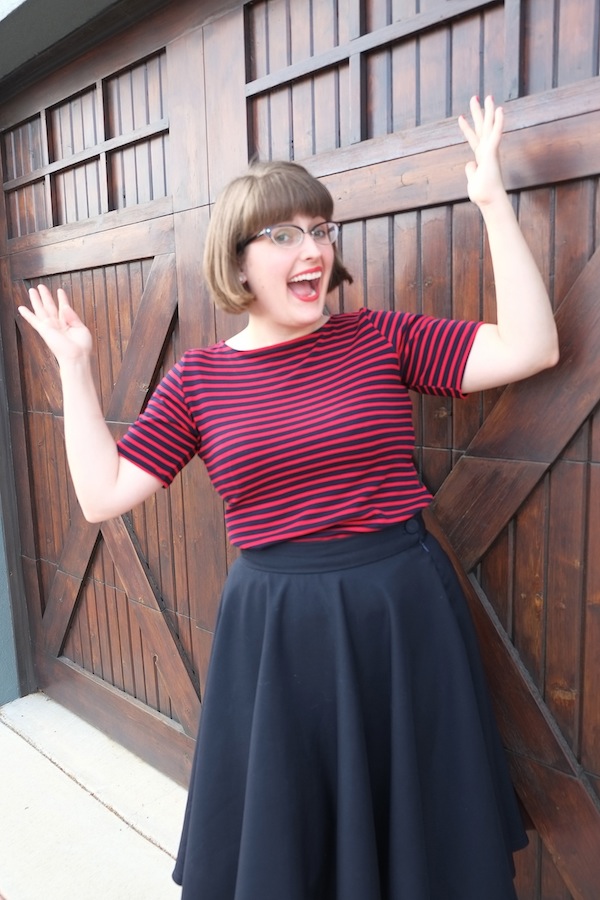 Whether you choose to use your regular sewing machine or buy a speciality machine to sew your knit garments, you'll end up with a finish product that is lovely and comfortable. 
Have you tried any of these methods? What's your favorite way to sew knits?  
Free Online Sewing Class