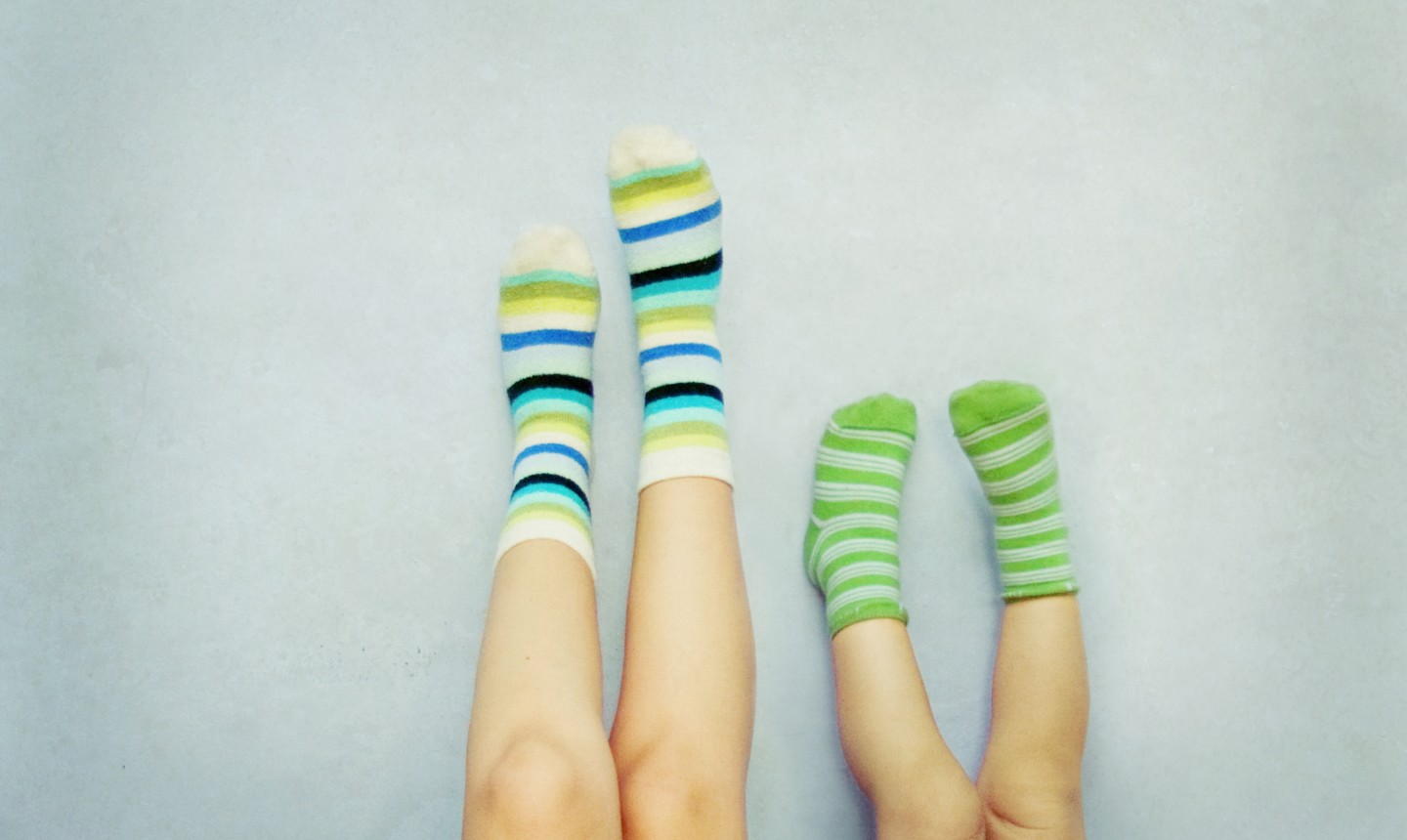 Karen Ilagan/Getty Images
If you're looking for a sewing project that can provide some instant gratification, here's a suggestion: socks. Not only can you knock out a pair in just a few hours, but they're also super easy and inexpensive to make. Whether you're using a drafted pattern or making one from a pair you already own, these thrifty tricks will help you sew up some socks that are cozy, comfy and easy on your craft budget.
1. Use a Stretchy Fabric
When you're choosing materials for socks, stretch is everything. It's what ensures the sock stays put and forms to fit your foot. Basically, woven fabrics just won't work here.
The ideal sock fabric will stretch both horizontally and vertically, giving you plenty of room to wiggle those toes. A knit fabric with some nylon works well, as do cotton-polyester blends.
2. Consider Upcycling
A great thing about socks is that they don't require a lot of fabric. If your sewing budget is tight, consider upcycling old T-shirts. You can even use one that has bleach stains and holes in it — just work around those yucky spots when you're cutting the sock.
3. Grab Your Sewing Machine!
A serger is a great choice for sewing with knit fabrics, of course. But you don't have to own one to sew socks. Sewing machines can actually create seams that are just as sturdy as those you'd make with a serger, so keep calm and craft on!
4. DIY Your Pattern
If you have a sock you really love, you can use it to create your own sock pattern. Simply place the sock on top of your chosen knit fabric and trace it, leaving a ½" seam allowance around the entire sock. Cut it out, then seam. If the cuff seems too slouchy, add elastic around the top.
5. Play With Your Seams
If the idea of a seam running down the front of your sock bothers you, another option is to place the front of the sock on the fold of the fabric, eliminating that front seam. You can also create side seams on the sock by simply changing the way you place the socks on the fabric. Experiment with different positions before you settle on the one that's most comfortable for you.