Science makes the world go 'round! Outer space, dinosaurs, human biology, physics – science gets a bad rap for being nerdy when truly, it's inherently cool. You know what's even cooler? Science themed cakes!
An ode to the science lover in cake form; behold, the fascinating world of science cakes, from a human brain to the great solar system, and the best Earth cake, too.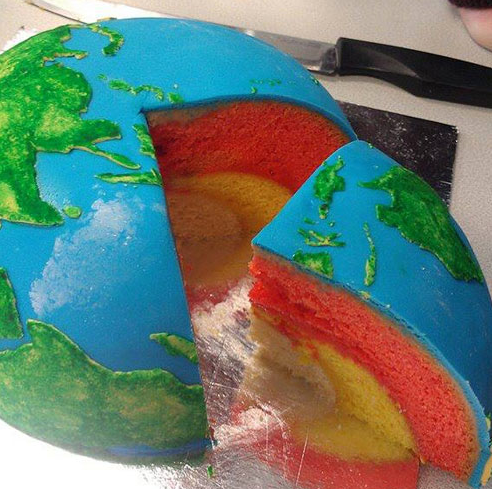 Photo via Baking Adventures
Earth Structural Layer Cake:
I had to start with this amazing 3-D Earth cake which is pure genius. This cake was made to teach elementary school children about the layers that make up the structure of planet Earth. What better way to get kids interested (or anyone, for that matter) than by presenting them with a cake: a spherical cake featuring all the layers of the Earth inside. This was done by baking a cake, inside a cake, inside a cake! All details can be found here, including the awesome hand-cut and painted fondant continents and the marbled blue "water." I would say this cake was a labor of Earthly love!

Photo via For The Love Of Cake
Human Brain Cake:
Put down your sandwich for this one! This grisly and visceral brain cake was made to congratulate a newly crowned brain surgeon. The blue tinges and red food coloring, and all around shininess of this brain cake, makes it look utterly realistic.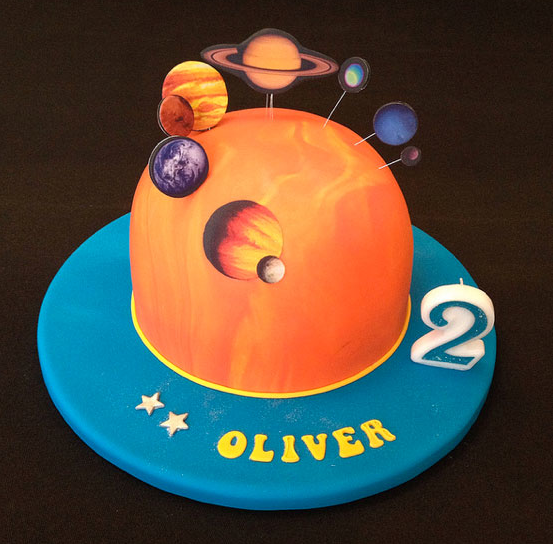 Photo via Kool Cakes 4 U
Planet Cake:
I love this simple planet cake created by Kool Cakes 4 U. There's something awesomely retro about this cake, down to the font Oliver's name is rendered in, as it looks very 1970s! I love the orange and yellow marbled fondant planet dome, and the great bright peacock blue fondant cake board. The planet cutouts are a great, clean and easy idea for creating the solar system, too. You could even find a vintage book about planets at your local thrift store and make cake toppers out of the planets within.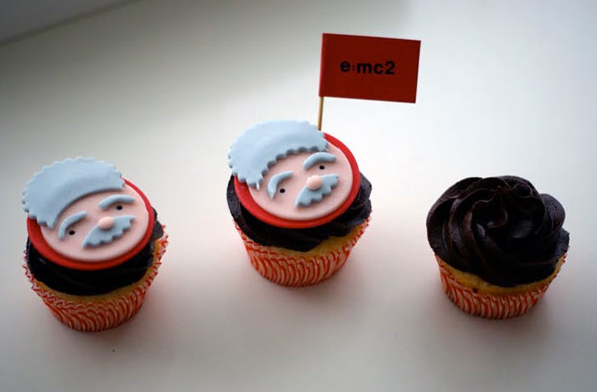 Photo via Coco Cake Land
Einstein Science Themed Cupcakes:
These Einstein cupcakes are vanilla with dark chocolate buttercream, topped with custom fondant toppers made to look like Albert Einstein. Light grey fondant shocks of hair and furry mustaches provide the nuance of Einstein's features. The eyes were made with little dots of edible marker. A cute idea for a kid's science themed party, which is exactly what these were made for.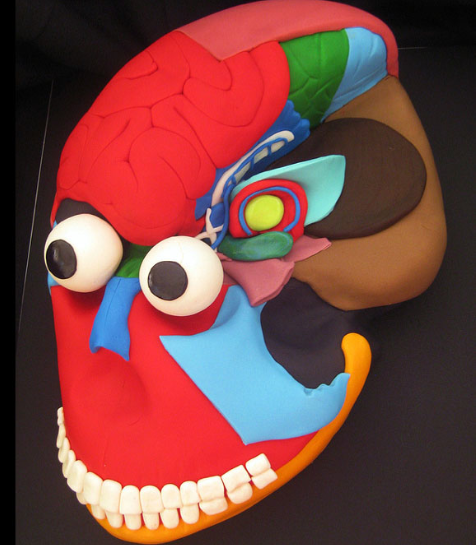 Photo via Love 2 Cake
Brain Muscle Face Cake:
This science themed cake has a more cartoonish look to it with its rainbow of muscles, brain, bulging eyeballs and perfect white Chiclet teeth. I'm still not sure if I'd be able to cut into this muscle face and enjoy my slice of cake. What do you think, would be able to? I'll have an eyeball with my slice, please!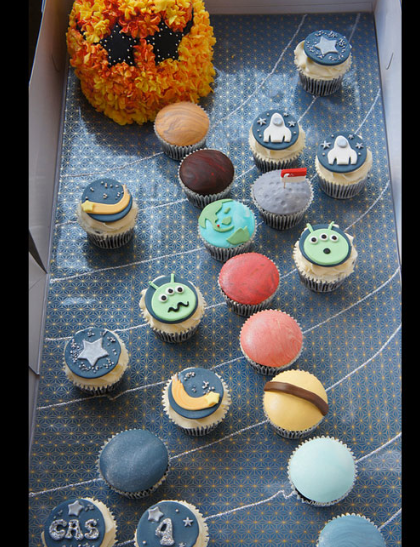 Photo via Jo Takes The Cake
Solar System Cupcakes:
This solar system cupcake display even has a few friendly Martians thrown into the mix. I like how each cupcake is its own planet, with comets and shooting stars interspersed. The best part about this solar system tribute though is the party animal sun! I love his sharp and fiery two tone yellow and red buttercream rays– but most of all, his super cool sunglasses.
Before you get started on your own science-themed cake, brush up your cake decorating skills with Intro To Modeling Chocolate with Lauren Kitchens. The modeling chocolate cityscape techniques you'll learn in class will translate well into beautiful science cakes! And if you like these, you may also enjoy our roundup of out-of-this-world alien cakes.
What kind of science-themed cake would you make, given the chance?