Whatever occasion you're decorating for, deliver beautiful sugar cookies everyone is sure to adore! Whether you want to make some sweet, stylish treats for a birthday party, bridal shower, wedding or another event, this free guide will help you create your most marvelous designs yet.
This free, PDF guide is available exclusively from Bluprint, and it includes 25+ pages of royal icing tips, tutorials and more written by the decorating experts behind Juniper Cakery. Download the guide today (you can easily print it out if you please), and enjoy it anytime and anywhere you like.
Get this guide today, and learn to:
1. Mix royal icing fit for royalty
Stunning sugar cookies start with royal icing! Learn how to achieve the perfect consistency for piping.
2. Work confidently with royal icing
Discover tips and tricks that make royal icing easier to work with, so you can create cookies you can't wait to show off.
3. Pipe beautiful royal icing rosettes
Bring eye-catching blooms to your cookies with this tutorial! Learn how to pipe rosettes to create cookies perfect for wedding favors, goodie bags and more.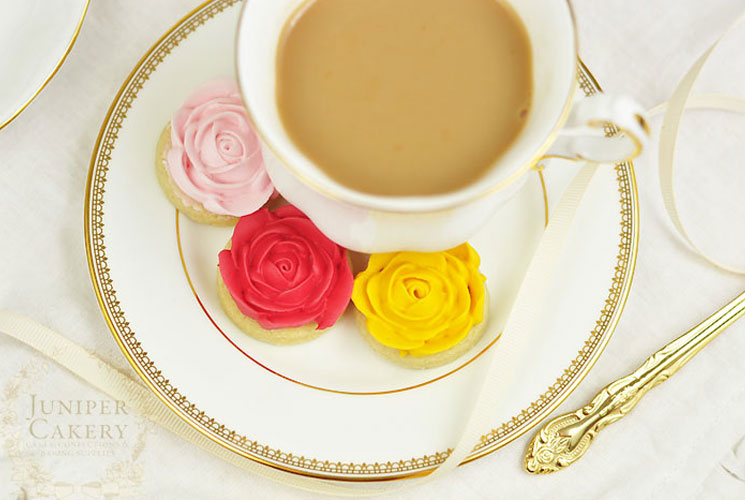 4. Flood a cookie with royal icing
It's simple to bring gorgeous color and dazzling designs to your cookies when you know how to work with flood-consistency royal icing.
5. Create a vintage teapot cookie
Need a cookie design to complement an elegant event? Look no further than this step-by-step tutorial.
6. Make a stacked wedding cake cookie
From engagement parties to bridal showers and on to the big day, these adorable tiered sugar cookie designs are easy to make and impossible to forget.
Want to take your cookie decorating skills even further? Discover in-depth, online video classes on Bluprint, where the world's best decorators come to share their secrets.