Some say it is the flower of all flowers. Others say it is the only flower. Whatever you think, you most likely will agree that the rose is a flower of beauty, class and color. The real ones eventually die, but capturing them in a quilt preserves them for close to eternity. We have scoured Bluprint's patterns and projects to find you some beautiful rose quilt designs to inspire you to make your own.
Follow along to explore this garden of rose quilts!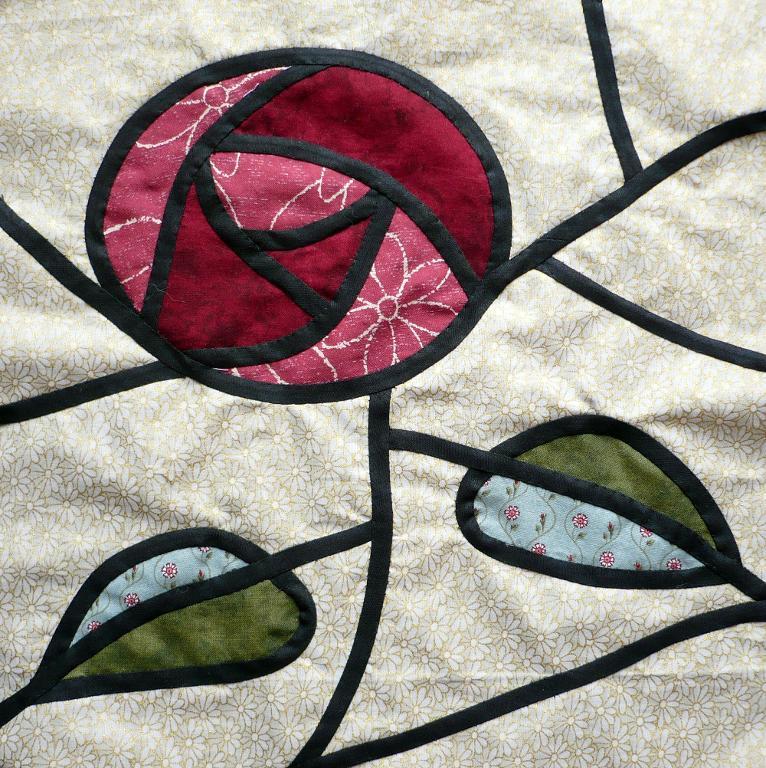 Glasgow Rose Stained Glass Template via Craftsy member Stitched Together Designs
Glasgow Rose Stained Glass Template
Check out this  lovely template to create a 12″ rose block using bias tape. This block can be easily shrunk or enlarged using a photocopier. Use different colors of bias tape for each block or shades of green for the leaves. Let your imagination create your rose!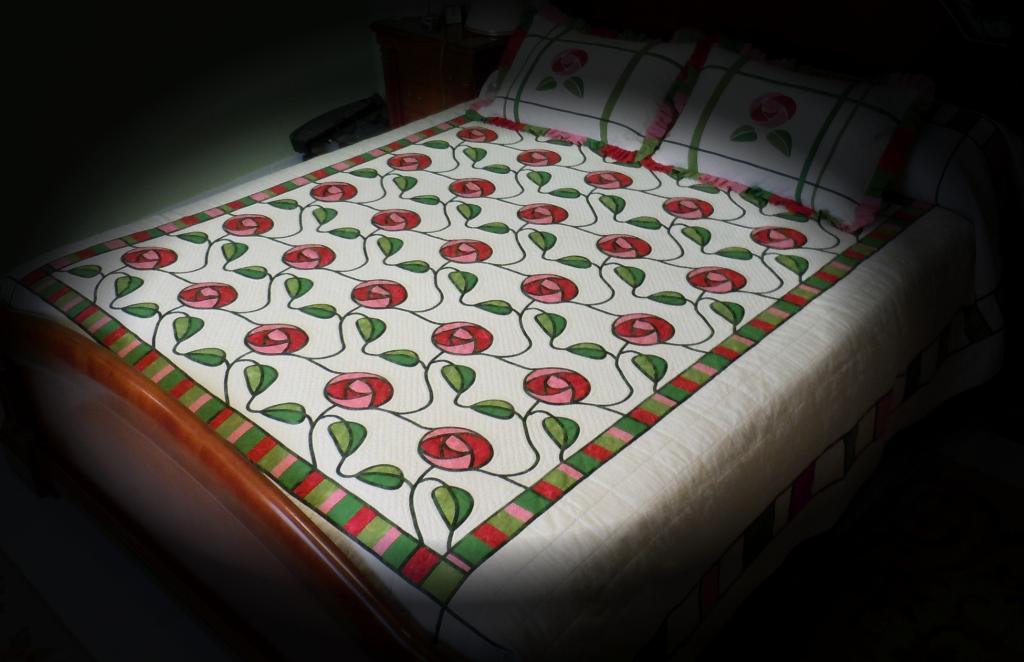 Rose Blanket
This Craftsy member used the free Glasgow Rose Stained Glass Template above to create a gorgeous rose quilt. The quilter used fusible binding to make the job quick and easy! Imagine doing this in a rainbow of colored roses?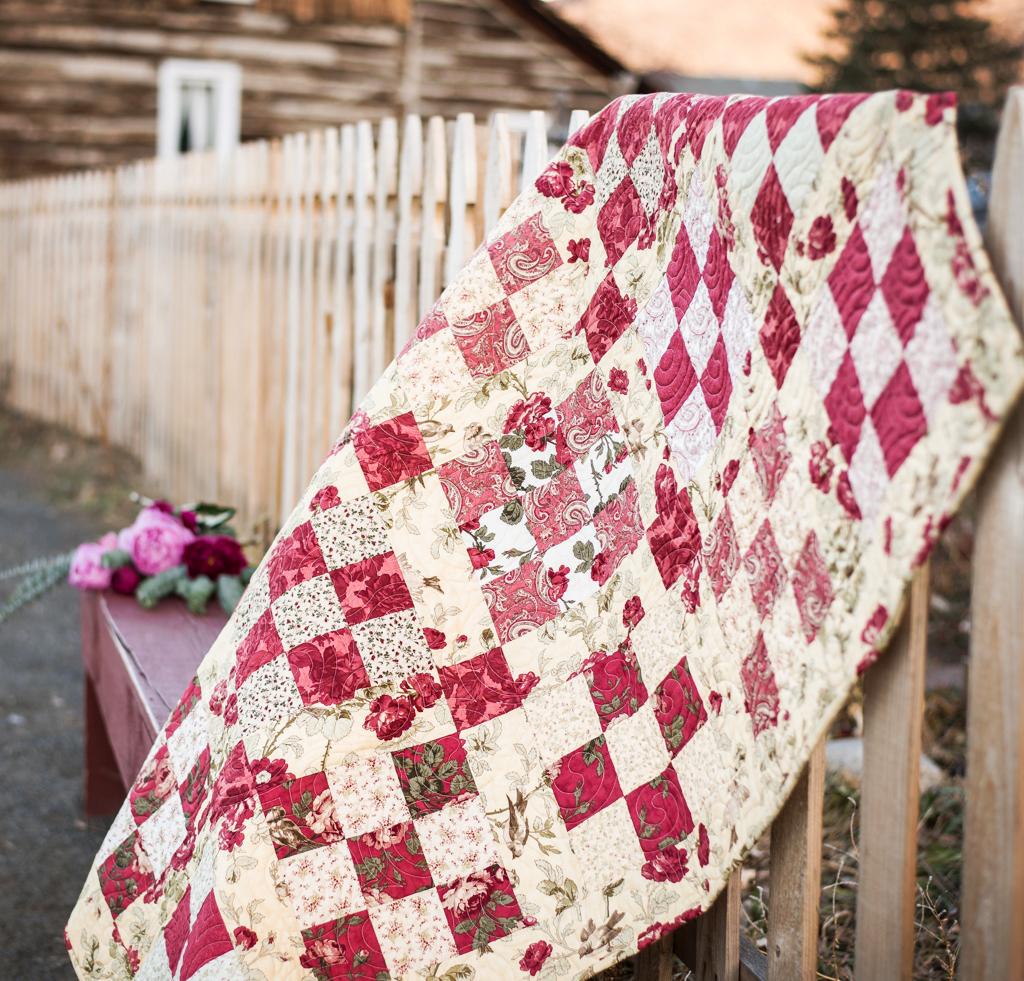 Nine Patch Roses Quilt Kit
Recreate this stunning quilt with the Nine Patch Roses Quilt Kit from Moda! Included with the kit is the pattern and all the fabric you need to make this 51″x63″ quilt top.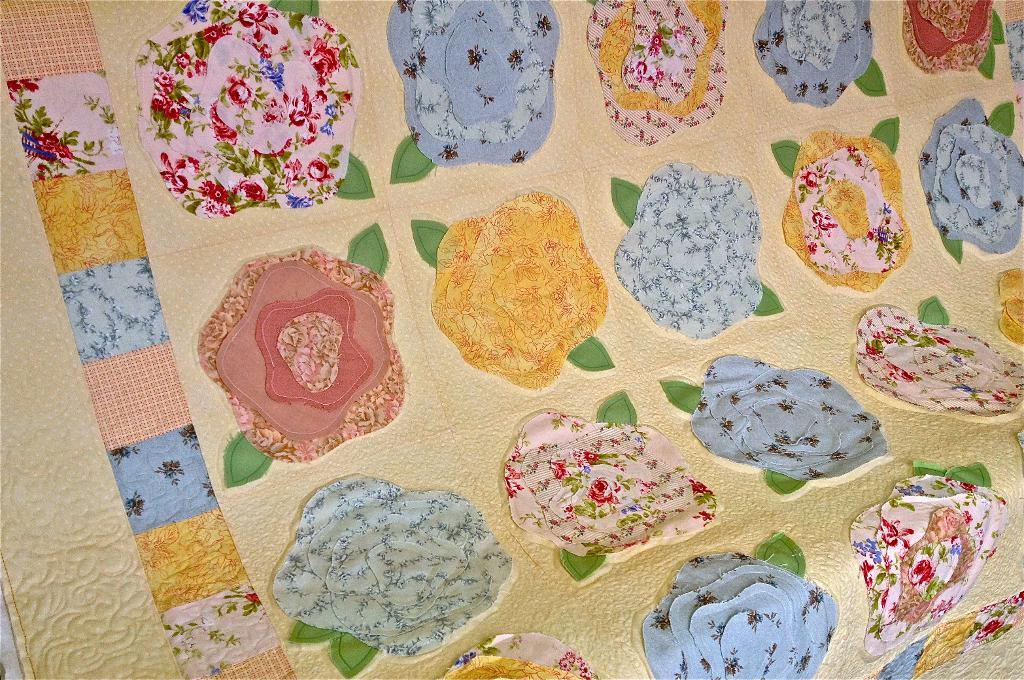 French Roses Quilt 
This whimsical rose quilt is done with raw edges and lots of machine quilting in the background to really make the flowers pop off the quilt. The combination of solids and prints make it a great way to use up scraps as well. The quilt is fun for a beginner to create because there is not a ton of precision piecing and you get to choose so many fabrics to match up to make each rose unique.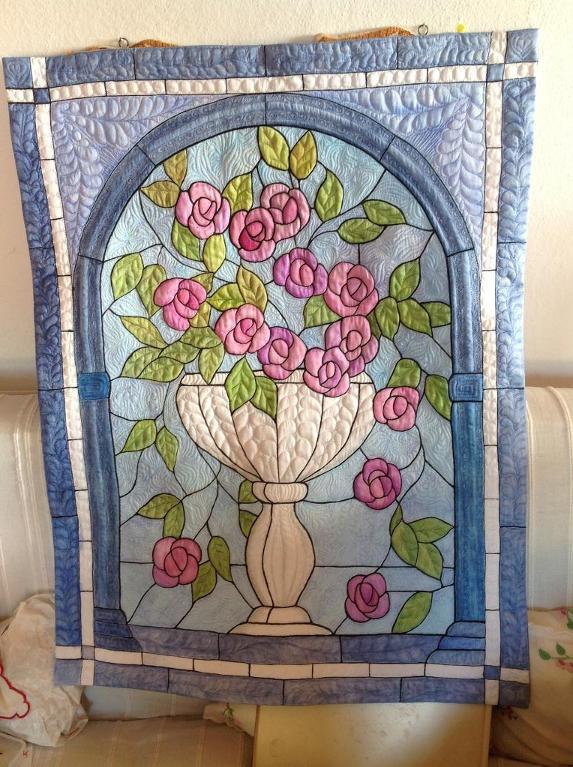 Roses via Craftsy member ariellasa992109
Roses Wall Hanging
Check out this rosy wall hanging created in the online Craftsy class Thread Art. Done on white fabric using watercolor pencils, the soft colors and freeform flowers give it such a gentle appeal.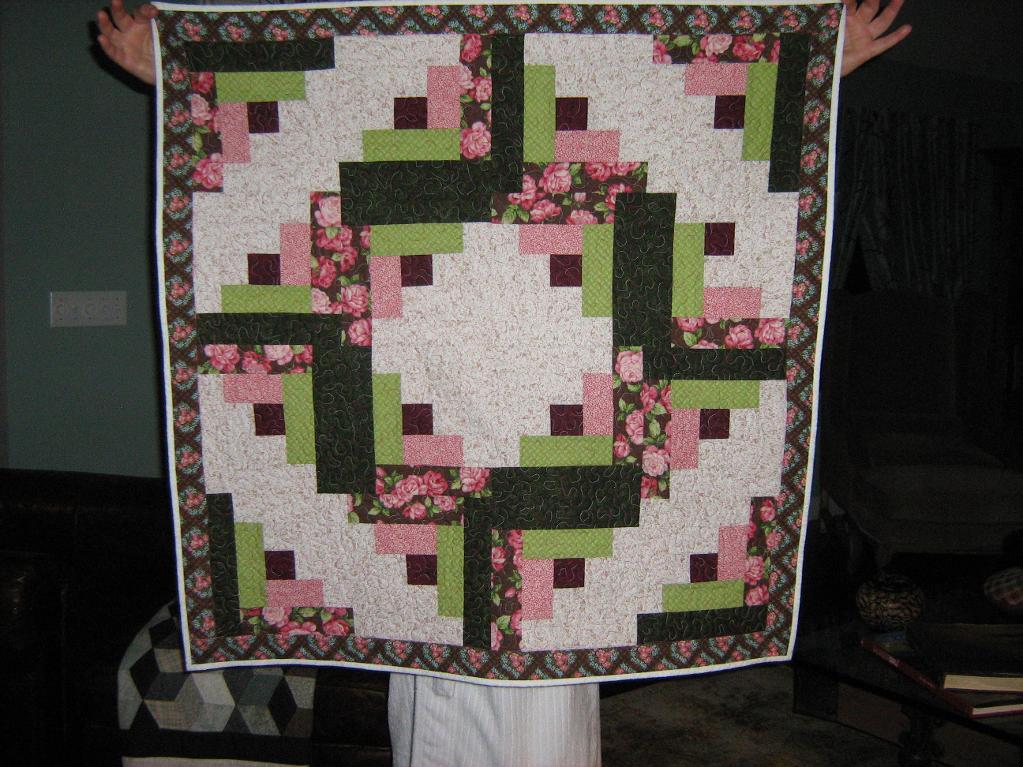 A Rose Is A Rose via Craftsy member Janet Orfini
A Rose Is A Rose Mini Quilt
Using simple piecing, a log cabin block pattern and rose printed fabric, this quilt turns out to be quite stunning! Along with the color green representing leaves and stems, the striking white background allows the quilter to create a rose quilt by simply using squares and rectangles of rose print fabric and pinks.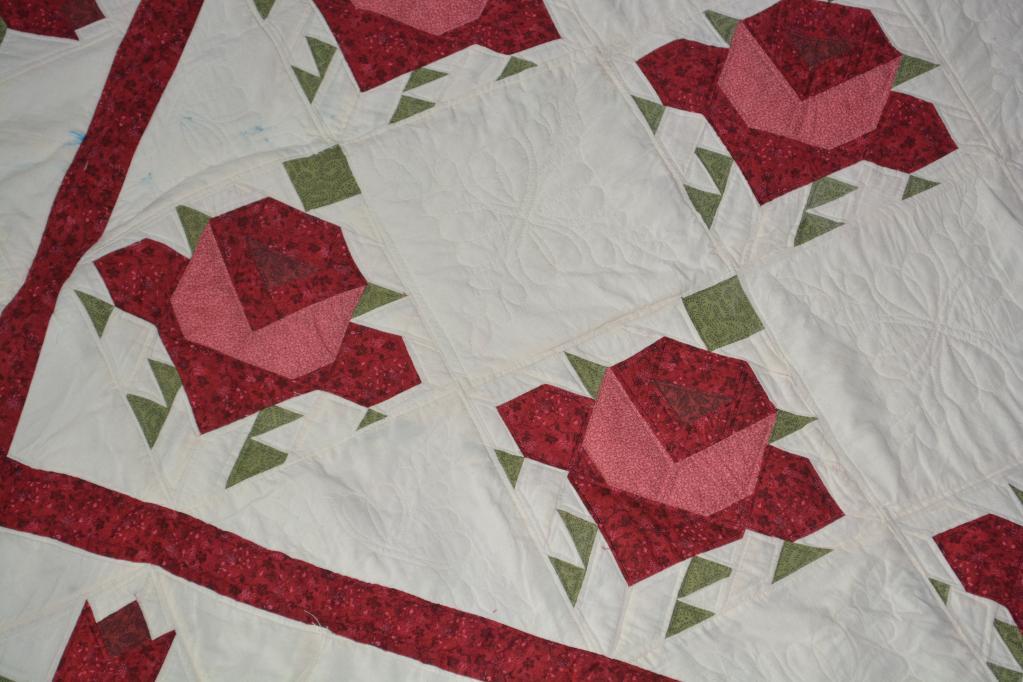 A Bed of Roses via Craftsy member Just Tina
Bed of Roses Blanket
Another beautifully pieced rose quilt creates a uniform bed quilt using values to create the petals in the rose. The leaves are delicate half-square triangles that add that extra touch to each flower.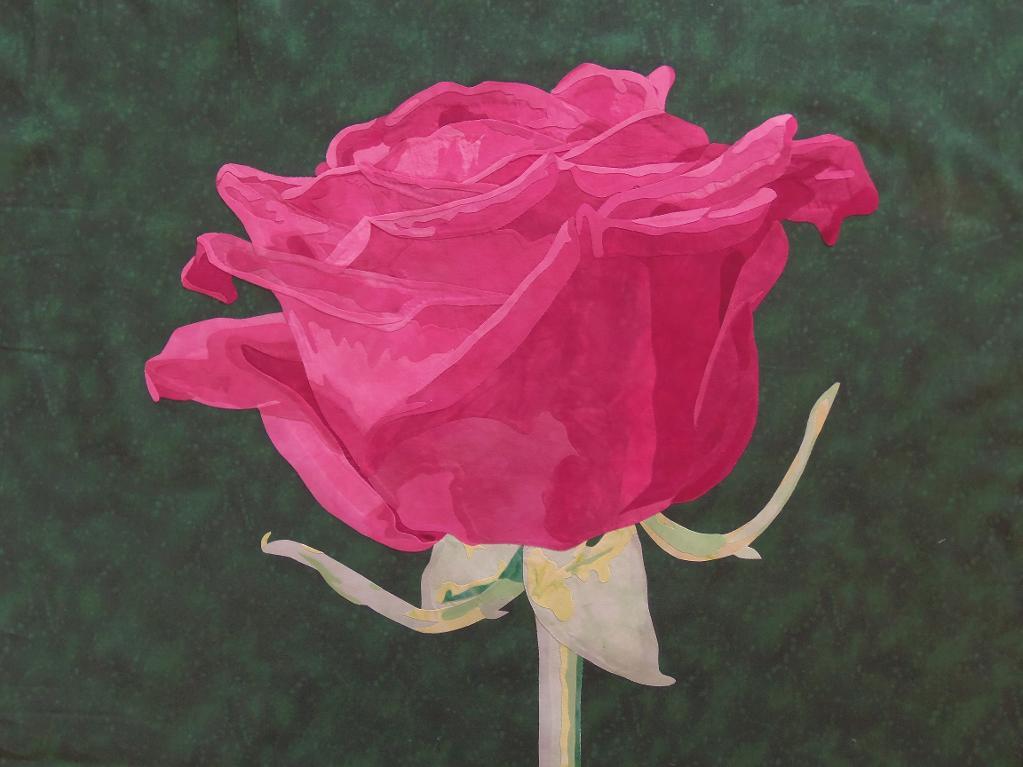 Rose quilt via Craftsy member Melissa Quilts
Rose Quilt Pattern
This realistic show-stopping rose wall hanging uses fusible raw edge appliqué and measures 24″ x 24″. It is simply stunning to look at and easy to accomplish with this fun pattern. Pick a color and download the pattern to start creating your own masterpiece!
Winter Roses via Craftsy member Beth Ferrier
Winter Roses Wall Hanging
This 30″ square wall hanging shows a vine of climbing roses against some great machine quilting by Craftsy instructor Beth Ferrier. Learn how to create heirloom quality at machine speed in her Craftsy class Machine Finished Hand Appliqué.