It doesn't take rocket science or an understating of space to engineer and build these rocket ships! Blast off with this fun rocket ship cake pop tutorial. Let these rocket ship cake pops take you and your guests to outer space and beyond!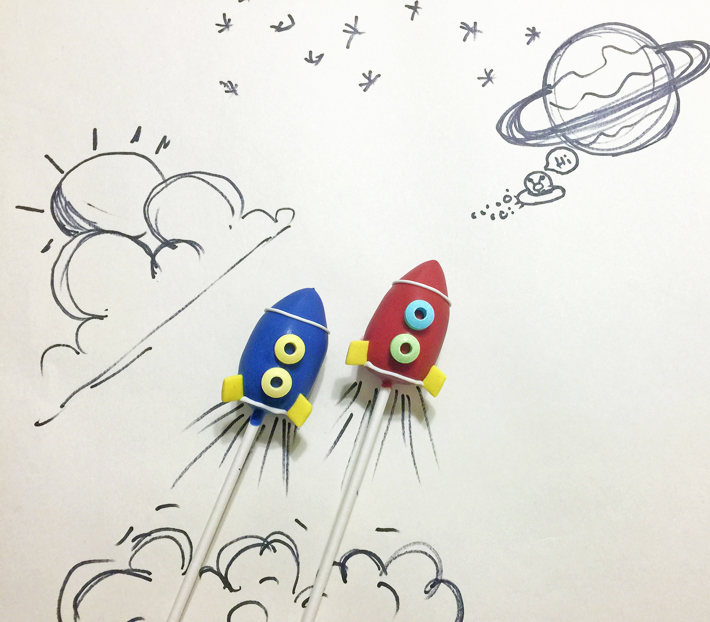 "Houston, we have a problem! We can't get enough of these rocket ship cake pops!"
This tutorial is really fun. We'll be using candy and jumbo sprinkles to decorate the rocket and it can be customized to match any color scheme. The countdown to 8 easy steps begins now!
You'll need:
Cake pop dough
Lollipop sticks
Candy wafers in red or blue
Candy wafers in white (about 20 wafers)
Jumbo diamond sprinkles
Candy necklace pieces
Paramount crystals
Toothpicks
Waxed paper
Zip-top bags
Cake pop stand or styrofoam block
Always line your work surface with waxed paper. This creates a sanitary space, plus it also makes for a super easy clean up later.
Shaping the rocket ships
Step 1: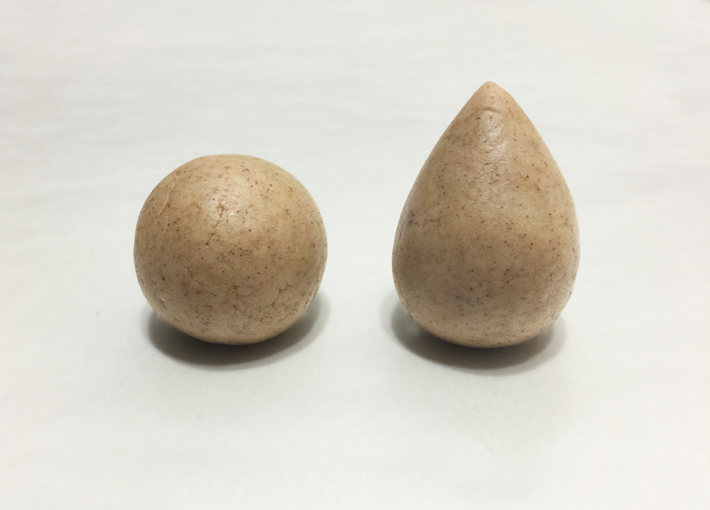 Use a cookie scoop to portion the cake pop dough. Roll the dough into a ball then into a droplet.
Step 2: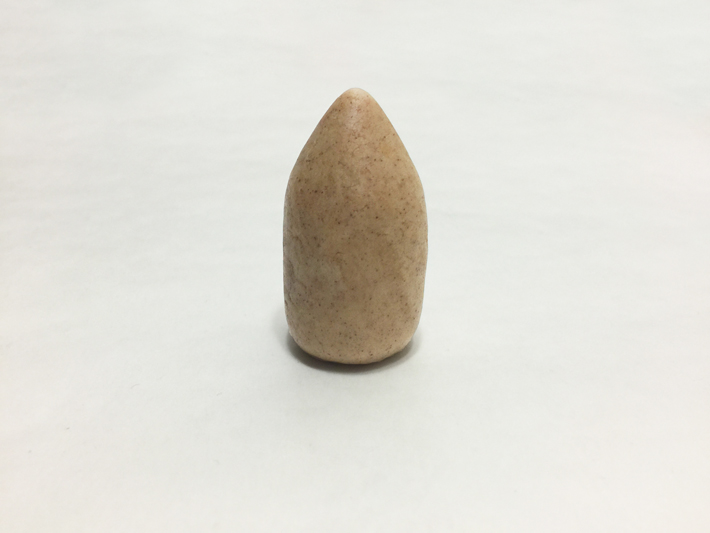 Once you've shaped a droplet, place it on its side and roll gently along your work surface to lengthen the body. The pointed end will serve as the top tip, or the nose, of the rockets. Tap the bottom end against your work surface to flatten it. Refrigerate all pieces. 
Decorating the rocket ships
Cake pops are coated with candy coating. Having smooth candy coating at the right consistency is necessary for hassle-free cake pop making.
Step 1: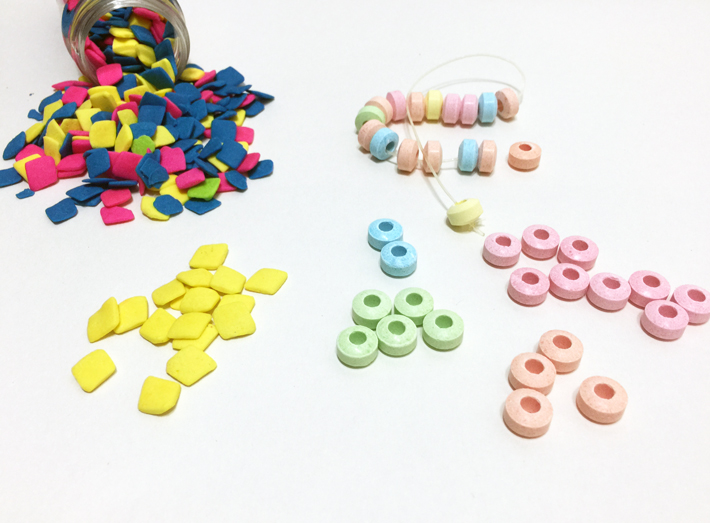 Separate the jumbo diamond sprinkles by color. I will only use the yellow diamonds for this tutorial, but feel free to mix it up! Next, separate the candies from the candy necklace by color as well.
Step 2:
Melt red or blue candy coating. Use paramount crystals to thin the consistency if necessary. Remove rocket ships from the refrigerator and let stand in room temperature for 5-10 minutes, depending on how long they've been in the fridge.
Step 3:
Gather you or sticks. Dip ⅓" of the stick, then insert the stick into the bottom, flat ends of the rocket body.
Step 4: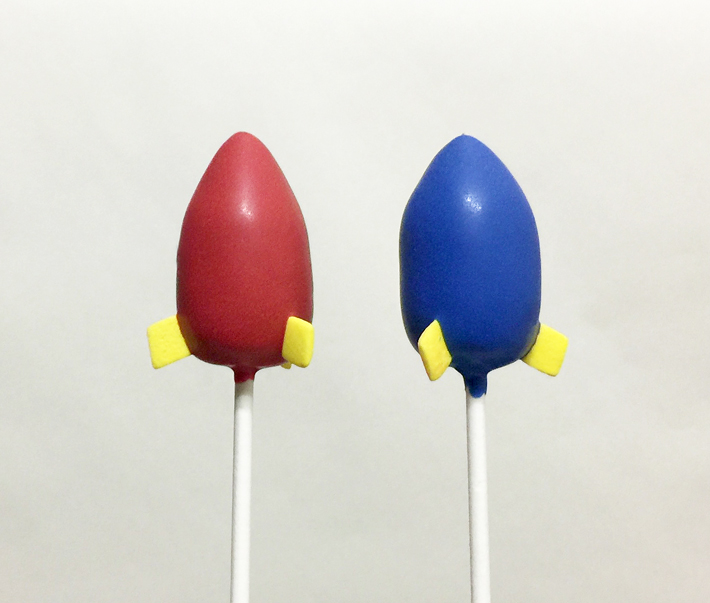 Dip each piece vertically into the red or blue candy coating. Pull out and carefully wiggle side to side to shake off excess. While the coating is still wet, place three diamonds along the bottom these will be the fins.
Step 5: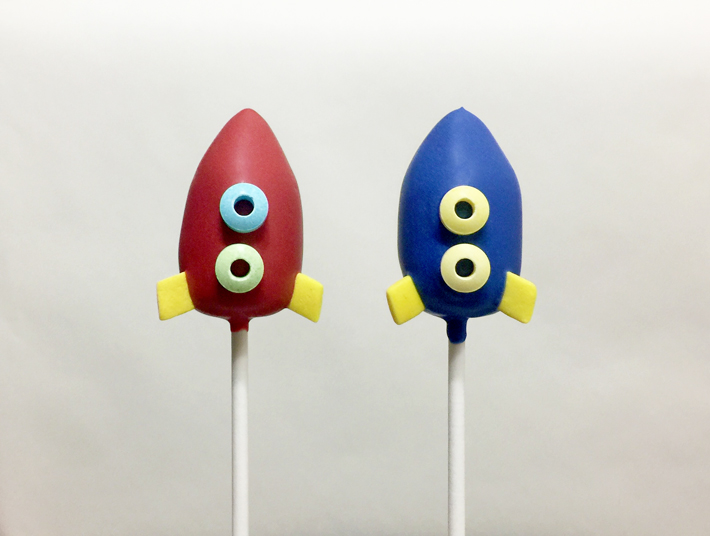 Add two candy necklace pieces vertically along the body. Place on cake pop stand and let dry completely.
Step 6: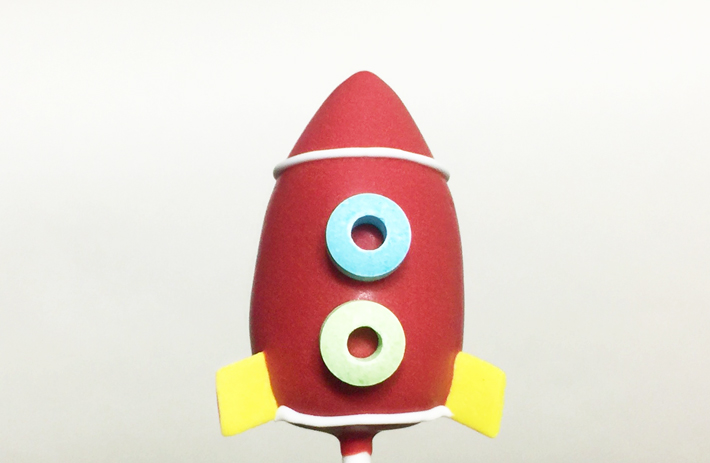 Melt about 20 white candy wafers in a ziplock bag by microwaving in 20 second intervals, kneading the coating between each interval and only heating until the coating gets to body temperature (it should be nice and melted by then). We will use this to pipe a stripe along the top and bottom of the rocket ships.
Gather the coating in a corner and snip the tip. Pipe a nice line by rotating the cake pop with one hand and keeping the other in place giving the bag a light squeeze. Pipe a line along the bottom between the fins.