If you've ever tried quilting feathers, you know that it's a pretty design that takes practice to master. The elegant free-motion quilting pattern is, in its simplest form, made up of a central spine surrounded on each side by tear-drop shapes resembling rounded leaves or half-hearts.
You can quilt feathers by hand with an embroidery hoop, needle and thread. Or if you are a machine quilter, you can learn to quilt feathers on a long-arm machine or with a home sewing machine with basic free-motion quilting supplies.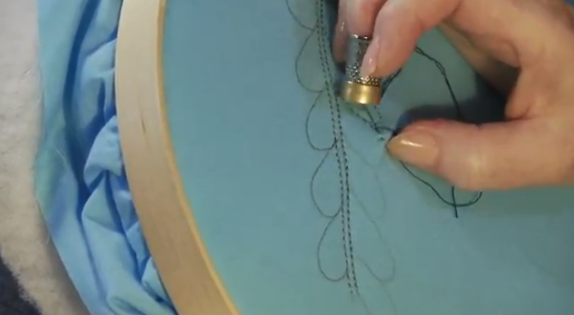 Hand Quilting Feathers
When hand-quilting feathers, Craftsy instructor Andi Perejda suggests tracing the spine and basic feather design onto the fabric with a pencil or erasable pen. To minimize the starting and stopping that often comes with quilting feathers, she lets her needle travel through the batting from the end of one feather to the point where the next feather stops. Andi shares a quick demonstration of this technique in this video clip.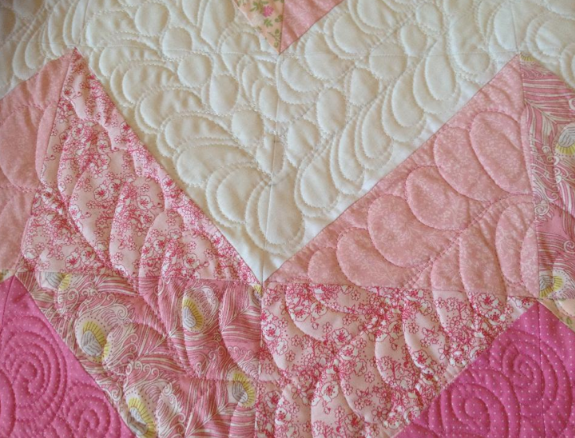 Quilting Feathers on a Home Sewing Machine
In Angela Walters's class Free-Motion Quilting with Feathers, she covers basic feather shapes as well as variations and border-quilting techniques. The continuous-line quilting pattern looks best when there is minimal retracing of the stitches. For this reason, practice makes perfect when machine-quilting feathers. For this method, you can either draw on the feather design and trace it with your stitching, or quilt the feathers freehand. Both methods take practice to master, so don't worry if your first try leaves something to be desired.
Craftsy member rahimah used this pink chevron quilt to practice feather quilting, implementing a single feather pattern in the light pink section and a double feather pattern in the white. Although her quilt top is comprised of sharp edges and points, the quilted feathers within each chevron section give a visual softness and continuity to the project, even across the different fabric prints. Feather quilting pairs well with complementary quilting patterns like swirls, seen in the dark pink section of this quilt.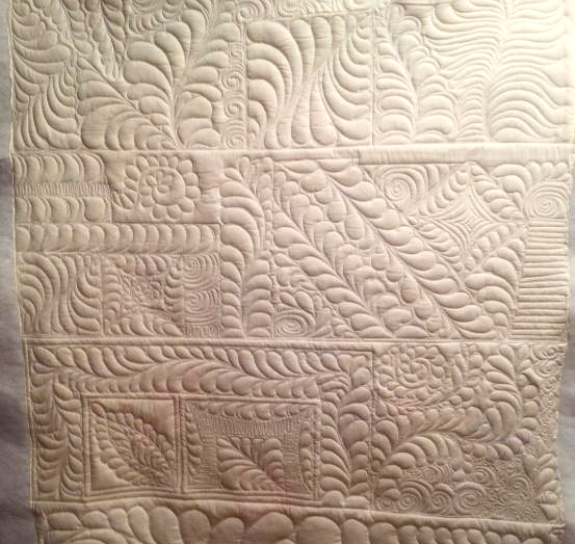 Long-Arm Machine Quilting Feathers
When quilting feathers on a long-arm machine, the same techniques apply as with quilting on a home sewing machine. Craftsy member hersisterquilts shares her free-motion feather practice. She used a muslin quilt sandwich and quilted a feather design on her long-arm machine. As you can see, she divided the quilt top into basics squares and rectangles, which she later filled in with quilted feathers varying from small to very large. Among the feather variations, she quilts feathers with pointed tips, feathers facing opposite directions along the spine spine, border feathers and feathers with a double outline on each petal. When it comes to the size of the feathers in each row, some rows remain consistent in size and others seem to grow or shrink, creating motion in the feather pattern.
When quilting feathers, part of the fun is mixing up the design to include different sizes of feathers as well as complementary background quilting patterns. This might include pebbles, boxes, straight lines, diamonds or empty space. Filling squares, circles and other shapes with feather designs can be a good way to add interest to quilt blocks to really make them stand out.
Tips for Quilting Feathers
One method is to quilt the spine of the feather first, then create the center tear-drop shape. Continue out on the right side of the feather, traveling down to the base of the spine. Then quilt the left side of the spine traveling up toward the top, filling in with quilted feathers.
If you are uncomfortable drawing the design freehand, trace the pattern first using a feather quilting stencil, like these tools from The Stencil Company.
If you sew on a variable-speed sewing machine, remember that you can adjust the speed down to a level that you are comfortable with.
When you start to feel more comfortable with a feather pattern, try quilting at a faster speed or without marking the design beforehand.
Have you experimented with quilting feathers?
You might enjoy this curved piecing tutorial. Come back to the Craftsy blog tomorrow to learn how to put your selvages to use.