Do you have a hard time picking out quilt color combinations? Do you enjoy seeing the pretty work of others, but have a hard time choosing your own quilting color schemes? Try these four tried and true methods for putting together color selections, often called "color stories," to help you find that perfect color combo!
Find the quilt color combination that's right for you with these simple tips!
1. Start with a focus fabric.
This is perhaps the easiest way to pull together a color scheme that works. Think of fabric designers as professional color analysts. They've done all the work for you, so you can pull colors from an exciting print, even if you don't use the fabric in your actual quilt.
For example, look at the first fabric shown in the bundle below. I think it's a nice print but perhaps too traditional for my tastes. However, the rest of the coordinates are very dynamic and even a touch modern. Using the floral print as a "starter" leads to the other more subtle prints, which play very nicely together!

Moda Honeysweet by Fig Tree & Co. Fabrics available via Craftsy.
2. Look at what's trending in retail stores.
Go to your local big box retailer and browse their home decor aisle to see what's popular and what appeals to you. Marketing gurus know that we will not only buy furniture and decor that appeals to us, we will also likely pick up impulse items if their coloring and packaging appeals to us! If you like to go scrappy to suit your decor that will work, too. Here's a rule of thumb: As long as your background is much lighter or much darker than your focus pieces, your quilt will sing!
3. Follow your favorite bloggers.
Many times, your favorite quilting bloggers will have a pretty good idea of how to put together color combinations. Many bloggers are also quilt pattern designers, so they are constantly coming up with fresh new ways to put together exciting color schemes. You may decide to purchase their quilt patterns for color ideas, even if you never make the chosen quilt!
Camille Roskelley is a popular blogger and Craftsy instructor. Her signature colors scheme of aqua, red, navy and white (with a touch of green) has been extremely well received both in modern and traditional quilting circles. It's a fresh and vibrant combination when used together, or individually with other colors!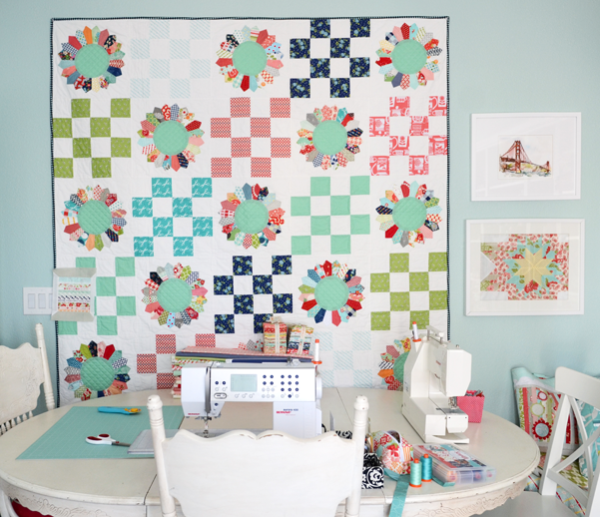 Field Day Quilt by Craftsy instructor Camille Roskelley
4. Choose a two color combination.
You can apply simple color theory to create a dynamic two-color quilt of practically any combination you like! Right now yellow and gray is a popular two-color combination that is currently trending on blogs and in fabric manufacturer's booths at quilting trade shows.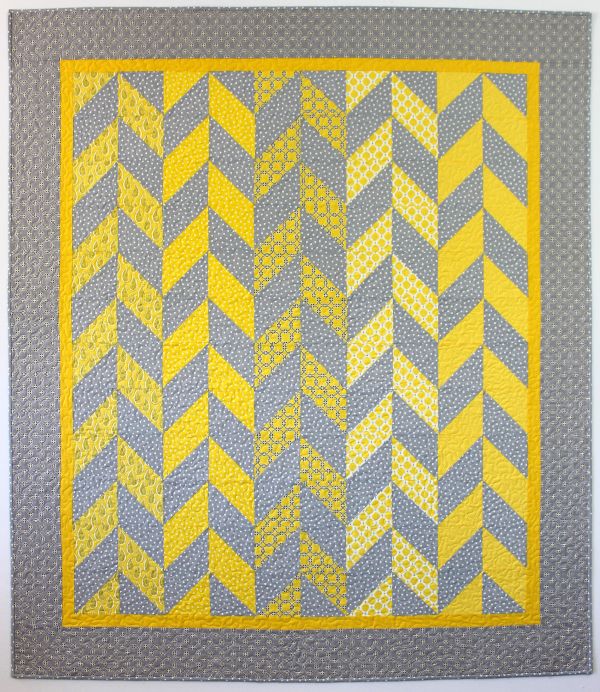 Herringbone Quilt via ChristaQuilts.com
Classic black and white quilts are always in style as are many other two-color combinations: pink & purple; red & green; blue & white, etc. And, don't forget the impact a monochromatic quilt can have! By choosing shades of one color with a white background, you can create amazing results. 
On the Square Quilt via Craftsy member CarolynHughey
Whether you like a simple color palette, or prefer a rainbow of color and pattern, choosing fabrics and prints for your next quilt is half the fun of making it!
What are your favorite quilting color combinations?