As the temperatures rise in the Northern Hemisphere and school years come to a close, it can only mean one thing — summer vacation! Be inspired to take the plunge with pool party cake designs and swimming-inspired cupcakes that are sure to make a splash!
Dive into these super-refreshing cakes and cupcakes for your summer party!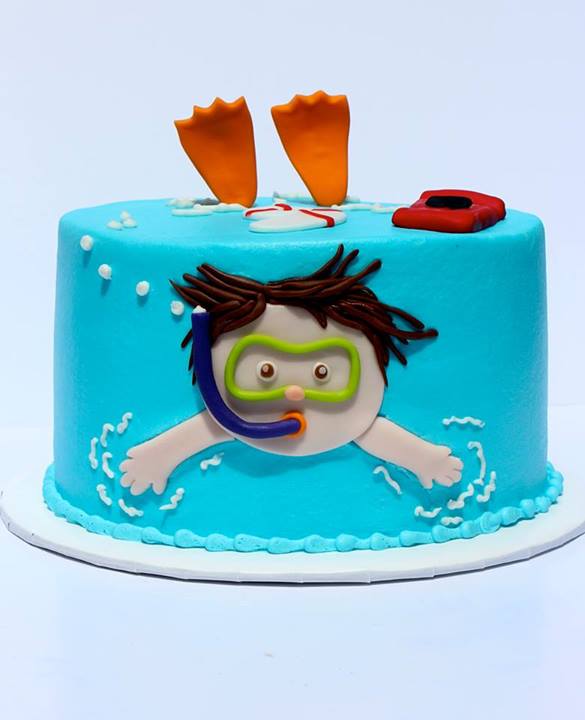 Photo via Cakes by Kerrin
Little diver cake
Inspired by an Applegum Kitchen design, Cakes by Kerrin created this absolutely adorable little diver cake for a pool party. To create the illusion of the swimmer underwater, the boy's face and arms were cut and sculpted out of fondant, then applied to a perfectly smooth buttercream icing surface on the perimeter of the cake. 3-D fondant flippers were then molded and inserted on the top to simulate the diver's feet sticking out of the surface of the pool. Finally, movement in the water was achieved by piping white foam and bubbles.
To become comfortable with working with buttercream, be sure to check out The Wilton Method®: Buttercream Skills with Beth Somers for expert insight on covering, icing and piping cakes. Then, perfect your fondant work in Marina Sousa's Advanced Fondant Techniques!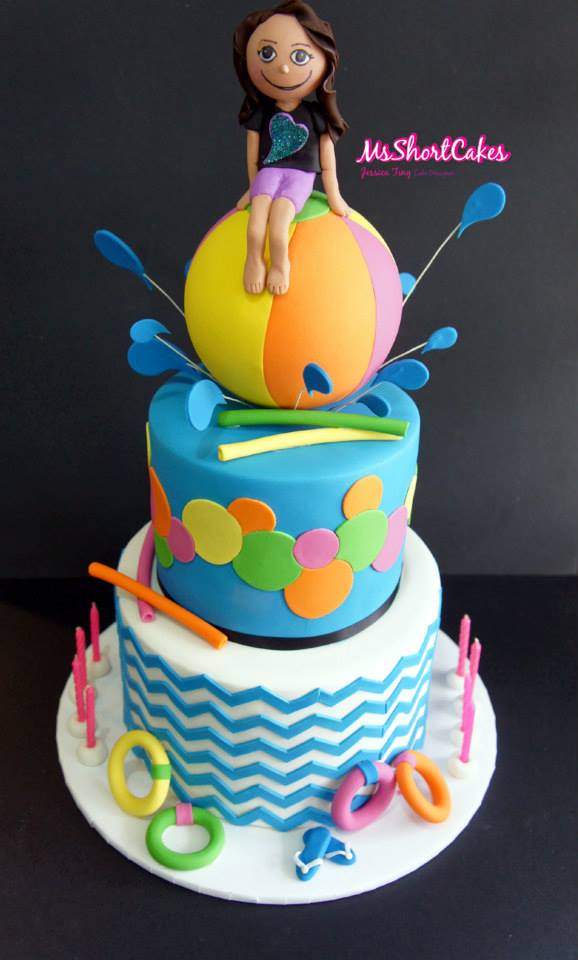 Photo via Ms. ShortCakes
Girly pool party cake
This beautiful and lively three-tiered cake with colorful fondant decor by Ms. ShortCakes just screams pool party fun! The first two tiers are meticulously covered in fondant and adorned with modern chevron and multi-colored circle patterns. The third tier is decorated in the shape of a beach ball (learn how to achieve this same affect with this perfectly round cake tutorial), while the birthday girl, modeled out of fondant and gum paste, tops the cake. Additional cheer, including pool rings, foam noodles, and even water splashes, complete the splendid display.
Create clean and alluring cakes such as this in Jessica Harris' Simply Modern Cake Design, where she teaches how to integrate designs, patterns and color into your cake projects. Practice modeling gum paste people in the course Cake Topper Techniques: Figure Modeling with Anne Heap and learn how to create figurines, dressing them up in a variety of outfits.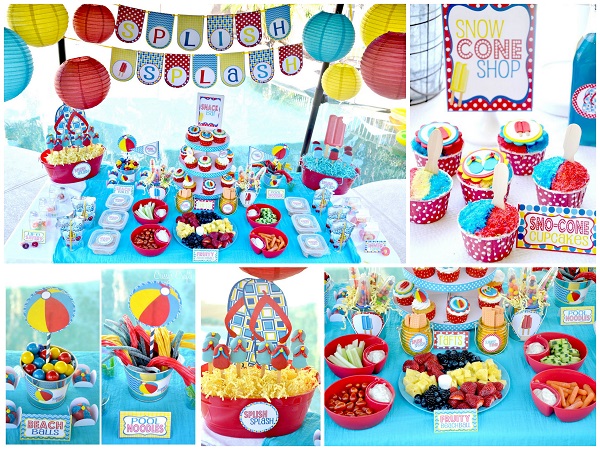 Photo via Crissy's Crafts
School's Out Pool Party cake
This super fun, vibrant pool party by Crissy's Crafts was created to celebrate the end of the school year with the help of printables from Mimi's Dollhouse. Sweet cupcakes were decorated to resemble snow-cones and topped with charming fondant toppers by Edible Details, while cake pops were sculpted to look like flip flops and popsicles. So many additional creative details, including candy pool noodles, lifesavers and beach balls, wafer rafts and juicy fruits can be seen in the full post of the School's Out Pool Party on Chrissy's blog!
Practice making fondant designs on a reduced scale in Sheryl Bito's Tiny Cupcake Toppers Bluprint course to create your own small and sweet treat embellishments.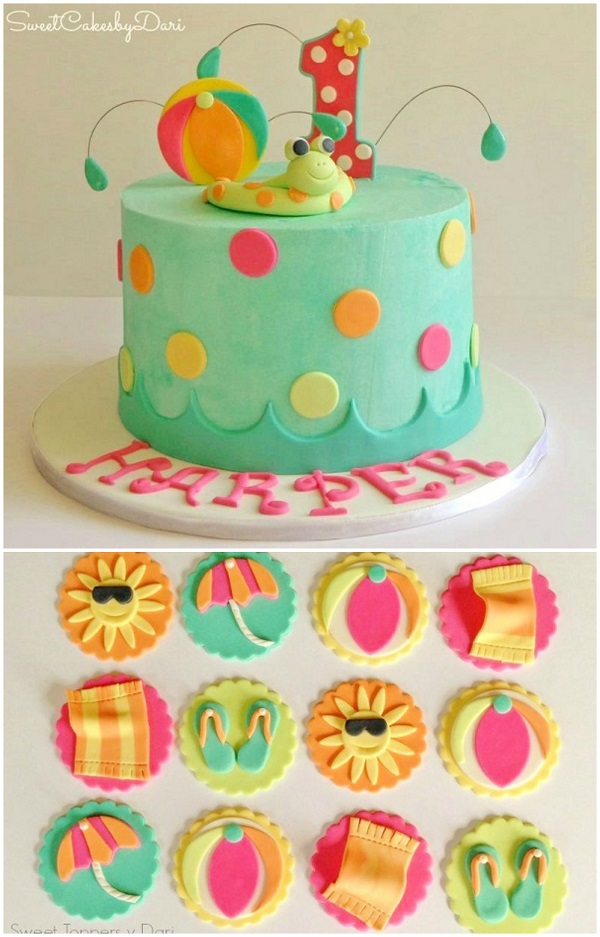 Photo via Bluprint member SweetCakebyDari
Pool party 1st birthday cake and cupcake toppers
With instruction from Jessica Harris' class Clean & Simple Cake Design, Bluprint member and cake artist SweetCakebyDari created this precious pool party 1st birthday cake in a delightfully sweet pastel color palette. An adorable fondant frog inner tube and number topper accentuate the cake, while the presentation is personalized with the birthday girl's name in fondant letters on the cake board. After taking the Bluprint course Basic Fondant Techniques with Elisa Strauss, the matching cupcake toppers were created, stressing the importance of being creative with fondant tools and cutters.
Learn more about personalizing your confections in Nicholas Lodge's Bluprint course Custom Lettering & Monograms with a variety of techniques to customize your cakes and cupcakes.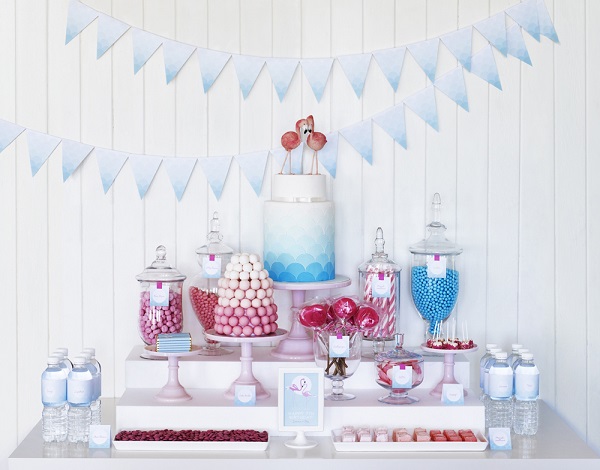 Photo via Sweet Style
Retro Pink Flamingo Pool Party
This Retro Pink Flamingo Pool Party by Sweet Style is simply stunning! Anchored by a gorgeous ombre wave cake topped with flamingo figurines by Blissfully Sweet, the pristine presentation on the dessert table was completed with a cake ball tower, homemade marshmallows and color-coordinated candy. The cool color palette is reminiscent of glistening water under the Summer sun. Check out the rest of the details of this Retro Pink Flamingo Pool Party on the Sweet Style blog for additional inspiration.
Learn to make animal figures in the Bluprint course Cake Topper Techniques: Fondant Animals with Sharon Wee to top your cakes with adorably sweet wildlife!
How will you celebrate fun in the sun at your next pool party?