A dot is a simple enough thing. But when repeated many times over, it makes for a busy and bright pattern. In fact, its resemblance to lively dance steps is what gave the pattern the nickname "polka dots."
Playful and fun, these dots make for fashionable and sweet polka dot cakes. Here are a few examples of the many different directions these dots can take your next cake decorating project.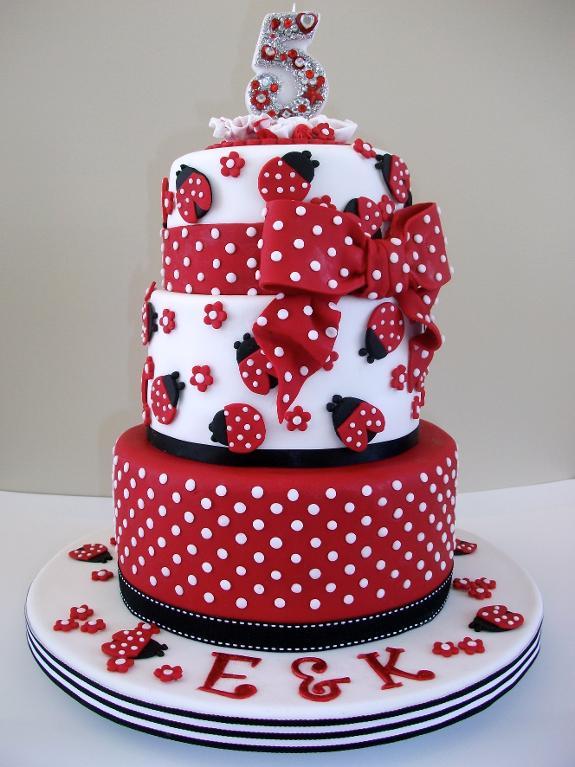 Photo via Bluprint member PAKNZ
Ladybug cake:
What's black and white and red all over? A perfectly sweet polka dot ladybug cake. Three tiers of cake covered with fondant are festooned with polka dots that appear both on ladybugs, which dot the cake, and on the layers themselves. It makes for a whimsical yet dressy looking cake.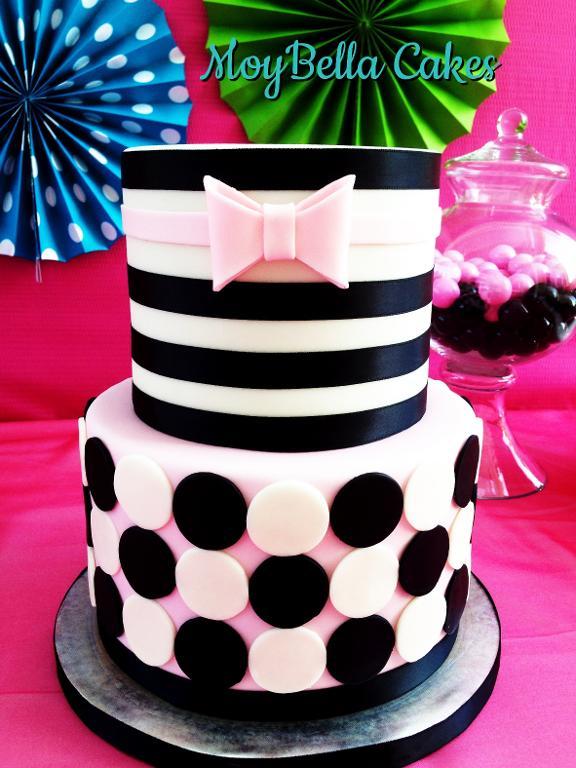 Photo via Bluprint member Gabriela Aguila
Handbag inspired cake:
After taking the Clean & Simple Cake Design Bluprint class, one cake designer decided to use her new knowledge in combining ganache and fondant to make a cake inspired by the pattern on a beloved handbag. The top tier featured classy stripes and a sophisticated bow around the perimeter of the cake, and the bottom tier is covered with large dots in light pink and black.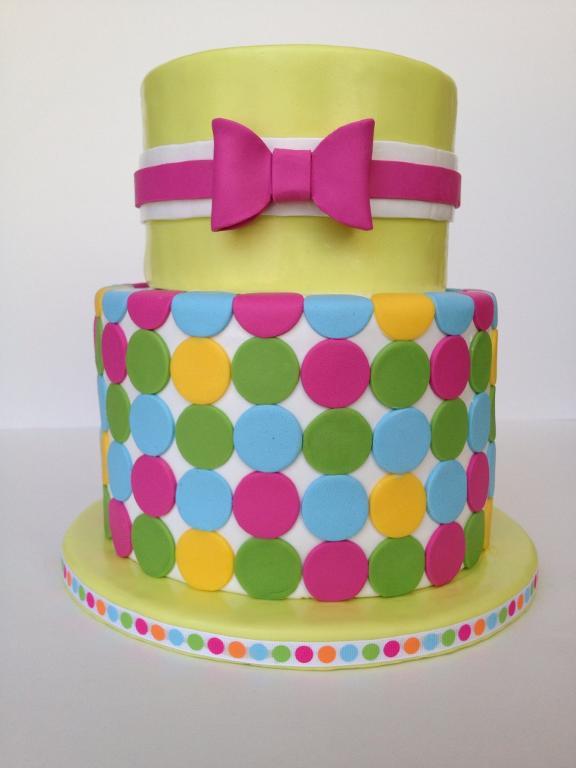 Photo via Bluprint member Irina Salazar
Springtime polka dot cake:
Another Bluprint member decided to create a cake using a springtime color palette. Polka dots in bright colors grace the bottom tier of the cake, which is complemented by an elegant and simple top tier.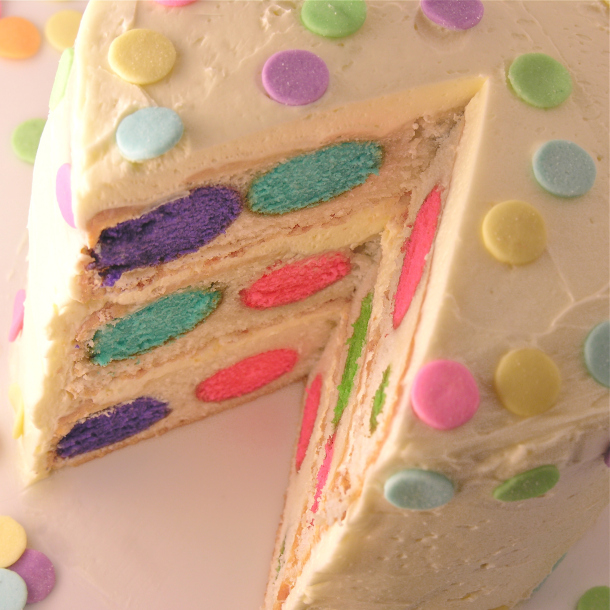 Photo via Easy Baked
Polka dot cake interior:
Polka dots need not only be on the surface of a cake. In this example, polka dots make their appearance on the cake's interior. Small balls of cake are baked first, and then inserted in the layer-cake batter. When baked and sliced, you've got a crowd-pleasing and fun result.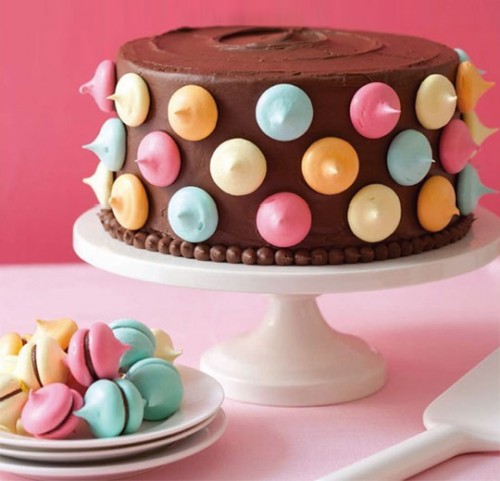 Photo via Ladies' Home Journal
Meringue polka dots:
This cake is covered with kisses! Those polka dots adhered to the sides of the cake are meringue kisses tinted in various colors. Simple to make, the kisses are tinted in various colors before baking. When added to a simple cake, they have a tremendous impact on the overall look.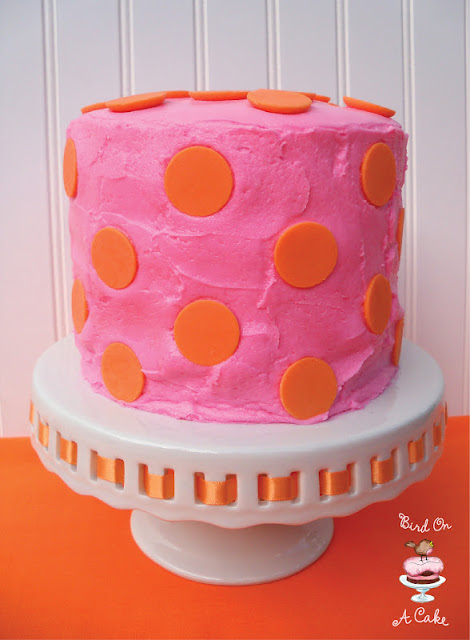 Photo via Bird on a Cake
Chocolate melt polka dot cake:
Looking for a quick and easy polka dot solution? Simply ice your cake and add chocolate melts. By applying the chocolate melts, flat side facing out, to a cake that has just been iced, you get an instantly polished polka dot look.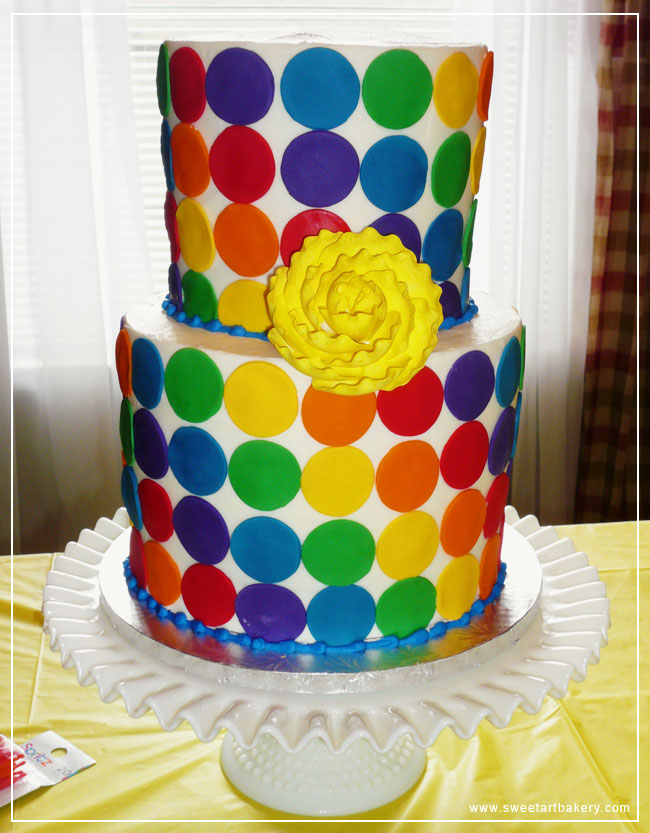 Photo via Sweet Art Bakery
Rainbow dot cake:
This cake is actually quite simple: two tiers in white that are then covered all over with dots in every color of the rainbow. The simple addition of those bold rainbow dots make for a cake that is as fun to behold as it is to eat!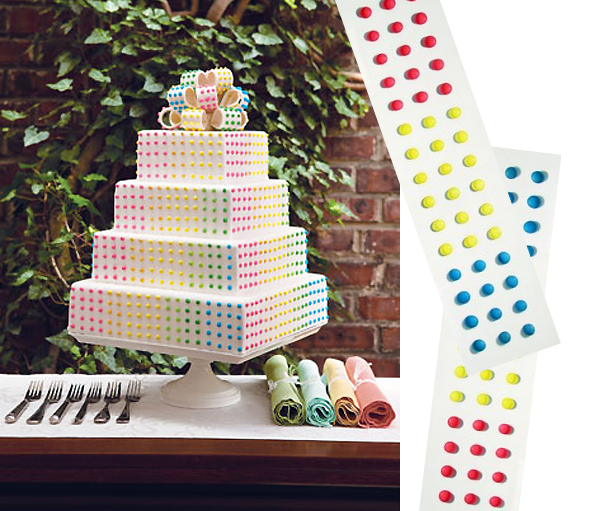 Photo via Lochel's Bakery
Dot candy inspired cake:
It's interesting to see how the size of the dots can really affect the finished result. The big, bold dots on the cake featured above lend a fun, party vibe, whereas the tiny dots on this cake give it a more quiet sophistication. It still has plenty of whimsy, though — it's inspired by a classic penny candy!
To master the techniques seen above, sign up for one of our online cake decorating classes today! And come back to the Bluprint blog tomorrow for a fun roundup of striped cakes!
Instead of seeing stars, you're probably seeing spots! Which type do you favor: delicate, tiny dots, or big and bold spots?