Give all the moms in your life some sweet bottles of perfume this Mother's Day! These perfume bottle cake pops are sure to please even the pickiest of tastes! With only seven easy steps, you'll be giving a homemade gift from the heart at a blink of an eye.
You'll need:
Cake pop dough ready for shaping
White candy wafers, divided
Yellow candy wafers
Mini marshmallows
Jumbo heart sprinkles (optional)
Lollipop sticks
Toothpicks
Waxed paper
Cake pop stand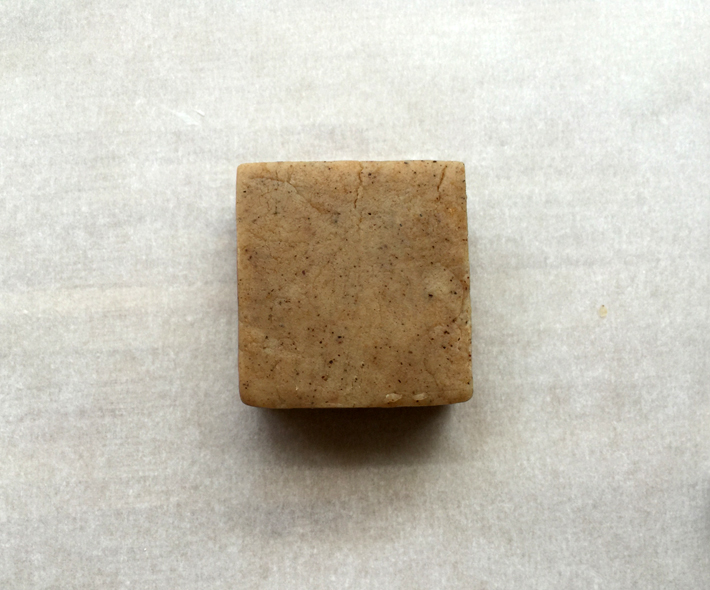 Step 1:
Line your work surface with waxed paper. Roll out your cake pop dough to ¾"-thick slab. Use two upside-down cookie sheets (or a stack of magazines or books wrapped in plastic wrap for hygienic purposes) as a guide for your rolling pin.
Use a ruler to mark guides for 1½" squares. Cut these squares one by one using a small sharp knife; avoid cutting by the row. Cut each individually so the edges stay nice and smooth. Refer to this tutorial for making ideal cake pop dough texture. Refrigerate all the squares on a waxed paper–lined cookie sheet.
Step 2:
Next, we're going to prepare the pieces for our caps.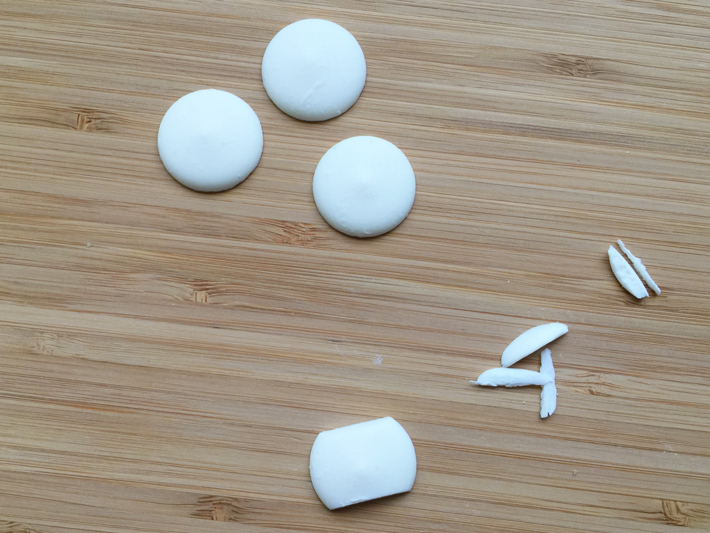 Grab one white wafers for each cake pop, plus a couple of extra. Use a sharp knife to cut pieces off on two sides so they look rectangular.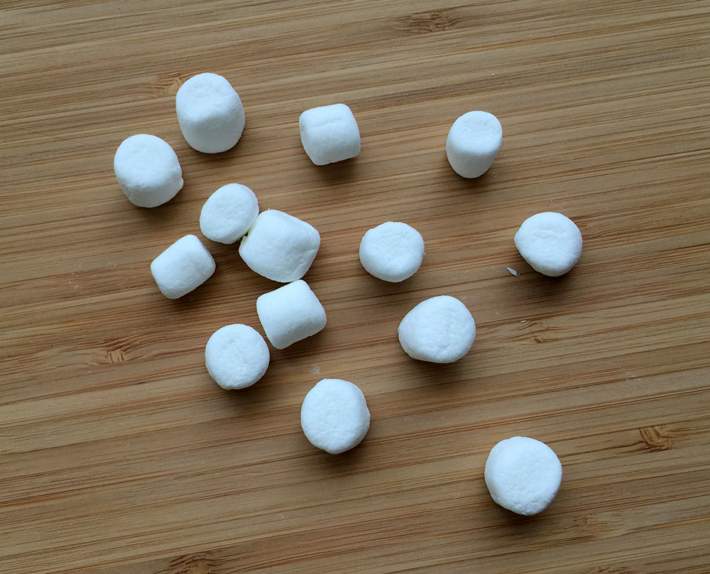 Have some mini marshmallows out and ready for placement.
Step 3:
Remove cake squares from the fridge and let rest at room temperature as you're completing this step.
Melt yellow candy wafers in a microwave-safe plastic or silicone bowl. For complete instructions and tips on this melting process, please refer to this dipping tutorial.
Step 4:
Dip a lollipop stick (about ⅓") into the candy coating. Insert them into each square until they're about halfway through. Do this for all the pieces.
Step 5:
Now we dip!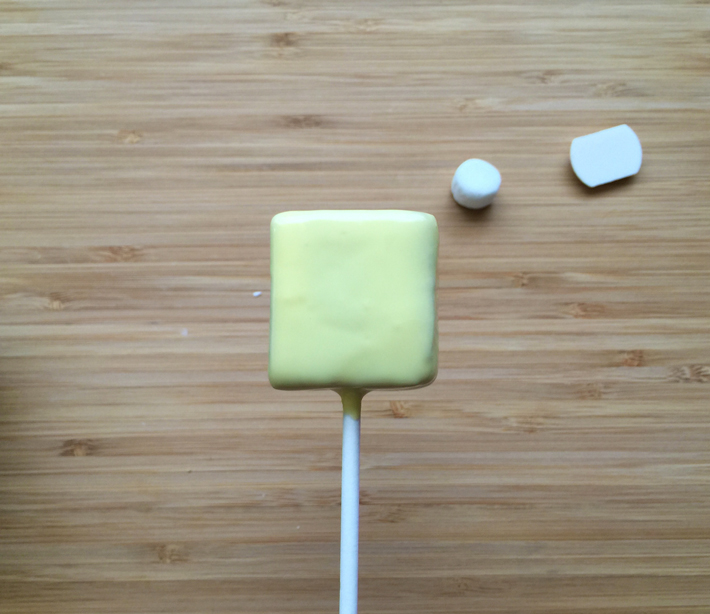 Dip each cake pop into the yellow coating. Gently shake the excess off and use a toothpick to pierce any air bubbles that you see.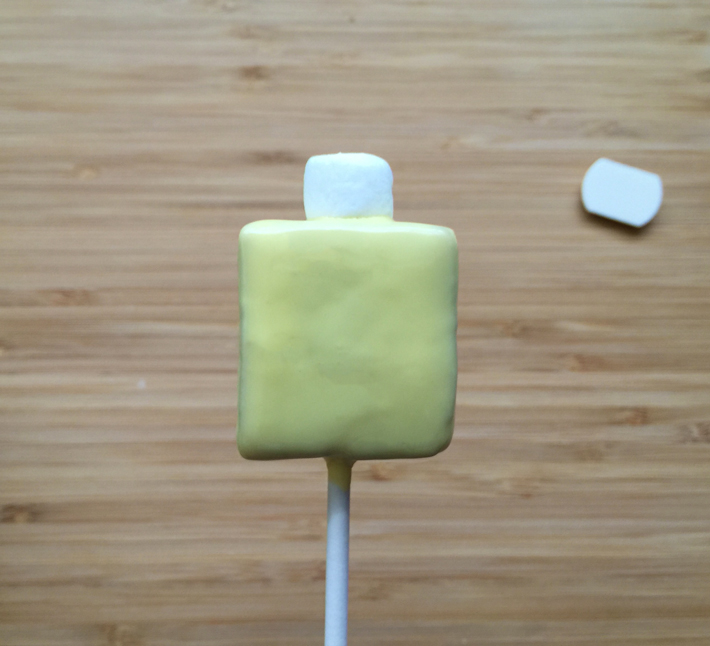 While the coating is still wet, place a mini marshmallow on top of each dipped square. Place on a cake pop stand and let dry completely.
Step 6:
Melt a couple of white candy wafers and place it in the corner of a ziplock bag. Snip the tip and pipe a small amount of coating on top of the mini marshmallow and affix a wafer that you trimmed earlier.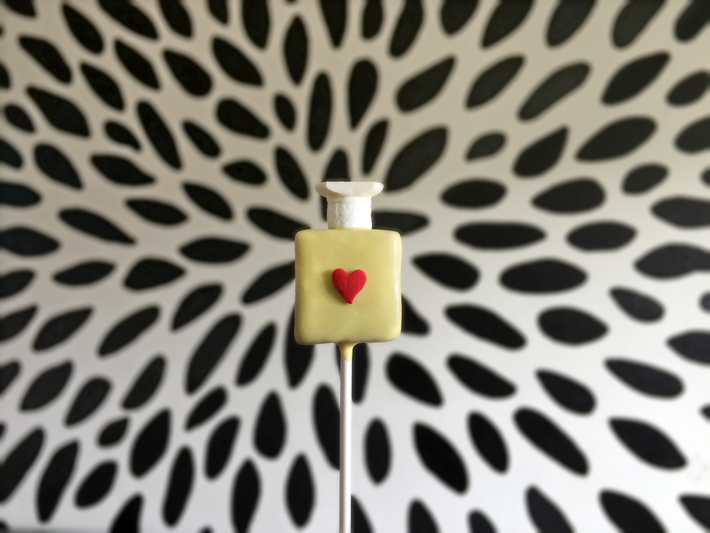 Step 7:
Adding a heart or any other decorative details to the front is completely optional. Use a toothpick to place a dot of candy coating on the cake pop to "glue" a heart onto that spot. You can also use melted coating in a darker color to personalize it further by piping a name or phrase.