These peek-a-boo cake pops are the start of a new trend! Upside-down cake pops with decorative bottoms are a subtle way to make a bold statement. The possibilities are endless for the designs and use of these cake pops. Weddings, showers and gender reveals are only a few ideas for these unique and simple treats!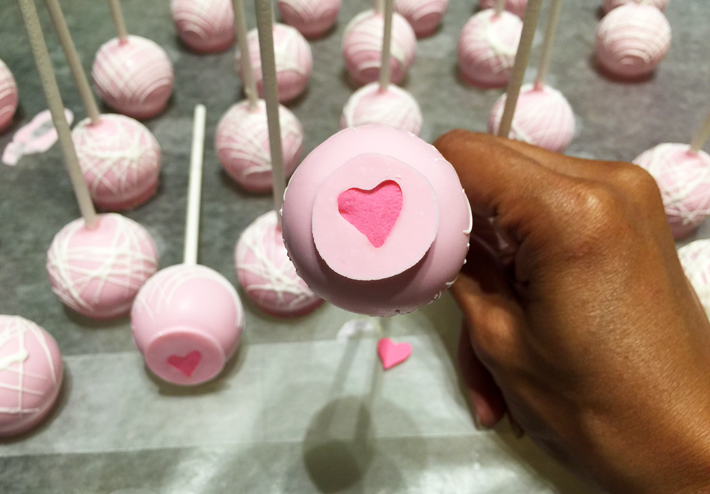 Upside-down cake pops with an added touch
Upside-down cake pops usually don't get as much glory as the upright kind, until now. Not only are upside-down cake pops much easier to make and display, but now you can add a little element of surprise with making/using them! Plus, the use of sprinkles along the bottom serves another purpose in addition decorative element or pops of color. They also help prevent the bottoms from breaking through due to the thin layer that's created when you place a freshly dipped upside-down cake pop onto the surface — form and function! I love it.
You'll need:
Cake pop dough
Candy coating in color(s) of choice
Jumbo sprinkles or regular sprinkles like nonpareils
Paramount crystals
Lollipop sticks
Wax paper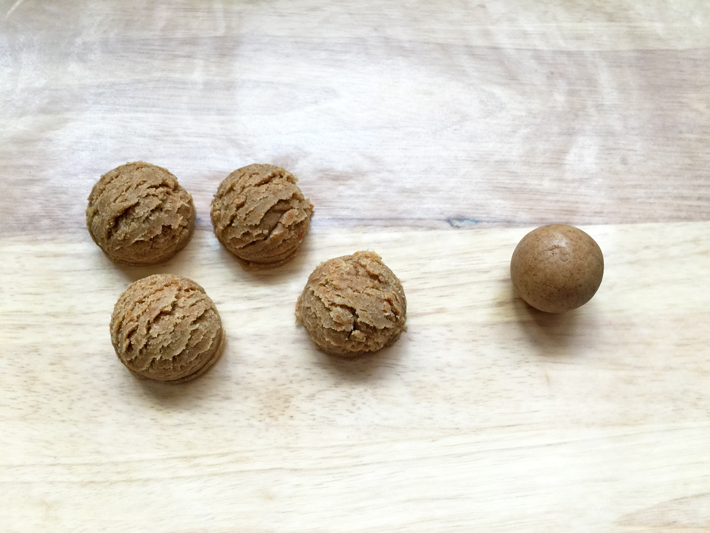 Step 1
Portion cake pop dough using a cookie scoop and roll each portion into a ball.
Place cake balls onto a wax paper-lined cookie sheet and refrigerate all pieces for at least 15 minutes.

Step 2
Prep your work area by laying down wax paper and separating and arranging the flat jumbo sprinkles a couple of inches apart in rows. I'm using red and pink jumbo hearts. There is an array of jumbo sprinkles available at craft and cake supply stores such as stars, diamonds and daisies too!
Using regular sprinkles or nonpareils sprinkles could work as well, but they don't get the same definition as the jumbo sprinkles. Place the sprinkles on the wax paper in a tight single layer.
For nonpareils, since they tend to roll around all over the place, I recommend using a small wax paper-lined dish or pan, like an 8 x 8, to keep the sprinkles contained.
Step 3
While the cake balls chill, melt the candy coating. I'm using white and pale pink (2 parts white to 1 part pink), but use any color of your choosing. Melt candy coating in the microwave at 30-second intervals at 50 percent power until melted and smooth. Stir the coating between each interval. Thin candy coating using only paramount crystals if necessary. Let rest at room temperature.
Please note: all brands and colors of candy coating differ in consistency.
Step 4
Remove cake balls from the fridge and let sit in room temperature for a few minutes to take the chill off. Dip a lollipop stick, about ⅓ inch into the melted coating, then push it into the top of each cake ball until it's about halfway through. Once all the sticks have been inserted, the cake pops are ready to be dipped!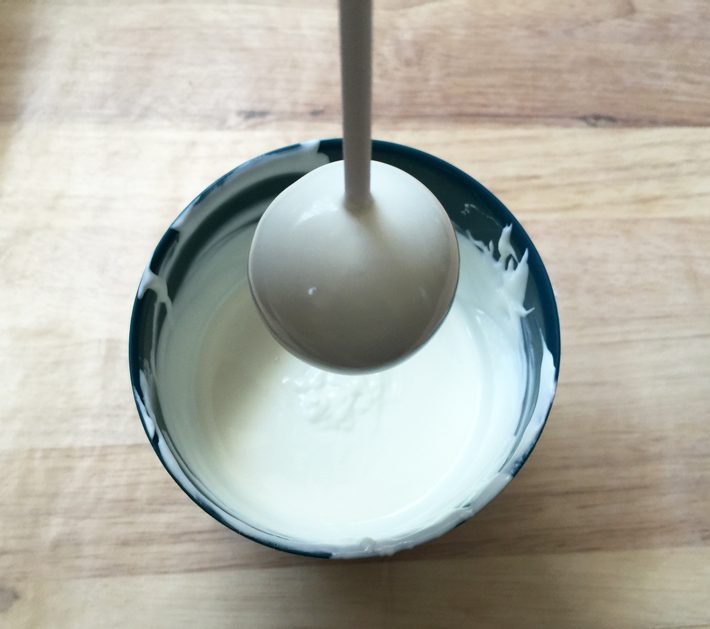 Step 5
Dip the cake pop into the candy coating. Gently shake off as much of the excess as you can and use toothpicks to pierce any air bubbles while still wet.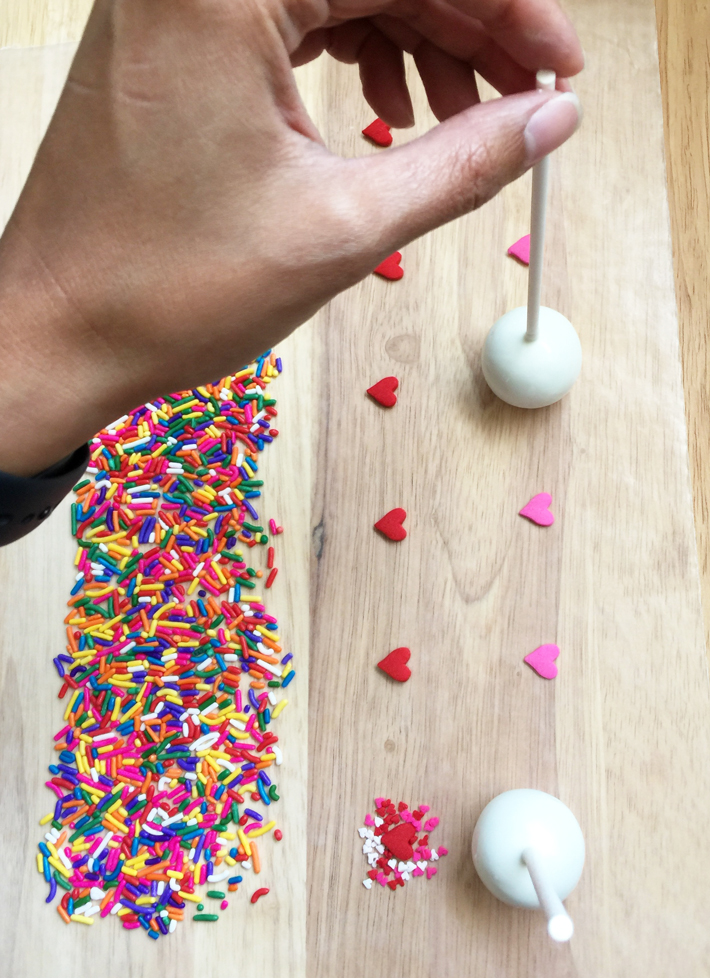 Place on an individual jumbo sprinkle and give a slight gentle push onto that sprinkle — you may have to hold it still for a few seconds to help keep it upright. The key is to shake off as much of the excess coating as you can and place the cake pop right onto the sprinkles. Let dry completely.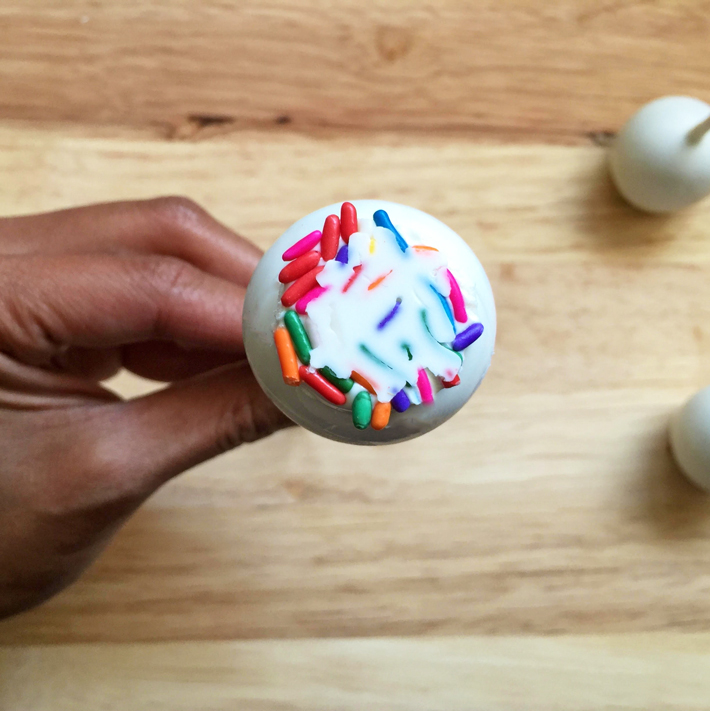 Experimenting with rainbow-style sprinkles…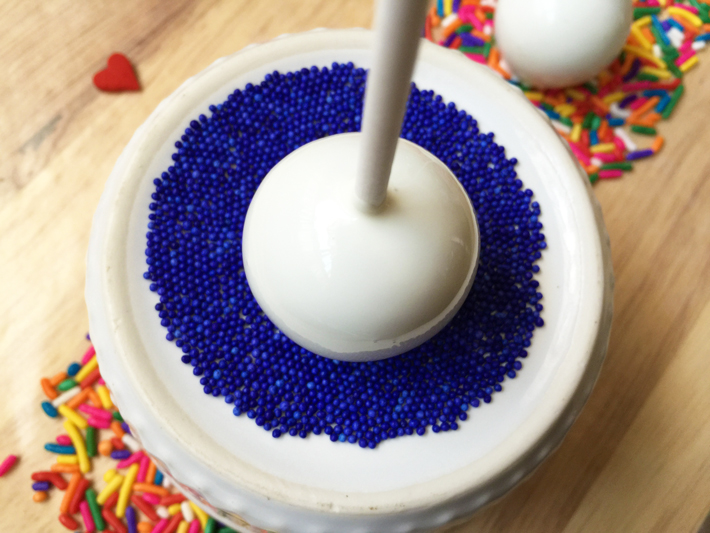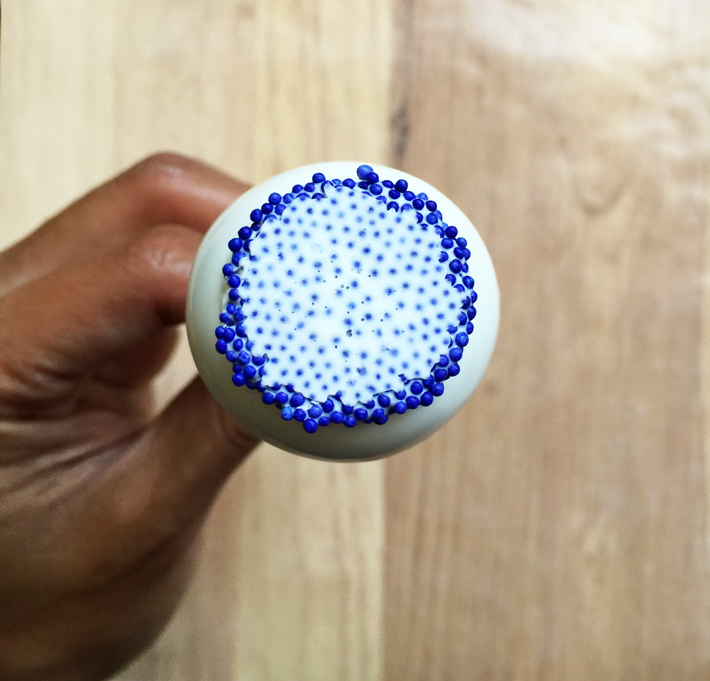 Experimented with nonpareils, too! They give these cake pops a nice pop of color.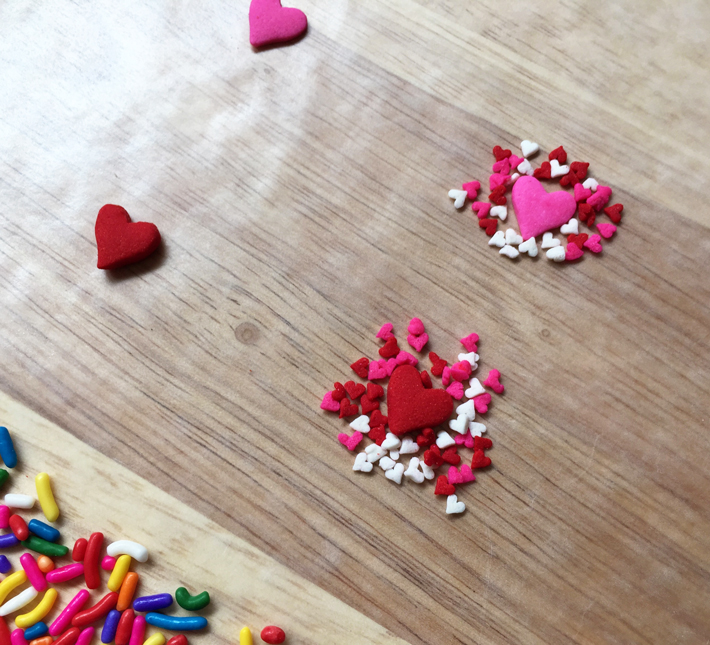 Try placing smaller hearts around the large ones…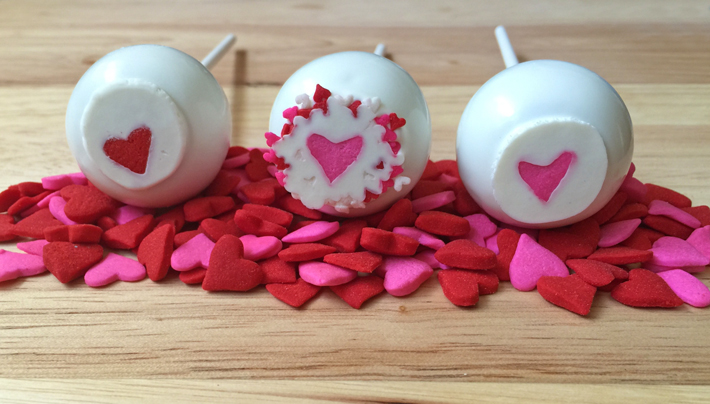 The results are fabulous!
Step 6
Once cake pops are dried, decorate the rest of the cake pops as desired. I prefer to keep these cake pops simple and let the color or surprise peek-a-boo detail on the bottom do the talking!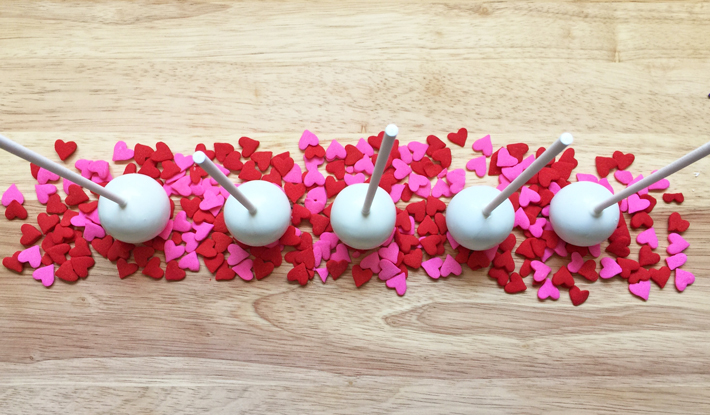 A great way to display these peek-a-boo cake pops is to lay down more of the jumbo sprinkles you've used and place them on top!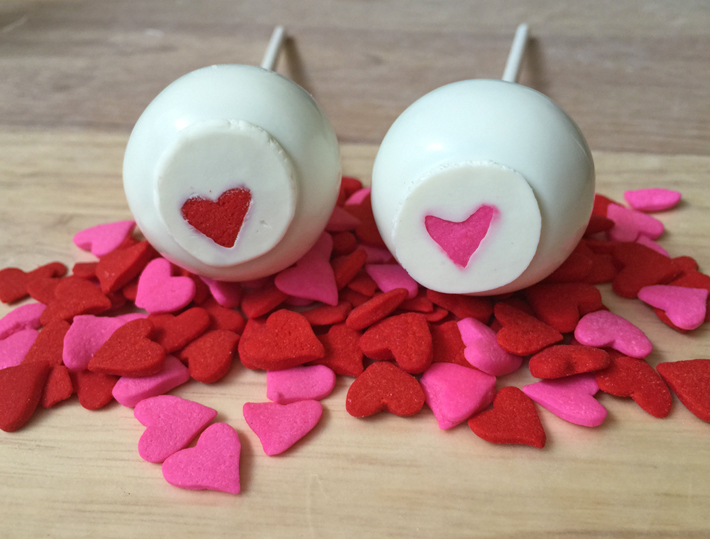 How will you make your peek-a-boo cake pops? Leave a comment below!