Need dinner in a hurry? Say hello to your new weeknight best friend of a meal. Pasta sciue sciue (which literally translates to "hurry hurry" or "quick quick") is simple but full of flavor and incredibly easy to put together.

Made using simple ingredients (many of which you probably already have on hand), this dish comes together in just about 15 minutes from start to finish, and that includes boiling the pasta! 

If you've got picky eaters or are craving something more complex, you can easily update this recipe to suit your taste. See below the recipe for some easy variations! 
Pasta sciue sciue recipe
Serves 4 to 6 people 
1 pint cherry or grape tomatoes 
1 cup basil leaves (loosely packed) 
1 pound spaghetti (1 box, uncooked)
¼ cup olive oil 
2-3 garlic cloves, finely minced 
1 teaspoon dried chili flakes 
1 teaspoon Italian seasoning spice mix (see recipe note) 
Salt, to taste 
Parmesan cheese, for serving (optional)
Step 1: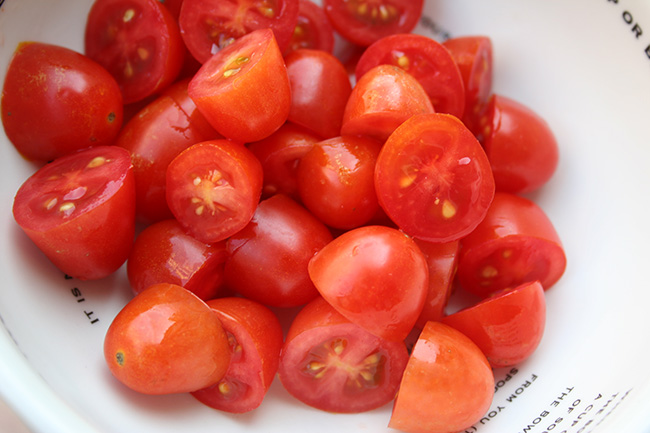 Slice the tomatoes in halves or quarters. Slice the basil. Set both ingredients aside in separate bowls.
Step 2:
In a large pot of salted water, cook the pasta until it is al dente (typically about a minute shorter than the package's instructions). 
Step 3: 
In a large, heavy-bottomed saucepan, combine the olive oil, garlic, chili flakes and Italian seasoning spice mix. Heat over medium heat until fragrant and the garlic begins to slightly color.
Step 4: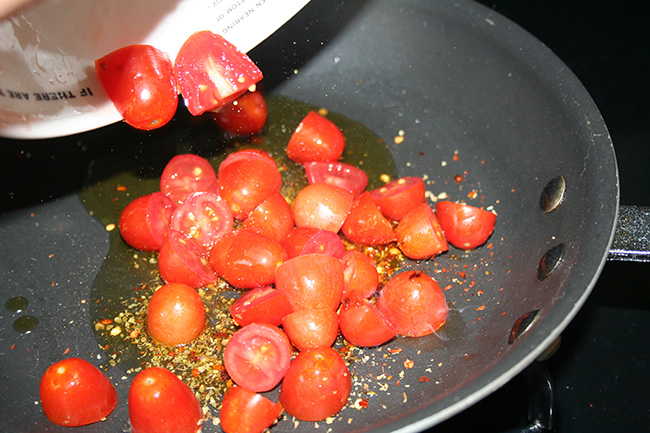 Add the tomatoes and increase the heat to high. Cook, tossing once or twice, until the tomatoes are soft and releasing a little juice (a little browning or loosening of the tomato skins is fine).
Step 5:
Turn the heat to low. Add the pasta to the pan; give everything a stir, then add the basil and salt to taste. Stir again to evenly combine.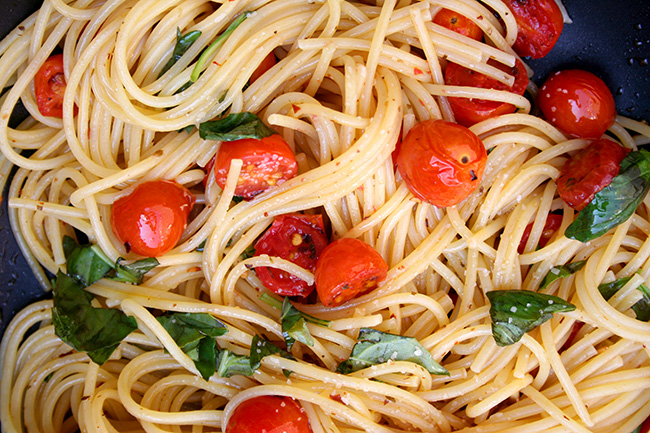 Step 6:
Divide among bowls, and garnish with Parmesan cheese, if using. Serve immediately.
Recipe notes 
Italian seasoning spice mix
Italian seasoning spice mix — sometimes simply called "Italian seasoning" or "Italian spice" — is a dried spice mix available at most supermarkets. While the makeup can vary, it usually includes a mix of basil, marjoram, oregano, rosemary, sage and thyme.
I find that it's a great and easy way to flavor this dish, but if you prefer to pick and choose dried herbs or spices or use fresh herbs, feel free to do so.
Scaling this recipe
This recipe can be scaled up or down. If you're only cooking for two, for instance, you can halve the recipe with no change to the outcome. Alternatively, you can double the recipe (just be sure your pots and pans can accommodate all that pasta!). 
Recipe variations 
This simple recipe is incredibly easy to tailor to your liking. Here are some ideas:
Add protein
Cooked pork, boneless chicken or ground beef all taste great with this dish if you're in the mood for a heartier meal.
Add vegetables
Vegetables can pack this dish with more flavor and nutrition. You can either pre-cook vegetables and add them into the pasta at the end, or for vegetables that don't require much cooking (such as spinach or kale) you could add them to the pan with the tomatoes in Step 4. 
Add cheese
A few ounces of mozzarella cheese, torn into small pieces and tossed in the mixture at the same time as the pasta in Step 5 of the recipe, can make this dish extra-special, giving it a pleasantly gooey texture. A few spoonfuls of ricotta add a great flavor and creaminess to the finished pasta, as well.
Love this quick and easy pasta dish? You'll also enjoy our recipe for cacio e pepe, another quick-to-make classic Italian pasta dish that features a creamy, irresistible sauce made of cheese, butter, salt and pepper.