A simple dinner doesn't have to be a boring one. Need proof? Look no further than this cacio e pepe recipe. Requiring only four key ingredients and two easy steps, this recipe comes together in less than 20 minutes and yields an impressive and surprisingly elegant pasta dinner.
Cacio e pepe translates as "cheese and pepper," and those two ingredients are truly the heart and soul of this dish.
Cooked pasta is combined with sharp, salty Pecorino Romano cheese, freshly ground pepper and a little butter to form a creamy, insanely flavorful finished dish. It's perfect all on its own, but it can also be dressed up with meat, vegetables or herbs of your choosing to make your dinner dreams come true.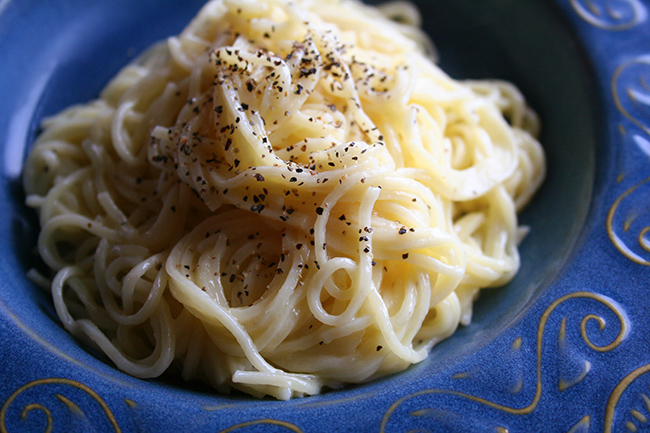 Photos via CakeSpy
Cacio e pepe recipe
Makes about 4 servings 
Ingredients:
2 teaspoons salt 
1 pound spaghetti (dry)
1½ cups grated Pecorino Romano cheese 
3 tablespoons unsalted butter 
1 teaspoon freshly ground pepper
Step 1:
In a large stock pot, bring 6 quarts of water and salt to a high boil. Add the pasta and cook according to the package instructions. Strain the pasta; reserve 1½ cups of the pasta water.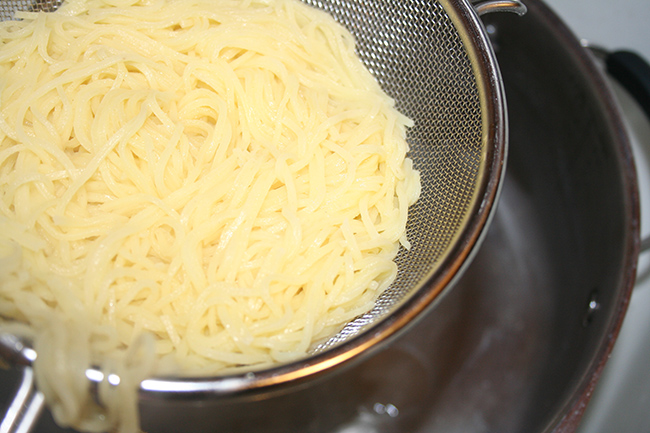 Step 2: 
Add 1 cup of the retained pasta water and the cooked pasta back to the pot. Add the grated cheese, butter and pepper. Heat the mixture over low heat until the butter and cheese melt and a thick sauce forms. If the mixture is too thick, you can add some of the remaining pasta water (you may not need it though). Give the pasta a taste; add more salt or pepper to taste. Serve immediately.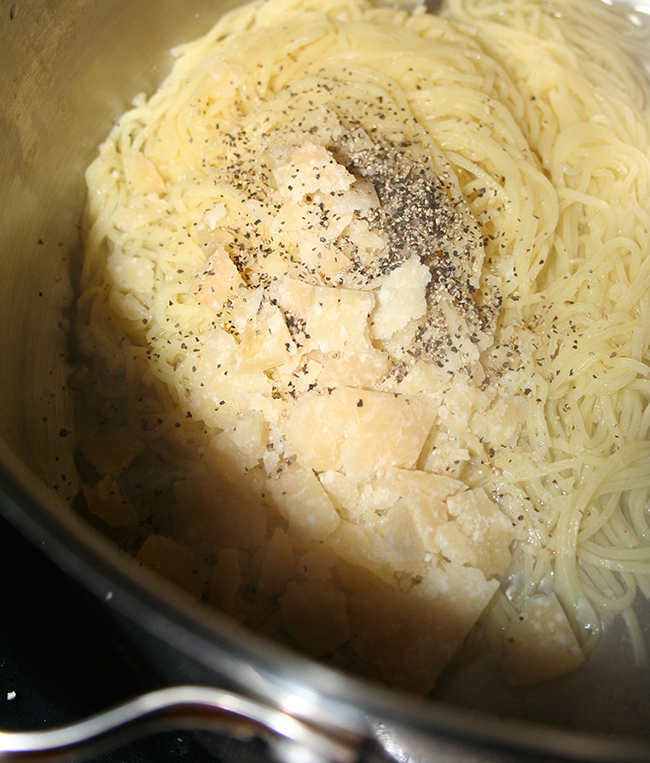 Recipe notes
Fresh versus dry pasta 
I have tried this recipe with both fresh and dry pasta, and have found that it works either way. However, I personally find that it's not an exact swap.
Fresh pasta does not expand and absorb quite as much, so you may want to use a bit more pasta. Personally, I found that it worked perfectly with about  1¼ pounds fresh pasta versus 1 pound of dry pasta. Of course, whichever type of pasta you use, take note of the specified cook time on the packaging; fresh pasta requires far less time.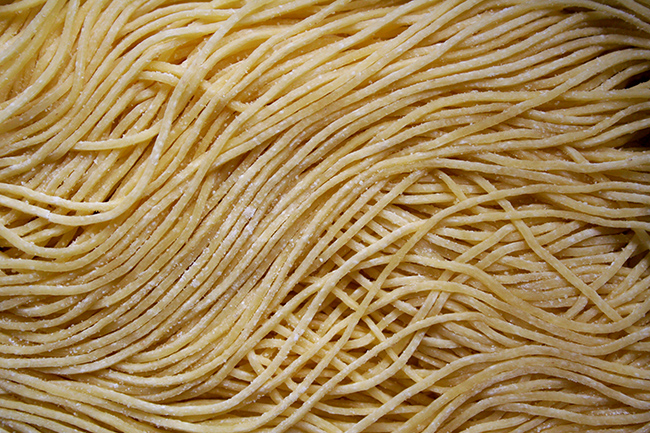 Noodle notes
While spaghetti is the traditional noodle of choice for this recipe, I have personally found that it also works well with angel hair or linguine noodles
Be a cheese whiz
This recipe calls for Pecorino Romano cheese, a hard cheese made from sheep's milk. It has a sharp, assertively salty flavor. If you can't find this type of cheese in your local grocery store, you can substitute grated Parmesan cheese. The flavor will be a little bit different, but still decidedly delicious. 
Pepper considerations 
Freshly ground pepper adds the perfect "bite" to complement the salty creaminess of the dish. If you use pre-ground pepper, the recipe will still work, but will have a far more mild flavor. 
Reserving the pasta water
There's a good reason you use reserved pasta water in Step 2, when making the "sauce." This reserved water is packed with starch, which acts as a natural thickener. Using plain water simply won't work the same thickening wonders.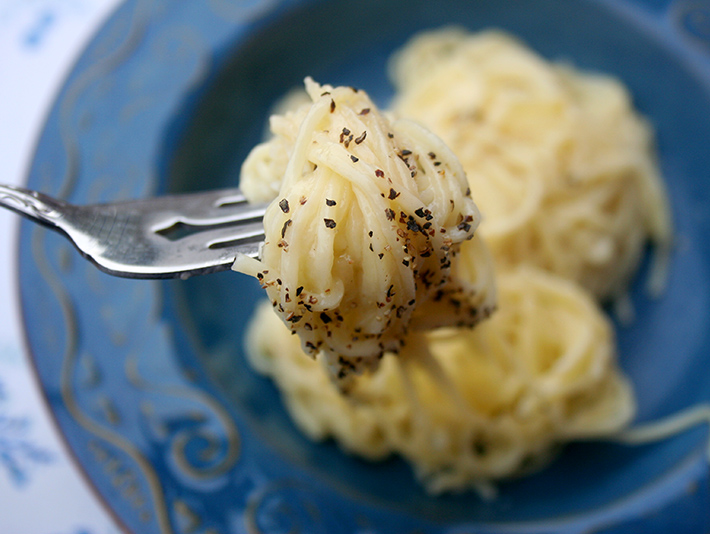 Love pasta? Want to learn more about making it at home? Check out Craftsy course Homemade Italian Pasta. Along with Italian food impresario Giuliano Hazan, you'll learn how to make traditional Italian pasta from scratch, as well as mastering some classic recipes and learning how to pair different types of pasta with the appropriate sauces.
What's your favorite minimalist meal?