Last week we spotlighted some amazing New York City-themed cakes, let's continue our confectionery tour around the world with a look at some cakes inspired by the City of Lights.
Oscar Wilde once said that "when good Americans die, they go to Paris." Though the comment is tongue-in-cheek, there's something to be said about the city's reputation as a heavenly place. After all, Paris has inspired many pieces of art, stories, many a romance, and of course, the cuisine is legendary.
So it should be no surprise that Paris has inspired many a cake decorating project, from fancy French poodles to distinguished croissant characters and soaring Eiffel Towers constructed of royal icing.
Here's a collection of Parisian cakes guaranteed to inspire and strike your sweet fancy.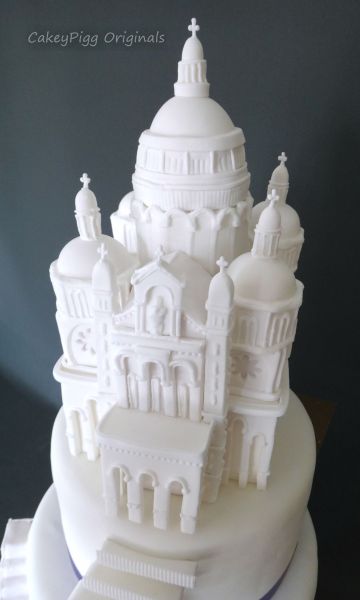 Photo via CakeyPigg Originals

Sacré-Coeur wedding cake: 
The Sacré-Coeur Basilica already bears a passing resemblance to a wedding cake or sugary confection. This cake makes the association a reality. It's a beautifully constructed fondant masterpiece in white designed to look like the famous church.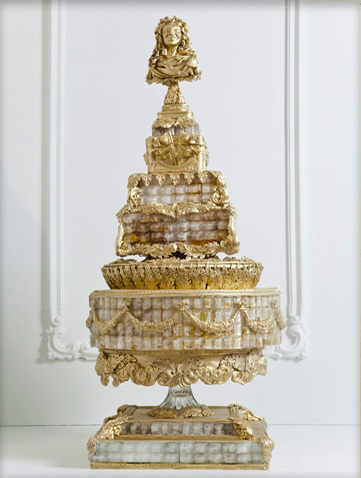 Photo via Cake Opera Co.
Versailles cake:
Let them eat cake! This gilded masterpiece of a confection was designed to resemble the over-the-top splendor of Versailles, Marie Antoinette's home just outside of Paris. With luxuriant layers and intricate golden detailing, it's safe to say the mission was a success.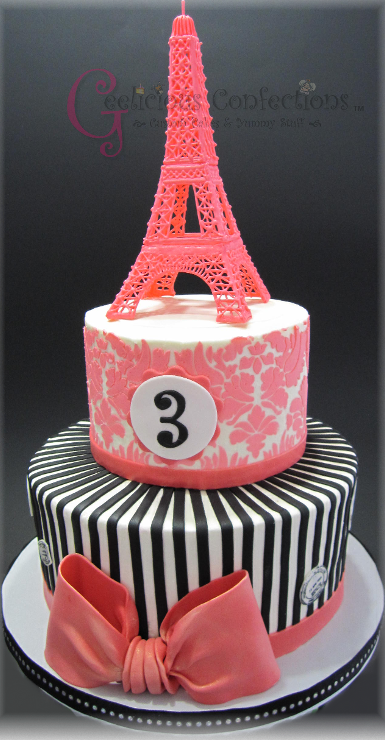 Photo via Bluprint member Gloria F.
Pink Eiffel Tower cake:
Created to match a customer's invitations for an event, this cake is rendered in fondant and royal icing. A beautiful damask pattern covers the top tier, and bold black and white stripes contrast on the second tier, which is prettily wrapped with a sugary fondant bow.

Photo via TavitaCakes
Parisian boutique themed cake:
This cake was a labor of love, taking 9 hours to complete from start to finish. The cake is covered in fondant, and much of the rest is hand painted using gel food colors. To finish it all off, there's a piped pearl border made to resemble a necklace and a lovely pink flower.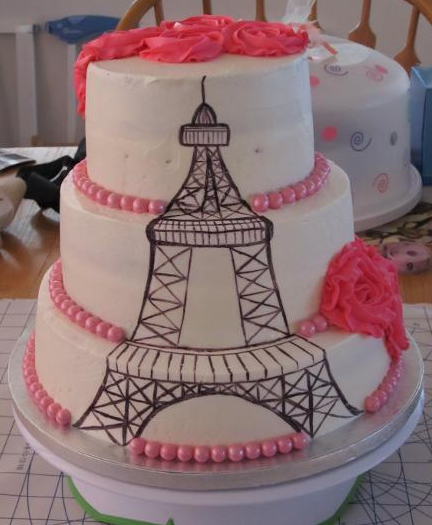 Photo via Bluprint member Rikky Smith Moore
Eiffel Tower tiers:
This clever use of the cake tiers emphasizes the architectural wonder featured on its layers. The entire cake is done in buttercream, on top of which lies a hand-painted Eiffel Tower, making for an overall illustrative and whimsical look.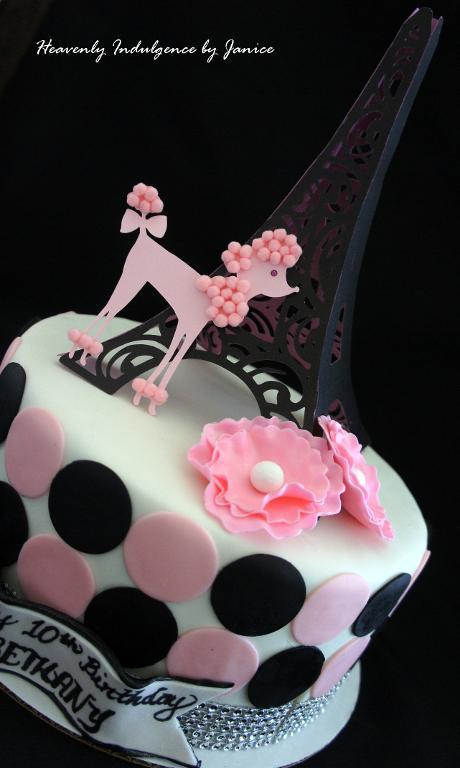 Photo via Bluprint member JanGen
Parisian poodle cake:
After taking the class Clean & Simple Cake Design, this Bluprint member was inspired to create a lovely Paris-themed cake. Chic with pink and black fondant polka dots and frilly pink sugar flowers, the cake's finishing touches of a pink poodle and a lovely Eiffel Tower rank high on the "ooh la la" factor.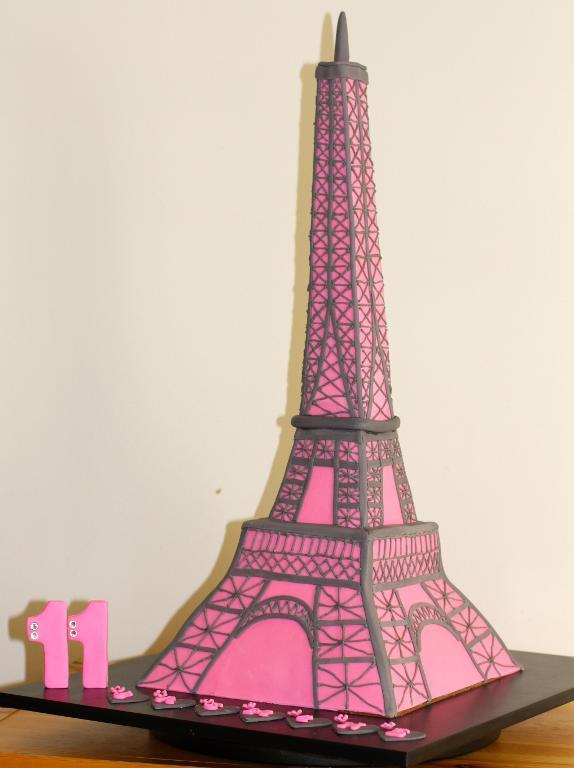 Photo via Bluprint member Diana Taylor
Pink piped Eiffel Tower:
Bluprint's Modern Piping course helped out in creating this fashion-forward Parisian cake. A skyscraper of a cake is covered in a vibrant pink fondant, then piped in black to form an intricate Eiffel tower. C'est magnifique!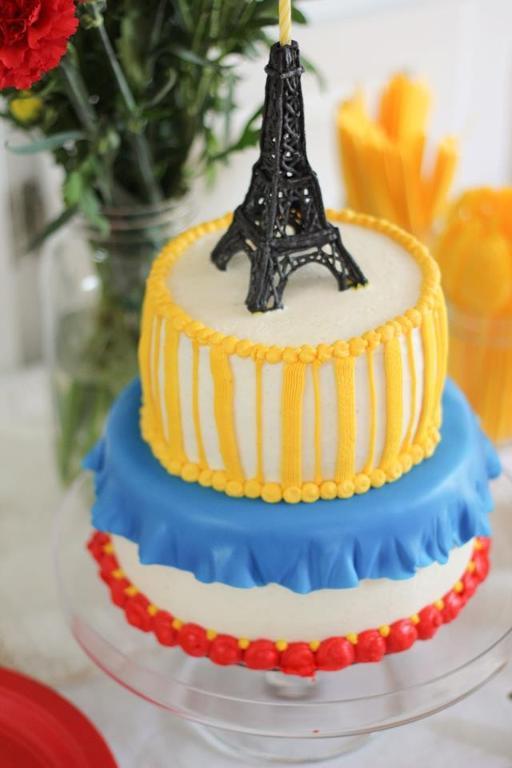 Photo via Bluprint member SliceCakeShoppe
Parisian 1st birthday cake:
Created for a 1st birthday party, this is a primary colored piece of Paris-themed art! Buttercream and fondant make up the cake, and the delicate topper is made of royal icing. Inspired by the cartoon version of the French character Madeleine, this cake is bright and delightful.
Note: Wondering how they made that topper? First, a printout of the tower was placed underneath a piece of wax paper, which was then rubbed with a little bit of shortening to grease the paper. The tower was then traced using royal icing. As for a tip from the artist? "Make sure you leave space between the top, middle, and lower parts of the tower. You'll do this 4 times, so you have 4 sides to assemble."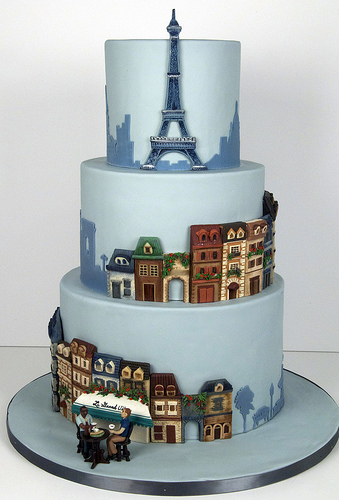 Photo via For the Love of Cake
Parisian cityscape cake:
A simply stunning cityscape is featured on this three-tiered fondant-topped cake. The Eiffel Tower is perched on the top tier, and the cityscape continues on both of the two bottom tiers with Parisian townhomes and city silhouettes along each layer. On the bottom of the cake, a cafe scene caps the complete effect. To learn about constructing cityscapes for cakes, take a look at Intro to Modeling Chocolate, taught by the inspiring Laura Kitchens.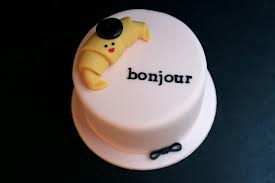 Photo via Sugarplum Cake Shop
Bonjour croissant cake:
For many, the dream of Paris wouldn't be complete without a buttery, flaky croissant. This dapper little croissant is actually made of fondant, but is certainly not lacking in the French department. Decked out with an adorable face and — mais oui! — a beret, this croissant welcomes you to the dessert course with a sweet "bonjour."
Did you know you can learn to make real croissants right here on Bluprint? Our Classic Croissants at Home class will teach you how to master making these buttery pastries right in your own kitchen!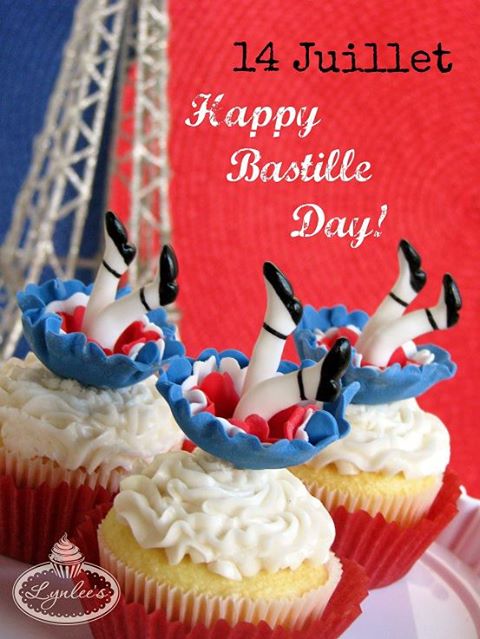 Photo via Lynlee's Petite Cakes
Dancing leg cupcakes:
For Bastille Day, one clever bakery created cupcakes that kick like the dancers at the legendary Moulin Rouge. Lined with both white and red cupcake liners and with a puff of piped buttercream holding the toppers in place, these cupcakes make for a festive and joyous treat.
Oh la la, these cakes are magnifique! What's your favorite French pastry or cake?