Whether you're a solar system fan, aspiring astronaut or alien enthusiast, have a blast with these out of this world cakes and cupcakes, just in time for World UFO Day! 
3, 2, 1… Blast off with these incredible outer space cake designs!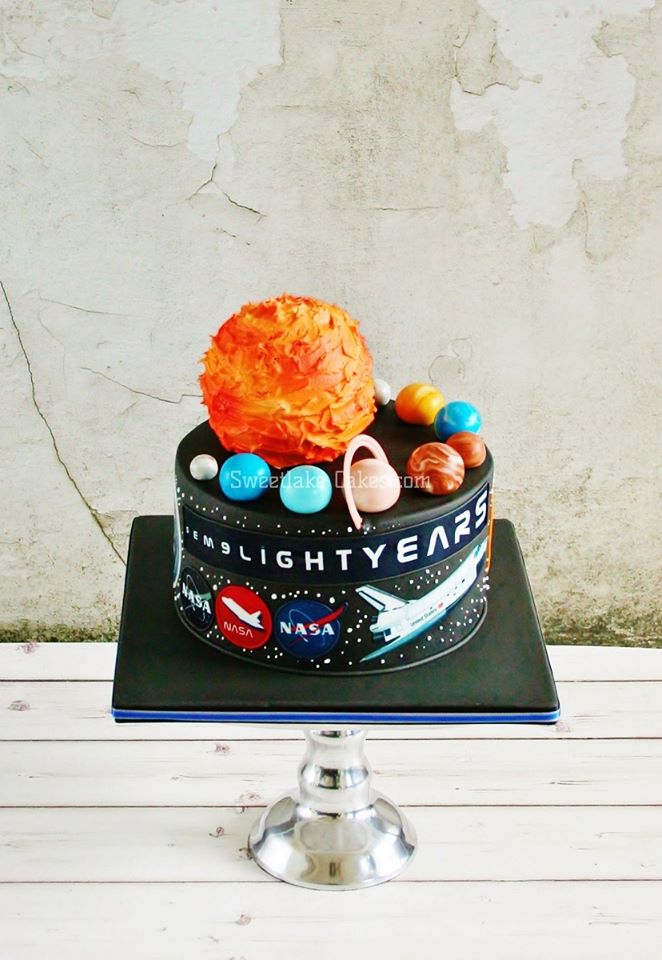 Photo via Sweetlake Cakes
NASA outer space cakes
This amazing NASA-inspired design by Sweetlake Cakes was created for a space-lovin' aspiring astronaut! The bottom cake layer was immaculately covered in black fondant and includes hand-painted details and decor resembling the administration's shuttle and patches.
The large sun is also constructed out of cake and covered with buttercream icing in multiple shades of orange, utilizing a technique to resemble the sun's permeating blazes, while the remaining planets are modeled in a variety of colors, including marbled effects. In addition to painting methods, you can also utilize printed edible images in your cake designs!
Check out the Bluprint course The Art of Painted Cakes with Kate Sullivan, who will teach you the tips necessary to hand-paint details on cakes with a variety of techniques to achieve your desired effect!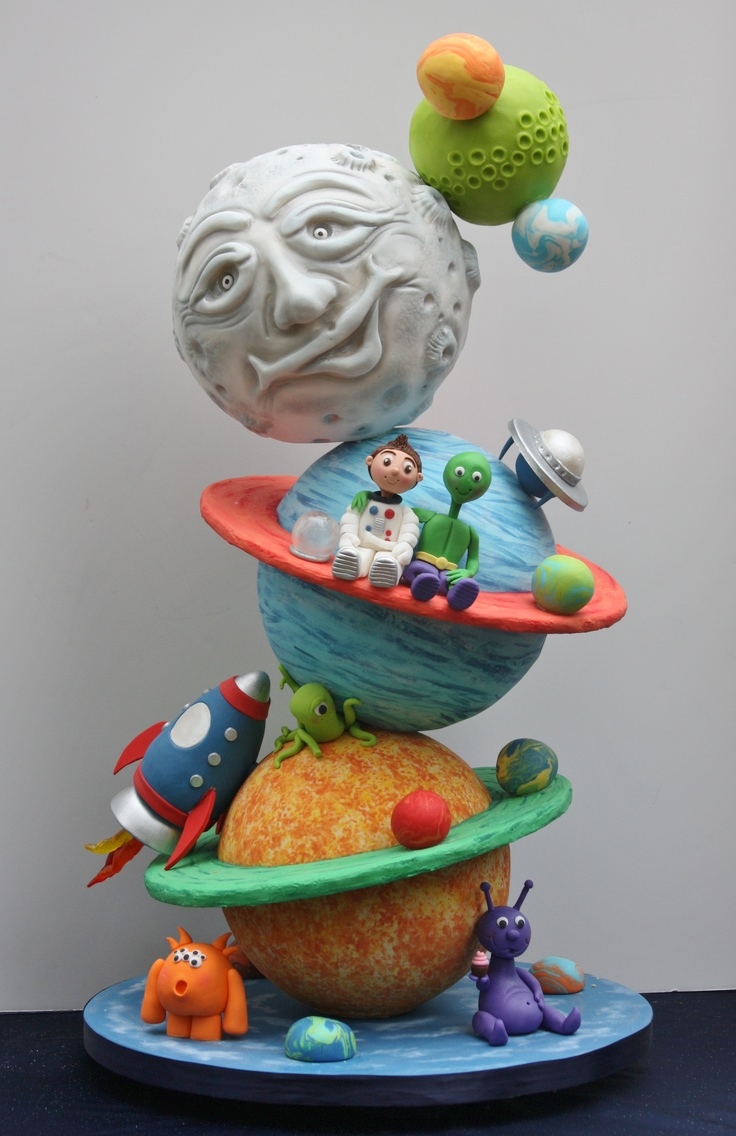 Photo via Cake Art Co.
Out of this World topsy-turvy cake
This gravity-defying topsy-turvy cake by Cake Art Co. is genuinely out of this world fantastic! The two bottom cakes are carved, constructed and decorated to resemble planets with gumpaste rings, while the third large cake is amazingly adorned to appear like the moon, with all its craters and peaks and incredibly expressive face! Additional smaller planets are strategically placed throughout the presentation, along with the perfectly molded gumpaste figures and spaceships. Isomalt was also utilized to create accessories, such as the astronaut's helmet and the rocket's flames, for a more transparent or glass-like appearance.
Check out the Bluprint course Topsy-Turvy Cake Construction with Richard Ruskell for all the engineering techniques to constructing multi-layered cakes and take your creativity to the next level in Fondant Techniques: The Sweet Treat Tower with Marina Sousa where you will learn to create gravity-defying works of art with tips to apply to a variety of themed projects!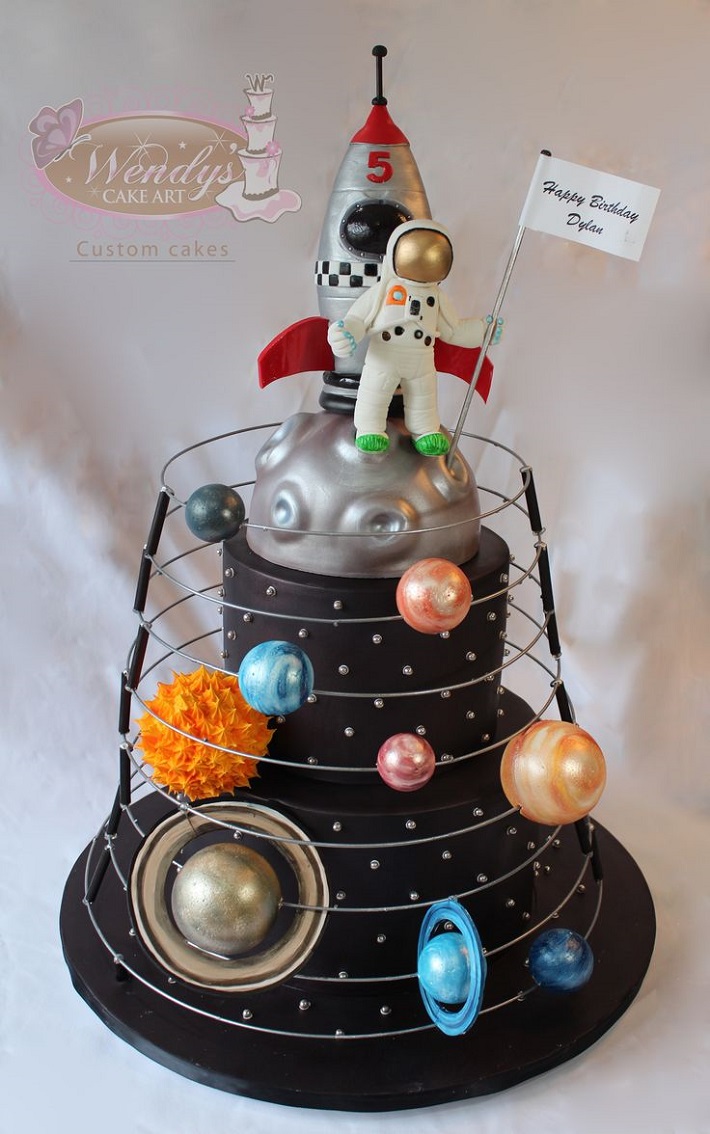 Photo via Wendy's Cake Art
Astronaut solar system cake
I just adore the creativity utilized in the construction of this extraordinary cake by Wendy's Cake Art! The first two tiers of the cake are covered in black fondant and embellished with edible candy to simulate stars. The cake's final layer is decorated to resemble a planet and topped with a perfectly hand-molded spaceship and astronaut. A structure with parallel wires is assembled outside the cake and attached to the cake board, allowing the fondant planets to float about the solar system!
Learn to model precise figures in the course Custom Cake Toppers: Step by Step with Brenda Walton to recreate space adventurers and explore alternative cake designs in Marina Sousa's Building Better Cakes: Creative Cake Separators!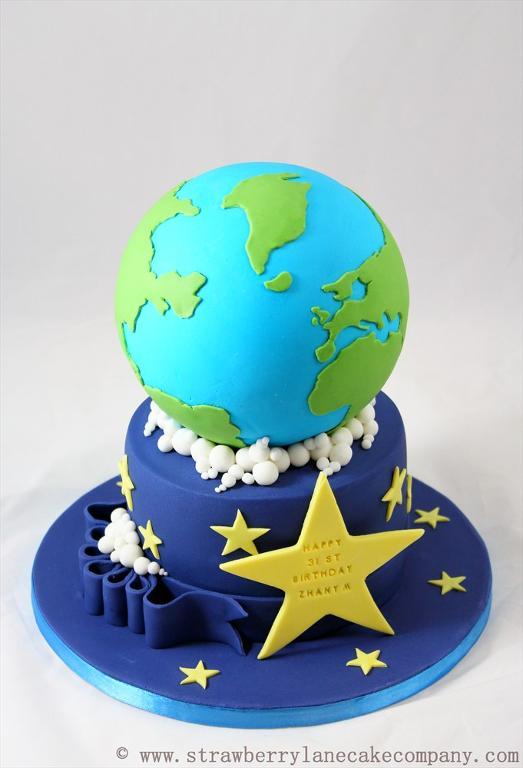 Photo via Bluprint member Ella Harvey
Planet Earth cake
This beautiful Planet Earth cake by Bluprint member Ella Harvey is just stunning in its simplicity and pristine decorations! The round cake is covered in a gorgeous navy blue fondant and embellished with fondant ribbon, stars and clouds. The planet is enveloped in fondant to resemble the ocean, while the land forms are carefully and flawlessly hand-cut and adhered to the globe. While a foam ball was utilized in this case, you can also find the tutorial to create a perfectly spherical cake for your next celestial body!
Learn the techniques necessary to cutting out fondant decorations in the Bluprint course Incredible Cut-Out Cakes with Mike McCarey, where you will not only acquire the skills to cutting clean lines, but also to add dimension and layers to your projects.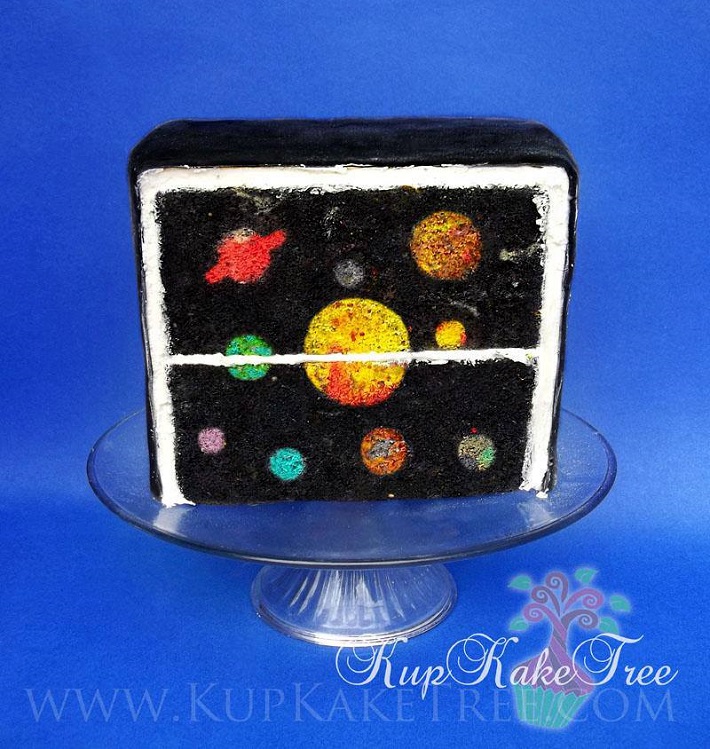 Photo via Gonzuela's Cakes
Solar system baked inside cake
How exciting would it be for guests to cut into a cake to find an entire solar system hiding inside its layers?! That's exactly the case with this absolutely adorable cake from Gonzuela's Cakes! The sun and planets reflected within the cake in a variety of sizes, colors and shapes. This fun and creative technique will allow you to replicate outer space within the cake, but also expand your horizons with a variety of shapes and designs!
Want to create your own surprises inside your confections? Take a look at the course Decorating From the Inside Out with Amanda Rettke for the step-by-step instructions to decorate the inside of your cakes with messages, shapes, colors and a whole lot of fun!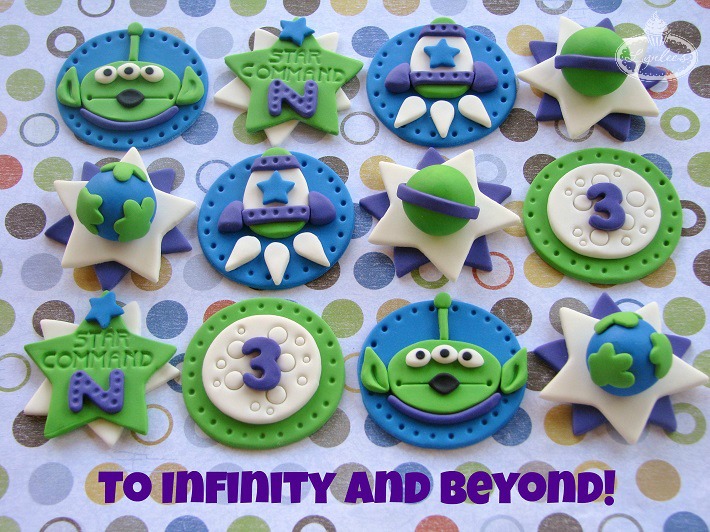 Photo via Lynlee's
Buzz Lightyear cupcake toppers
One of the most prominent space man in recent years is the animated character of Buzz Lightyear from the Toy Story film series, along with the alien friends! These fondant cupcake toppers were created to match back to the astronaut's suit and overall theme, including rockets and planets, utilizing both circle and star shapes, along with a variety of dimensions for a fun and diverse presentation. Letters and initials are incorporated into the design to personalize the assortment to the guest of honor!
Learn to work with fondant on a smaller scale in the class Tiny Cupcake Toppers with Sheryl Bito and perfect your personalization skills in Custom Lettering & Monograms with Nicholas Lodge!
Free Online Cake Decorating Class