Do you have more fabric in your stash than you can possibly sew? Pull out the double-sided adhesive tape, your scissors and even the hot glue gun, because these no-sew projects with fabric are sure to give your home a fresh look! Better yet, you won't even have to thread your sewing machine.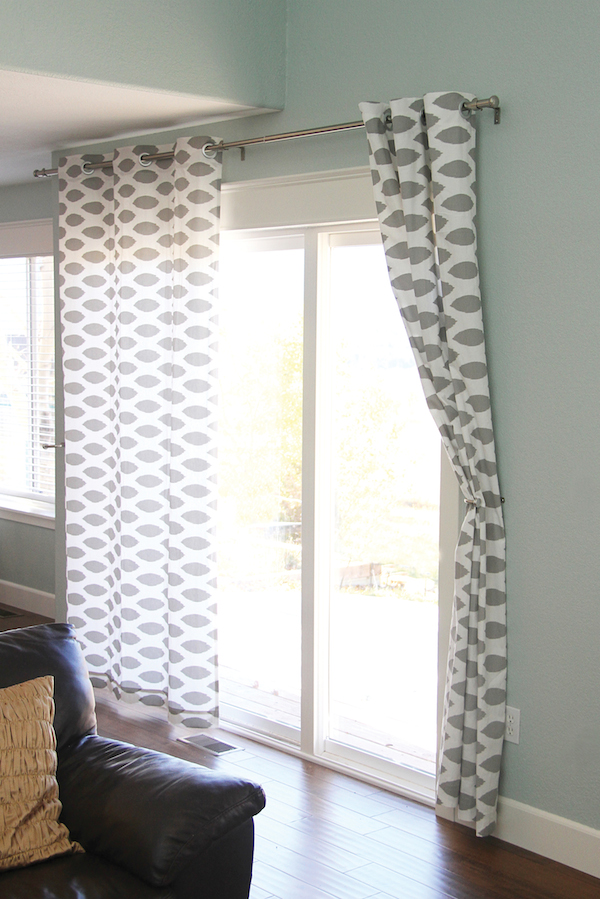 Photo via CraftFoxes
Easy Grommet Drapes
These No-Sew Grommet Curtains can have a big impact on a room with very little effort from you. Choose a medium-weight upholstery fabric and hem the edges with double-sided fusible tape. The large grommets help your curtain panels to slide easily on any curtain rod, giving you a custom look for your windows with no sewing required! This no-sew project with fabric can be completed in about an hour.
Check out the N0-Sew Grommet Curtains here.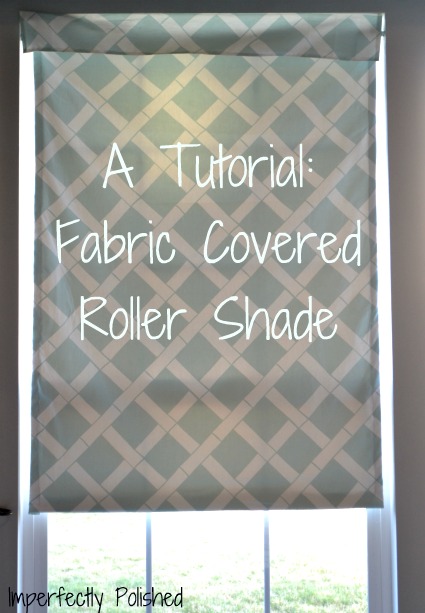 Photo via Imperfectly Polished
Fabric-Covered Roller Shade
If you thought the last drapes were easy to make, this low-sew Fabric-Covered Roller Shade is even more simple to make! To get the look, you'll need fabric (home-decor weight is preferred), an inexpensive roller shade and a glue gun. If you prefer to sew your curtains, Jessie also shows you how to sew a simple seam across the top of your roller shade for stability.
Check out the Fabric-Covered Roller Shade here.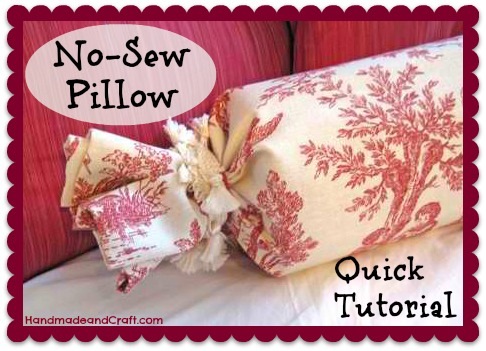 Photo via Handmade & Craft
Bolster Pillow
Create a No-Sew Pillow with this easy side-tie bolster for a couch or chair. It's easy to make a fabric accent piece without a needle and thread when you use craft foam and your favorite home decor print. With Kim's tutorial, you can make this DIY home decor project in as little as 10 minutes!
Check out the No-Sew Pillow here.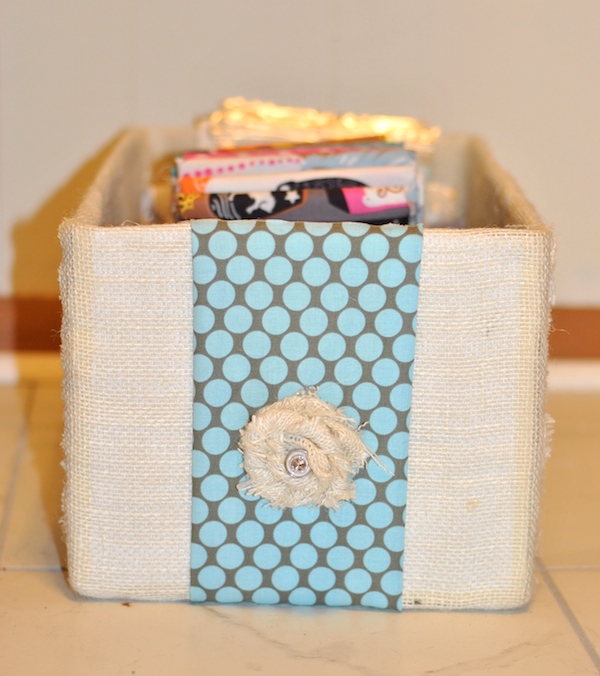 Photo via Craft Buds
Fabric Storage Box
Did you see our recent post on quick DIY fabric projects? If you've never covered a cardboard box in fabric (diaper boxes are sturdy and ideal for the job), this is a great no-sew project with fabric to give you a lot of bang for your (little) buck. This rustic-chic Burlap-Covered Diaper Box requires no thread. Just hot glue the fabric around the box like you are wrapping a present, and add an accent strip of fabric to the box front.
Check out the Burlap-Covered Diaper Box here.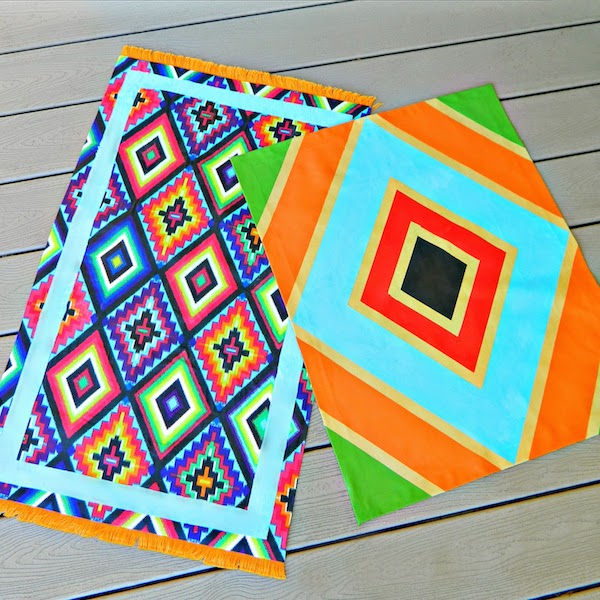 Photo via CraftFoxes
Funky Painted Rugs
It's amazing what you can do with a little iron-on glue, paint and painter's tape. These bold and beautiful No-Sew Fabric Painted Rugs are made from durable canvas fabric, printed fabric and even some festive fringe. Designer Mark Montano has tips for making the rugs non-slip in his informative video tutorial.
Check out the No-Sew Fabric Painted Rugs here.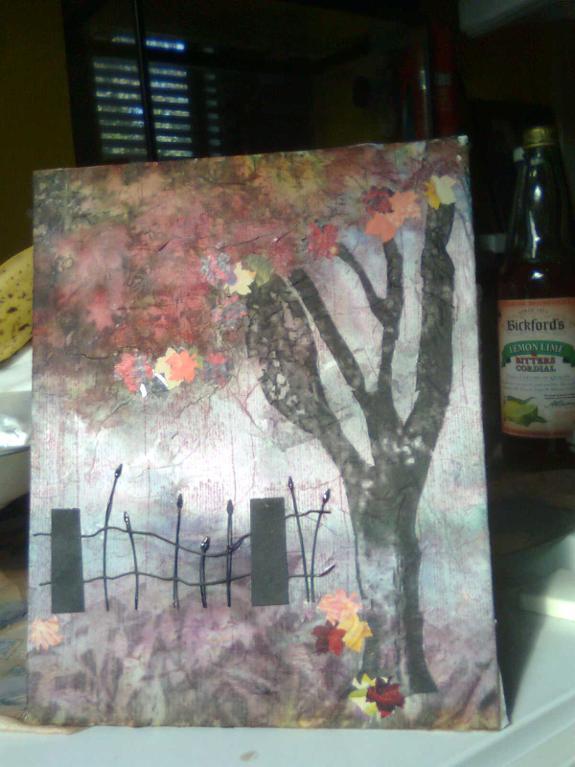 Photo via patrycrof1673651
Canvas Art
This No-Sew Wall Art is an artistic experiment from the Craftsy course Linear Landscape Quilts with Gloria Loughman. To get the look, she used tissue, a glue mix and some paint ti create a canvas lanscape, but you could use bits of fabric and other found materials to make your own canvas wall art.
Check out the latest deals on fabric including new styles to give your home decor projects a little extra style!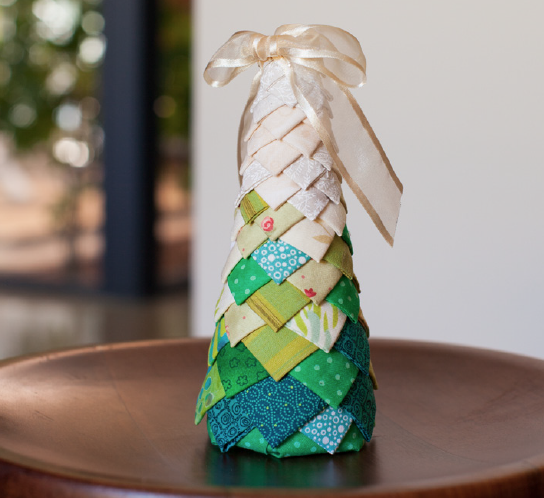 Photo via TeresaDownUnder
Tree Ornament
During the holiday season, it's fun to deck the halls with fabric projects. But who has time to sew? The pattern for these No-Sew Fabric Tree Ornaments created by Teresa were created for and appear in the book "Never Been Stitched" by Amanda Carestio. The book is filled with many more no-sew fabric projects to give your sewing machine a much-needed holiday.
Do you have any favorite no-sew projects to make with fabric?