The Teenage Mutant Ninja Turtles originated as a comic in the 1980's, transforming into an incredibly prominent franchise of merchandise and animated shows. With the current resurgence of 1980's nostalgia, the TMNT have returned in full force, mutating from their classic, retro cartoon to a new and re-designed animated cartoon series, along with a brand new feature film, releasing in August 2014!
Strengthen your Turtle Power with these SHELL-binding TMNT cakes, cupcakes and party ideas for your next high-kickin' celebration!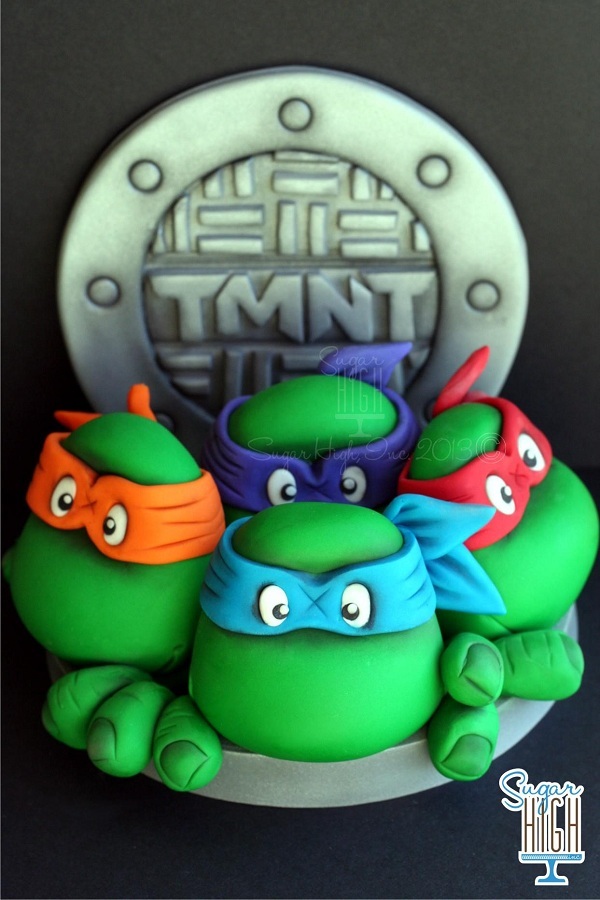 Photo via Bluprint instructor Brenda Walton
TMNT fondant cake topper
Crafty instructor Brenda Walton of Sugar High, Inc. created this absolutely incredible TMNT cake topper by sculpting fondant to resemble the ninja turtles climbing out of the sewer where they reside! Added details, including shading techniques and Brenda's tip for utilizing straws to make nail indentations take this work of art to the next level.
Learn to mold and create amazing figures in Brenda Walton's brand new Crafty course Custom Cake Toppers: Step by Step, as she shares her tips for achieving perfect facial features and precise details.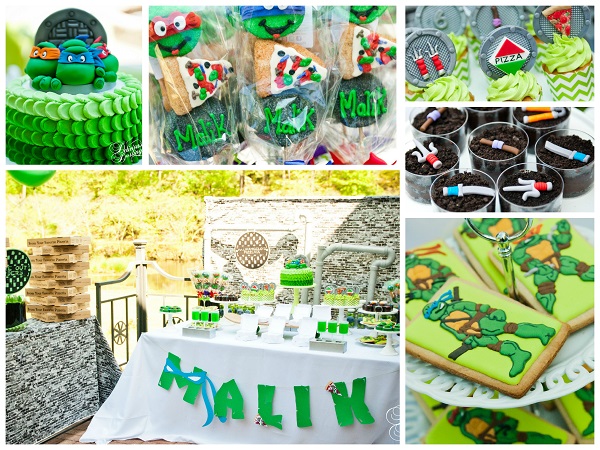 Photo via Deliciously Darling Events
Teenage Mutant Ninja Turtles Pizza Party
This awesomely styled TMNT Pizza Party by Deliciously Darling Events features the cake topper above, sitting upon a beautiful buttercream ombré petal cake by My Sweet Things. The cupcakes are topped with fondant toppers created by Edible Details displayed in a vertical position in the icing, while fondant ninja weapons by Love & Sugar Kisses top pudding cups. The fondant and pudding is separated by a layer of crushed cookies to avoid the penetration of moisture that will ruin the fondant. Coordinating marshmallow turtle pops by The Marshmallow Studio and incredible character cookies by Firefly Confections complete the display. Check out the entire party for additional ideas and inspiration!
Learn how to spruce up your cakes in the Bluprint course The Wilton Method®: Buttercream Skills with Beth Somers and try out Autumn Carpenter's Decorating Essentials: Designer Cookies to create show-stopping cookies of your own!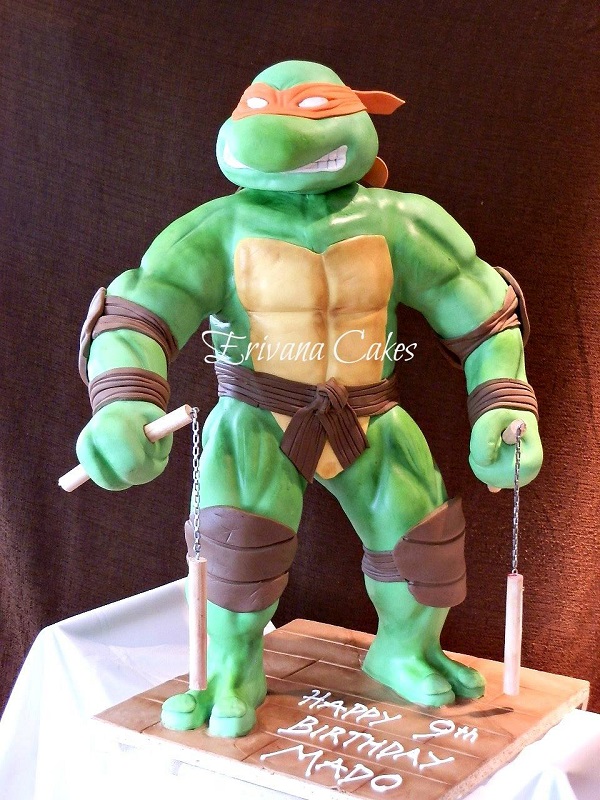 Photo via Erivana Cakes
3-D Ninja Turtles cake
Erivana Cakes constructed this absolutely amazing three-dimensional cake, bringing to life one of the main ninja turtle characters: Michelangelo! Standing at 2.5′ tall, the cake requires a sturdy structure to be carved and covered. The cake artist did a tremendous job of depicting the his every muscle and overwhelming presence in this masterpiece.
If you are just starting out, check out the beginner's course Cake-osaurus Rex with Catherine Ruehle to learn the basics of cake carving. For more advanced instruction, take Mike McCarey's course Advanced Cake Sculpting: Bobbleheads to learn techniques for cake, as well as structure and stand construction.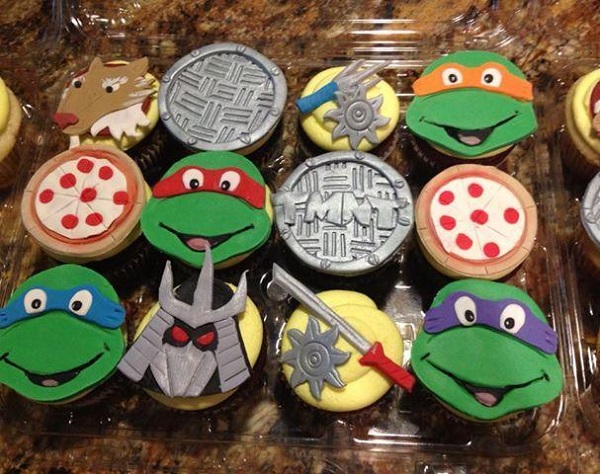 Photo via Bluprint member bikemom3
TMNT cupcakes
These adorable TMNT cupcakes by Bluprint member bikemom3 were created in the Bluprint course Basic Fondant Techniques with Elisa Strauss. Several characters, including the ninja turtles, are rendered in fondant form, along some recognizable items, giving the collection a fun and playful look. Additional detailing are achieved with the use of edible pens and silver shimmer dust.
Practice making similar cupcake toppers in the course Global Cupcake Design with Sheryl Bito, as she teaches you to layer and decorate with fondant to embellish your miniature treats!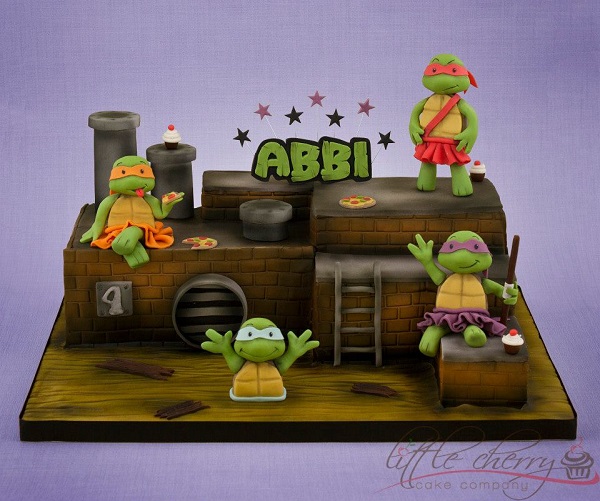 Photo via Little Cherry Cake Company
Teenage Mutant Ninja Girly Turtles cake
Who says TMNT is just for boys? Little Cherry Cake Company created this flawless sewer cake for a little girl who is a big fan of the ninja turtles. The twist is that all the turtle characters are modeled with skirts coordinating back to their colored face masks! The use of impression mats, along with air brushing techniques, adds texture to the fondant bricks and cake board.
Learn how to sculpt animals in the course Cake Topper Techniques: Fondant Animals with Sharon Wee and find out more about airbrushing tools and tips in Lisa Berczel's The Art of Airbrushing.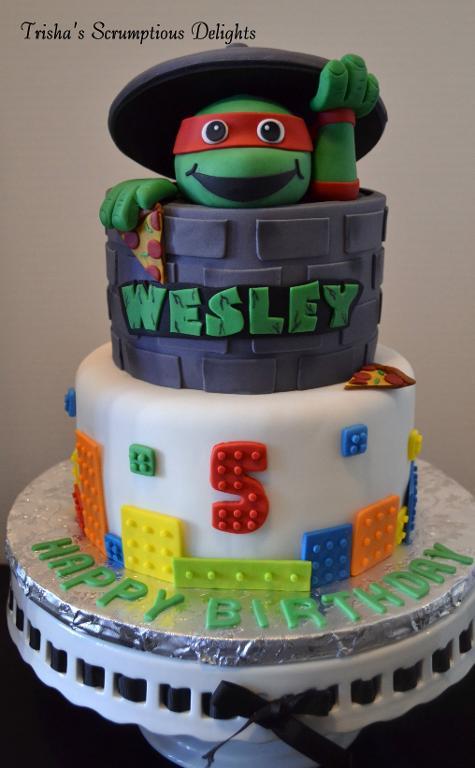 Photo via Bluprint member mom bear
Turtle Time cake
This Turtle Time cake by Bluprint member and cake artist mom bear combines two childhood favorites: TMNT and Lego blocks! Instead of depicting the ninja turtle coming out of the sewer in fondant topper form, the entire design is transformed into the top layer of the cake. The piece is personalized with the birthday boy's name cut out of fondant letters and customized to resemble the franchise's logo.
Learn more about innovative and fun techniques to personalize your creations in the Bluprint course Custom Lettering & Monograms with Nicholas Lodge.
What is your favorite childhood cartoon character?