As another year comes to an end, people around the world prepare to welcome a brand new one full of possibilities and, of course, cupcakes! Be inspired to ring in the New Year with this collection of New Year's cupcake ideas and decorated treats for your end of year celebration!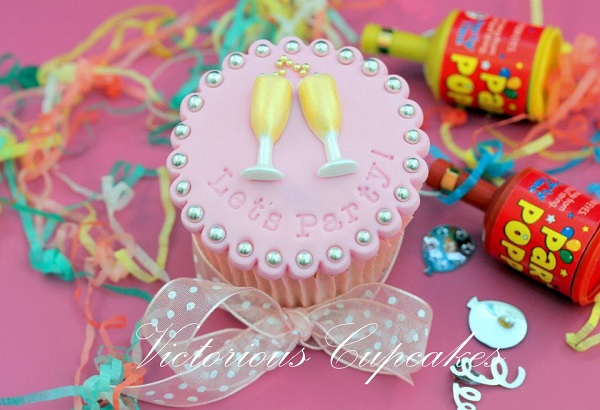 Photo via Victorious Cupcakes
Cheers! party cupcakes
This adorable celebratory cupcake by Victorious Cupcakes is the perfect way to toast to the New Year in a sweet manner! The tutorial, printed in the Good to Know Recipes magazine, demonstrates how to create fondant champagne glasses from a silicone mold and painting it gold with shimmer dust combined with clear alcohol. The cupcake topper was embellished with metallic sugar balls adhered with edible glue. Personalize the topper with a New Year's message with the use of embossing letters.
[box type="shadow"]Learn more about painting on fondant in the FREE Bluprint mini-class The Hand-Painted Cake with Erin Schaefgen.[/box]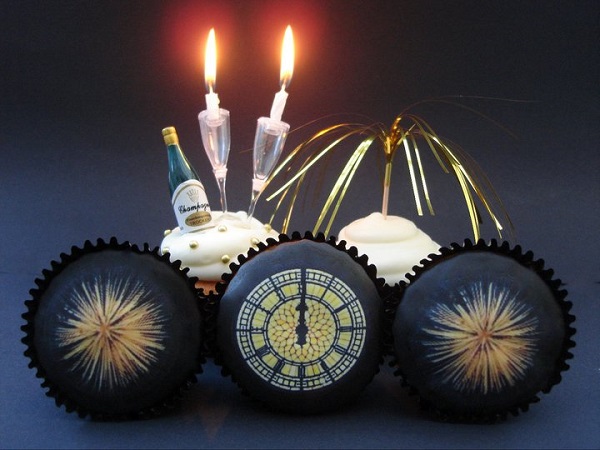 Photo via Victorious Cupcakes
Elegant New Year cupcakes
Aside from the traditional toasting at midnight, New Year's Eve commemorations are not complete without a countdown clock and fireworks! For this tutorial via Good to Know Recipes, Victorious Cupcakes created these chic and delicious cupcakes, filled with champagne truffles. The surface of the cupcakes is covered completely with black fondant with the use of icing, while the images printed on edible rice paper were adhered over the top. This technique is especially useful when the need for intricate designs is required, such as logos, photos, etc.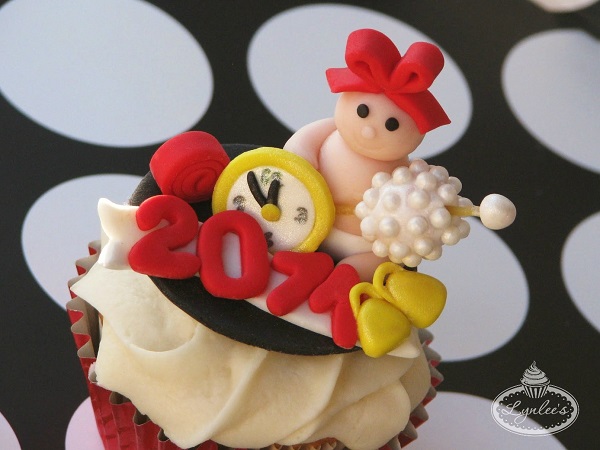 Photo via Lynlee's Petite Cakes
Baby New Year cupcake
This celebratory cupcake is topped with fondant decorations, all symbolizing the many motifs of a New Year's Eve bash! Baby New Year, modeled out of fondant, is holding the sparkly ball adorned with white pearl candies and shimmer dust for the big drop. The year, cut out with number cutters, is surrounded by the clock approaching midnight, a noise blower and bells to ring in the new year. The detailed fondant cake topper could be utilized as a centerpiece or its elements can be broken up to embellish additional cupcakes.
[box type="shadow"]Hone your modeling skills in Cake Topper Techniques: Figure Modeling with Anne Heap.[/box]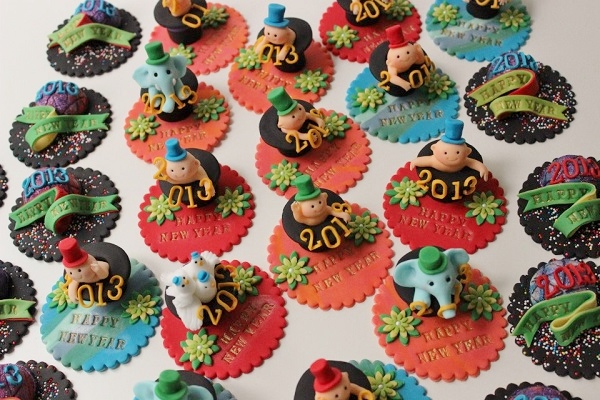 Photo via Mimicafe Union 
New Year fondant cupcake toppers
These colorful and absolutely adorable cupcake toppers were modeled and cut out of fondant by the amazing Mimicafe Union. Several of the flat toppers were created with a marbled technique, combining several colors, yet still providing a smooth surface. The intricate details were modeled out of fondant by hand, while shiny and glittery accents were added to the designs. Mimicafe Union is an expert at varying the expressions in her figures, along with their positioning, exemplified in these fondant cake toppers.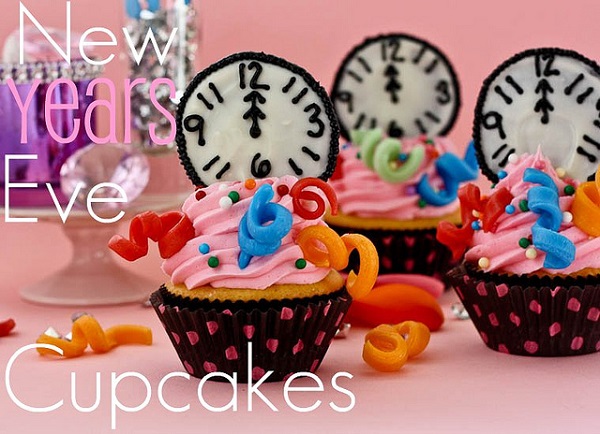 Photo via Confessions of a Cookbook Queen
New Year's Eve midnight cupcakes
These sweet and festive New Year's Eve cupcakes so adorably created by Confessions of a Cookbook Queen show the clock striking midnight with colorful party streamers. In the tutorial, the clocks are made out of round wafer cookies dipped in chocolate, with detailed piping applied once they are dry. The streamers are cleverly molded out of malleable candy to place over the perfectly iced cupcakes.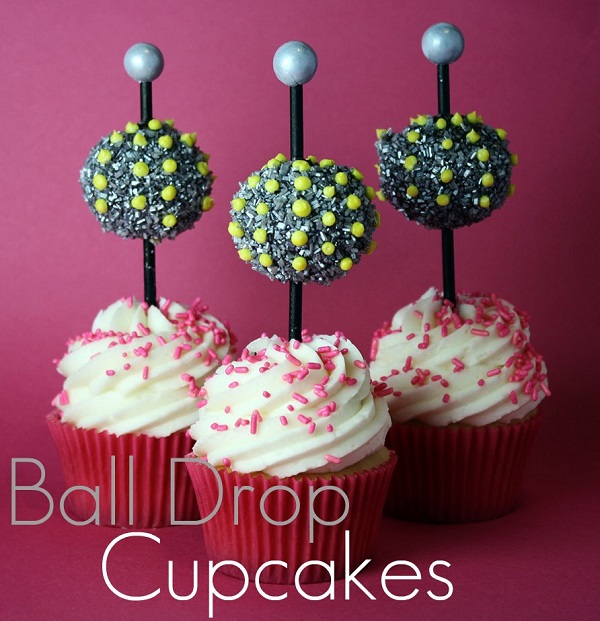 Photo via Confessions of a Cookbook Queen
Ball drop cupcakes
For those who like to stay home and watch the ball drop on television at midnight, these incredibly clever and cute Ball Drop cupcakes by Confessions of a Cookbook Queen are just the perfect addition to the New Year's Eve celebration! The easy-to-follow tutorial demonstrates the construction of the ball dropping with the use of doughnut holes, homemade sprinkles, gumballs and lollipop sticks.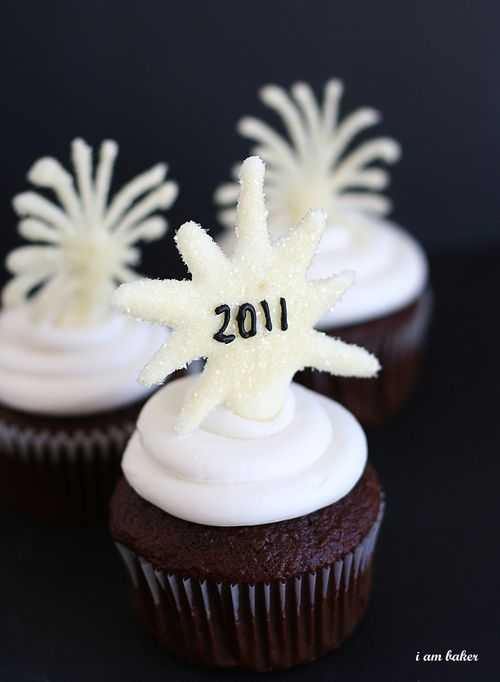 Photo via i am baker
New Year's fireworks cupcakes
The fireworks that are set off across the countless cities around the world commemorating the beginning of the new year are so beautifully captured in these sweet and sparkly cupcakes by i am baker. The tutorial illustrates how to create the designs out of chocolate and transfer them to your iced cupcakes.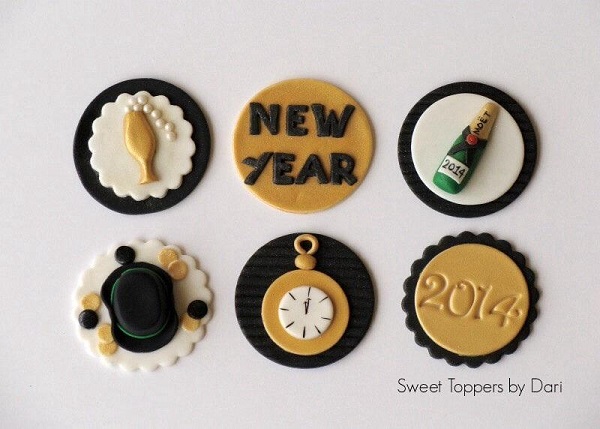 Photo via Bluprint member SweetCakebyDari
New Year's fondant cupcake toppers
These gorgeous New Year's fondant cupcake toppers were created by Bluprint member SweetCakebyDari in the course Advanced Fondant Techniques with Marina Sousa. With an elegant color palette, the different celebratory elements were captured throughout the designs and accentuated with gold luster dust and painted details.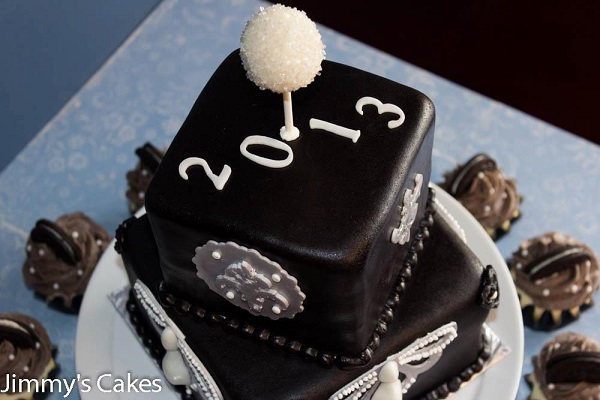 Photo via Bluprint member Jimmy Camacho
New Year cake
Bluprint member and cake artist Jimmy Camacho adorned this chic New Year cake with the combination of fondant, gum paste and royal icing details. The sparkly ball drop sits perfectly atop the tiered cake, while silver embellishments are placed around the perimeter of the square tiers.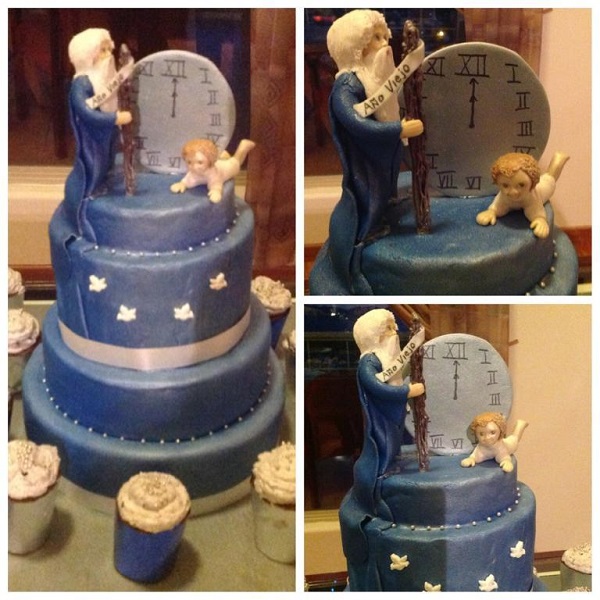 Photo via Bluprint member Millmika3
Father Time and Baby New Year cake
Bluprint member and cake artist Millmika3 created this tiered cake in different shades of blue with Father Time and Baby New Year beautifully hand-molded out of fondant anchoring the very top tier.
What are your New Year's cake decorating resolutions?