Don't worry this post is G-rated! There are no adult-themed cakes here, just the latest trend in wedding cakes: simple, beautiful naked cakes.
Naked wedding cakes have been popping up all over the world in the last few years, particularly in Europe. Now, they are also gaining popularity in the United States — celebrity Hilary Duff recently ordered one for her wedding
The simple design of the naked cake features generous layers of buttercream icing and sometimes a fruit filling between the layers, which are exposed with no icing to cover the outside of the cake.
While some would call this an unfinished cake with not nearly enough icing to eat or to make a nice clean finish, others find this style beautiful, rustic and even organic.
This style brings out the simple beauty of the cake, letting it speak for itself rather than being covered with layers of buttercream and fondant.
To illustrate the trend, here are a few examples of some naked wedding cakes we love!
Photo via The Sugar Suite
Topped with fresh flowers, luscious berries and oozing with fluffy buttercream, this gorgeous cake speaks of the whimsy of summer and warm evenings surrounded by friends and family.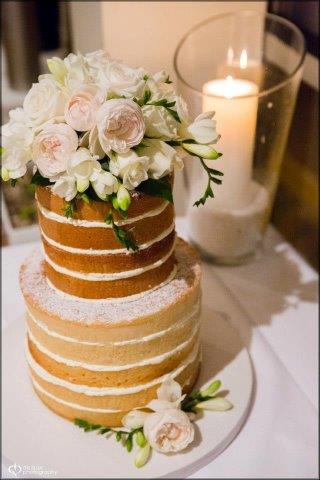 Photo via Frosted Fantasies
Fresh cream and pale pink flowers top this exquisite two-tier wedding cake. I love the light dusting of powdered sugar, it brings an almost fairytale feel to this cake.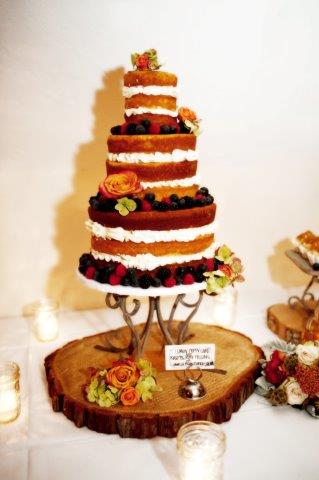 Photo via The Sugar Suite
Here, the lovely orange roses combined with the delicious looking berries bring out the natural beauty of the cake itself.
Many wedding cakes can feel intimidating or too artistic to cut in to, they stand straight and picture perfect like a mural in a museum. But naked cakes feel like comfort food. They draw you in, make you want to cut into them, sit at a table full of family and friends, and enjoy a delicious and beautiful slice of cake while a cool evening breeze flutters past.
What are your thoughts on naked cakes? Do you think they have an unfussy, rustic elegance? Or do you think they look unfinished?