When naked cakes began getting popular a couple of years ago, they mostly featured scattered fruits, small florals and liberal dustings of powdered sugar. Today, cake decorators are dreaming up naked cake ideas that are a lot more stylish!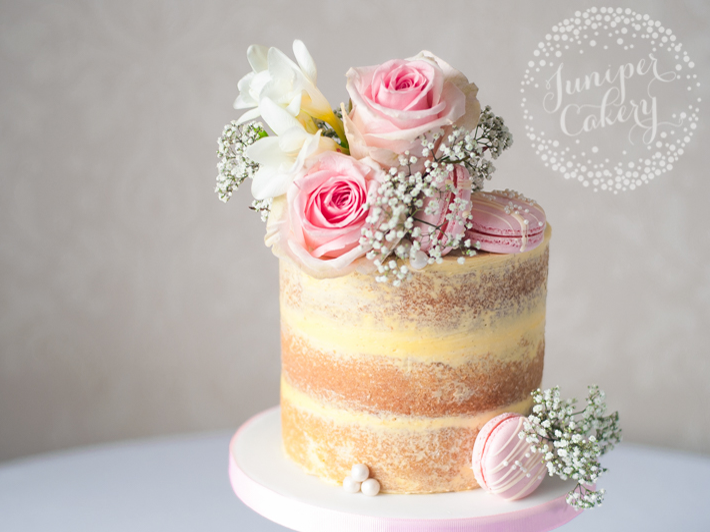 Modern naked cakes involve more luxurious materials (hello, gold leaf), patisserie-inspired decor (like macarons, madeleines and meringue kisses) and bolder florals. Check out some of the design-led naked cake ideas below with quick tips and advice for creating your own stow-stopping naked cake.
Creative naked cake ideas that will WOW!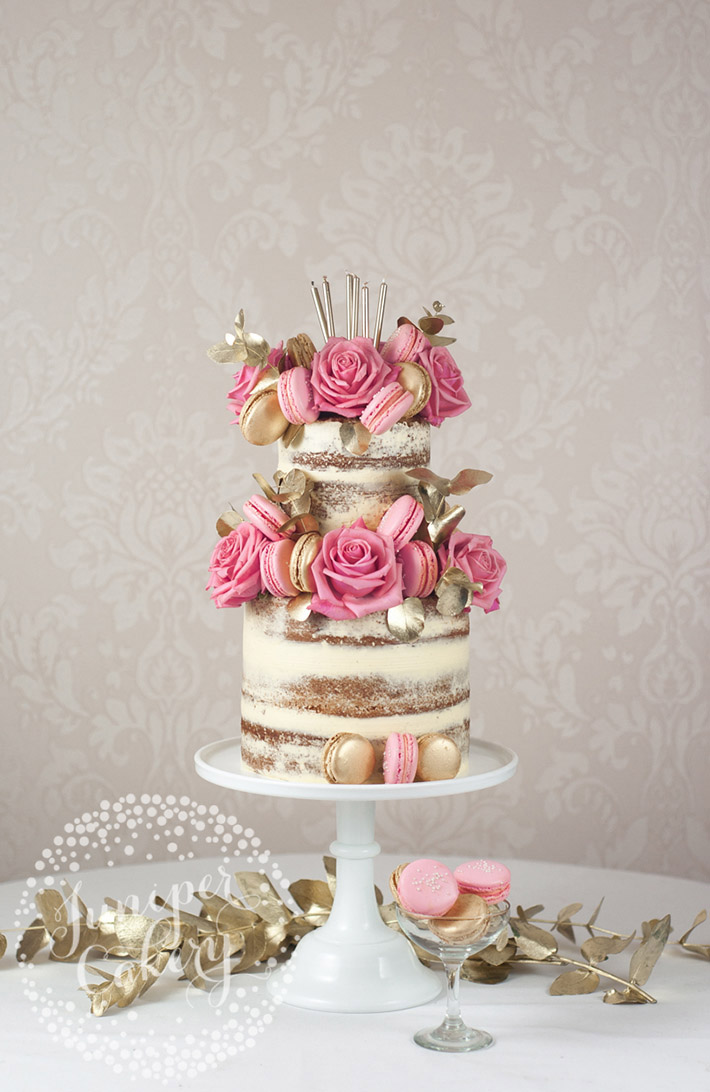 Photo via Juniper Cakery
1. Glam it up with metallics
Glam naked cakes are perfect for all kinds of events, from weddings to birthday parties. This luxurious, two-tier cake was adorned with big pink roses, gold silk eucalyptus leaves, 24-karat gold–dusted macarons and gilded candles. Talk about an over-the-top naked cake!
Add a touch of luxury to your naked cake with some gorgeous gold or accents. Edible gold leaves are a great trend right now, but you can also use golden moldings, macarons or foliage.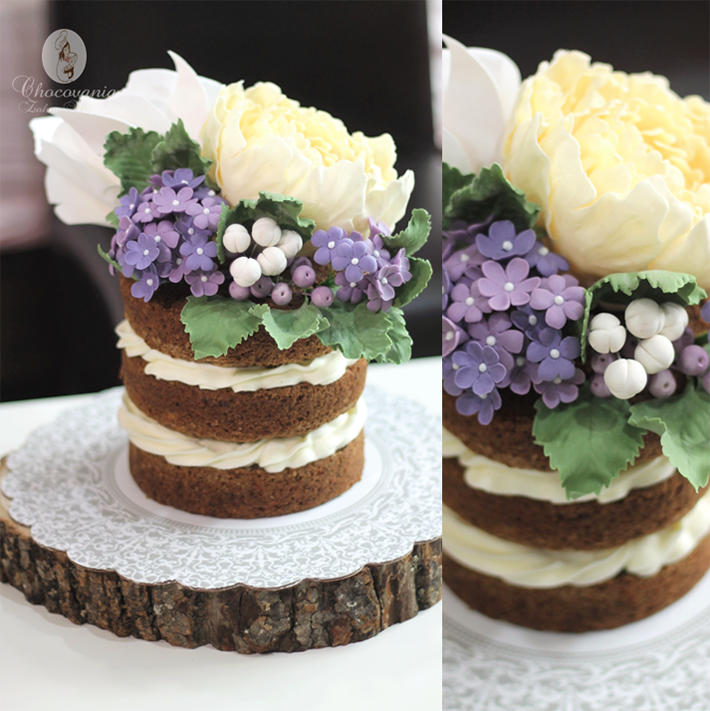 Photo via Zahra Ali
2. Big flower, mini cake
Some flowers (such as lilies, peonies or hydrangeas) aren't safe to insert into naked cakes, so re-creating florals out of gum paste or chocolate is a great alternative option. We love the giant cream peony perched onto the top of this cake.
We adore small cakes that feature larger-than-life florals — the same goes for to petite naked cakes. Give a tiny cake a big character with bold florals!
Photo via SweetWhisk
3. Add usual foliage to make a statement
Succulents are still a huge trend in interiors, gardens and floral arrangements, so why not apply them to cake designs? The gum paste succulents on this cake to add a playful detail to a minimal naked cake.
Before trying less-common foliage for your next naked cake, make sure to research if they're safe to add to food. You can always make succulents and other foliage with gum paste or buttercream.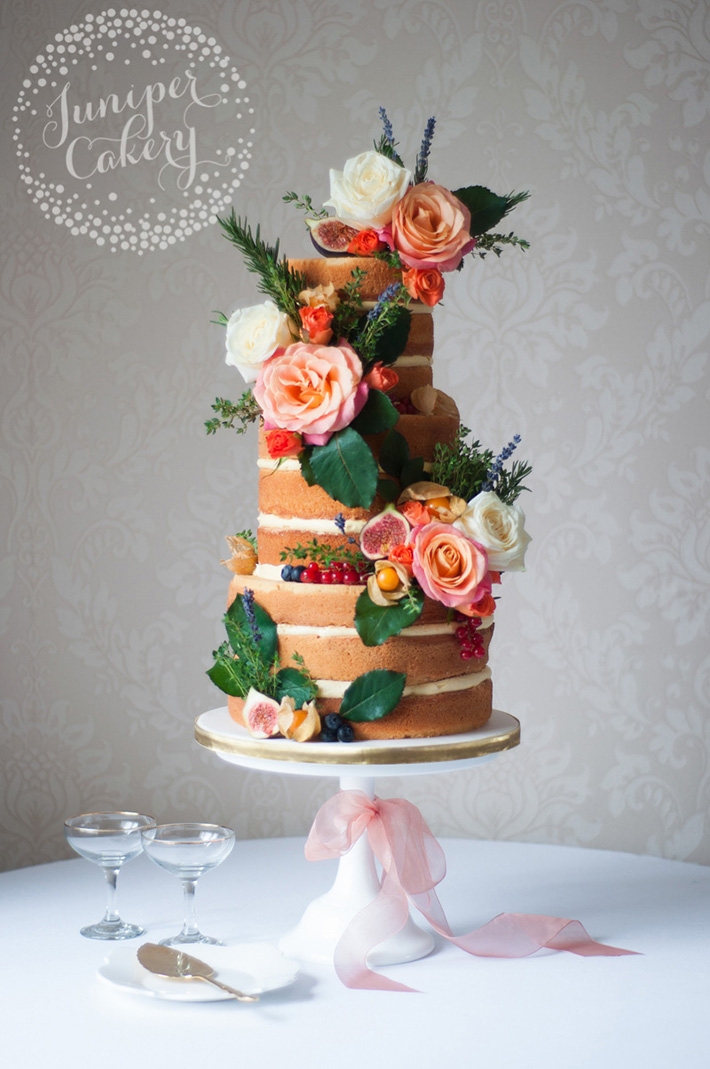 Photo via Juniper Cakery
4. Go big with the florals
The cake above really pays homage to autumn, which was absolutely perfect for the October wedding it was created for. Those huge coral and pink roses help draw focus up and down the cake, too.
For a cake like this, take time to carefully place every single decorative element. Gone are the naked cakes of years past that feature scattered berries and random flowers.
A great way to start is with large blooms, like big roses. Decide where these will sit and then add herbs, foliage, smaller florals, large fruits and then the finishing details.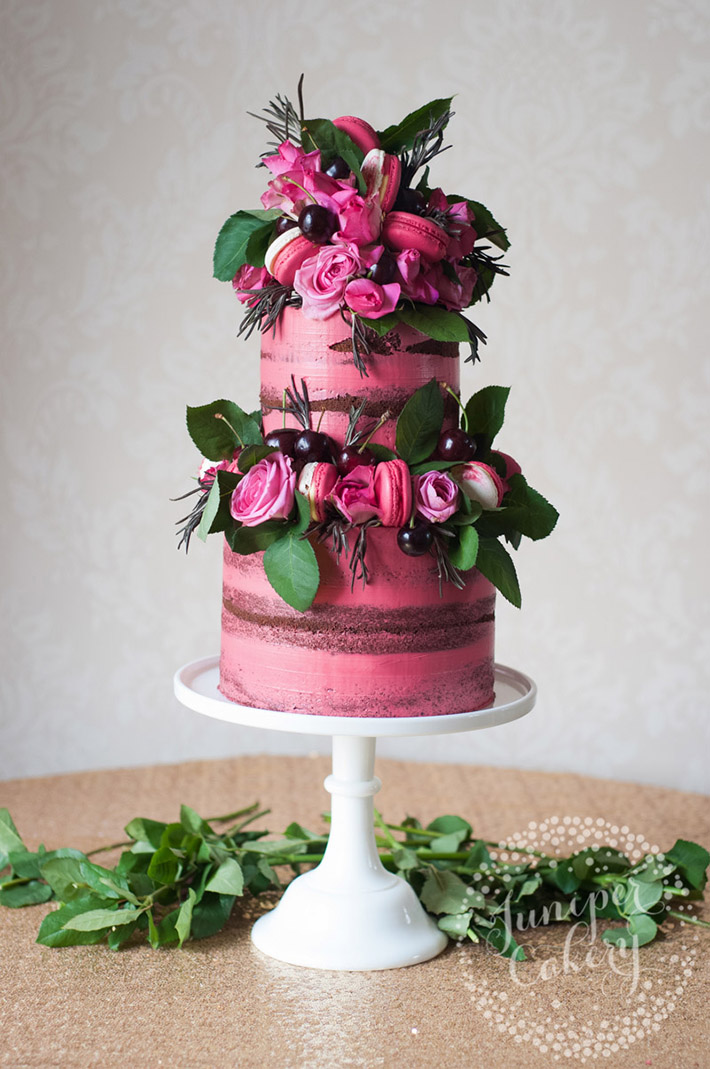 Photo via Juniper Cakery
5. Go for color
This bright naked cake has one clear theme: a love of cherries! We made this cake for a couple of cherry-loving newlyweds, so their cherry theme was amplified with a bold fuchsia buttercream to partially cover chocolate cake tiers. Both tiers feature bright pink buttercream, deep green foliage, hot pink macarons and pretty pink roses — perfect for a vibrant summer party or wedding reception!
Go bold and bright for your next naked cake! Reach for your food color gels and spatula for a truly unique look.
Naked doesn't mean boring!
Remember, just because it's a naked cake doesn't mean it can't be designed! So grab your sketch pad, research quirky fruits, veggies and flowers, and think up some stunning color palettes for your next naked cake project!