We mustache you a question: Have you ever tried a mustache cake? If not, perhaps it's time to break out the cake decorating gear and give it a try.
Mustache motifs are an easy and fun way to change the entire character of a cake. They add a sense of fun and whimsy to an otherwise sophisticated cake, and add irreverence to a cake for an affair such as a baby shower. They're very easy to make in a variety of different ways, and they're awfully fun to serve and share.
Here's a nice little cache of 'stache cakes to get you inspired: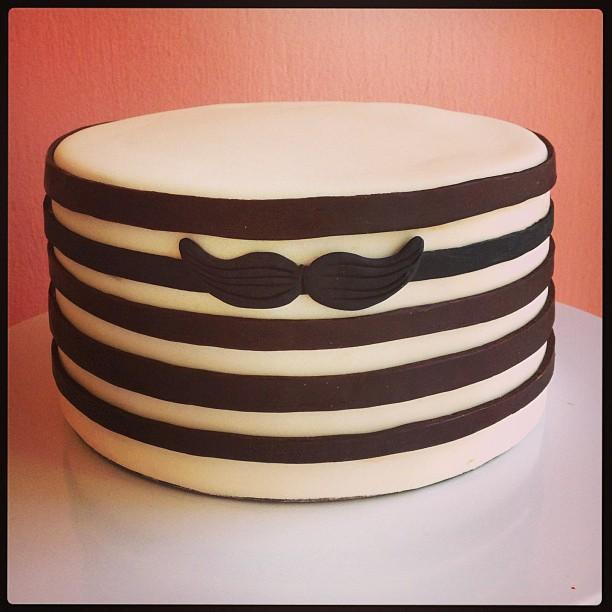 Photo via Bluprint member jiajiabings
Striped mustache cake:
After taking the class Clean and Simple Cake Design, Bluprint member jiajiabings made this creative striped cake, and kept it from becoming staid with the addition of a mustache. Clean and simple, indeed! If you needed proof about how a simple touch can change the tone of an entire cake, this is a fantastic example.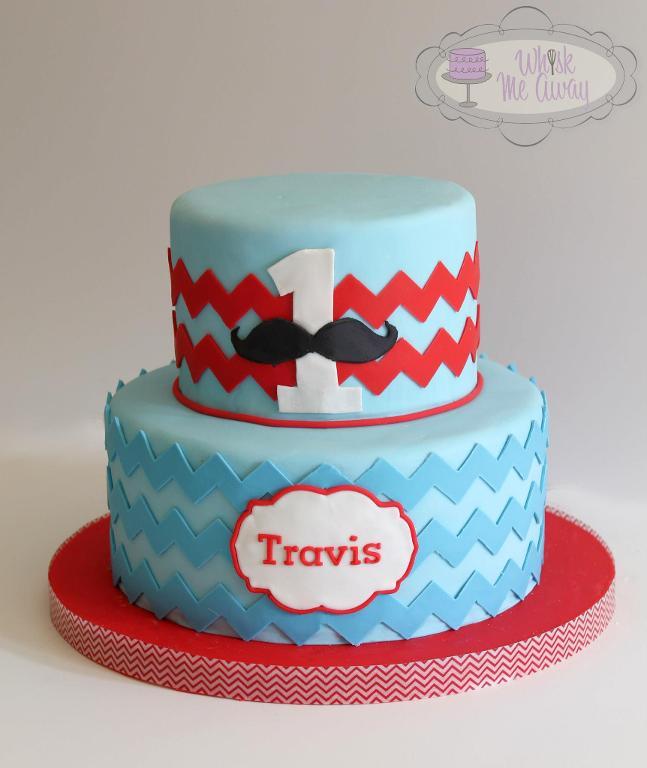 Photo via Bluprint member Whisk Me Away
Chevron mustache cake:
This is already a good-looking cake, featuring chevron stripes in a sky blue on the bottom tier, and red on the top tier, both atop a light blue fondant backdrop (Love fondant? Check out this delicious fondant recipe!) But a mustache affixed to the front of the top tier, paired with the recipient's name on the bottom tier, makes it downright dapper.

Photo via Bluprint member Gabilicious Cakes
Chevron mustache dog cake:
Chevron and mustaches? Yes, it's been done — but add dogs, too, and you have a new dimension of adorable. This one includes handmade fondant dog toppers and mustaches jubilantly popping out of the cake. View more Cute Canine-Inspired Cakes and learn how to make these cute dog toppers in Sharon Wee's class, Cake Topper Techniques: Fondant Animals.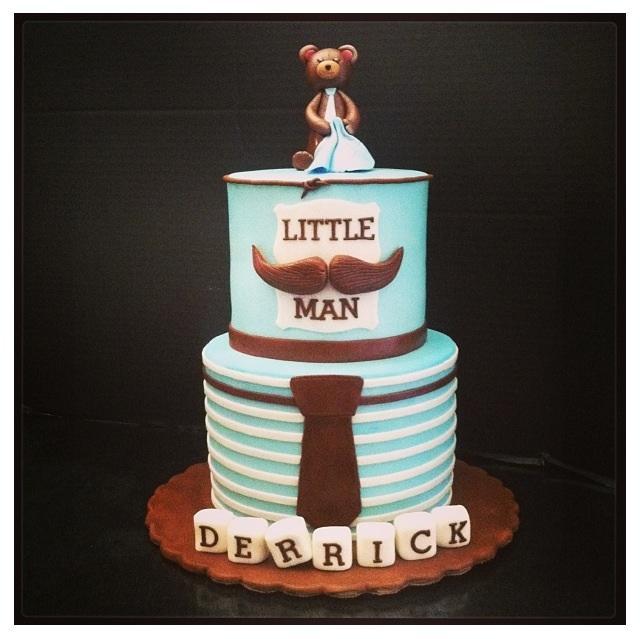 Photo via Bluprint member Bethleon
"Little Man" mustache cake:
For her little man, one Bluprint member created an adorable cake with fondant stripes on the bottom layer, made to resemble a men's dress shirt topped with a fondant necktie. The top layer features a mustache, making for a manly scheme that's brought back to adorableness thanks to a bear figurine clutching a baby blanket on top.

Photo via Bluprint instructor Joshua John Russell
Mustache party cake:
Joshua John Russell, who teaches the Bluprint class Modern Piping, created this cake, which served as the centerpiece at a very lucky young man's 1st birthday party. It features all sorts of mustaches assembled on different surfaces of the four tier, square shaped cake, and makes for a whimsical but beautifully rendered cake.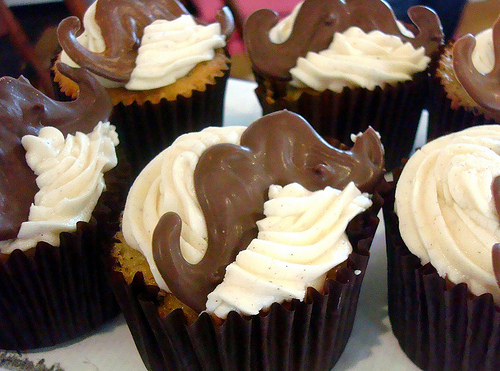 Photo via CakeSpy
Chocolate mustache cupcakes:
For an easy cupcake topper, pipe or drip melted chocolate onto waxed paper into the shape of mustaches. Once it has set and the candies are firm, you've got easy cupcake toppers that will make a big impact.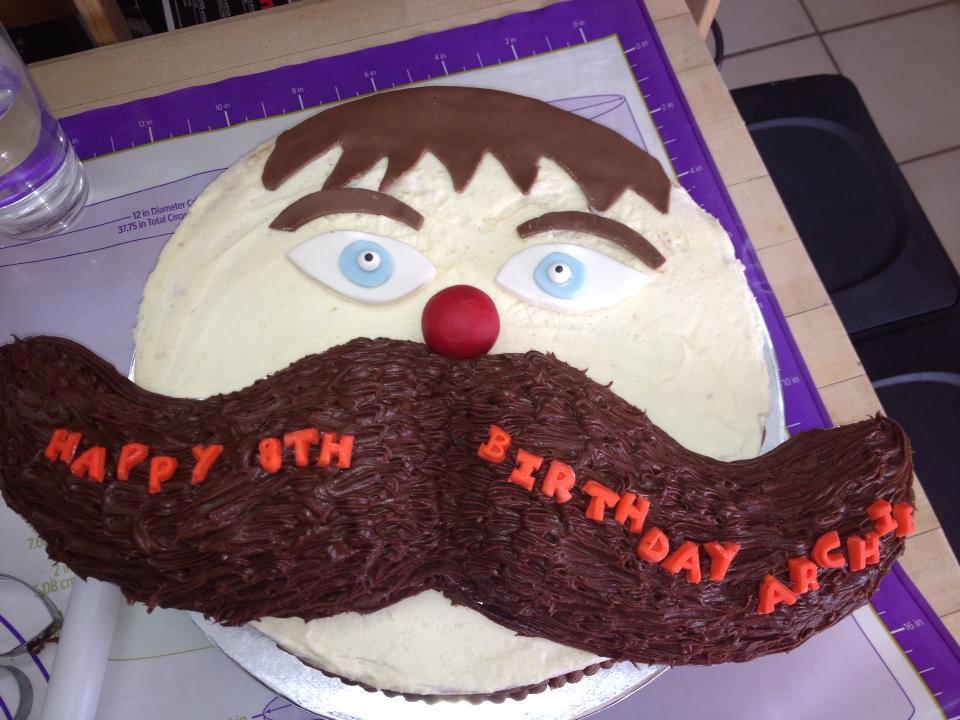 Photo via Bluprint member Dianeejoy
Big mustache cake:
If some is good, more is amazing, right? That's the idea behind the super-sized 'stache featured on this tongue-in-cheek cake. A face made out of fondant pieces lays atop a buttercream base, but your eyes go right to the mustache, which appears to be piped using a multi-opening tip in chocolate buttercream.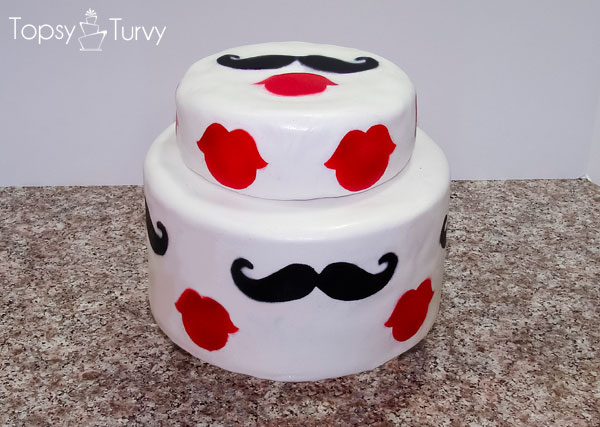 Photo via I'm Topsy Turvy
Lips and mustaches cake:
After realizing that her silhouette software wasn't working quite right, one clever baker decided to eschew fondant cutouts and instead created the mustache and lip silhouettes by airbrushing edible paint onto her fondant-topped cake. The result is sleek, with a popping visual from the bold colors. Learn cake painting techniques similar to the one used for this cake in Erin Schaefgen's class, The Hand-Painted Cake.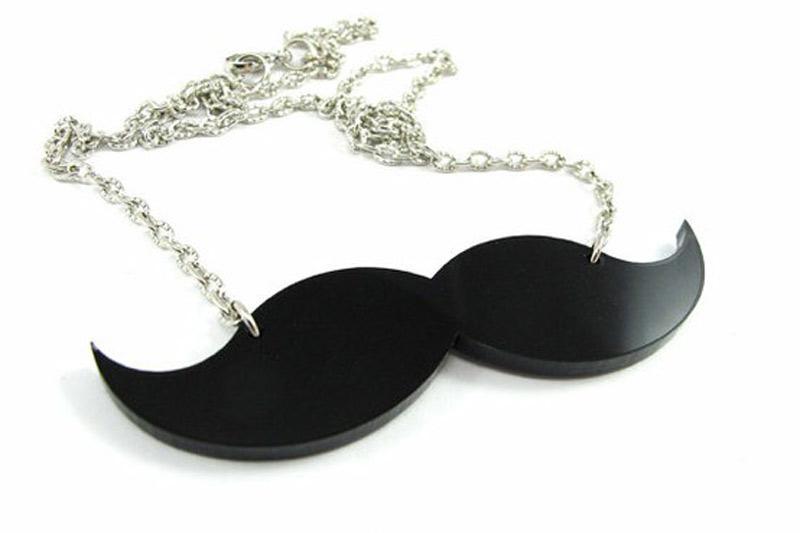 Photo via Bluprint member mikestone
Note: There is no documented proof that donning a mustache pendant will improve your baking, but it certainly can't hurt, right?
Now that's quite a 'stache of mustache cakes! Which occasion do you think is best suited for a mustache cake?