With the star-studded Oscars just around the corner, it's time to throw an amazing Academy Awards party!
To help make your event a glittering success, follow along with our easy-to-follow tutorial and make some impressive fondant movie reel topped cupcakes! You can even create them again for a fun film night or movie-loving client.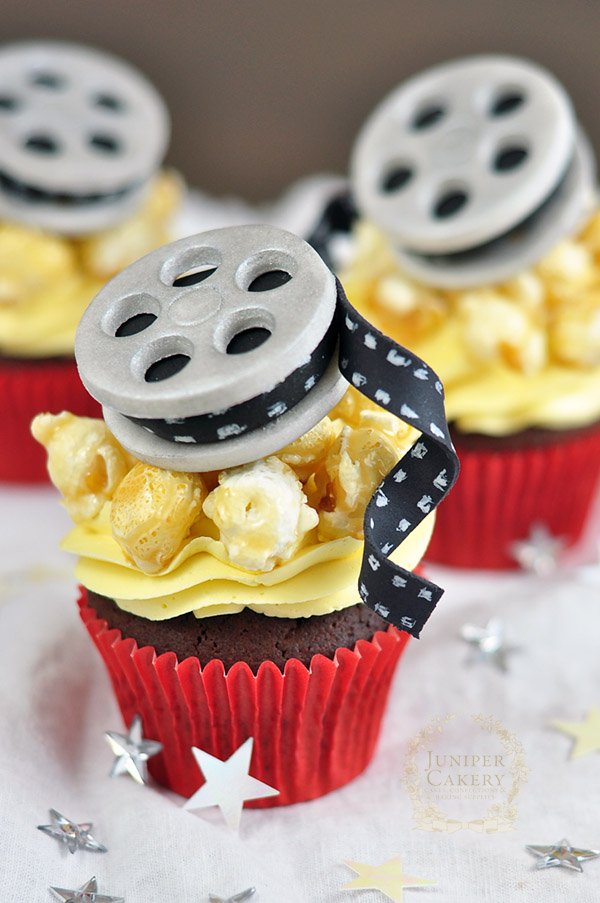 All photos via Juniper Cakery
Take the leading role with these movie-themed cupcake toppers!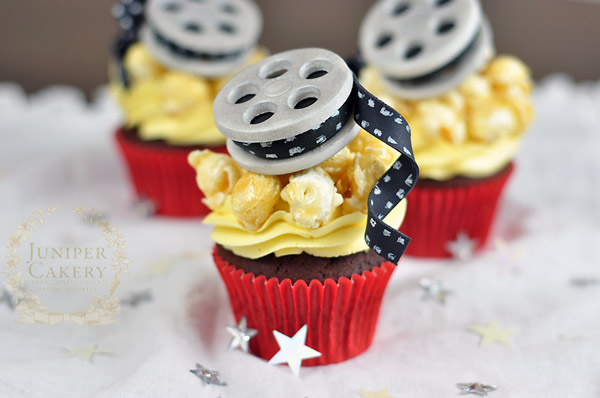 Materials needed:
White gum paste
Black gum paste
Silver luster dust
Paintbrushes
Circle cookie cutter (approximately 1 – 2″)
Medium round pining tip
Small sharp knife
Tylo powder
Water
Fondant rolling pin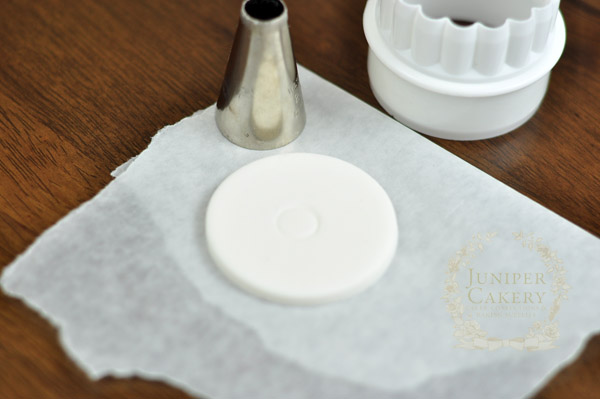 Step 1:

To make the all important circular shape of the film reels simply add tylo powder to the white fondant (how much you'll need to add will depend on the brand of fondant you're using but adding little by little is best until your fondant feels "gummy").

Roll out until roughly 3 mm thick and cut two circles per film reel decoration using the medium circle cookie cutter.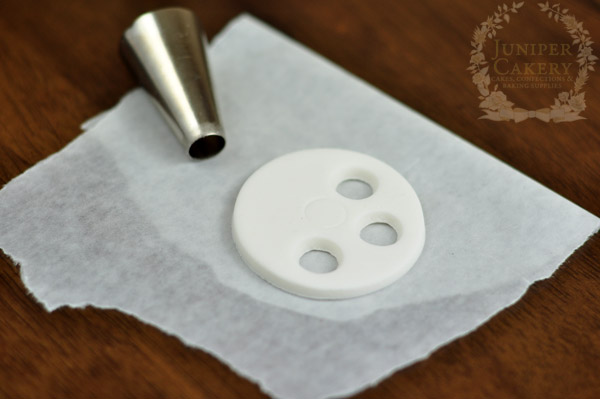 Step 2:
Before the circles begin to harden use the tapered end of the piping tip to indent a circle in the middle and then fully cut out five circles around it. If any of the circles look out of shape when cutting with the piping tip simply use your finger to smooth them out.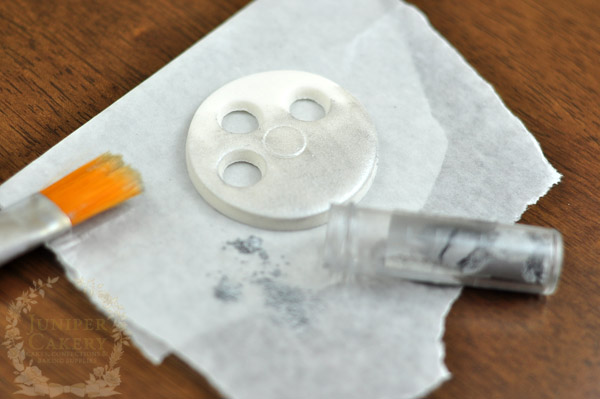 Step 3:
Once all of the circular details are cut out its time for the fun part — coloring them silver! Using a dry, soft paintbrush paint lustre dust in thin layers until there's no white fondant visible. Set aside to harden.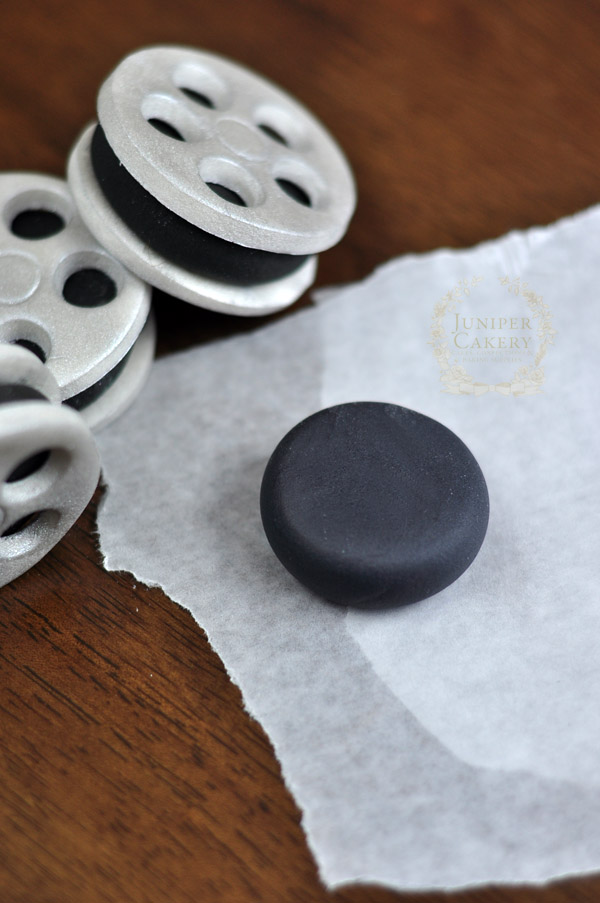 Step 4:
Using the black fondant begin to make a rough circle by work it between your fingers – this should be a few millimeters smaller in diameter than your silver circles.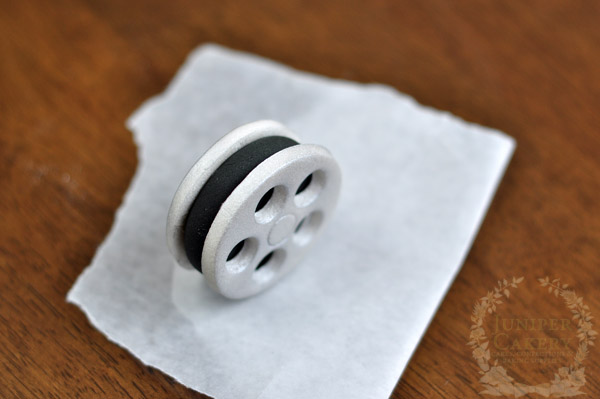 Step 5:
Once the silver circles have set dab a little bit of water on the reverse side, between the smaller circles and place it on top of the black circle in the center. Once stuck turn it over and repeat with the second side – now you have the beginnings of a film reel!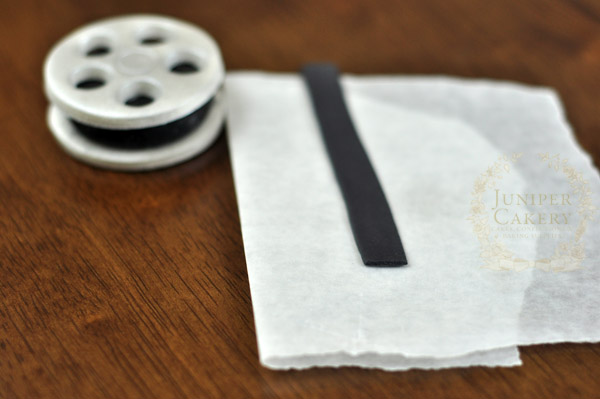 Step 6:
To make some film add some tylo powder to the black fondant and roll out approximately 2mm thick and cut into strips roughly 1cm wide (this will vary depending on the depth of your black circle).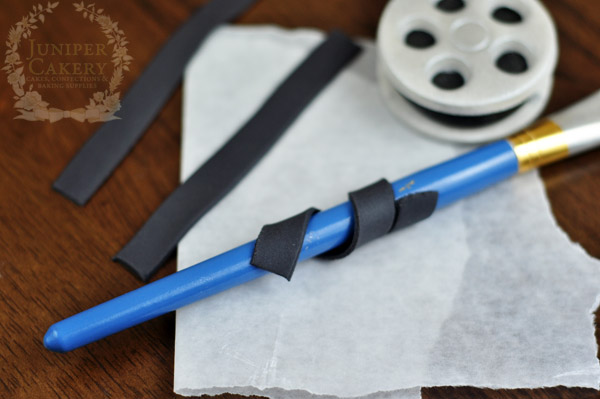 Step 7:
Carefully spiral around a paintbrush avoiding any cracks and leave until hardened. Try not to wind the fondant too tight as removing them later could be tricky.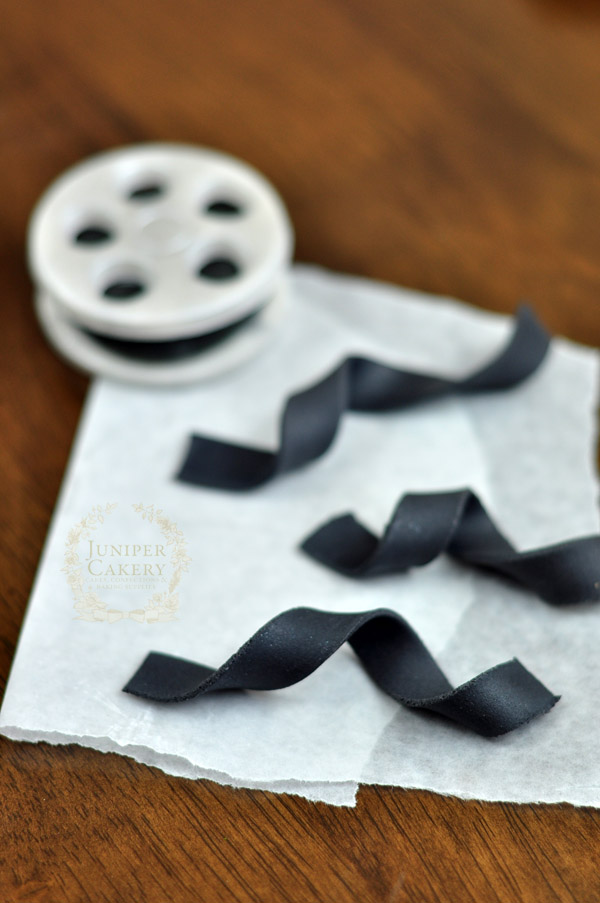 Step 8:
Once ready slide the paintbrush out from between the fondant – this should leave some wonderful spirals still in place!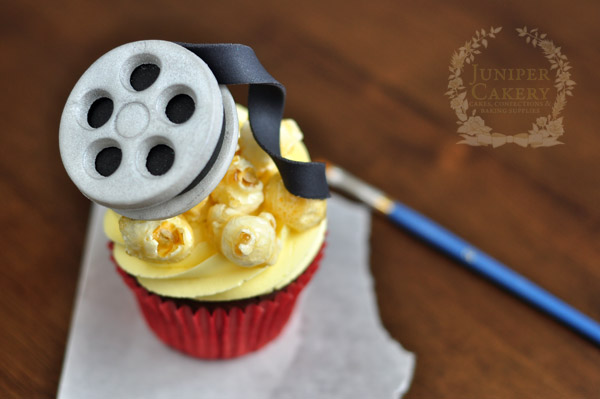 Step 9:
With a dab of water and a paintbrush stick the film onto the middle black circle once on a cupcake, leave to dry. Adding popcorn looks fantastic and gives extra support for any parts that might be a little precarious.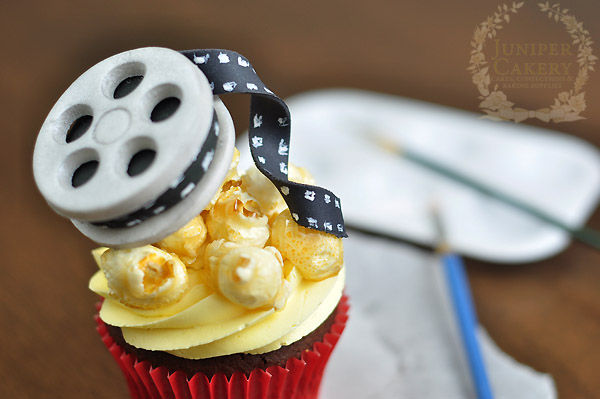 Step 8:
To add extra detail paint in little white marks along the black circle and loose film.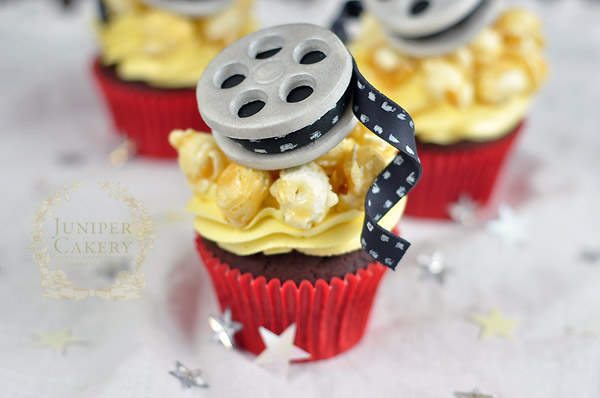 If you're planning a great film themed party for a lively birthday or a fun movie night then why not create adorable fondant movie tickets with each guest's name hand-painted onto each one?
We absolutely love the idea of a Willy Wonka film-inspired get-together featuring purple and gold cased cupcakes topped with modeling chocolate candy bars, movie reels, and golden painted tickets nestled into swirls of buttercream!
Make sweet dreams come true!
Create the tastiest and most beautiful cupcakes anyone has ever had, with the Craftsy class "The Perfect Cupcake."