Mother's Day is coming up this Sunday, and what better way to shower your mom with recognition than with a gorgeous, blossoming cake?!
Be inspired to show the women in your life all the love and appreciation they deserve with these splendid Mother's Day cake designs!
 Photo via Bluprint member motowifey
Clean & modern Mother's Day cake
This absolutely beautiful modern Mother's Day cake by Bluprint member and cake artist motowifey combines both natural and modern elements with a bright and fresh color palette. Completed in the Bluprint class Clean & Simple Cake Design with Jessica Harris, the waxed-paper transfer method was utilized to add the striped pattern, and the cake was topped with an exquisite gum paste peony. Finally, the design was personalized with the word MOM, created from fondant molds.
Take your simple and sleek cake designs to the next level, check out Jessica Harris' follow-up class Simply Modern Cake Design for additional color combination and pattern methods.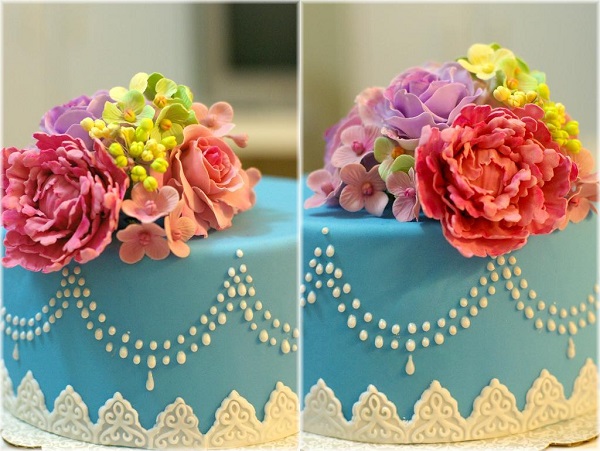 Photo via Bluprint member freshfromtheoven
Full bloom Mother's Day cake
The intricacy and bright colors of this full bloom Mother's Day cake by Bluprint member and cake artist freshfromtheoven are simply breathtaking! As part of the class Classic Sugar Flowers: Peony, Anemone, Tulip with Nicholas Lodge, the flowers were elaborately created and beautifully assembled over a blue fondant-covered cake. Additional embellishments were added with piping and embossing techniques, producing a fresh, vivid design with classic elements.
Practice your piping skills in the Bluprint class Modern Piping with Joshua John Russell to embellish your confections. Then, get creative with patterns and designs in The Secrets to Perfect Stenciling with Alan Tetreault.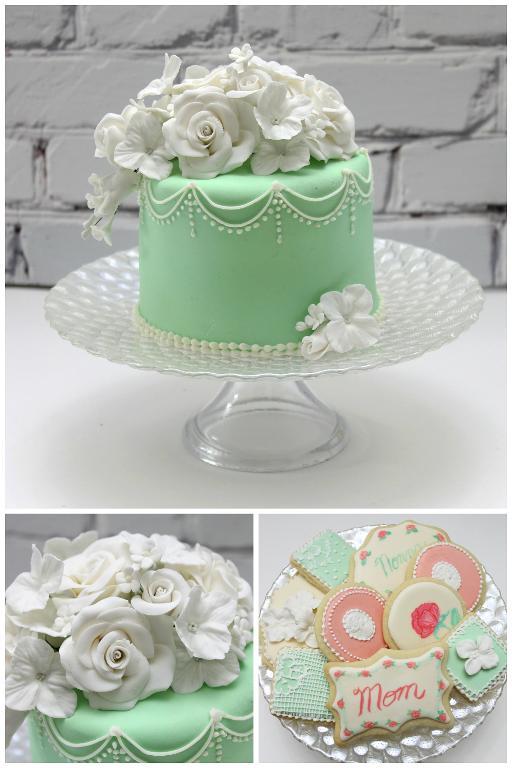 Photo via Bluprint member cdangelo
Mother's Day rose cake & cookies
Bluprint member and cake artist cdangelo created this absolutely beautiful set of Mother's Day rose cake and cookies as a project incorporated by the class The Ultimate Sugar Rose with Nicholas Lodge. The impeccable florals modeled with gum paste adorn the top of the cake, while stringwork is gracefully piped around the perimeter. Coordinating designs are piped in royal icing onto the matching sugar cookies, with the addition of hand-painted designs.
If you are looking to advance your stringwork and piping skills, look no further than the Bluprint classes Learning the Lambeth Method with Wendy Kromer, Mastering Australian Stringwork with Mark Seaman and the newest class, Elevating Oriental Stringwork with Toba Garrett.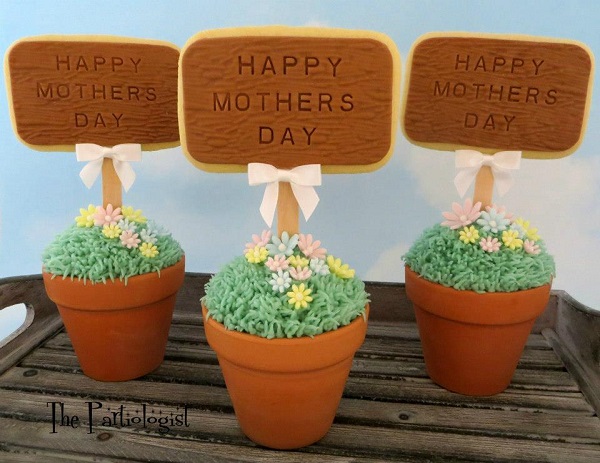 Photo via The Partiologist
Mother's Day cupcake garden
The Partiologist shows off her sweet gardening skills with this incredibly adorable Mother's Day cupcake garden! Once baked, the cupcakes were displayed in small pots, while green grass was piped and topped with miniature pastel-colored flowers. The Mother's Day signs were created from sugar cookies baked on sticks and adorned with a textured-wood fondant sign. Check out the full cupcake and cookie tutorial on The Partiologist website to plant your own mom a garden!
For more insight and ideas for embellishing cookies, be sure to register for the Bluprint course Decorating Essentials: Designer Cookies with Autumn Carpenter, and get ready to try out fun and creative cookie designs!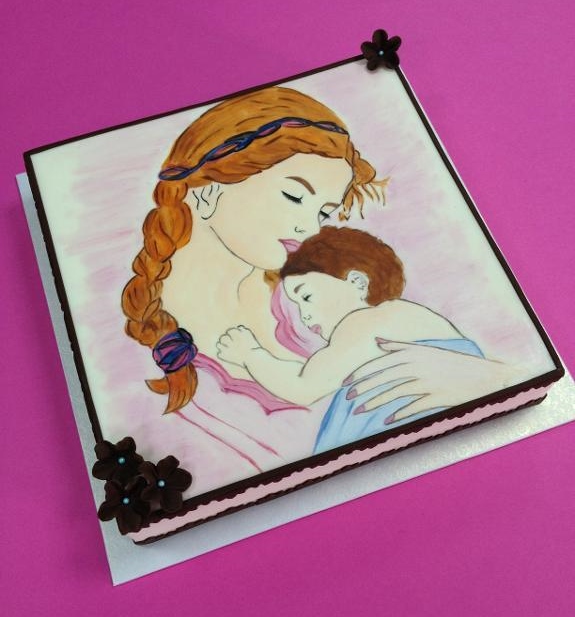 Photo via Bluprint member Manal cakes
Painted Mother's Day cake
Bluprint member and cake artist Manal cakes created this touching and beautiful hand-painted Mother's Day cake. As part of the Bluprint course The Hand-Painted Cake with Erin Schaefgen, the surface of this sheet cake was transformed into a blank canvas when covered in fondant, making it ready to be painted with the newly learned techniques. A delicate border and flowers finished off this edible work of art.
Get more insight and techniques in the Bluprint course The Art of Painted Cakes with Kate Sullivan to perfect your hand-painted confections.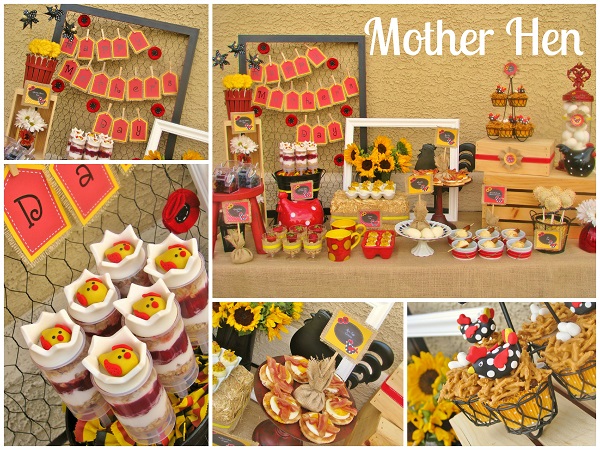 Photo via Lynlee's Petite Cakes
Mother Hen Brunch
If you are planning a Mother's Day brunch, consider this Mother Hen spread by Lynlee's Petite Cakes to show your mom who truly rules the roost! With a rustic, farm-fresh influence, the creative and delicious bite-size offerings include yogurt parfaits with hatching chicks, deviled eggs, mini biscuit and sausage skewers, pies on a stick and chicken nest muffins, among other delicious servings. Get more Mother Hen party inspiration with full details of the brunch, including the printable designs by Bird's Party to create your own Mama Hen celebration!
How will you be honoring mothers on their special day?