Clean, simple, chic and modern are the newest trends in wedding cake decorating. Brides are opting for simple over traditional. Instead of huge arrangements or cascading flowers down the front, many cakes are designed with a few accents, like a few large accent flowers. We have found a few modern cakes you are sure to love! 
Modern cakes for a thoroughly modern bride!
Photo via Bluprint member Manal Cakes
Piping goes modern in black and white.
Let's start with this lovely, stark contrast cake, which has managed to pull off a modern twist on a traditional technique beautifully. The lovely rose cut-outs are made of wafer paper that are punched out using a decorative paper punch. We simply love the cake's clean and simple design.
This cake was made as a project in Joshua John Russell's Bluprint class Modern Piping, where students learn techniques to achieve beautiful lines and perfect piping like you see here.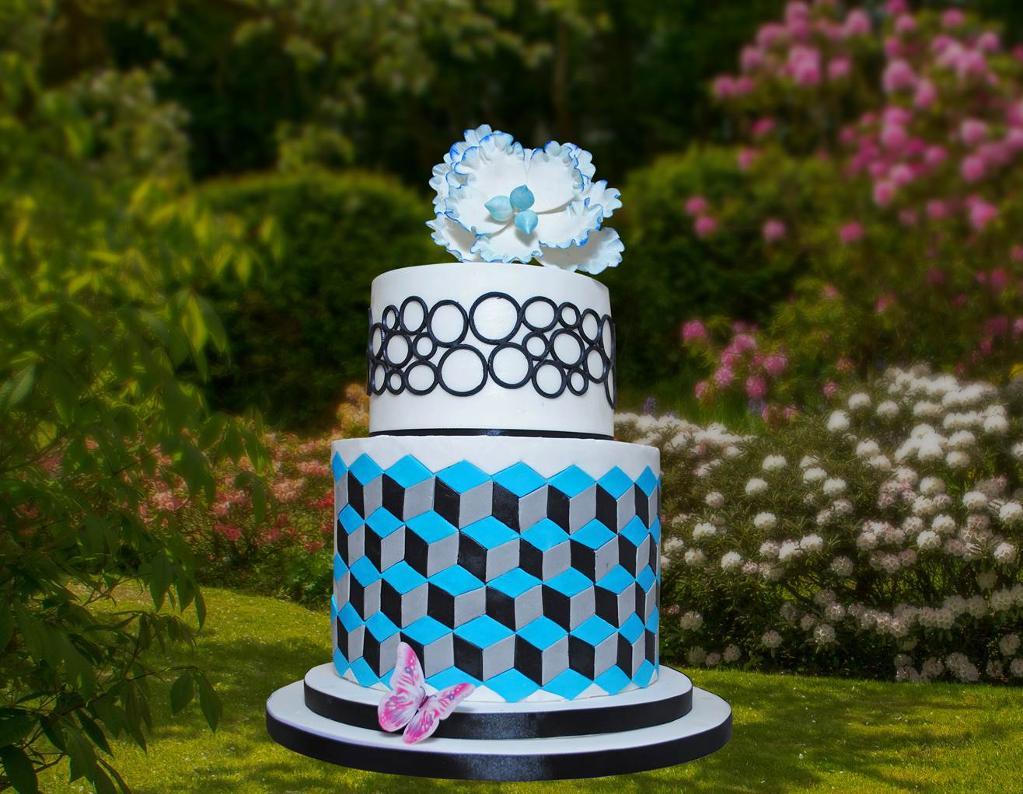 Photo via Bluprint member elaine.rhule
Block out your design with a geometric cake.
This geometric cake gives 3-D a whole new meaning. With the use of grey, black and blue fondant, Bluprint member elaine.rhule created this 3-D illusion using wax paper transfer method. This two-tiered wedding cake, using gum paste and fondant, is a modern marvel.
Jessica Harris' wax paper transfer method is introduced in her first Bluprint class, Clean and Simple Cake Design and expounded on in her second class Simply Modern Cake Design.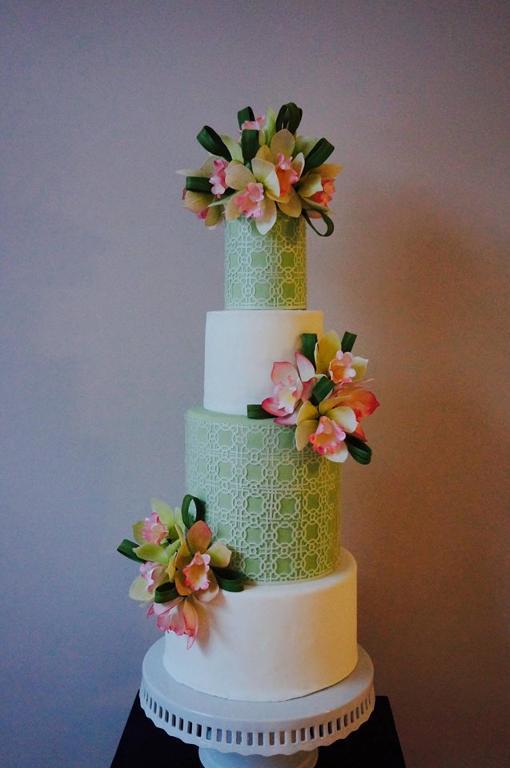 Photo via Bluprint member Lana Witherspoon
Try your hand at new-age sugar flowers with orchids.
We are in love with the design and execution of this towering 4-tier orchid wedding cake. The green tiers bring height and elegance to the overlay design while the white tiers balance out the busyness. Together, with the accent of the off-set sugar orchids and dark green gum paste ribbons, they create a cohesive and modern design.
[box type="shadow"]
If you love these sugar orchids as much as I do, you can learn to make them in James Rosselle's Bluprint class Exotic Sugar Orchids. His cakes inspired this design!
[/box]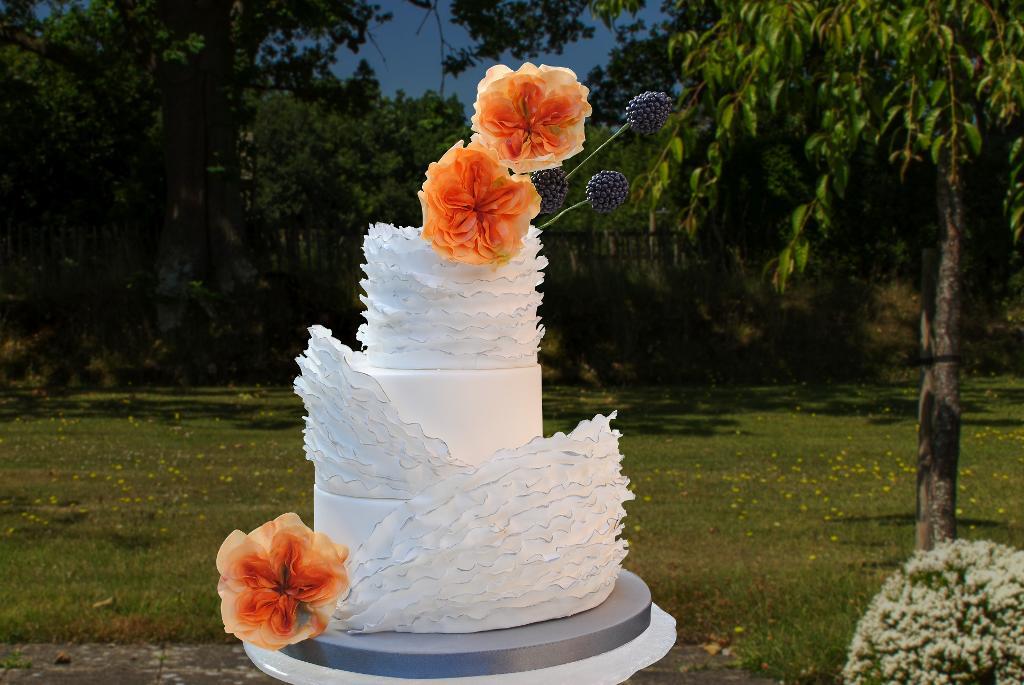 Photo via Bluprint member elaine.rhule
Make it modern with fondant frills.
Fondant frills are everywhere, wrapping around tiers of vintage, traditional and modern cakes. But this cake, another masterpiece by Bluprint member elaine.rhule, brings a new and more modern twist to fondant ruffles. The angled ruffles of the bottom tiers make for an asymmetrical look reminiscent of a work of modern art. Absolutely to die for!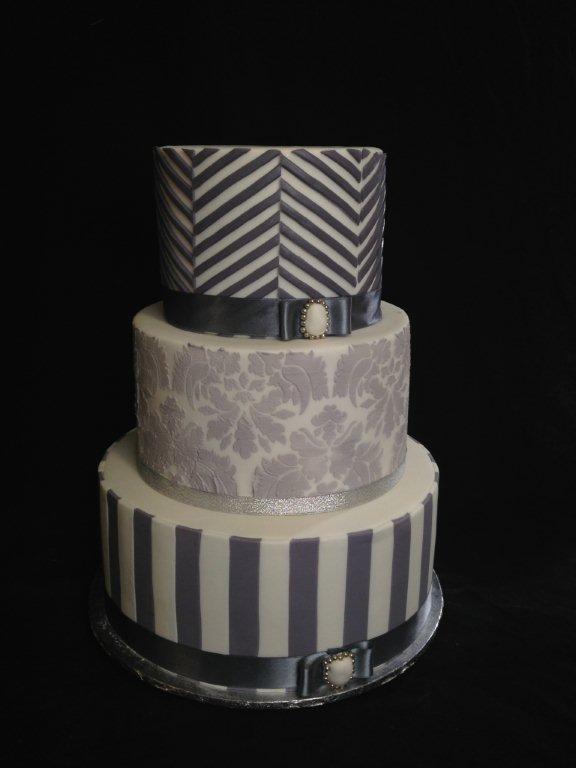 Photo via Bluprint member ACAKEMAKER1
Get trendy by stenciling mixed patterns.
This clean chevron, striped and stenciled cake brings together some of the hottest new trends in cake decorating. This three-tiered cake uses a simple steel-blue color palette to tie the contrasting patterns together for a looks that simultaneously modern and classic.
You can learn to create the off-set chevron pattern in Jessica Harris's Bluprint class Clean and Simple Cake Design.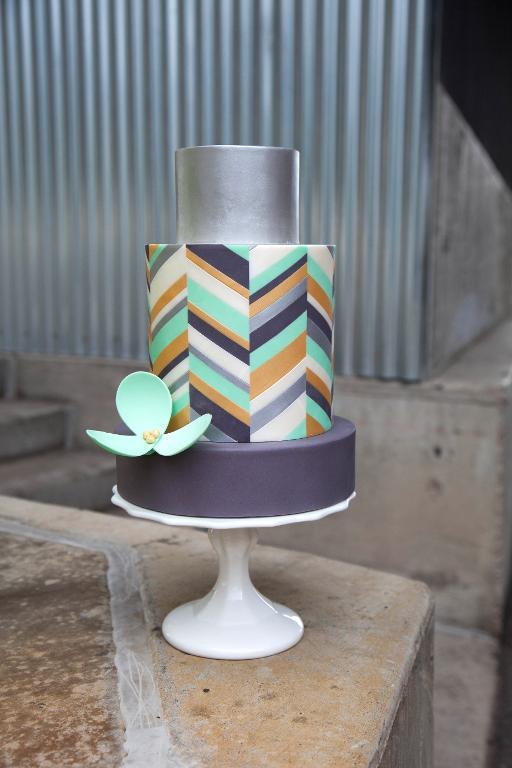 Photo via Bluprint instructor Jessica Harris
Chic chevron is perfectly on point.
Jessica Harris brings us even more stunning cakes, like this one from her Bluprint class Simply Modern Cake Design. This cake uses a multi-colored chevron and a silver metallic topper for a modern cake design that's oh-so-chic. (Note: You can learn the secrets of working with gold and silver metallics too by taking this class!) She really has brought cake decorating to a whole new level.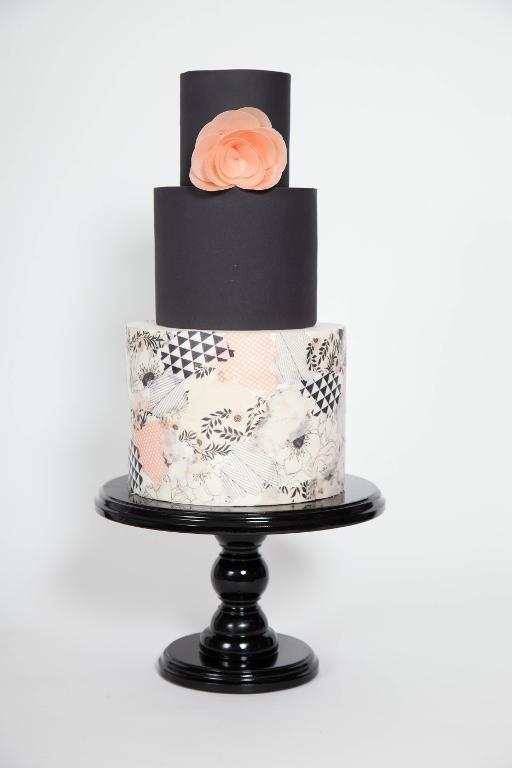 Photo via Bluprint instructor Stevi Auble
We love wafer paper cakes!
Wafer paper flowers and decoupage are ways to bring a modern twist to your cake decorating. Stevi Auble demonstrates this new and modern feel in the above cake, made for her Bluprint class Delicate Wafer-Paper Cakes. We're crazy about the black color, which makes the cake modern and sleek. The simple peach-colored flower on the top-tier is like the cherry on top!
With all the possibilities out there, brides are ready for new and inventive ideas, so if you are ready to try something new and to develop more modern techniques you will find yourself ahead of the game.
What's your favorite technique in modern wedding cake decorating?