One of the best things about cake decorating is that cake is essentially a blank canvas — providing a palette for exploring your own custom, signature designs that will keep clients coming back. Depending on the style and occasion, a well decorated cake can end up evoking a romantic baroque feel or a vibrant modern look. When creating a modern art inspired cake, some common motifs include the elegant graphic style of the Art Deco movement, Jackson Pollock's infamous paint splashes or the DIY look of mosaic street art.
Here's some fabulous cakes inspired by modern art to stir up your creative spirit…
Photo via Craftsy instructor Allison Kelleher
Color block cake
Utilising a vibrant color block design method is a great way to implement a modern art look in cake design. Why not try incorporating bold, graphic-style palettes such as white, black, orange, teal or lime green. We can imagine this cake taking some color palette inspiration from techni-colored advertising campaigns or a show-stopping beach inspired fashion line!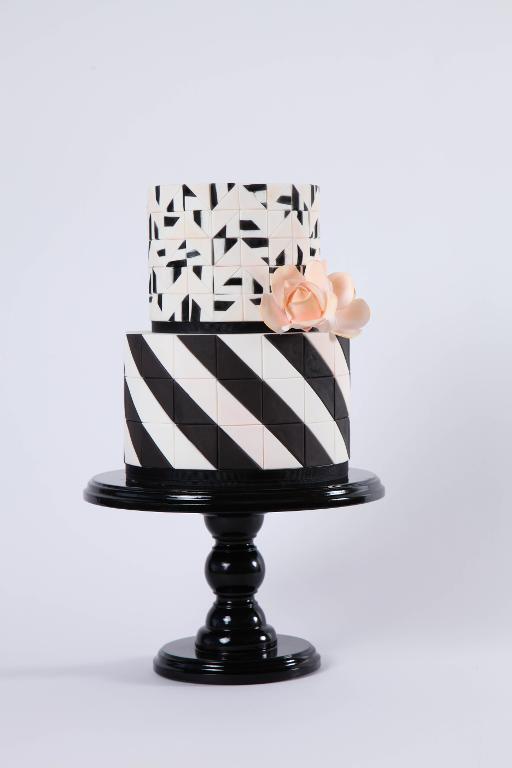 Photo via Craftsy instructor Allison Kelleher
Mixed media cake
Stripes and chevrons are still a popular trend in the world of cake decorating. Here they've been presented in a clever way using a mosaic technique. The simple color scheme of blush pink with white and black keeps this cake sweet yet bold. We love how this creation is softened a little with the addition of a romantic pink rose.
Learn to create your own mosaic masterpiece and sign-up for Allison Kelleher's Modern Mosaic Cakes class today!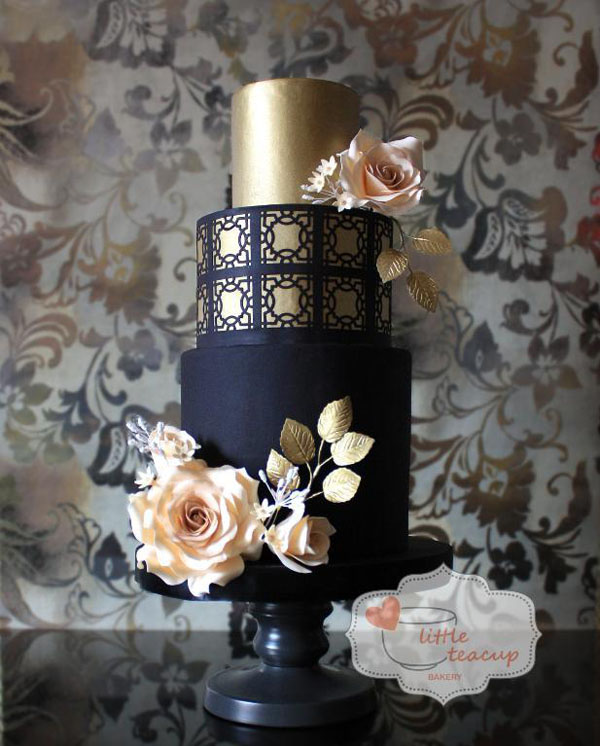 Photo via Craftsy member JenniJen67
Dramatic black and gold cake
There's a definite nod to the glamorous Art Deco era on this cake due to the striking gold and black palette and elegant trellis-style design. Incorporating black with a brushed gold look not only establishes this 3 tiered creation as a piece of luxury but gives it a bit of "omph" to ensure it catches everyone's eye in the room. When designing an Art Deco inspired cake, why not gather inspiration from architecture to fine jewelry? You'll be amazed where a great idea, palette or motif can come from!
Achieve a wonderful super sleek and modern look to your cakes with the help of Jessica Harris' Simply Modern Cake Design class!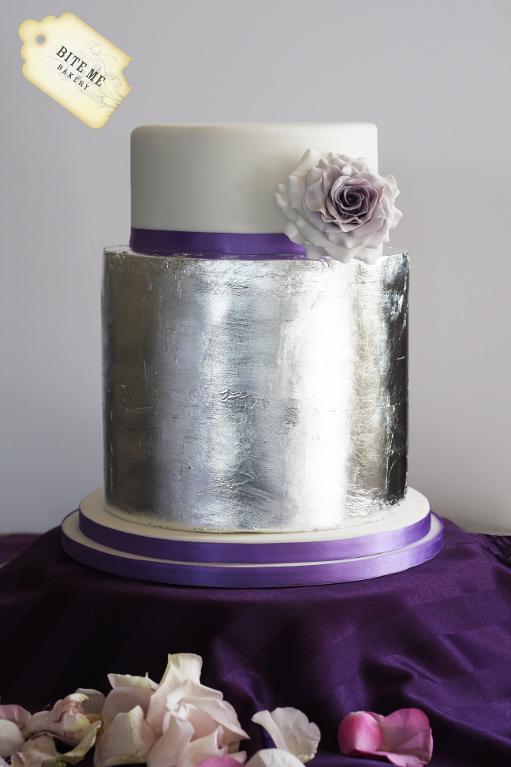 Photo via Craftsy member Bite Me Bakery
Modern silver and purple wedding cake
We love the decadent look of the silver leaf on this wedding cake. It creates a fantastic focal point as well as adding an air of indulgence. This simple yet effective cake combines a simple color palette with some great textures from the slight crumpled look of the silver leaf to the softness of the sugar rose.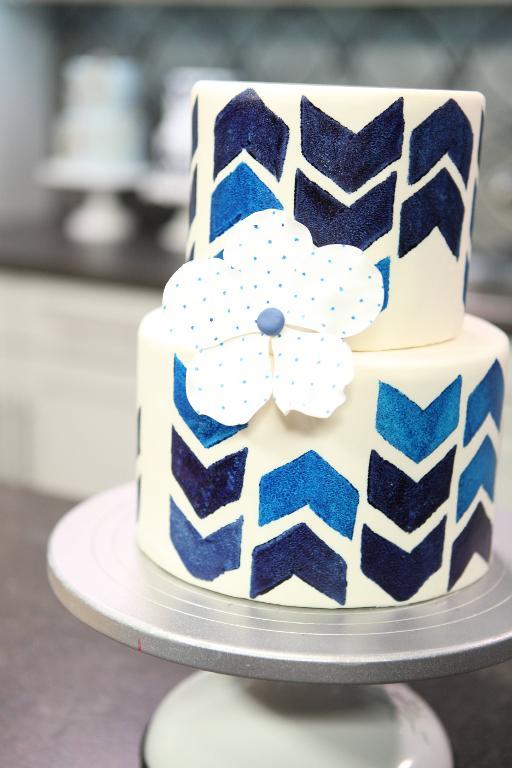 Photo via Craftsy instructor Erin Gardner
Effortless chevron cake
Adding bold and graphic style prints to your cake needn't take hours upon hours of back-breaking work. Why not try hand-stamping impressive patterns onto your blank canvas for effortless modern chic? We love how the above cake has incorporated a fabulous pattern trend in it's design whilst using the hand-stamp technique. If you're stuck for pattern ideas try looking to the everyday for inspiration. The repeat design on metal sheeting or the uniform loops that make up a crochet scarf can make wonderful design elements!
Create stunning yet subtle hand-stamped cakes with the help of Erin Gardner's Simply Stunning: Hand-Stamped Cakes class!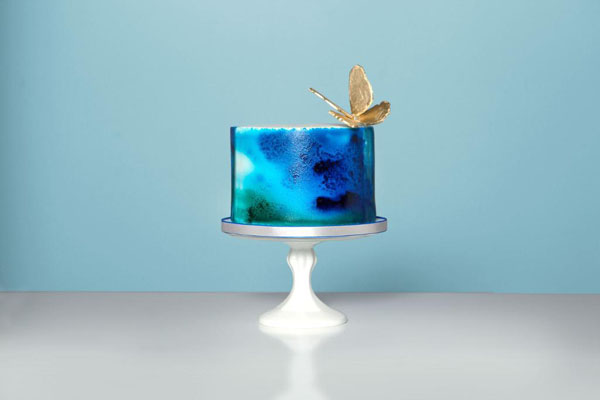 Photo via Craftst instructor Kate Sullivan
Tie dye cake
We love the saturated color of Kate Sullivan's above tie dye inspired cake. The way the edible food color pools, layers and fades makes us think of both Jackson Pollock's paintings and the work of post-impressionist artists as well as overlays of color that occurs in street graffiti. Adding texture and pattern to cakes doesn't have to mean floral motifs or color blocks, instead why not layer color or play with color thickness onto  fondant.
Kate Sullivan's The Art of Painted Cakes class is perfect for you if you'd love to discover how to get a beautiful painterly style and look to your creations!
Creating a modern art inspired cake creation doesn't have to be scary. All you need is to research and be prepared to look in some unusual, or even ordinary, places for some inspiration. Lots of modern artists found inspiration from the everyday so why not apply this to your next cake design?
What would be your perfect modern art inspired cake?