One of the most famous little ladies of all time isn't even a person — she's a mouse! Known for her polka dots, bows and, of course, her big ears, Minnie Mouse continues to be a favorite character for people young and old. Understandably, she remains a tremendously popular party theme and in high demand when it comes to cake designs and confections.
Learn how to make a Minnie Mouse silhouette with a super simple fondant tutorial, then browse through some more of the sweetest Minnie Mouse cake decorating ideas we could find!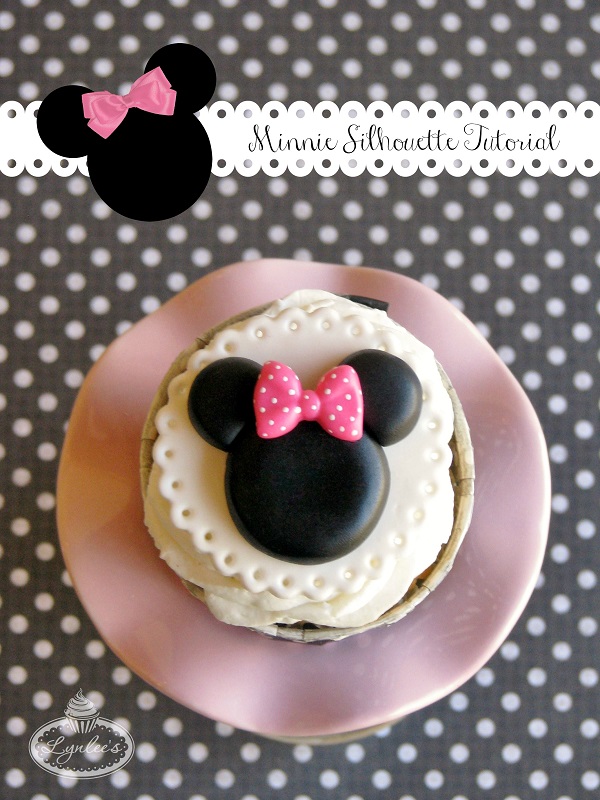 How to Make Fabulous Fondant Toppers
Minnie Mouse cupcake topper tutorial
Follow these simple and basic steps to creating a Minnie silhouette fondant topper for your cupcakes, cookies and sweet treats!
Materials needed:
Fondant (black, pink and white)
Fondant rolling pin and 1/8″ guide rings
Water/edible glue and brush
1/4″ wooden dowels
Vegetable shortening
1 1/4″ round cutter
2 1/4″ scalloped cutter
Round decorating tip #1
Bow mold
White soft gel paste and toothpick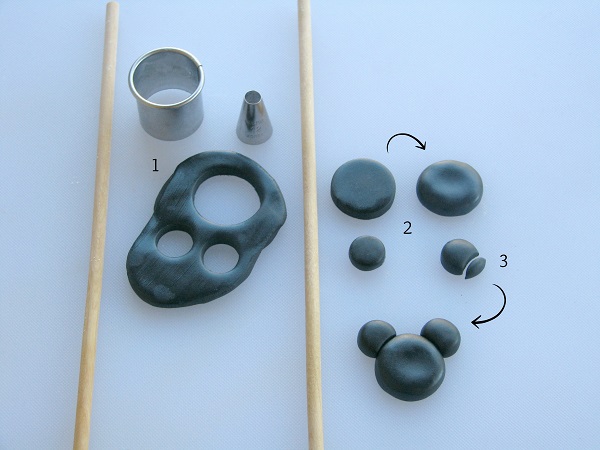 Step 1:
Roll black fondant thick with the rolling pin and wooden dowels as guides. Cut out one larger circle with the 1 1/4″ round cutter and two smaller circles with the bottom, larger end of a round decorating tip.
Step 2:
Dip your fingers in a bit of vegetable shortening and begin to round out the perimeters of all the fondant circles
Step 3:
Utilize the 1 1/4″ round cutter to cut off small portions of the smaller black circles to fit the ears over the sides of the silhouette head.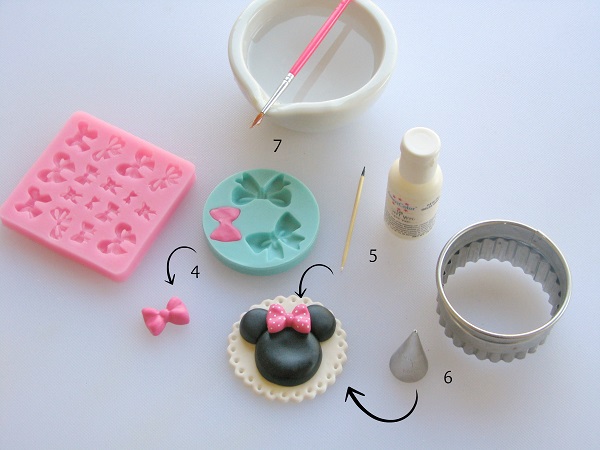 Step 4:
Brush a bit of vegetable shortening over your pink fondant, then insert it inside the desired bow fondant mold. Remove the excess from the back, bend the mold and remove the bow. If you do not have a mold, follow steps to creating a fondant bow.
Step 5:
Once the fondant has dried a bit, dip the toothpick in white soft gel paste and dab little polka dots on the pink bow.
Step 6:
Roll out white fondant with the rolling pin and 1/8″ guide rings. Cut out a circle with the 2 1/4″ round scalloped cutter. If desired, utilize round decorating tip #1 to cut out tiny circles around the perimeter of the scallops, creating an eyelet effect. You can use a modeling stick or a toothpick to clean up the small little holes.
Step 7:
Glue the black silhouette, including the ears and the pink bow to the white topper. Allow to dry thoroughly.
More adorable Minnie Mouse cake decorating ideas we love!
Disclaimer: The cake and cupcake designs featured in this post are for inspirational purposes only. Bluprint.com does not condone the purchase or sale of any design that could potentially infringe on any protected design or copyright.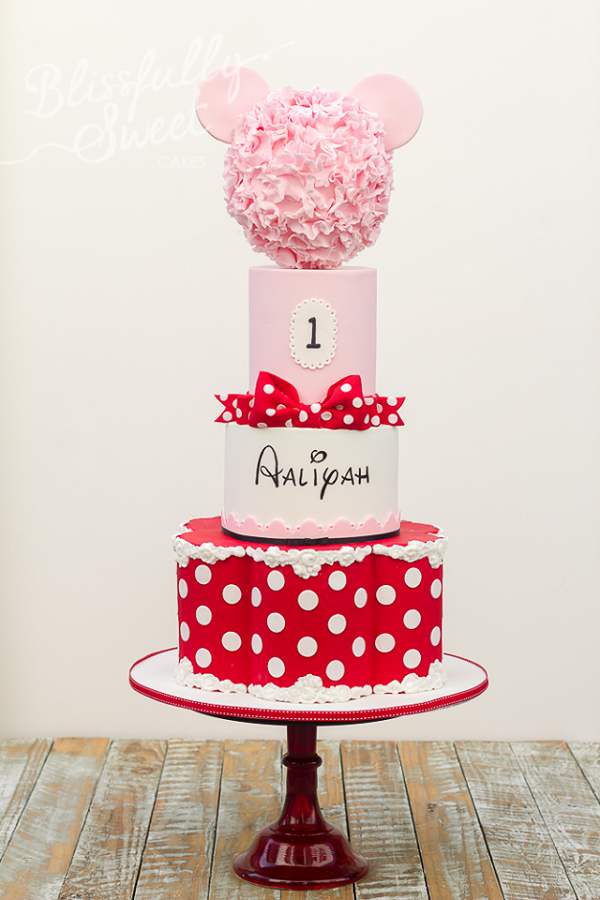 Photo via Blissfully Sweet
Tiered Minnie 1st birthday cake
This absolutely stunning Minnie Mouse-inspired cake from Blissfully Sweet was made for a very special first birthday celebration. The bottom tier was baked in a petal-shaped pan, giving it a more elaborate design, then decorated with Minnie's iconic polka dots and a frilly appliqué border. The birthday girl's name on the second tier was hand-painted to resemble the traditional Disney font. The final tier holds up a Minnie head covered in fondant ruffles, adding to the entire feminine and sweet feel of the presentation.
Learn how to add that extra girly touch to your cake decorating projects in the Bluprint courses Fondant Frills with Maggie Austin and Designer Fondant Textures with Marina Sousa.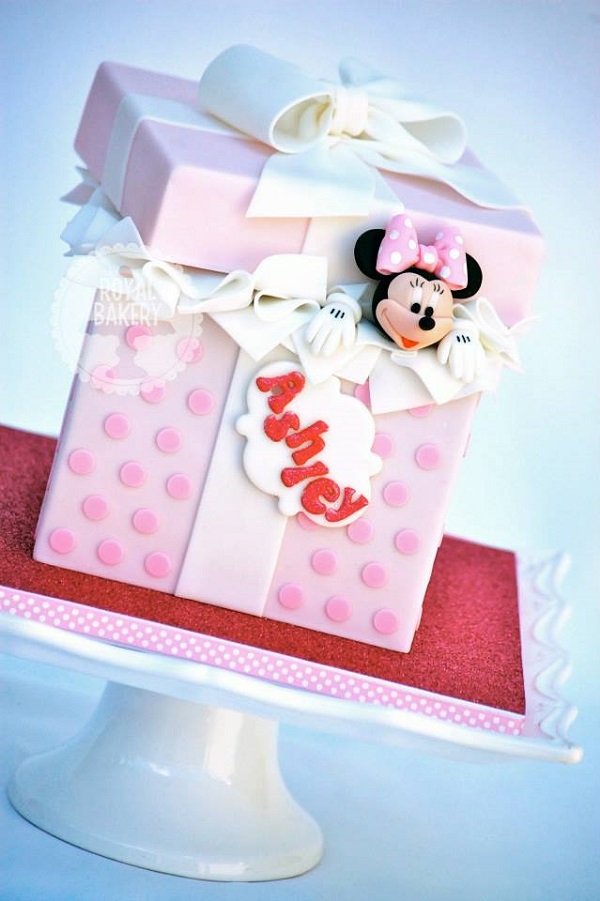 Photo via The Royal Bakery
Minnie Mouse gift box cake
Bluprint contributor and cake artist at The Royal Bakery, Lesley Wright, was asked to make a Minnie Mouse-inspired gift box cake. The pristine and gorgeous cake was embellished with the quintessential polka dots in a soft color palette, topped with a beautiful fondant bow. The cake was personalized with the birthday girl's name added to a gift tag, while a flawless figure of Minnie herself was added, peeking out from inside the cake box!
Practice your figure-sculpting skills in the Bluprint courses Cake Topper Techniques: Figure Modeling with Anne Heap and Cake Topper Techniques: Fondant Animals with Sharon Wee to top your projects with adorable figures such as this!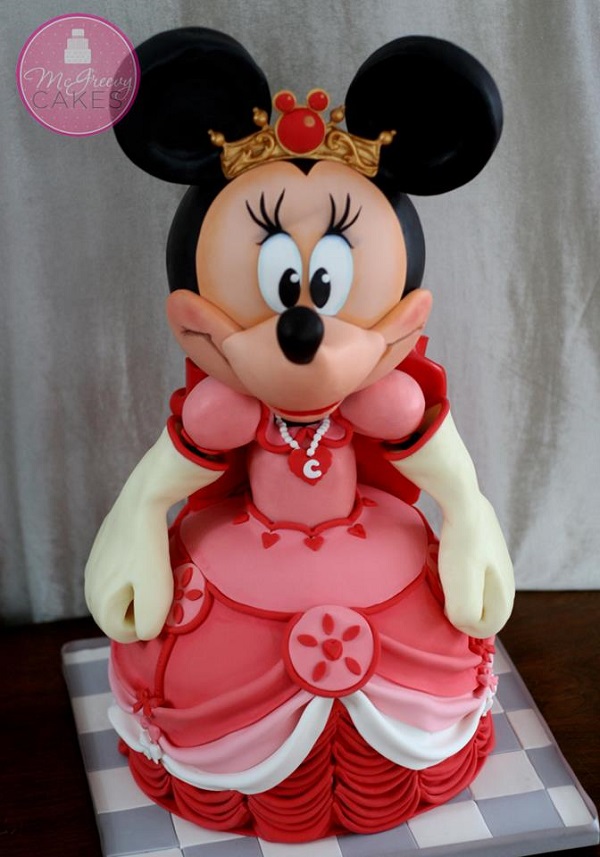 Photo via McGreevy Cakes
Queen Minnie 3-D cake
The amazing McGreevy Cakes did an astounding job of making this Queen Minnie three-dimensional cake! The bottom skirt is all cake, covered and decorated with fondant details and layers. The remainder of the figure is comprised mostly of modeling chocolate. Check out Minnie's dress tutorial with video instructions.
Learn the techniques to create a three-dimensional figure in the course Advanced Cake Sculpting: Bobbleheads with Mike McCarey and practice making fondant fabric effects in Fondant Ruffles, Pleats and Drapes with Marsha Winbeckler.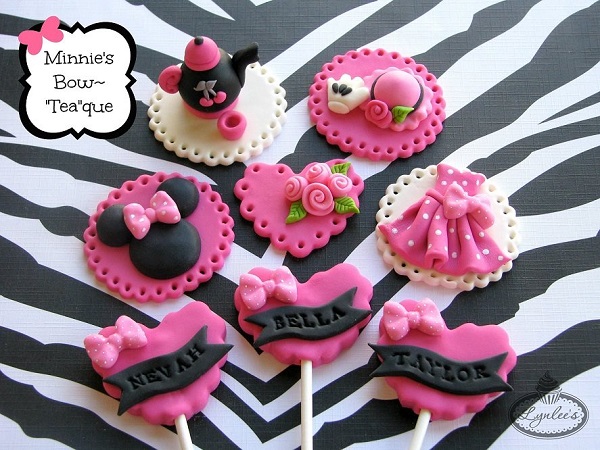 Photo via Lynlee's
Minnie's bow-teaque cupcake toppers
This Minnie's bow-"tea"que fondant cupcake topper collection was created for a sweet little girl celebrating her big day with a tea party! The designs were inspired by the invitation, as well as Minnie Mouse's recognizable fashion, including her polka dot dress and her iconic white gloves.
Hone your miniature fondant-modeling skills in the Bluprint course Tiny Cupcake Toppers with Sheryl Bito with techniques and designs that can easily be added to a set like this!
How to Make Fabulous Fondant Toppers