Towering, tiered wedding cakes are the traditional choice, but you can give wedding cakes a modern twist by downsizing the confections. Serve sweet mini wedding cakes featuring a trendy, rustic look in lieu of the standard tiered cake. Intentionally messy buttercream and pretty fondant accents give these individual cakes enough flair to be served individually to each guest.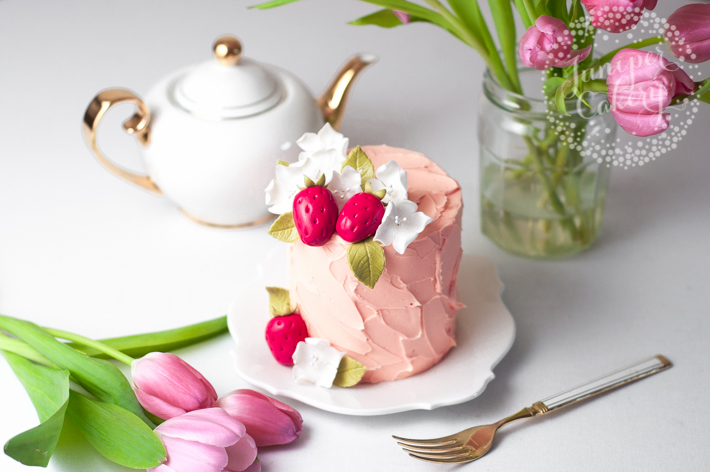 Mini Cakes for Every Occassion!
Great cakes come in small packages! Learn to make irresistible mini-cakes customized for any celebration — including precious petits fours, tiny three-tiered treats, dainty handbag designs and more — in this on-demand video class.Enroll Now »
How to make individual mini wedding cakes
What you need:
Mini stacked and filled cake
Fresh buttercream (here's one recipe)
Fondant in olive green, red and white
Small calyx cutter
Small and medium rose leaf cutters
Tapered star tool
Stamens
Confectioner's glaze
Flower foam pad
Edible pearl white luster dust
Edible glue
Angled palette knife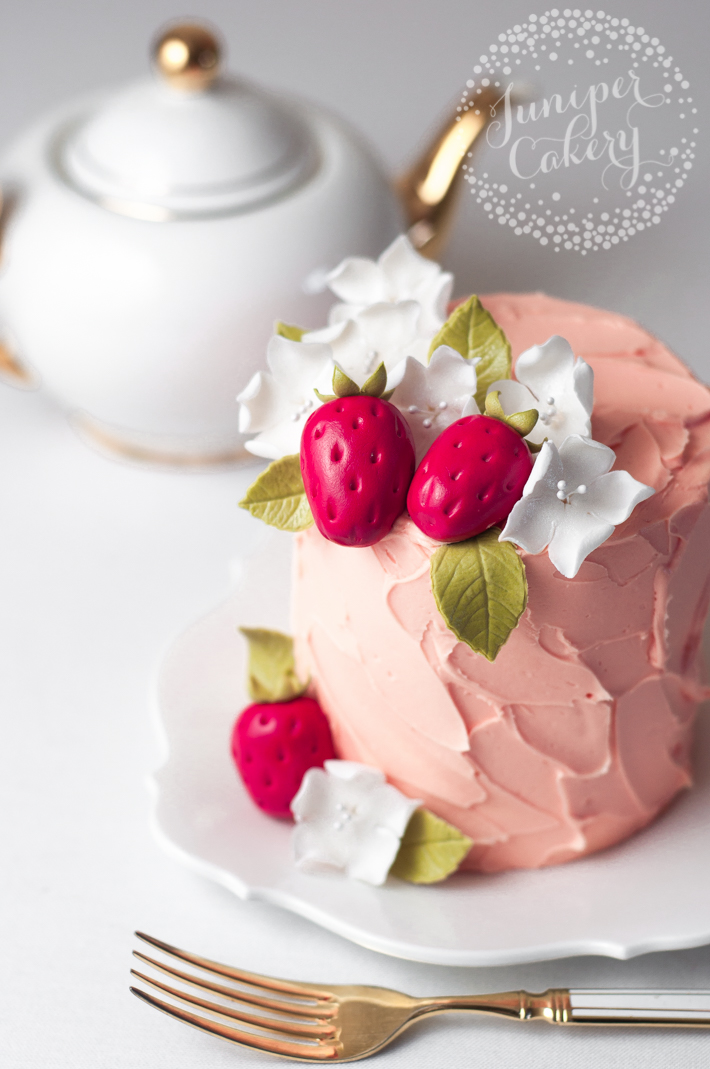 Step 1: Crumb coat your cake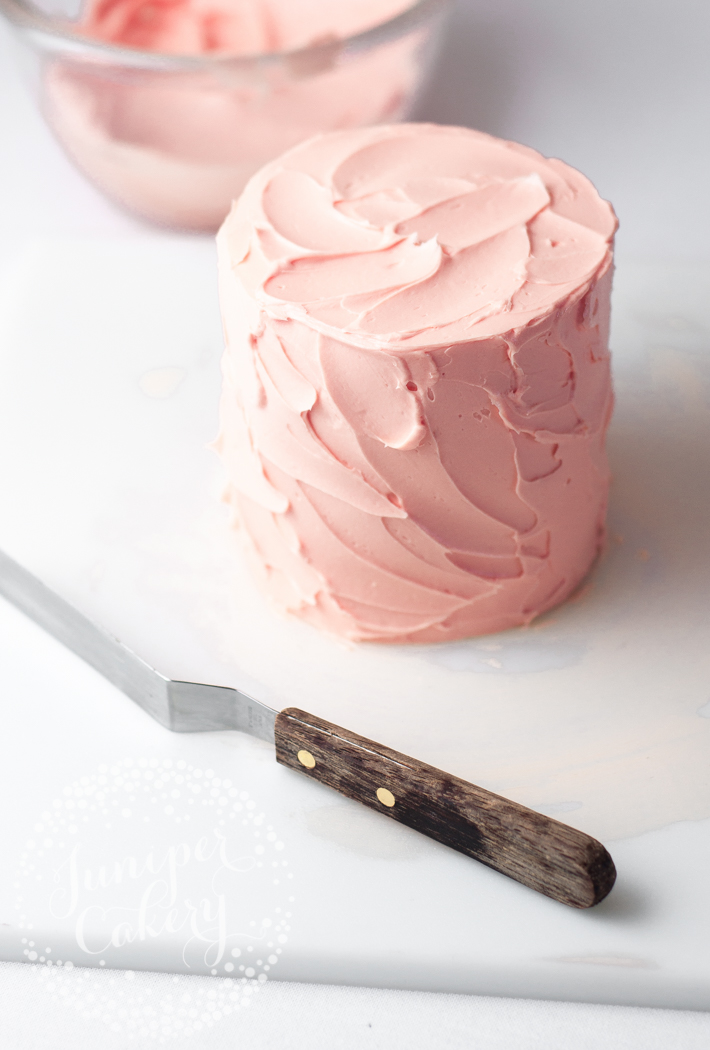 Crumb coat

your mini wedding cakes with your chosen buttercream. We used a lovely light pink, strawberry-infused frosting. Don't worry about it being perfect, as you want to end up with a carefree, rustic look anyway!
Step 2: Create a textured buttercream
To create the textured buttercream style, we used a small angled palette knife to add "blobs" of frosting around the cake. If you're not happy with them, you can easily smooth them down or scrape them off as you work your way around the cake and try again.
Place your cake in the fridge to chill a little while you work on your cute fondant decorations.
Step 3: Make the fondant strawberries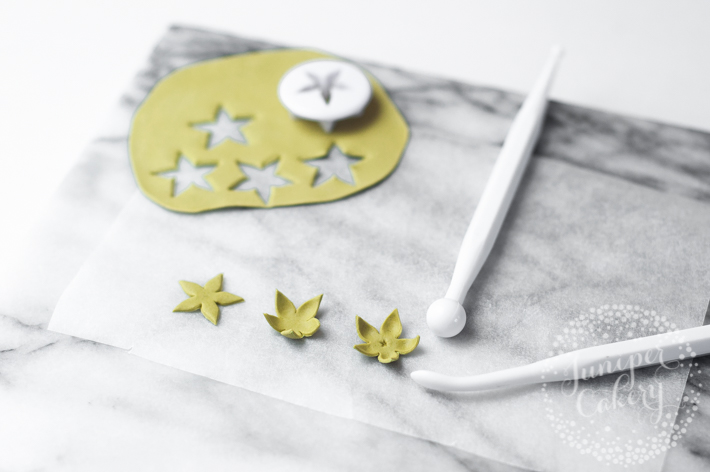 Roll out some of the olive green–tinted fondant. Cut out a series of calyx pieces using your small calyx cutter. Thin the outer leaves of each one using a medium-sized ball tool. To make them curl, begin with the ball tool at the pointed tip and drag gently towards the center of each calyx.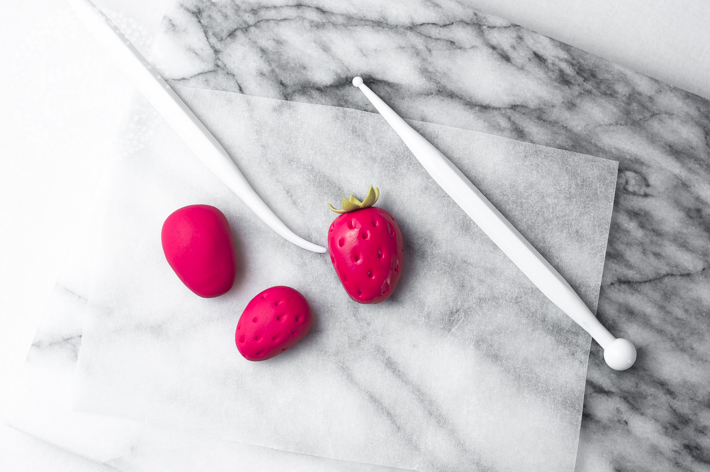 For the fondant strawberries, roll marble-sized pieces of red-tinted fondant into fat, tapered pear shapes.
Using the thinner tapered end of a veining tool, add in some seed detailing to your strawberries by indenting small notches onto the surface.
On top of each fondant strawberry, add a dab of edible glue and attach your calyx. Lightly press each down using a medium ball tool to avoid breaking or squashing the curled leaves. Indent the center of each using a tapered star tool. Finally, paint or spritz each strawberry with some confectioner's glaze for a lovely shine.
Step 4: Make the decorative fondant leaves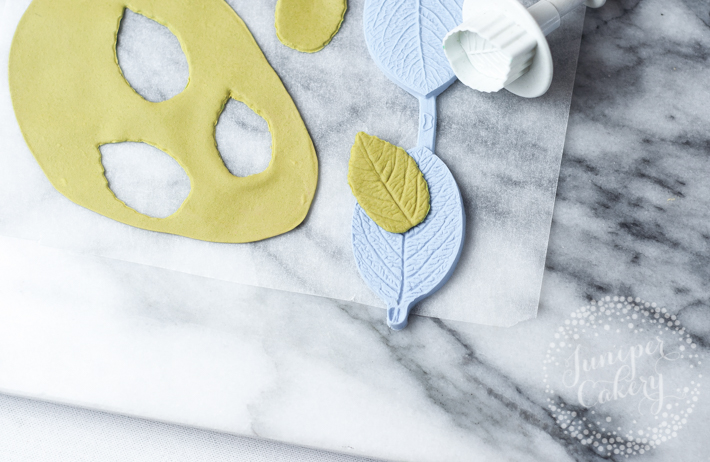 For the leaves, cut out a selection of small- and medium-sized leaves from thinly rolled olive green fondant.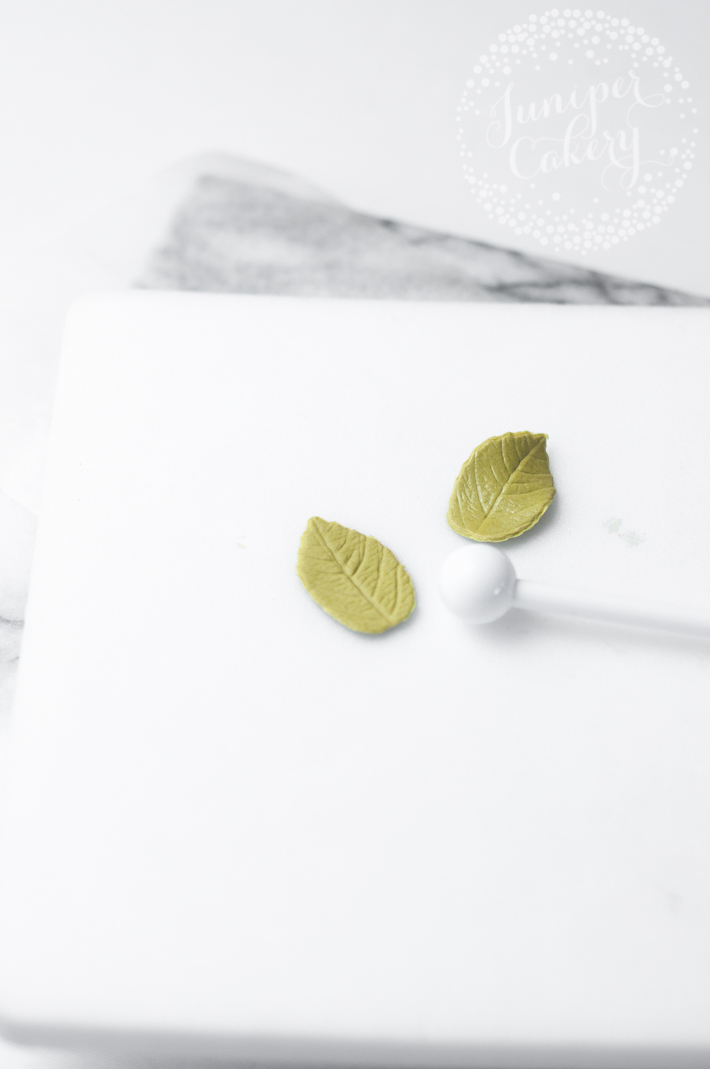 Thin and ruffle each leaf with a ball tool and flower foam pad. Set aside on flower formers to set into more natural shapes. Once they're ready, paint or spray each with a little confectioner's glaze.
Step 5: Make small fondant flowers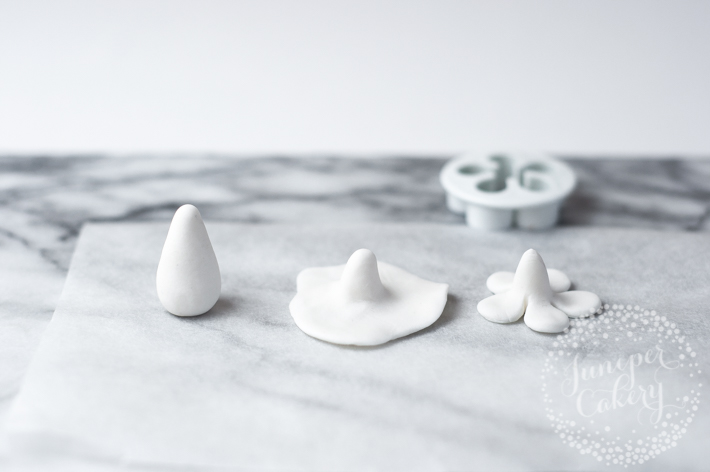 To create the pretty blossoms, shape a small amount of white fondant into a rounded cone. Using your thumb and forefinger, work your way around the base by flattening it out into a hat-like shape.
Use a five-petal blossom cutter to cut out your blossom shapes.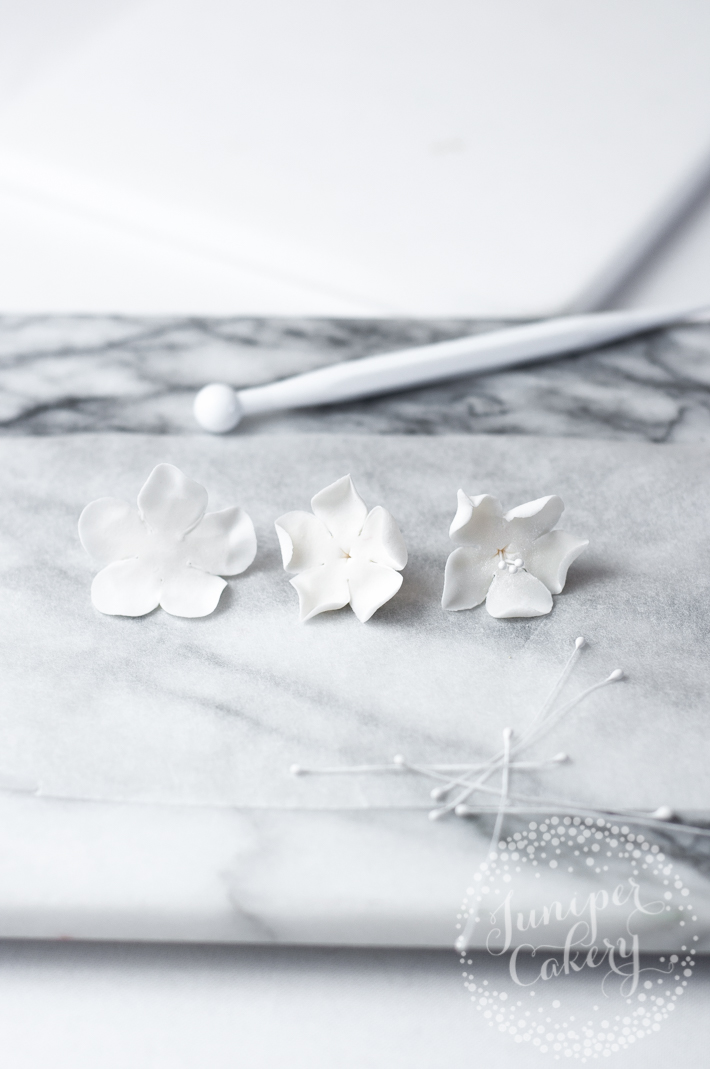 Thin and ruffle the petals of your blossom using a ball tool. You can then give them a little more of a natural look by curling or pinching random petals to shape them. Indent the center of each using a tapered star tool.
Add a few stamens to the centers. You can also pipe in royal icing dots or use edible pearls to add stamens to your flowers. Leave to set.
Step 6: Arrange the flowers and strawberries
Yay! Now you can arrange your lovely fondant strawberries, blossoms and leaves onto you rustic, frosted mini wedding cakes!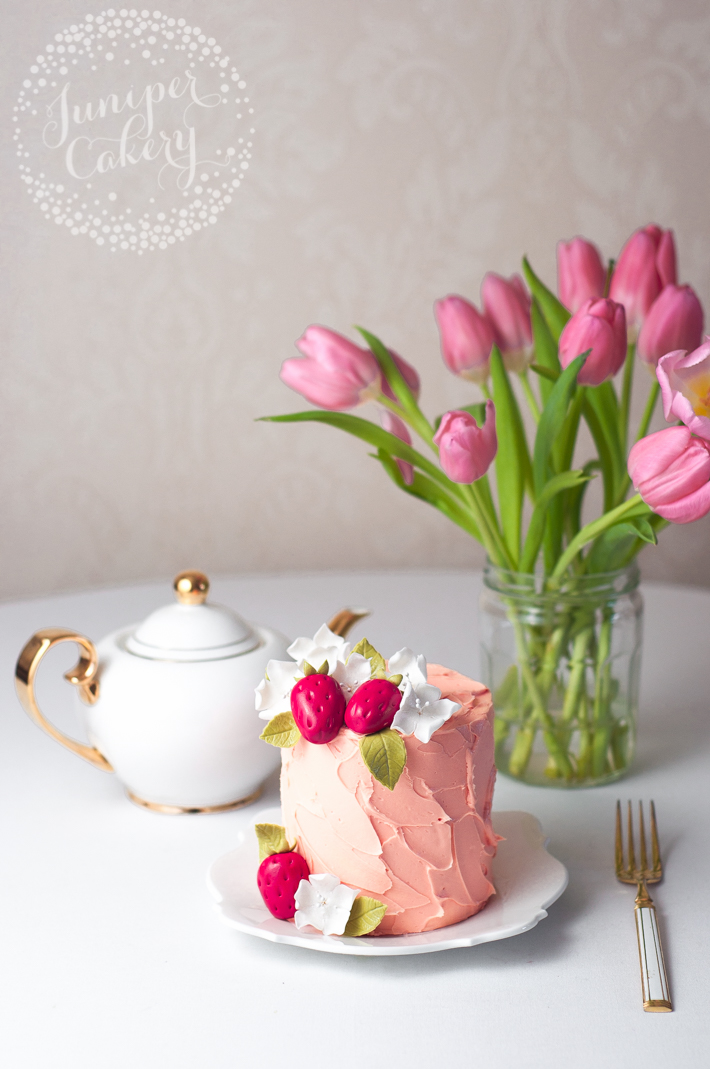 Mini Cakes for Every Occassion!
Great cakes come in small packages! Learn to make irresistible mini-cakes customized for any celebration — including precious petits fours, tiny three-tiered treats, dainty handbag designs and more — in this on-demand video class.Enroll Now »