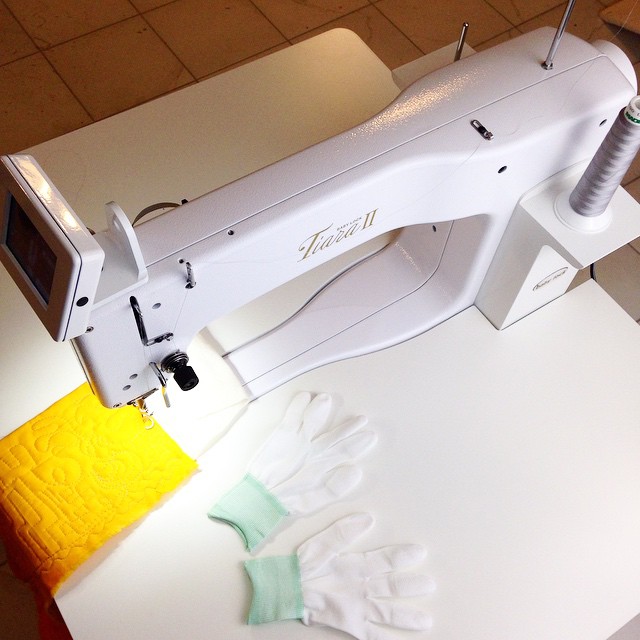 Sure, quilting on a sewing machine is perfectly fine. But if you're ready to upgrade, you may want to look into a mid-arm quilting machine. Yes, they're pricier and take up more space, but they're specifically designed to make quilting soooo much easier. No idea how? Oh, let us count the ways.
1. They Have Loads of Throat Space
Mid-arm machines have throat space ranging from 16 to 22 inches, which is two to three times as much as the average home sewing machine. There's also a generous amount of vertical quilting space, allowing you to easily slide even a king-sized quilt under the needle.
2. There Are Two Different Orientations
When you quilt on a sewing machine, the machine sits sideways. Mid-arm machines can do that or be situated so you're facing the needle straight on. It's ideal for quilting large projects, when it's helpful to see the entire work space. (For the record, long-arm machines have this feature too).
3. They Hold More Thread
Mid-arm quilting machines come with two bobbins: an L-size, which is found in a standard home sewing machine, and an M-size that holds about three times as much thread. The larger bobbin needs to be changed less often, while the smaller one is perfect for detailed quilting work. Bonus: mid-arm machines usually come with the bobbin located under the table, so you don't have to remove your quilt to change it.
4. You Can Choose the Level of Control
Many mid-arm quilting machines, from the Baby Lock Tiara III to the Handi Quilter Sweet Sixteen , let you add on a stitch regulator to provide more speed control and accurate stitching. If you like to set your own stitching rhythm though, just skip the stitch regulation and save yourself $1K from your total price.
5. They Work Faster and Have Fancy Features
The more powerful motor on mid-arms like APQS George and the PFAFF Powerquilter 16.0 means you can stitch up to 1,500 times a minute. Additional bells and whistles include a color touchscreen, a needle up-down button and additional feet that help you see more of the quilt.
Good to Know: Now, what's the difference between a mid-arm and long-arm quilting machine? While both are specifically made for free-form quilting , mid-arm models are smaller, come with their own table so you can sit as you quilt, and are often cheaper. Long-arms have multidirectional, flexible needles you can move over the quilt, whereas a mid-arm has a stationary one, putting you in charge of moving the fabric.