While I enjoy just about every kind of cookie you can think of, I'll always have a soft spot for crisp, crunchy biscotti. Almost every coffee shop out there sells them (because they are great for dunking!), but you can learn how to make biscotti at home to enjoy at any time.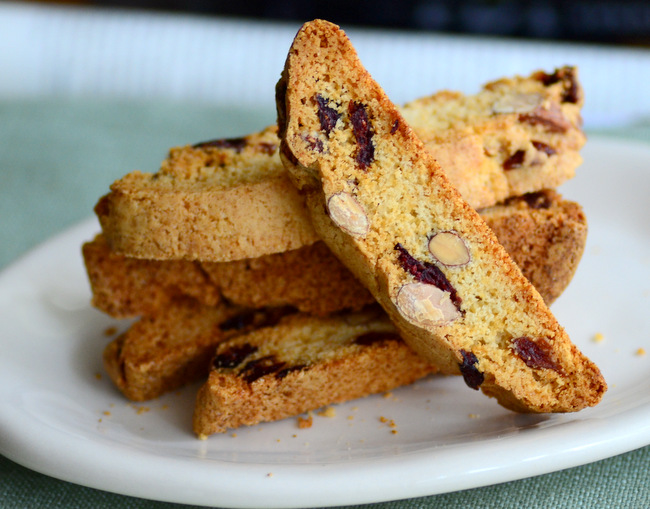 What are biscotti?
Biscotti are twice-baked Italian cookies that are the perfect pair for a cup or coffee or tea.
Biscotti start with a fairly straightforward cookie dough, but biscotti dough has more leavening and more eggs than a typical cookie dough. The biscotti need to have a cake-like consistency at first, with an even crumb that gives the finished biscotti a crisp and tender texture.
The key to biscotti is not in making the dough, but in shaping it.
The sticky dough is formed into a log on a parchment-lined baking sheet. The log is then patted down to a uniform size and shape, then it is baked until the log is set. As the log bakes, it will spread quite a bit, becoming thinner around the edges. Afterward, it's cut into slices, creating the recognizable oblong shape of traditional biscotti.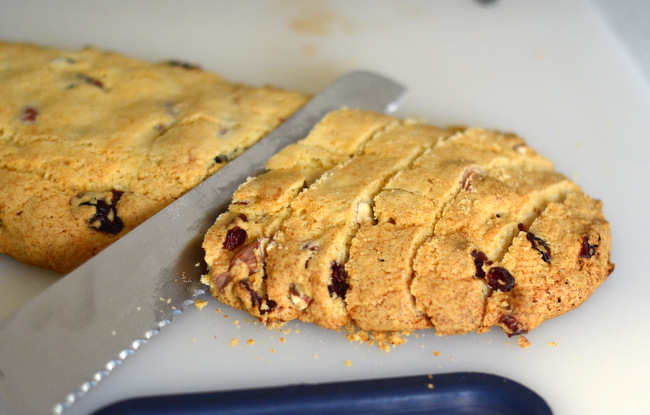 You need a very sharp knife to cut the dough, because you want the cookies to have straight sides and because you need to cut through any mix-ins in the dough. I recommend using a very sharp, serrated knife (though a good chef's knife can also be used).
After being sliced into individual cookies, the biscotti return to the oven for their second bake.
The cookies are cake-like and soft when they first come out of the oven in log form, but they dry out to a much firmer consistency after their second trip. The finished cookies are crisp without being too hard and have a wonderful texture.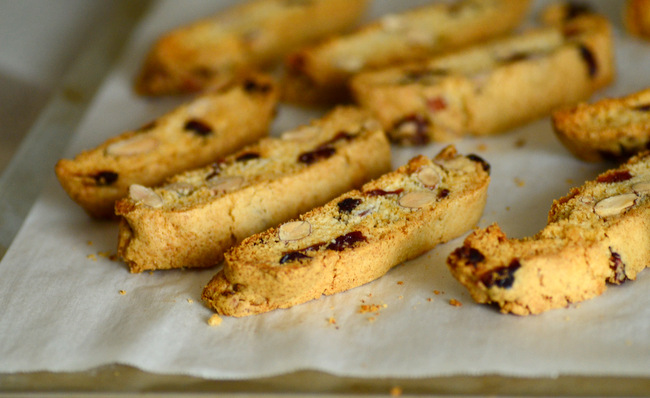 Mix-ins for homemade biscotti
Almonds are one of the most traditional mix-ins for biscotti, but you can use a wide variety of additions when making your ow. The ones I made used dried cherries and whole, toasted almonds.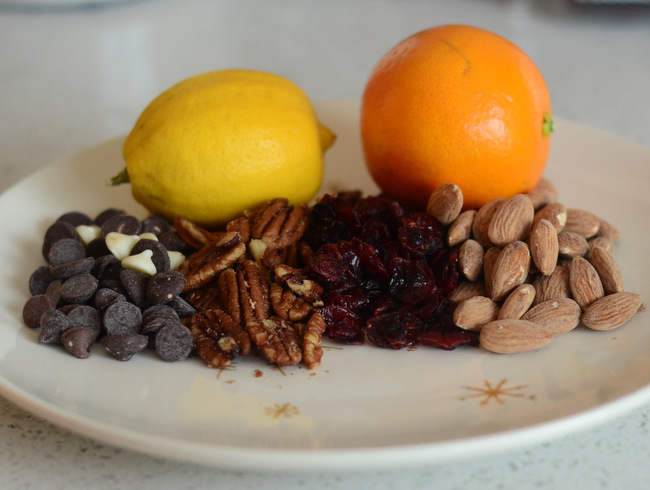 You can easily substitute any dried fruit for the cherries and any other nut for the almonds. I don't recommend fresh fruit in biscotti because it has too much moisture, which will compromise the texture of the finished cookies.
Here are some other flavor combinations to try:
Dried apricots and toasted pecans
Orange zest, dried cranberries and toasted walnuts
Dried blueberries and toasted almonds
Shredded coconut and chocolate chips
White chocolate and macadamia nuts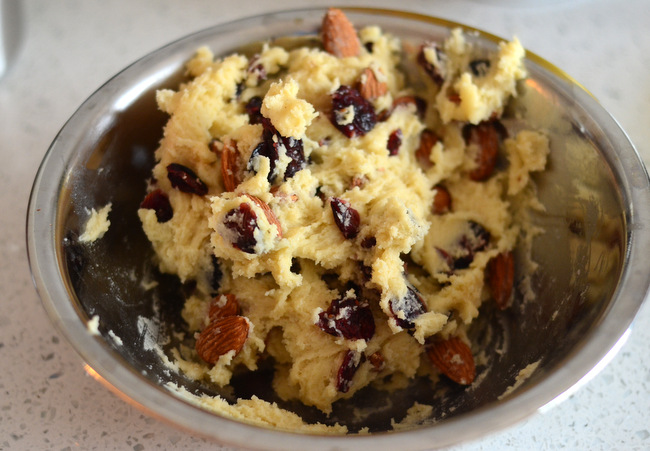 Cherry almond biscotti recipe
Makes about 4 dozen cookies
Ingredients:
3½ cups all-purpose flour
1

½

 teaspoon baking powder

½

 teaspoon salt

½

cup butter, room temperature
1

½

cups sugar
3 large eggs
1 large egg white
1 teaspoon vanilla extract
1 cup whole, toasted almonds
1 cup dried cherries, very coarsely chopped
Step 1:
Preheat oven to 350 F. Line a baking sheet with parchment paper. In a medium bowl, whisk together flour, baking powder and salt.
Step 2:
In a large bowl, cream together butter and sugar until light. Beat in the eggs, egg white and vanilla extract until mixture is uniform and all ingredients are well combined. Gradually blend in the flour mixture until a thick dough forms.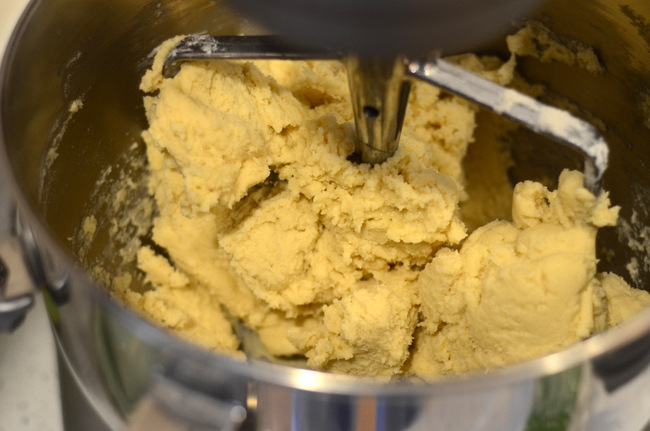 Step 3:
Stir in almonds and cherries (or your mix-ins of choice) until well-distributed in the dough. 
Step 4:
Divide the dough in half. Using a spoon or spatula, arrange dollops of dough in rough log shapes on your prepared baking sheet. Leave at least 6″ between the logs so they have room to spread.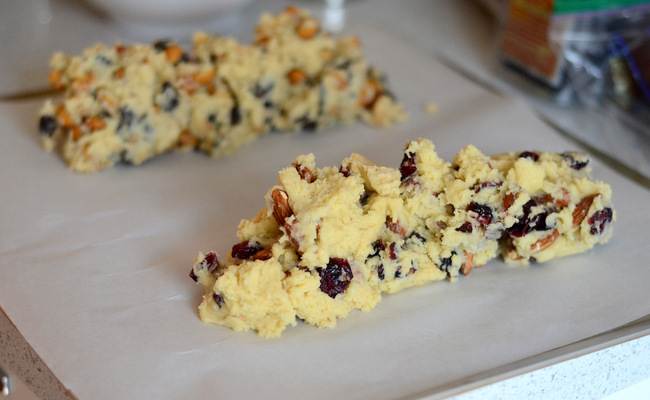 Step 5:
Dust the log with a little flour if it's too sticky to handle. Then, using your hands, smooth each log of dough until it is about 1″ high and 2″ wide.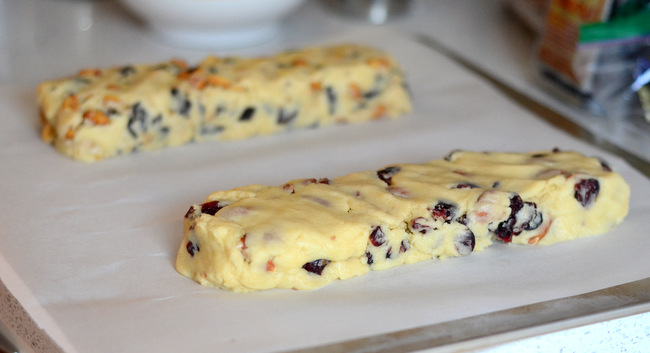 Step 6:
Bake for 30-35 minutes, or until logs are golden brown around the edges and spring back when lightly pressed in the center. Transfer logs to a wire rack to cool for 10 minutes.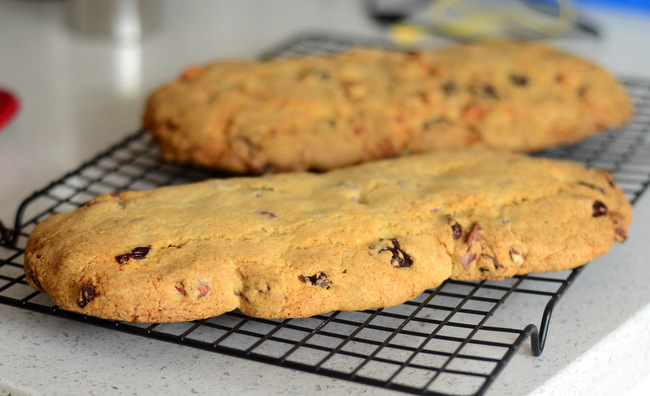 Step 7:
Lower the oven temperature to 325 F.  Transfer the still-warm cookie logs to a cutting board. Using a sharp knife, cut the logs crosswise into ½"-thick slices (or thinner, if you prefer a thinner biscotti).
Step 8:
Place cookies back on the parchment-lined baking sheet and bake for 10 minutes. Flip cookies over and bake an additional 10 minutes, until golden brown. Cookies will be firm, but not hard, and they will continue to firm up as they cool.