When it comes to sugar flowers that really make a statement we love the gloriously elegant and poised magnolia. It's eye-catching and show-stopping at the same time; plus it's perfect for adding a little extra to both ornately traditional tiers as well as sleek and modern cakes. If you're looking for a little sophisticated inspiration on how to use sugar magnolia flowers on your next design, then look no further!
Here's our list of five gorgeously glamorous and floral magnolia cake designs!
Magnolia cake with gold sequins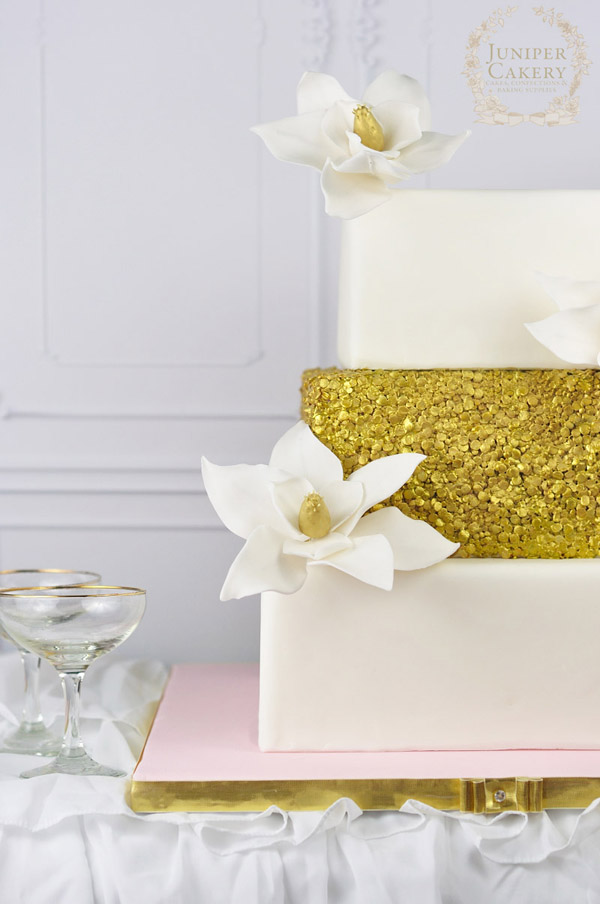 Photo via Juniper Cakery
If you're hoping to create a luxurious wedding cake with a subtle yet modern feel, why not play with adding a little element of texture on a tier or two? The simple cake that we created above utilizes a rather fancy technique and look that we adore — edible gold sequins!
The addition of hand-painted metallic sequins helps to evoke a touch of modern and fashionable luxury as well as inject the perfect amount of glimmer to a design; perfect for stunningly bold sugar magnolia flowers. To tie-in the magnolias to the glistening sequins, we also dusted the centers with a good amount of edible gold luster dust!
Pink Magnolia flower cake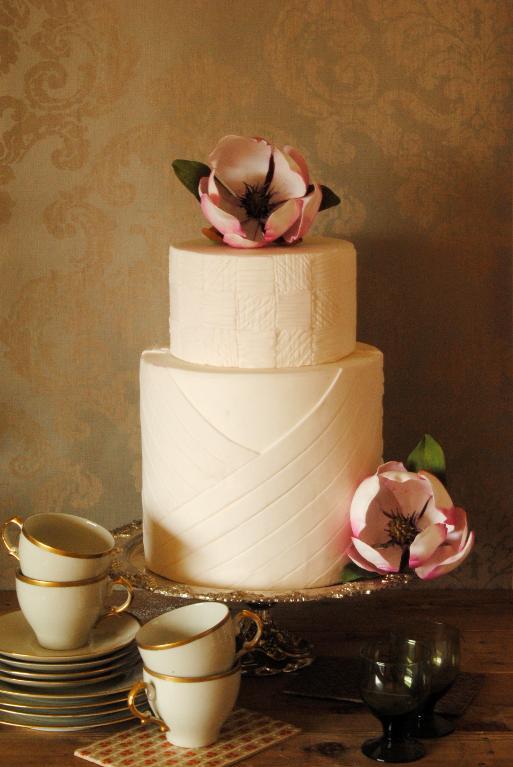 Photo via Craftsy member Liv Sandberg
Magnolias are also beautiful with a little dusting of color to the tips of their petals. We absolutely love the touches of vibrant pink blossom dust that accentuates the crisp curve of the petals on their ivory cake design.
The minimal color palette that inhabits the actual cake is perfect as the tiers harbor a few different elements of texture from the sleek linear paneling of the base tier to the more shabby chic styling of the top. Balancing the colors of both the cake and the floral adornments really helps to keep a design grown-up and elegant.
Sugar Magnolia cake with silver leaf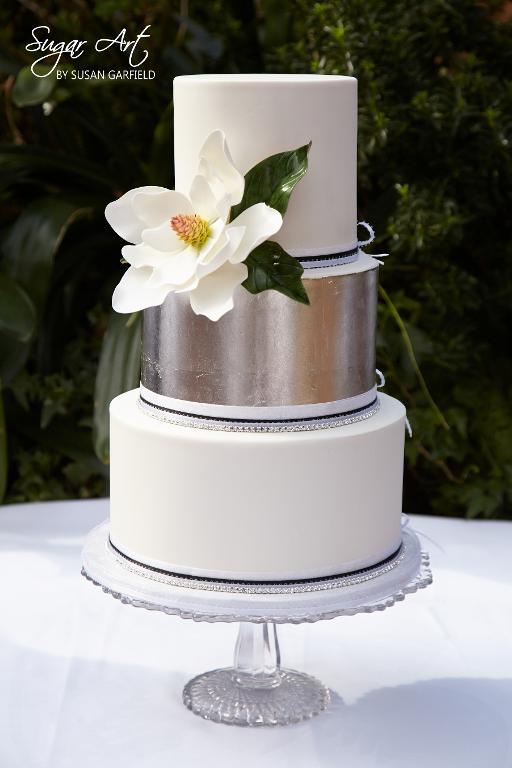 Photo via Craftsy member SugarArtBySusan
Metallics are always fabulous design elements to pair with more refined sugar flowers in order to create a fashionably chic wedding cake and this silver leaf wrapped cake is no exception. This design is bright, luxurious and expertly stylish with it's crisp, straight edges, shining silver leaf, textured ribbon trimmings and the terrific ruffled Magnolia flower that finishes the design perfectly!
Grazioso Magnolia cake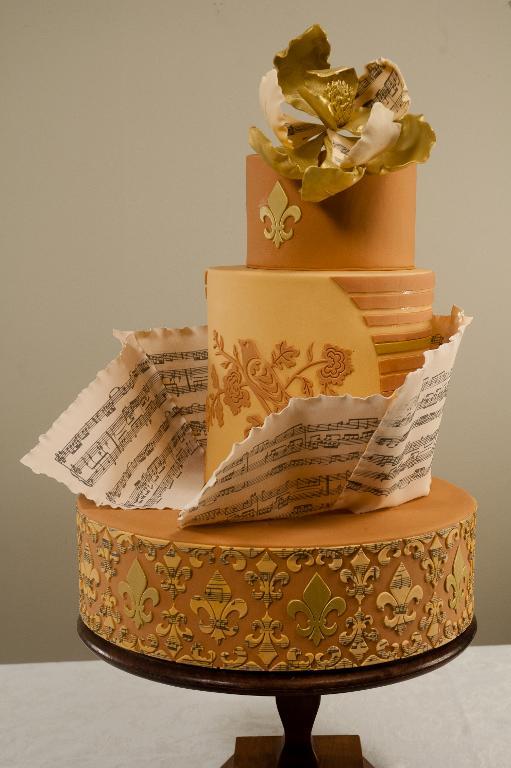 Photo via Craftsy member Leyda Vakarelov
What an incredible and unique design concept this 3 tiered design encompasses! We love the drama that this cake evokes from it's expertly cut fleur de lis motifs, edible musical score wrap and golden Magnolia flower perched on top.
Adding the musical notes to the flower's petals mimics the music references that appear throughout the cake and also instils another element of drama and intrigue to the cake's design. For a truly unique look play with different artistic influences from fashion textures, architectural detailing, art movements or period led styles!
Magnolia flower and lace cake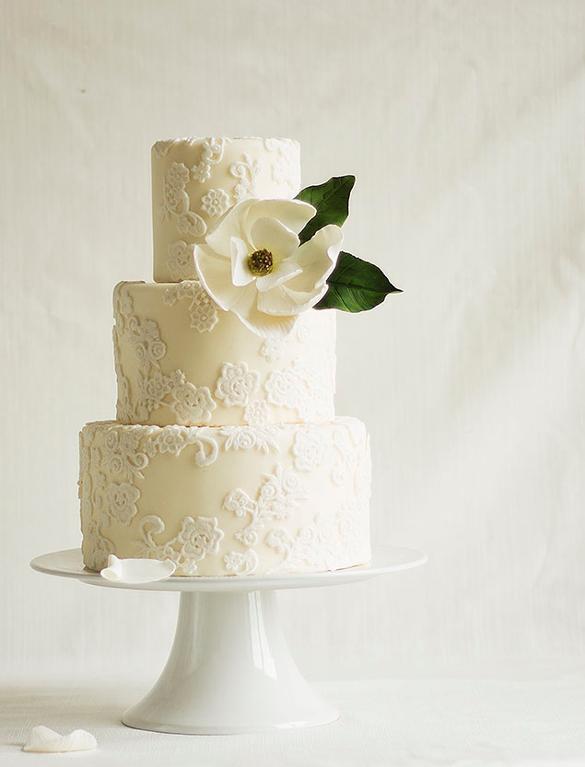 Photo via Craftsy member ModernLovers
Lace is a great companion to both bold and romantic sugar flower arrangements so of course it works wonderfully paired with striking magnolia blooms. Sometimes, you also don't need a lot of color to help make a cake really stand out from the crowd as this elegant cake easily demonstrates. When working with lace design elements on a cake always remember to consider the empty spaces as well as the pretty lace motifs to help get the balance just right!
We bet you're now a fan of the subtle yet show-stealing magnolia flower now! They're so versatile and their large structured shape and form helps make them wonderfully elegant focus flowers in arrangements or even on their own. If creating a pretty bunch of sugar flowers including the bold magnolia bloom our tip is to keep the other flowers smaller and simple to avoid taking any attention away from the magnolia!
If you're super inspired to get creating your own exquisite sugar magnolia flower, then we're sure that Maggie Austin's Southern Sugar Flowers: Magnolia and Dogwood online cake decorating class is simply perfect for you! You'll learn how to create wonderfully graceful flowers perfect for gorgeous cakes with up-closes, step-by-step video instruction!
What's your favorite sugar flower to create?