Sometimes, the greatest secrets are hidden in the most unlikely places. This is true not only in life, but in the world of cake, too! While most cakes are decorated after being frosted, wearing their decorations for all the world to see, others keep their sweet splendor hidden in the middle. In the case of these cakes, a fairly ordinary fluff of icing may cover the patterns, colors, or shapes inside of the cake, making for a dramatic and crowd-pleasing effect once the cakes are cut, revealing extraordinary interiors.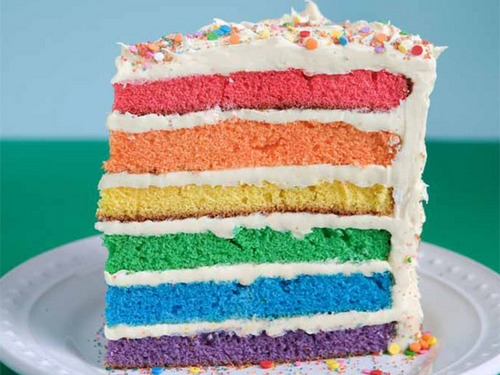 Photo via Clare Barboza
Rainbow Layer Cake: This is the perfect choice for a child's birthday party, but will delight eaters of all ages. Although time consuming, it's not difficult to make: simply bake each cake layer tinted a different color and assemble in order of the colors of the rainbow. When frosted in a cloud of white frosting, this cake is high on the "ooh" factor even after the candles are blown out and the cake sliced!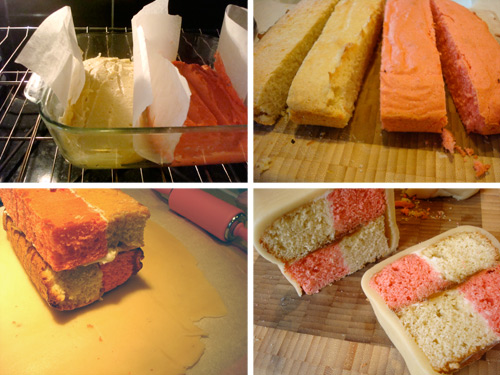 Photo via Jessie Oleson Moore
Checkerboard Cake: There are a few different types of checkerboard cakes. One famous example is the Battenberg Cake, which is served in a loaf cake style, with two colors of cake being baked in flat loaves and then cut and stacked to resemble a checkerboard. For a more intricate checkerboard pattern effect, though, try it as a round layer cake. There's actually a special pan that makes creating a checkerboard cake a snap, with "dividers" which form stacks of concentric circles of alternating colors of cake batter. What looks like spirals of different colored batter in the pan, slices as a fancy-looking checkerboard pattern.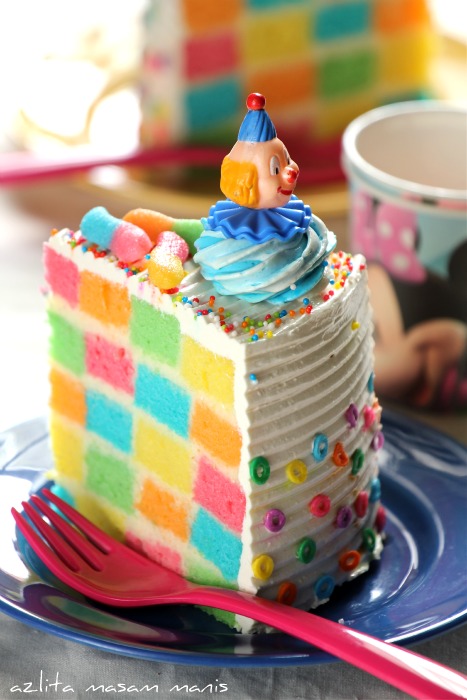 Photo via Masam Manis
Rainbow Checkerboard Cake: Why stop at a mere rainbow cake, or a mere checkerboard cake, when you can make both effects even better by combining them? This confectionery wonder, from the blog Masam Manis, uses the checkerboard method with layers of rainbow cake, for an awe-inspiring result.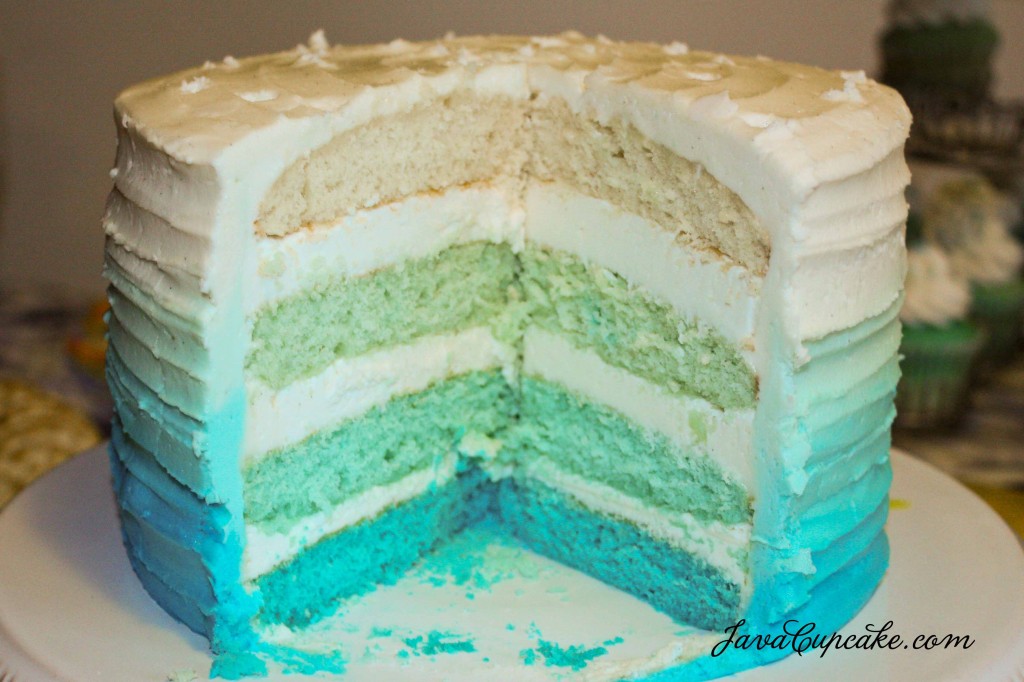 Photo via Java Cupcake
Ombré Cake: Ombre cakes are similar to rainbow layer cakes, but instead of using the colors of the rainbow, they're assembled with layers of cake which are all shades of the same color, from dark to light, making for a gradient of color. As seen by this beautiful example by Java Cupcake, it has the same "wow" factor when sliced into as the aforementioned rainbow cake, but the color palette can be tailored to an event (such as wedding colors) and has a more sophisticated, grown-up look.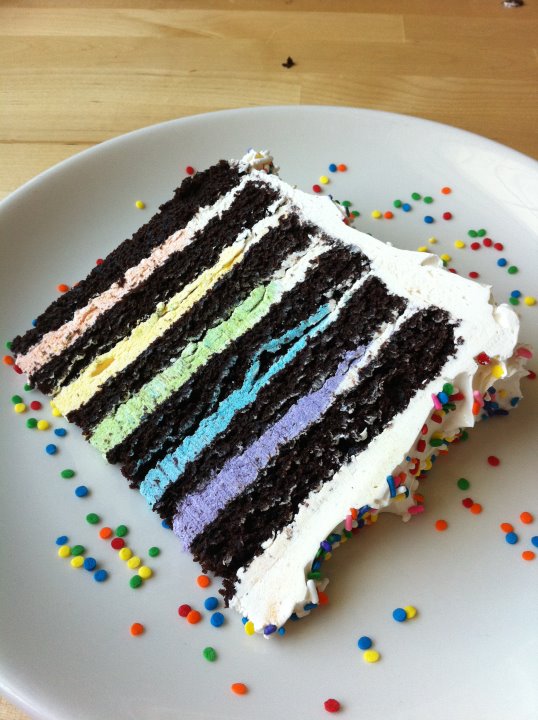 Photo via Fields of Cake
Rainbow Icing Layers: Tinting cake layers isn't the only pretty way to achieve a colorful effect. Cakes made with varying colored layers have become quite popular, but an equally lovely effect can be attained by tinting the icing instead of the cake, as in this cake by Fields of Cake, in which chocolate cake layers are iced with rainbow hued frosting. Best of all? This is a very easy method of making a cake's interior very special–simply divide your icing and tint it in the colors of the rainbow before icing between layers!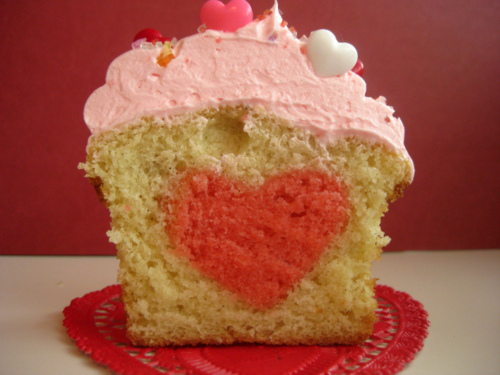 Photo via Bake it in a Cake
Cakes with Hearts: How better to show that there's love in the oven than by putting a heart in your cake? It's not hard to do: simply divide a small amount of your cake batter from the rest, tint it pink (or any other color!) and bake in a shallow pan. Cut out the hearts with a cookie cutter or by hand, and insert in your cake pan or cupcake tins, surrounded by the contrasting-colored remaining batter, and bake. Voila: hearts in cakes!
Of course, another awfully adorable method is to pipe in icing hearts, as in the case of this cake by I Am Baker. Form sweet little hearts to delight eaters and elicit coos about how cute it is! This tutorial details the process.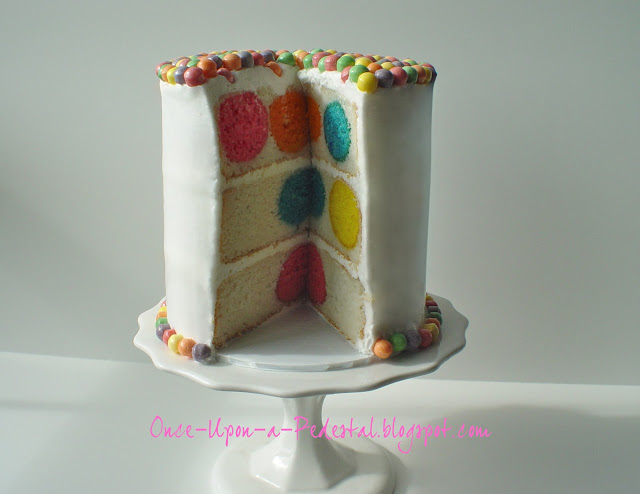 Photo via Once Upon a Pedestal
Polka Dot Cake: This cake is already quite pretty, but the true essence of its delight becomes evident when you can see the polka dot interior hidden within. Once Upon a Pedestal created this work of confectionery art by first baking cake "balls" which are then added to the batter. They bake up as polka dots which delight the eye.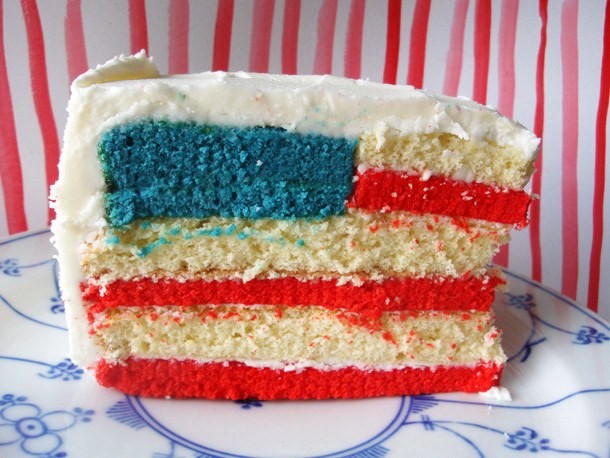 Photo via Jessie Oleson Moore
American Flag Cake: It might look like a plain ol' vanilla frosted cake from the outside, but inside it's an all-American party! This festive flag cake is made by baking separate-colored cakes, which are then assembled in pieces and then crafted together so that the slices form flag shapes when cut into. Not difficult to make, this is the perfect patriotic sweet for a 4th of July party!
What's your favorite magic in the middle cake?
In case you missed it, check out inspiring sweet sixteen cakes. Be sure to tune into the Bluprint blog to learn how to make royal icing flowers this Saturday.