Sewing a straight 1/4" seam is the first and foremost rule for quilting; however, let's take a look at the other specialty sewing machine feet that can help quilters with a variety of quilting tasks.
Enroll in the FREE class Sewing Machine Feet from A to Z for more detail!
The 1/4" foot is very useful for quilters. While this foot comes standard with many machines, you may need to purchase it separately depending upon what make and model machine you have. A 1/4" foot helps ensure that the distance from the needle to the edge of the foot is a scant 1/4" required for most piecing and quilting. Be sure to check the measurements of your seam even when using a 1/4" foot, though. Some machines might require an adjustment of the needle to the right or left to stitch that perfect scant 1/4" seam.
The walking foot is also extremely useful for quilters; most view it as a necessary item for doing machine quilting on a home machine. The walking foot is very important as it keeps the bottom fabric feeding at the same speed as the top fabric, ensuring even stitches. The walking foot is even useful for attaching binding to the edges of a quilt. When attaching binding you will be sewing through several layers: the backing, batting, quilt top, and two layers of binding. The walking foot is great for ensuring that these layers move together preventing puckering in your quilt fabrics while attaching the binding.
The free motion or darning foot is extremely useful to quilters. While using this foot for free motion quilting, be sure to lower the feed dogs on your machine so the fabric can be easily moved while quilting. Most machines have a lever which lowers the feed dogs; however, they can also be covered with painter's tape for free-motion quilting when such an option doesn't exist on your machine.
An open-toe machine foot is commonly used for quilting. These feet have either an open center or a center with a clear plastic base that makes it easy for the quilter or sewist to see exactly where they are stitching. This can be extremely helpful to a quilter using their machine for a variety of machine appliqué stitches.
Finally, most machines also come with another specialty attachment that is useful for quilters, the quilting bar. A quilting bar attaches to the back side of the presser foot and allows the quilter to quilt evenly spaced lines on the quilt. The bar can be adjusted to a variety of widths and is also useful for topstitching.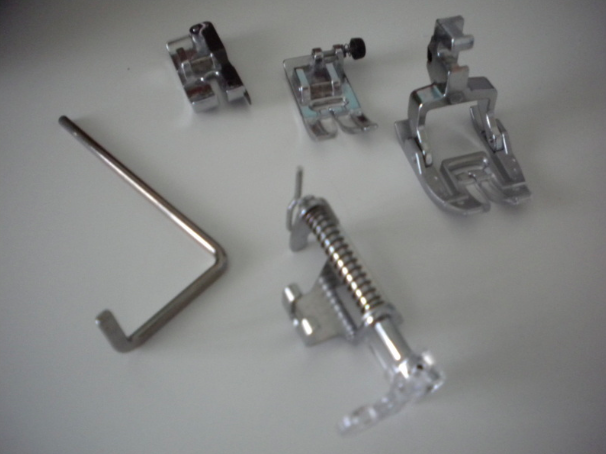 Machine feet and attachments clockwise from top left: ¼ inch foot, open toe foot, walking foot, darning or free motion foot, quilting bar.
So while most quilting involves the straight 1/4" stitch, don't forget to use these other helpful machine feet. Do you have any other tips on using machine feet commonly used for quilting?
You might also enjoy machine quilting designs for borders and machine quilting designs for log cabin quilts.