Mermaid cakes and cupcakes are in high demand for little girls who dream of being part of that magical world under the sea! Disney's The Little Mermaid was originally released in 1989, but continues to be a tremendously popular theme, especially with today's re-release of the animated film on Blu-ray. Not surprising, the Little Mermaid has found her way into the world of cake decorating and design.
This collection of mermaid cupcakes, cakes and sweet treats will provide you with the perfect inspiration and ideas to fit your next sea life project swimmingly.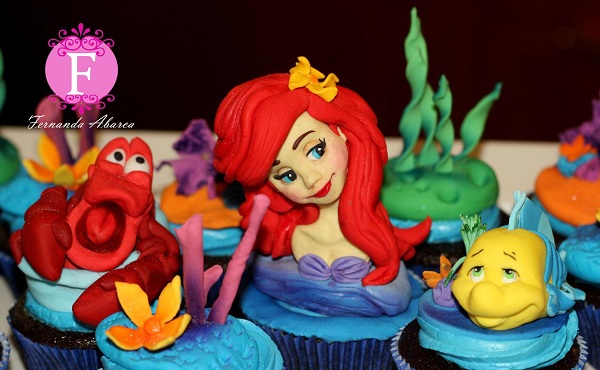 Photo via Fernanda Abarca Cakes
Little Mermaid cupcakes:
This absolutely exquisite set of cupcakes was designed by Fernanda Abarca Cakes for an event at Walt Disney Animation Studios. The figures from the movie were hand-sculpted out of fondant and capture the characters' personalities perfectly, bringing them to life with modifications in their eyes, eyebrows, mouths and head placement. You can easily set the scene with coordinating icing colors to match the ocean and supplement with additional sea life.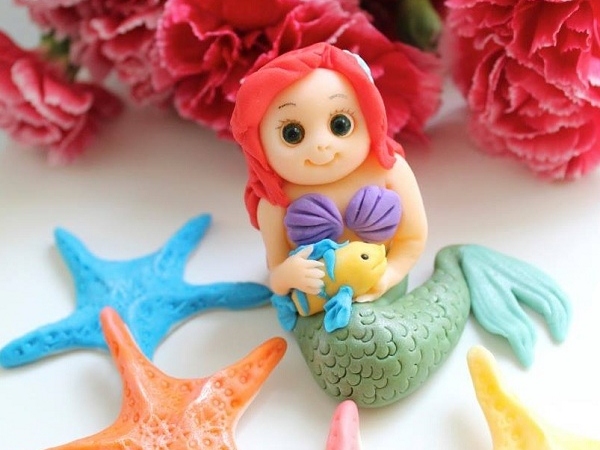 Photo via MimiCafe Union
Little Mermaid fondant figure:
MimiCafe Union does an dazzling job with sculpting small and incredibly detailed fondant people to top cupcakes, and this adorable mermaid figure does not disappoint! When creating figures, it is very important to plan accordingly to ensure all the body parts are proportionate to each other.
Learn how to sculpt adorable figures like these with gum paste in the Bluprint class Cake Topper Techniques: Figure Modeling with Anne Heap.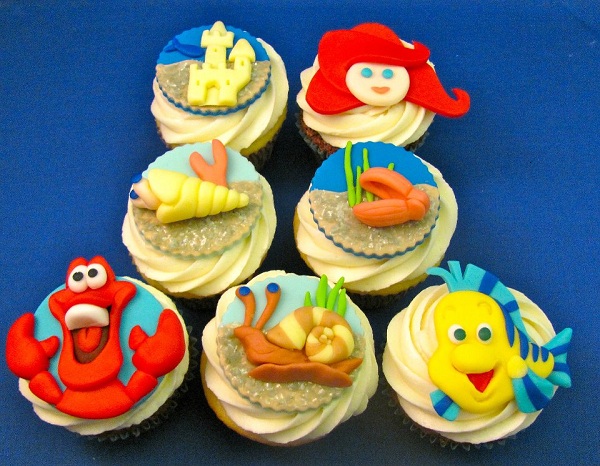 Photo via Zoey Cakes
Little Mermaid fondant cupcake toppers:
Zoey Cakes created this adorable and charming set of fondant cupcake toppers by focusing on flattering designs as a background and adding protruding elements within the characters and supplemental decor to add dimension. The color choices also tie the collection together perfectly by utilizing one main hue (blue) throughout the fondant toppers and proportionately spreading out the accent colors to create a cohesive story.
Check out our blog post on Cake Designing in Color to learn more about planning your color scheme so that your final product is aesthetically pleasing.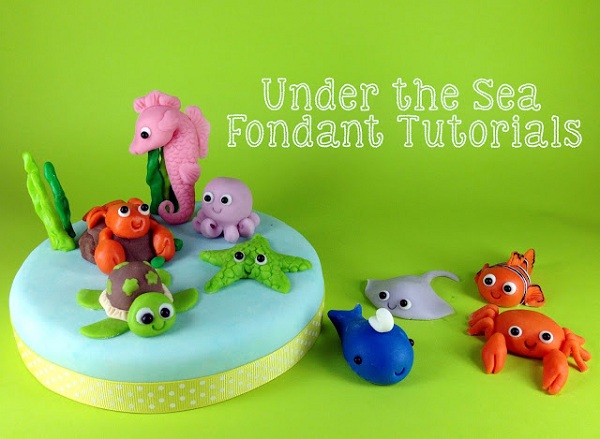 Photo via Bake Happy
Under the sea fondant toppers:
Though mermaids are often the center of attention, the vast amount of sea life found in the oceans cannot be forgotten! These precious fondant figures by Bake Happy are the perfect addition to any sweet mermaid creation. Check out Bake Happy's extremely helpful Clown Fish tutorial, which also links to step-by-step instructions for a few other sea animals and a three-dimensional mermaid topper.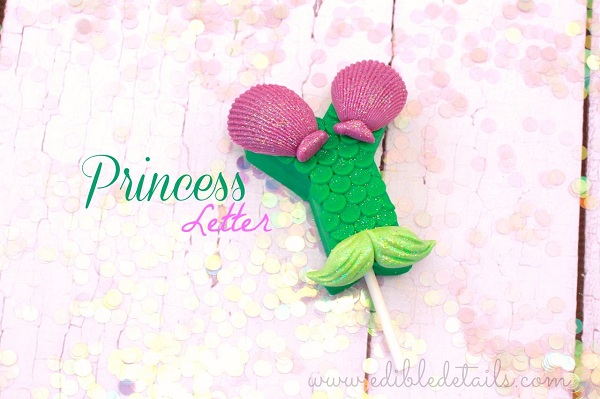 Photo via Edible Details
Mermaid princess fondant letter:
To personalize a cake topper, Edible Details so creatively molded this adorable fondant letter to resemble a mermaid by adding texture for the scales on the tail and adorning the remainder of the letter with fins and chocolate seashells. This is a great way to craftily interpret the theme without being so literal, while customizing the design to the guest of honor.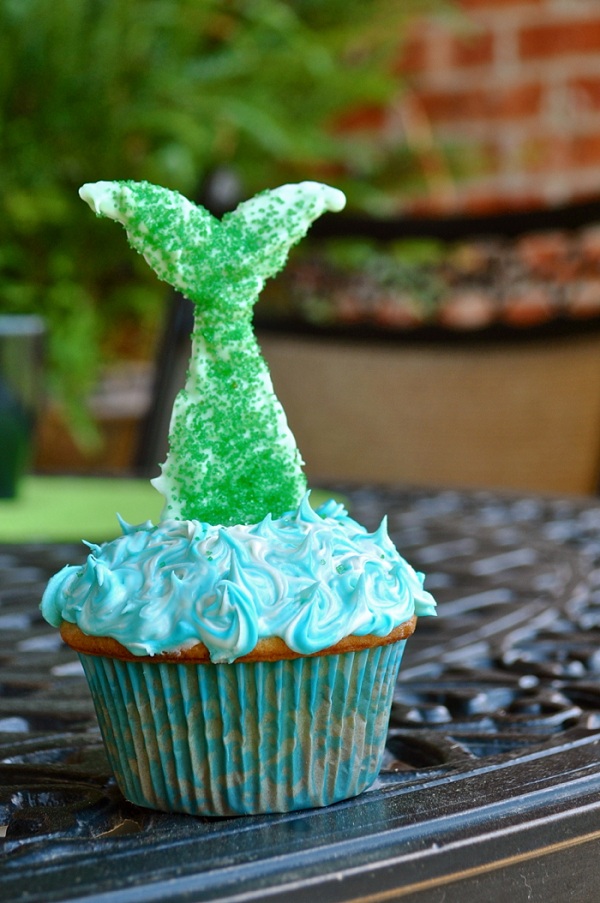 Photo via Mrs. Dork
Mermaid tail cupcake topper:

Another clever way to carry out a mermaid theme without the use of actual characters is to embellish your treats with mermaid tails, as blogger Mrs. Dork has done with this simple, yet incredibly charming cupcake. Her Mermaid Tail tutorial includes a demonstration using piping techniques to create the tails out of chocolate/candy melts, as well as the use of decorating tips with two-toned icing to achieve the ocean water and wave effect.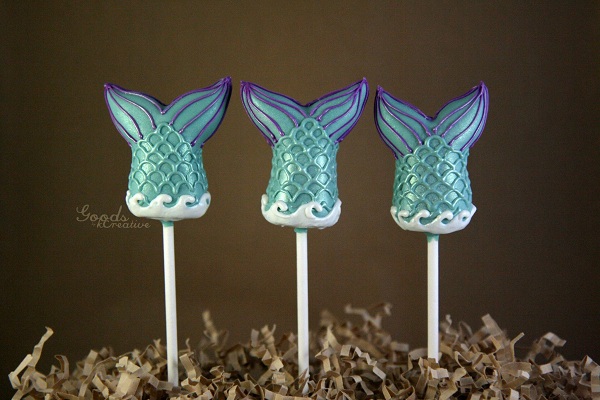 Photo via kCreative Cake Pops
Mermaid Tail cake pops:
These mermaid tail cake pops by kCreative Cake Pops are simply stunning! The iridescent color used makes them glisten as if truly splashing out of the water, while the piping details add texture to the scales.
Learn how to make cake pops at home with our step-by-step cake pop tutorial.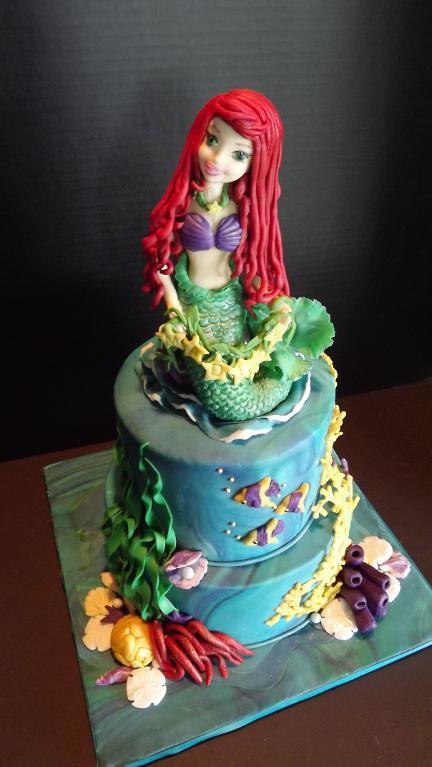 Photo via Bluprint member Vagabond Baker
Little Mermaid two-tier cake:
Cake artist Vagabond Baker sculpted this jaw-dropping Little Mermaid cake while enrolled in the Crafty course Cake Topper Techniques: Figure Modeling with Anne Heap. From the gorgeously modeled mermaid to the sea life and tiers covered with marbled fondant, this cake is a showstopper even from fathoms below!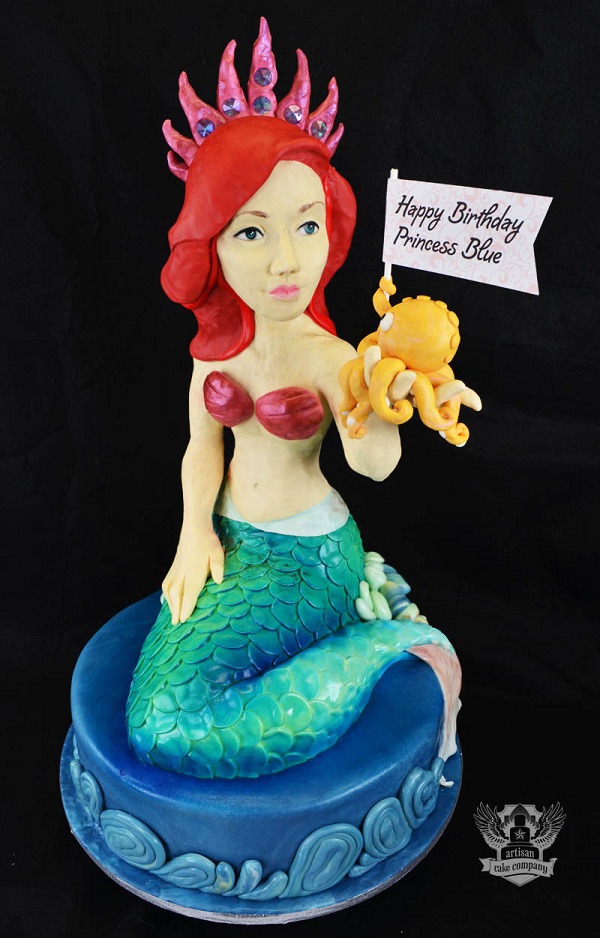 Photo via Bluprint member Artisan Cake Company
Gorgeous mermaid cake:
Amazing cake artist and Bluprint member Artisan Cake Company sculpted this unbelievably splendid mermaid cake with the use of PVC pipes and materials to create the structure, covering it in RKT (Rice Krispies Treats) and fondant, and finishing it off with cake for the tail and water. Her generously shared Mermaid Cake tutorial outlines the step-by-step instructions for this cake that measures more than 2-feet tall. It was created for a benefit supporting the incredible nonprofit organization, Icing Smiles, which provides celebration cakes for families impacted by the critical illness of a child
These mythical aquatic creatures not only capture the imaginations of children in legends and stories, but also bring the beauty and mysticism of the sea to life in these marvelous sweet creations!
For more sea-themed cake inspiration, check out our roundup of beach cakes. You might also enjoy our fondant Minion tutorial.
How will you make a mermaid part of your cake decorating world?