This guest post is brought to you by renowned pastry chef Jenny McCoy, instructor of the Craftsy class Creative Flavors for Cakes, Fillings & Frostings. Sign up for the class and set yourself apart from other bakers by learning the fundamentals for developing your own unique flavor pairings for cakes, fillings and frostings.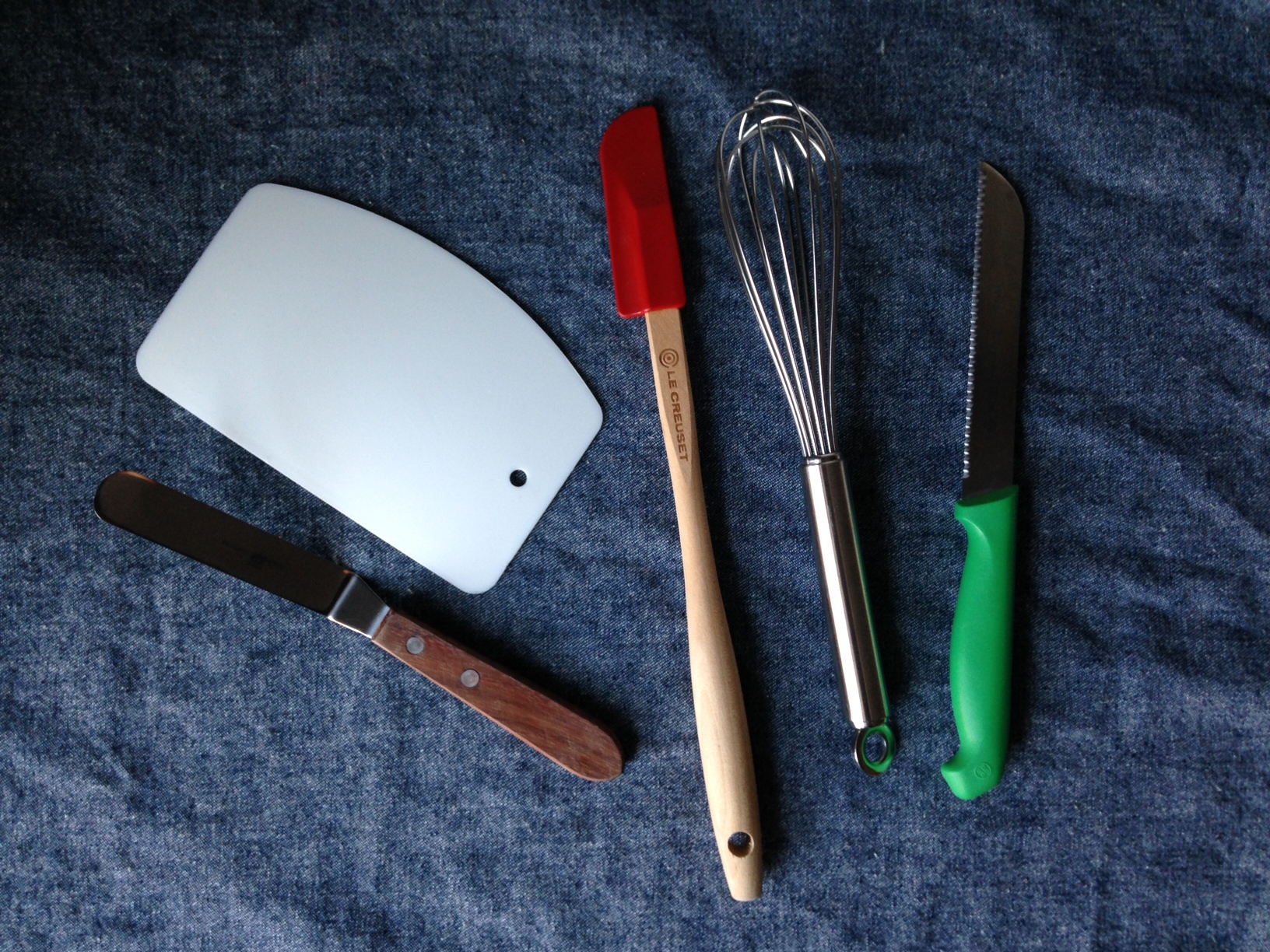 Here's my list of the Top 5 best professional baking tools for chefs and home cooks alike. I use them throughout my Craftsy class, Creative Flavors for Cakes, Fillings & Frostings, for a variety of tasks. And best of all, they are all under $15 each, so they're perfect for stocking stuffers!
1. Mini offset spatula
In the world of baking, the mini offset spatula is a pastry chef's right hand. Use for icing a cake, cutting parchment paper or releasing a cake from a pan. In other words, don't leave home without it.
2. Plastic bowl scraper
Keep one of these plastic bowl scrapers in your apron pocket. It is perfect for getting every last bit of batter out of a bowl.
3. Mini whisk
I like using a little wooden or silicon whisk to prevent heat conduction and, even worse, burnt hands. But a metal whisk is just fine, too!
4. Serrated paring knife
A serrated edge cuts cleanly through thick-skinned fruits, like persimmon or pineapple. They are great for slicing tomatoes and sausage as well.
5. Mini Le Creuset rubber spatula
The narrow shape of the mini spatula lets you get in every nook and cranny. I especially love it for scraping fruit puree from the bottom of a blender or the last bit of mayo in my Hellman's jar.
What are some of your favorite kitchen tools? Expensive or not, I'd love to know!
About Jenny McCoy

As a pastry chef with more than 10 years of experience in some of the country's finest kitchens, Jenny McCoy has learned to transform classic techniques into inventive and exceptional desserts, many of which you?ll find in her book, Desserts for Every Season. Jenny's philosophy on baking is simple: By combining the best ingredients available and a personal creative touch, anyone can expand their repertoire to create expertly refined recipes and original desserts with ease. A truly approachable expert, Jenny's detailed lessons are both inviting and inspiring.