There's nothing quite like seeing a seemingly simple cupcakes or an unassuming cake only to cut or bite into them to reveal a bright, playful print inside! For a wild take on the surprise-inside trend, try a leopard print — all you need is a little food coloring and a few pastry bags.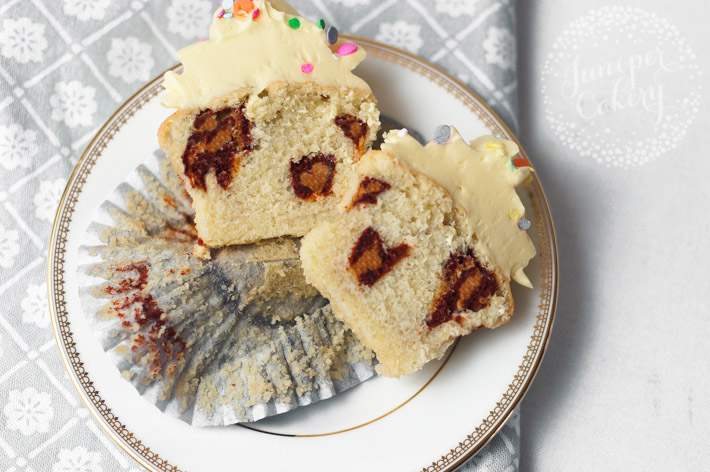 Reveal your wild side with surprise-inside leopard print cupcakes!
Materials needed:
Cupcake cases
Your go-to cupcake recipe (here's a foolproof, 30-minute recipe)
Food coloring to tint the cake batter three colors (we opted for plain, brown and tan)
Disposable

Step 1:

Separate your cupcake batter three ways and tint each a different colors (or leave one plain and add food coloring to two). We opted for a plain ivory, tan brown and a darker chocolate brown. If you have a specific color palette, then go ahead and match your leopard spots to your theme. We love the idea of neon colors for a '90s-themed party or even whipping up cupcakes that feature pink-and-purple print!

Once colored, put the batters into separate disposable piping bags.

Step 2:

First, add a little of your plain (or base color) batter to the base of the cupcake cases. You can dollop a little in, but since you'll be piping in the other two colors, it's OK to pipe this batter, too.

Step 3:

To add the leopard-print design, pipe a ring of the dark brown batter. Cupcakes are small, so you should only need a single ring of batter, but you can add a small dot in the center for a denser print. For cakes, you can experiment with messy concentric circles of cake batter.

Next, add a ring of the mid-tone color on top of the dark batter. You don't need each piped ring to be absolutely perfect, as leopard spots tend to be a more random in shape.

Add another piped ring of your darker tinted batter on top. It's OK if it doesn't completely cover up your middle tone tinted buttercream.

Step 4:

Cover the piping with plain batter. For cupcakes, we found that repeating Steps 3 and 4 one more time results in the perfect amount of batter. As you repeat the colors, you can make the rings the same size and shape as before, or you can pipe a smaller ring to vary the pattern.

Step 5:

Bake the cupcakes according to the recipe. Once baked, leave them to cool. If you want to slice one open for a peek, make sure you've baked an extra cupcake!

Once baked, you can decorate them with just a simple buttercream swirl and some bright sprinkles so that the leopard print inside is a definite surprise. For an all-over leopard design, try hand painting fondant plaques with a matching leopard-spot pattern.