If you love naan and pita, it's time you got to know their flatbread cousin, lavash.
What is lavash bread?
Lavash is a traditional Armenian flatbread that can be served as an accompaniment to meals or alongside appetizers like cheese and fruit. It's made with common ingredients (you probably already have all or most of them in your pantry!). While it's traditionally baked in a clay oven, this lavash bread recipe employs a more accessible cooking surface: a skillet on your stovetop.
The simple dough comes together in minutes. While it rises, decide what herbs or spices to use to flavor your flatbread. Once the dough is ready to roll, you can create thin, cracker-like pieces of lavash, or keep the dough thicker for more naan-like results. After baking briefly on a hot surface, the flatbread is the perfect companion for wine and cheese appetizers and pairs beautifully with hummus.
Lavash Bread Recipe
Makes 12-18 large "shards"
Ingredients:
1 cup all-purpose flour
¼ teaspoon (about 1 gram) active dry yeast
2 teaspoons salt
2 teaspoons sugar
1/3 cup warm water (105 F)
2 tablespoons olive oil
1-2 teaspoons dried herbs (I used rosemary, sage and lavender)
Step 1:
In a mixing bowl, combine the flour, yeast, salt and sugar. Add the warm water and oil; mix with a wooden spoon until combined, then knead the dough by hand until it attains a smooth consistency. It will start out kind of "shaggy" in texture, but as you knead, it will become more cohesive. Add a little more water if needed.
Step 2:
Form the dough into a ball, place in an oiled bowl, cover with a damp towel. Let it rise for 1 hour; the dough will have expanded in size. Gently deflate the dough, re-cover and let rise again for 3 more hours.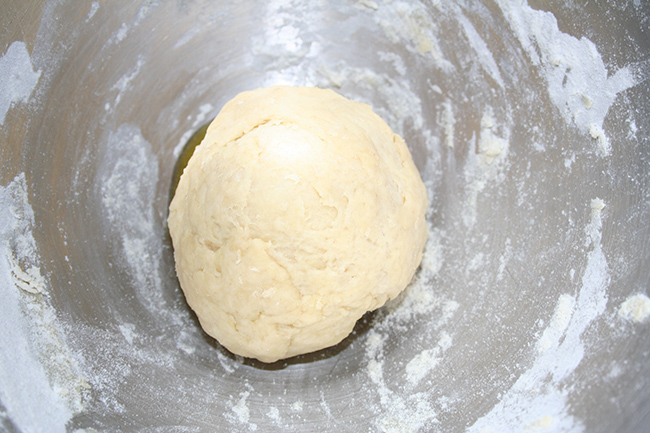 Step 3:
At the end of the second rising period, turn the dough out onto a work surface. Using a rolling pin, roll the dough out as thinly as possible.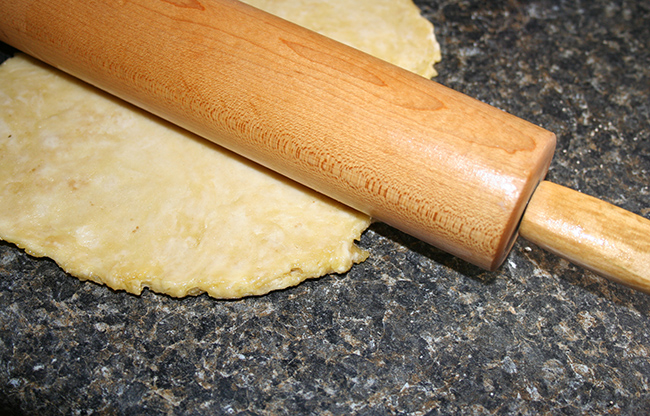 Note: I found that I didn't need flour on the work surface, but if the dough feels sticky, consider scattering a small amount of flour on your work area.
Step 4:
Cut the dough into randomly sized pieces (about the size of large tortilla chips). Lightly brush one side with oil, and if desired, sprinkle with herbs or spices.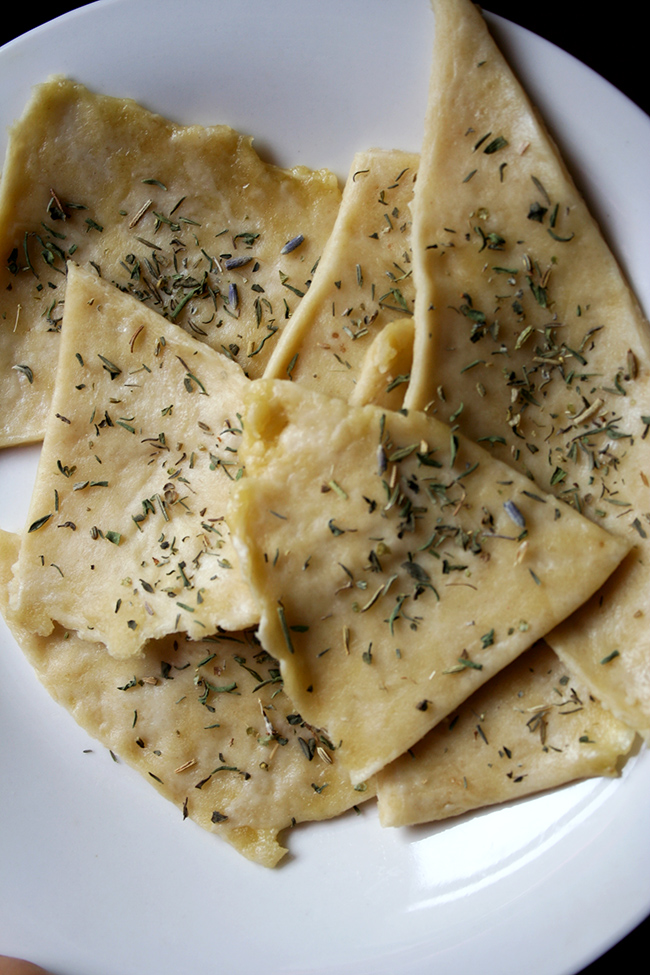 Note: If you want more naan- or pita-like rounds of lavash, that's fine too! Simply divide the dough into 6 to 8 equal portions and roll into circles.
Step 5:
Heat a skillet or frying pan over medium-high heat. Once the pan is hot, add a few pieces of the dough at a time, oiled side down. Toast for about 1 minute, or until golden brown. While the dough is cooking on the first side, oil and spice the side facing up.
Step 6:
Flip and toast on the second side, noting that it will take less time than the first side. Once done, transfer to a wire rack to cool. Don't stack the pieces; let them sit in a single layer, otherwise they won't set crispy. Continue with the remaining portions of dough.
The flatbread will become crisp as it cools. Once crisped, you can store them loosely wrapped at room temperature for up to 5 days.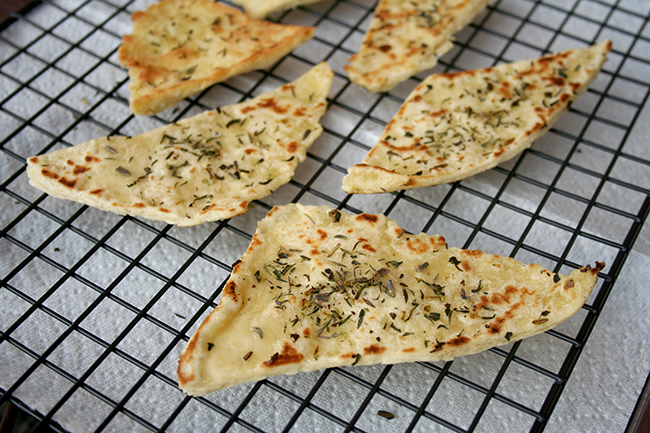 Want more delectable flatbreads in your life?
Check out Bluprint course Focaccia & Flatbreads From Around the World. From naan and pita to DIY tortillas to easy filled focaccia, this course will educate you on the methods behind making some of the most delicious flatbreads from all around the world!
What's your favorite flatbread?